Being a student is undoubtedly a challenging job. You have to deal with hundreds of assignments, research papers, case studies, mini-projects, yearly projects, etc. We understand how hard you work to publish your papers and avoid plagiarism.
Don't worry! We are here with the list of best plagiarism checkers for students, exclusively made for hard workers like you. We have tried all the platforms and bought you the best available ones.
The list will help you choose the best plagiarism checker for students and provide you with the basic details and key features of all the available platforms.
What are you waiting for? Let's dive in the Best Plagiarism Checker for Students.
Best Plagiarism Checker for Students (In a Nutshell)
If you are in a hurry, you can check out the following table to get the gist of the content.
| | |
| --- | --- |
| Platform | Starting Price (Paid) |
| Grammarly | $ 12 |
| Scribbr | $ 19.95 |
| Unicheck | $5 |
| Plagiarism Checker X | Free |
| Quetext | Free |
| Plagscan | $ 5.99 |
| Plagiarism Check | $ 5.99 |
| Dupli Checker | Free |
| CopyScape | No fix plan |
Let us provide you with the details of all the platforms for plagiarism checking.
1. Grammarly
It is one of the best plagiarism checkers available. The plagiarism checker offered by Grammarly is exceptionally trustworthy, and you will find their tutorial, FAQs, and tips on their support page.
Grammarly offers applications for Windows as well as Mac. This application supports Microsoft office, desktop apps, and web apps. Moreover, you can access Grammarly on your mobile, be it iPhone or Android.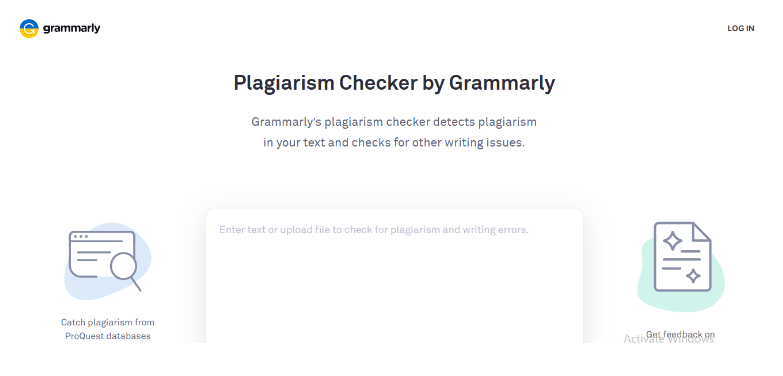 Using Grammarly is very easy as it has a straightforward interface. However, the free plan has a character limit of 100,000 and a word limit of 14,000 to 25,000.
Key Features:
Finds the genuine source of plagiarized content
Has excellent privacy policies and hence no issue with sharing or selling documents to a third party.
It also offers a language, style, and citation assistant for the ease of its users.
Pricing:

Grammarly's free plan doesn't have a plagiarism-checking feature.
Here is a breakdown of Grammaly's Premium Plan:
| | |
| --- | --- |
| Plan | Price |
| Annual | $ 12.00USD / month |
| Quarterly | $ 20.00 USD / month |
| Monthly | $ 30.00 USD / month |
| Grammarly Business (3 members minimum) | $ 15 .00 USD / month/ member |
2. Scribbr
Scribbr ensures to provide you with the most successfully detected plagiarism. It checks all the relevant sources.
Moreover, it has a feature to highlight the plagiarized part for ease of the user. Also, it finds plagiarism in the paraphrased content and does not highlight the words that have been changed. It has a clean user interface and easy-to-use tools.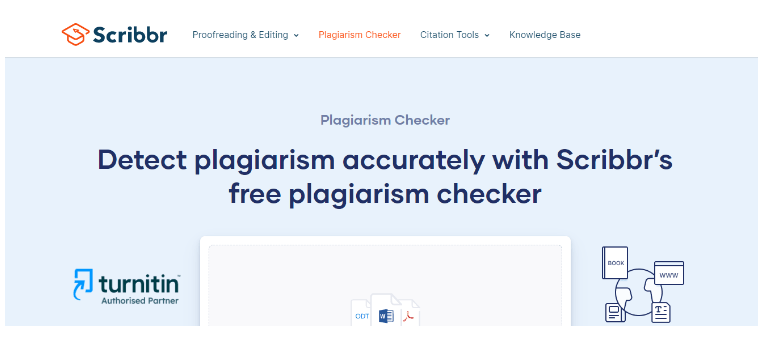 However, Scribbr charges for each plagiarism check instead of charging for the services. It means you cannot review your content again for free.
Key Features
Ensure the privacy of the documents and do not let the third party have any access
Efficiently finds plagiarism in all the content, works for edited text as well
Offers an own-source plagiarism checker for the self-plagiarism
You can access a limited-time free version before paying for plagiarism checks
Pricing

Scribbr's pricing is quite simple, You get to check 7,500 words for arounf $20.
Here is the complete breakdown of Scribbr's pricing plans:
| | |
| --- | --- |
| Document Type | Price |
| Small Document (up to 7,500 words) | $ 19.95 / check |
| Normal Document (7,500 – 50,000) | $ 29.95 / check |
| Large Document (50,000+ words) | $ 39.95 / check |
3. Unicheck
Unicheck finds the primary source and the other sources where chunks of data are present from the plagiarized content. It also detects plagiarism in edited texts.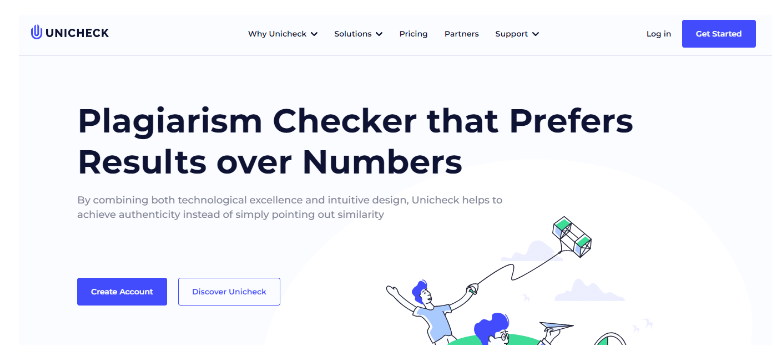 However, the interface is great and easy to understand. Users can check 200 words for free, but more words are charged according to the pages. Unicheck maintains the security well; hence, any data will not have third-party access.
Key Features:
Works well in detecting plagiarism
Offers in-depth analysis of the copied text
It offers multiple tools that prevent plagiarism
Great for Academic writings
Pricing:
Unicheck has a simple pricing plan. For 20 pages (minimum) you have to pay $5. YOu get the option to set the number of pages that you want to check for plagiarism. Based on that number the pricing changes.
You can refer to the screenshot below to understand it clearly.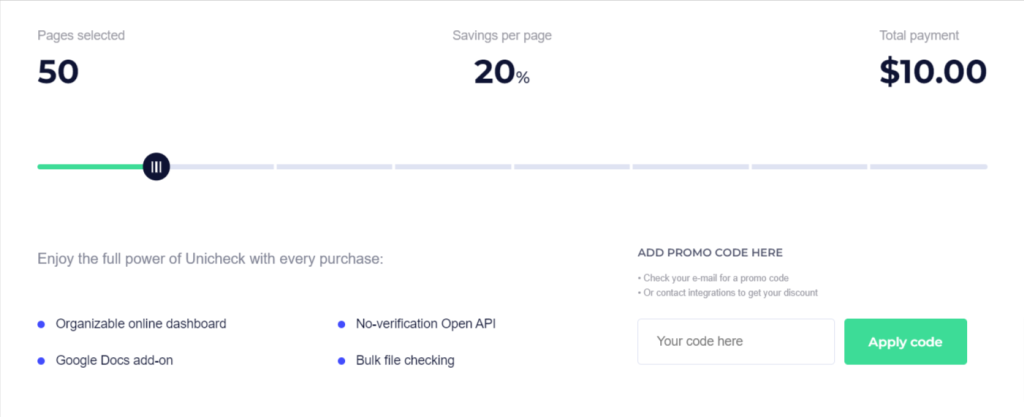 Here is the overview of Unicheck's pricing plans as of 2023:
| | |
| --- | --- |
| Pages | Price |
| 200 words | Free |
| 20 pages | $ 5 |
| 50 pages | $ 10 |
| 100 pages | $ 15 |
4. Plagiarism Checker X
Plagiarism Checker X is a great tool to check plagiarism in your research paper, blogs, assignments, and websites. You can quickly check for plagiarism and find correct citations and sources, improving your overall performance.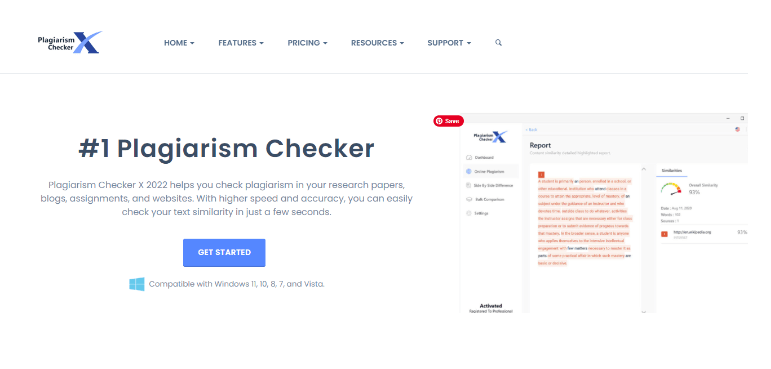 Besides, it compares two documents to check for similarities in the text. Also, it provides bulk comparison reducing the time consumed.
It highlights the plagiarized text. Also, it provides a free version for students, writers, publishers, and bloggers.
Key Features:
It has great speed and accuracy
It supports multiple file formats such as Rtf, Microsoft Word, Plain Text and PDF
Compatible with windows vista, 7,8,9,10, and 11
You can use it in seven different languages
It is available in more than 80 countries
Pricing: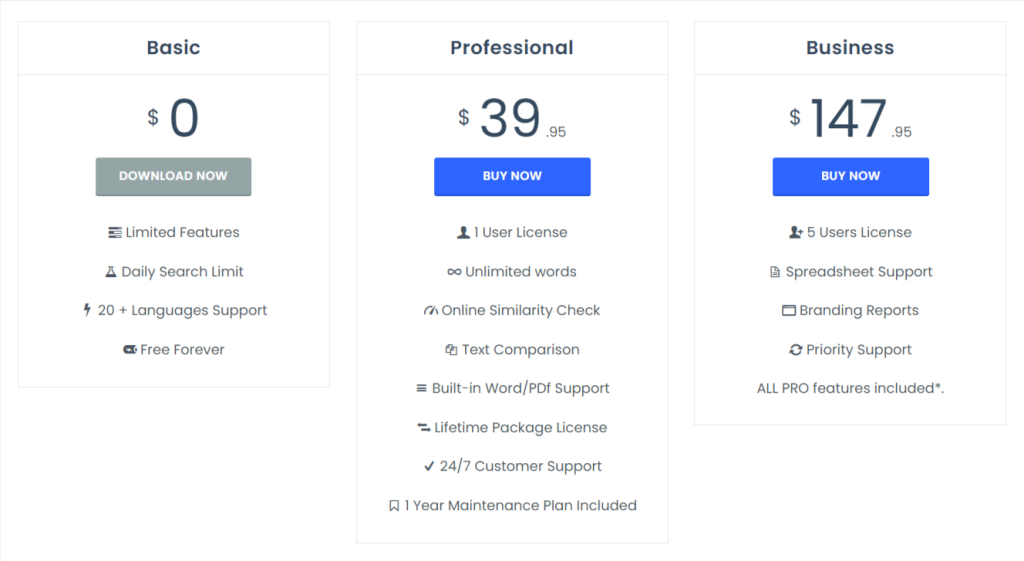 Here is the complete breakdown of Plagiarism Checker X's pricing plans:
| | |
| --- | --- |
| Type | Price |
| Free | $0 |
| Professional | $39.95 |
| Business | $ 147.95 |
5. Quetext
Quetext checks for plagiarism and other writing issues in the text. Its straightforward UI makes it easy to work with; copy-paste the content, and you're good to go.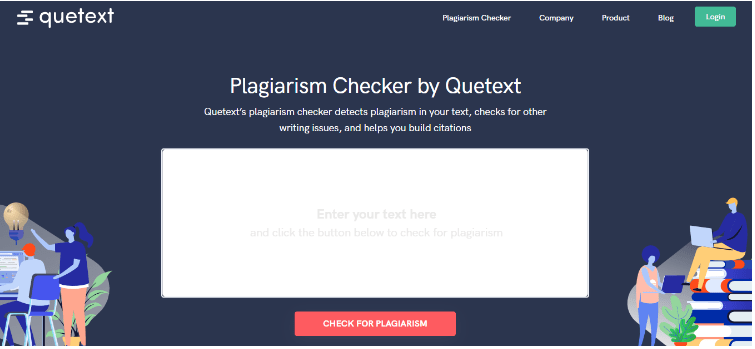 Their plagiarism checker uses a DeepSearch detection tool making it easy to identify plagiarism. What's more, you can also download reports and embed them with your documents.
Above all, Quetext is a great plagiarism checker for students, teachers, and copywriters.
Key Features:
It provides contextual analysis, Fuzzy matching, and conditional scoring
The outputs are accurate and to the point
Provides citations to resolve plagiarism risks
Pricing:
Quetext offer 4 different plans for users to choose from. We have discussed the complete list in the table below. Scroll down to know more.

Here is the breakdown of the complete Quetext pricing as of 2023:
| | | | |
| --- | --- | --- | --- |
| Plan | Per Month | Per Year | Words |
| Free | $ 0 | $ 0 | 2,500 |
| Essential | $10.49 | $ 71.99 | 100k |
| Professional | $ 20.99 | $ 143.99 | 250k |
| Enterprise | $52.49 | $359.99 | 500k |
6. Plagscan
Plagscan is an easy-to-use and time-saving plagiarism checker. It provides a report which can be downloaded and shared.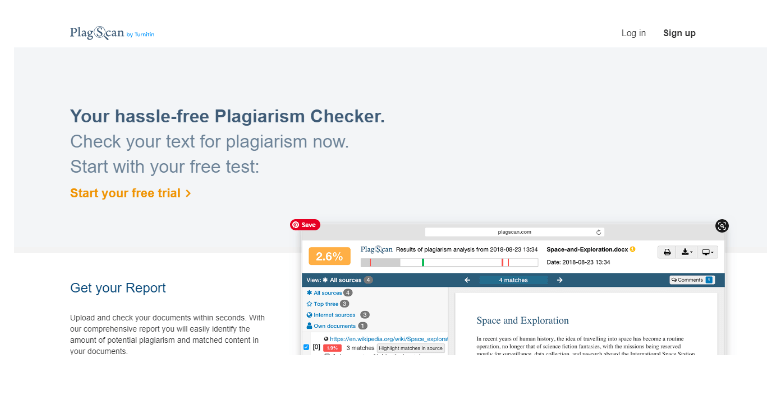 It also provides various customization options to the users. Also, it provides a free trial as well as a demo report.
Key Features:
Easy to work and understand the results
Plagscan compares your documents with more than billions of online sources and 20,000+ scientific journals.
Uploading documents is a simple and secure process
All the document formats are supported
Approximately 1.5 million people and 2000 institutions use it.
Pricing:

| | |
| --- | --- |
| Words | Price |
| 6000 | $ 5.99 |
| 17,500 | $ 12.99 |
| 40,000 | $ 24.99 |
| 100,000 | $ 49.99 |
7. PlagarismCheck.org
PlagarisimCheck.org provides incredible accuracy with a clean and easy-to-use interface. It is a great plagiarism checker for Students, Educators, Writers, and journalists.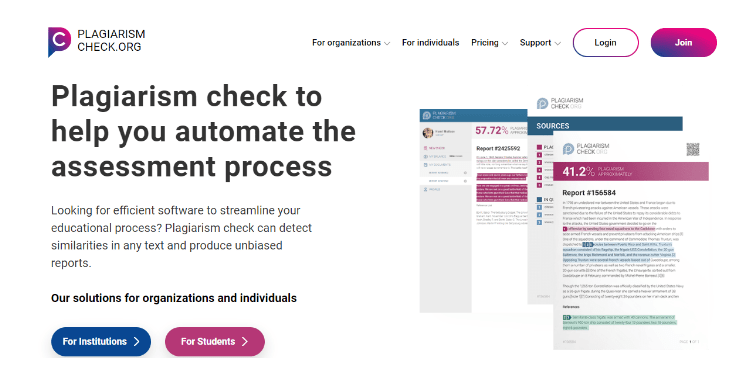 Moreover, it integrates with Moodle, Canvas network, Google Classroom, Docs add-ons, etc. Also, it provides downloadable reports. Besides, it ensures that the confidentiality of the documents is maintained and the third party does not have any access to them.
Key Features
Provides the exact matches of the text
Detects the rearrangements in word order and overall sentence structure.
Works on advanced algorithms
Offers interactive results
Pricing
PlagarismCheck.org allows its users to choose from 4 different plans. Refer to the screenshot below to know more.

Here is the complete breakdown of PlagarismCheck.org's pricing plans:
| | | |
| --- | --- | --- |
| Plan | Price | Pages |
| Basic | $ 5.99 | 20 |
| Light | $ 9.99 | 50 |
| Standard | $ 25.49 | 150 |
| Premium | $ 45.49 | 300 |
8. DupliChecker
It provides free trails. It has a comfortable user interface and is easy to use. It is great for students and academic professionals.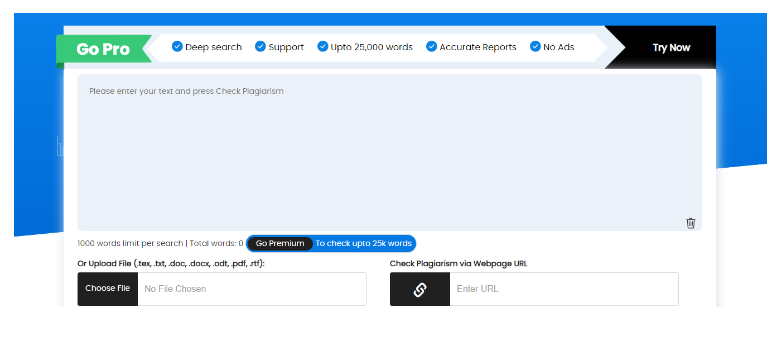 Besides, it provides a unique option to remove plagiarism. It displays the clarified results in numbers.
Also, it has excellent privacy policies and provides security for your data. It supports multiple languages.
Key Features:
Supports multiple file formats
Displays results in percentage
It uses AI-based technology
It provides deep and fast scanning
It provides tools to enhance the quality of content
Pricing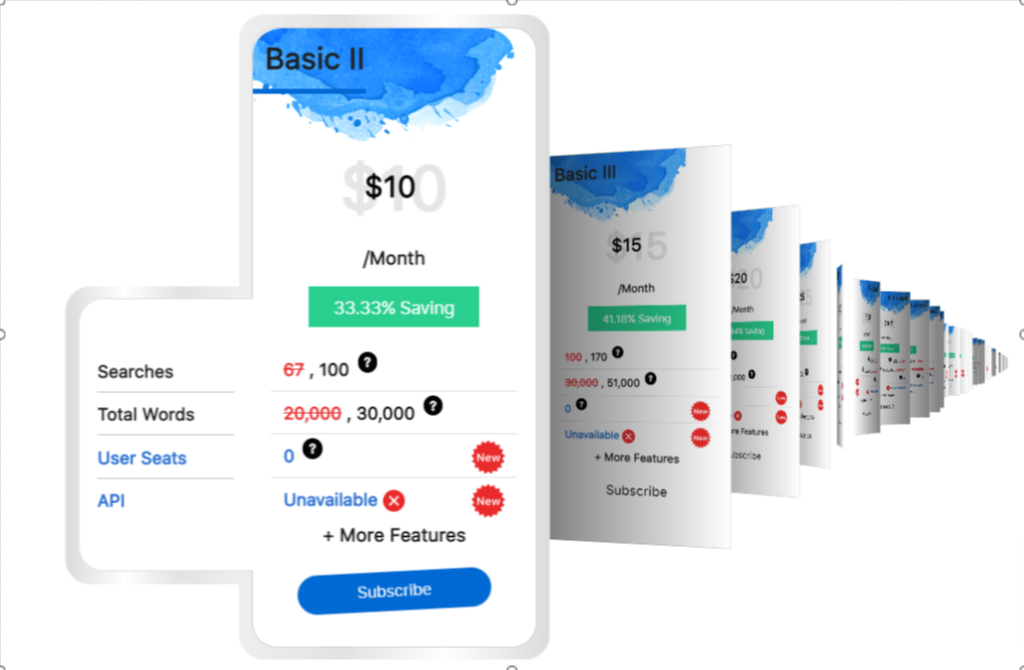 | | | |
| --- | --- | --- |
| Plan | Price/ Month | Words |
| Basic | $0 | 1000 |
| Basic II | $10 | 30,000 |
| Basic III | $ 15 | 51,000 |
| Basic IV | $ 20 | 72,000 |
| Basic V | $ 25 | 93,000 |
9. CopyScape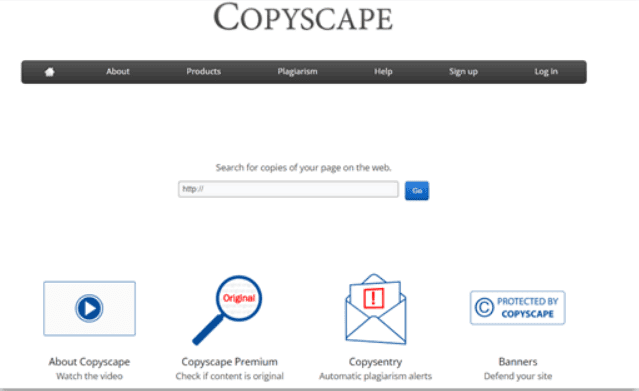 CopyScape is one of the best tool for detecting plagiarism in your content. It can easily detect the Plagiarism in your content which is highly accurate and reliable.
Key Features :
Indexing can be done Offline too.
Tracking facility is available
Easy and Simple to use
You can compare two content at the same time.
Pricing :
It doesn't have a fix price. It works on credit basis where you need to add $5 credit. It deducts according to the number of words which are given.
Final Verdict: Best Plagiarism Checker for Students (2023)
That's all with the best plagiarism checkers for students. We hope that the list has helped you to choose the best platform that caters to all your needs and suits you the best.
If you are still struggling to choose one, here are our top two picks:
Grammarly —
Grammarly offers an in-depth analysis of plagiarism and is very easy to use. You can just copy-paste the content on the dashboard to check for plagiarism
Unicheck —
The interface offered by Unicheck is immaculate and easy to use. Also, it finds plagiarism in edited text and paraphrased texts. Great for educational use.
We hope this list helped you choose at least one reliable plagiarism checker for your academics. Share your thoughts in the comments section below.
FAQs – Best Plagiarism Checker for Students
What is the most accurate free plagiarism checker?
The best free and precise plagiarism checker is Grammarly. It not only checks for plagiarism but also provides the correction for grammatical errors and provides you with a check for clarity, engagement, and correctness of the text.
Can students use plagiarism checkers?
Yes, absolutely. Students need to publish papers and work on assignments, projects, and research papers where they will come across the need to check for plagiarism and keep their work plagiarism free.
How many percentages of plagiarism are acceptable?
The journals permit plagiarism below 15%. However, plagiarism >25% is considered to be a high percentage.
How can I remove plagiarism?
You can remove plagiarism by editing the text, inserting citations, changing the content, and using your ideas while presenting.