Getting into one of the reputed medical colleges in the U.S, Canada, or Australia is not that easy. It requires solid-based and unprecedented preparation. Therefore, self-study is not enough to crack the Medical College Admission Test.
MCAT aspirants might already be familiar with Kaplan MCAT prep coaching, and they often wonder whether buying their packages is worth the money or not.
Kaplan courses are expensive; therefore, getting confused is quite obvious. But I am sure after you go through this Kaplan MCAT prep review, all your confusion will be solved. So let's get started and give you my first-hand experience of the same.
Kaplan Review: In A Nutshell
As you might already know, Kaplan is an American educational and training service corporation that provides a variety of test preparation coaching to students.
Not only students, but Kaplan also provides training services to working professionals to help them achieve their career goals.
Kaplan has formed its reputation based on quality programs, personalized study experience, and courses designed by industry experts and facilitated by the best technical rigor.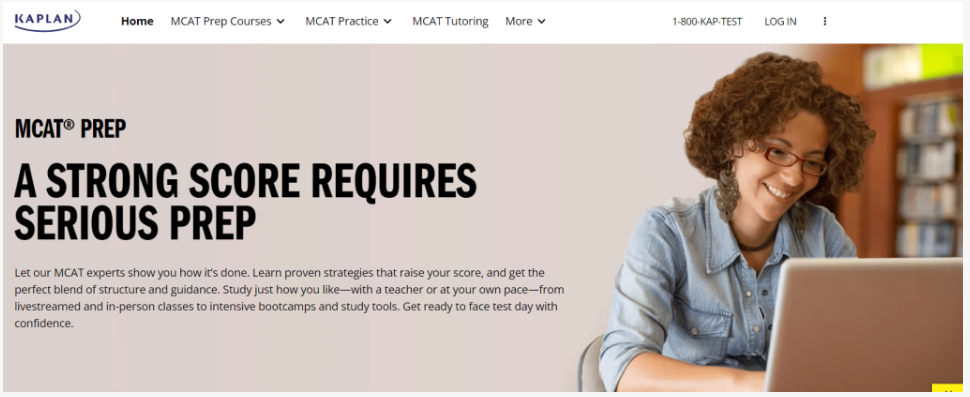 The founder of Kaplan, Stanley Kaplan, started this initiative in 1938, so it's been over 80 years that Kaplan has been running. The institution has grown in these years, and currently, there are more than 12000 tutors training students and working professionals in 30 countries.
While there are multiple competitive course options at Kaplan, this review is entirely dedicated to the MCAT.
Kaplan's MCAT prep is an extensive course that guarantees that students will be able to increase their scores exponentially, provided the aspirants put in the hard work and concentration.
Let's go ahead and learn about the Kaplan MCAT prep course in detail and see whether it's worth buying or not.
Kaplan MCAT Prep Course Choices & Their Cost
Kaplan offers different MCAT prep course choices which is a great thing because students can have better flexibility in choosing which type of course they think will fit best in their study routine.
You can choose from three types of course packages- On-Demand course, Live Online Course, and In-person.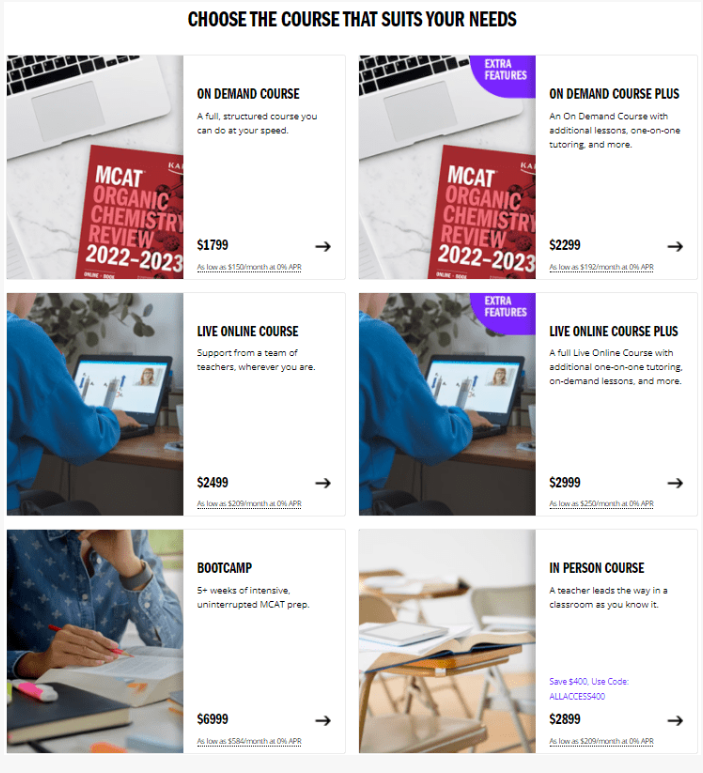 Let's take a brief look at each of these course packages and their price.
On-Demand or Self Paced
The on-demand or self-paced course is the cheapest among all the courses.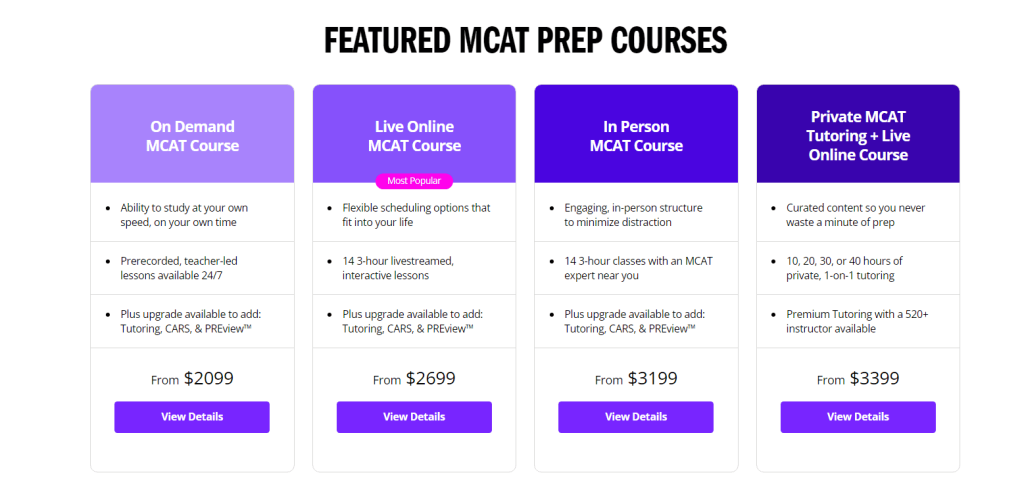 This course has no time boundaries, so students can learn at their own pace. Here are the costs and materials you can access if you opt for this option.
Live Online Course
The live online course follows a set timetable. Students get a schedule, and accordingly, they have to attend the classes.
Even though the live online class is less flexible than the self-paced one, if you like attending group classes and want personal communication with your coach, the live classes are a better option. Here is the course and price details of the live online course.
Course
Material
Price
Live online class
700 hours of course material that includes-
10,000 practice items 15 full-length MCAT practice tests 130 science review videos Qbank 7-book MCAT subject review set AAMC Practice material
$2499
Live online class plus
You'll get the materials included in the general live online class and additional materials like-
Live online offerings 3 hours of one on one coaching MCAT Foundations of Behavioral Science (self-paced) MCAT Foundations Of Biochemistry (self-paced)
$2999
In-person
The live online classes and in-person course packages have the same online material, and the price of the two are also the same. So you can opt for either option if you want more interactive sessions and a direct connection with your coach.
Apart from these courses, Kaplan also has a Bootcamp program that lasts for 5 to 6 weeks. If you are too ambitious to crack the MCAT, getting into the Bootcamp will work in your favor. However, to get into the boot camp, you have to pay a whopping $7000. The price may vary from year to year.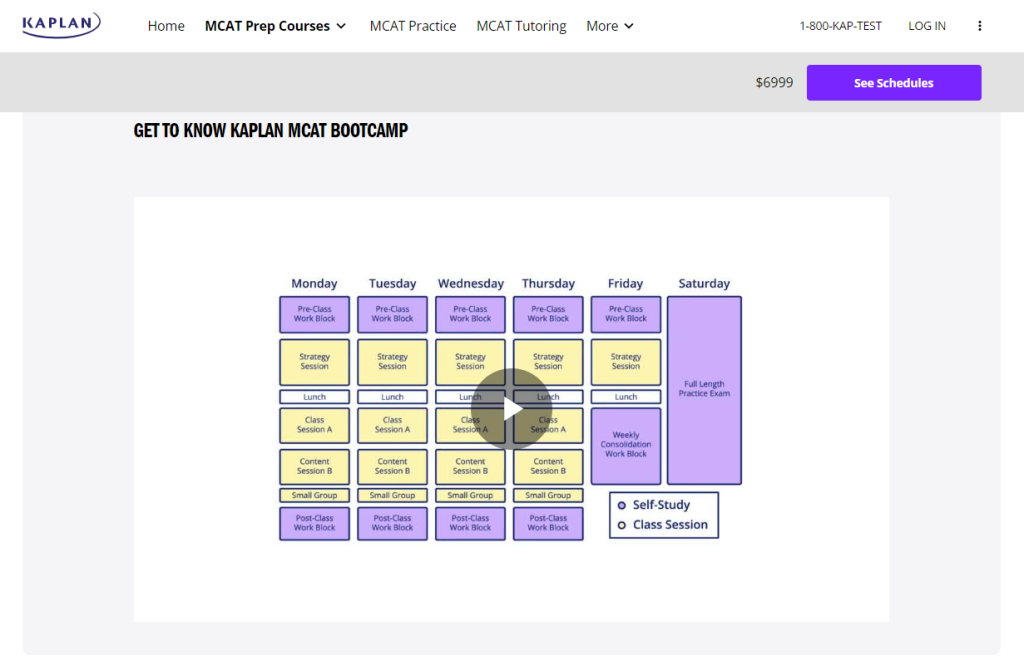 I know buying these courses is an investment, and Kaplan realizes that too. Therefore, they offer a 100% refund if you change your mind within three days of buying the course.
For some people, knowing whether they like the course or not within three days may be too early. Therefore, they offer a 75% refund if you opt out of the course within a week.
Once you opt out of the course, you have to return the hard copy of the books as well, which they send to you, and you have to bear the shipping charges of the return. They don't include the shipping charges in the refund.
Other Resources Offered By Kaplan For MCAT Prep
One of the best things about Kaplan MCAT prep is that apart from the course materials, students can access a number of other course materials.
Kaplan has an MCAT channel where students can access more than 90 hours of pre-recorded video webcasts and six live classes every week. The live classes cover more in-depth topics to help clarify concepts of complex topics.
Each video class features a live Kaplan coach to help students clear any doubts. There is a chat option on the sidebar where aspirants can ask any queries. The coach constantly asks for student participation to ensure everyone can make the best of these special video classes.
Kaplan Lesson Evaluation: Are They Really Helpful
I have talked about the course choices, their price, and the extra material you can access. Now let me break down for you what a Kaplan lesson looks like. In short, I'm going to give you a lesson evaluation to help you decide whether this study works in your favor or not.
To be honest, Kaplan has covered all the important topics we need to study for the MCAT, and this is the reason many students across the globe have opted for this course.
Although the Kaplan MCAT course is not designed in a linear manner, they have broken it down into three units. The first two units cover substantive content reviews with topic-specific sections like- biology, chemistry, and physics. And the last unit is an all-inclusive review plus some practice test models.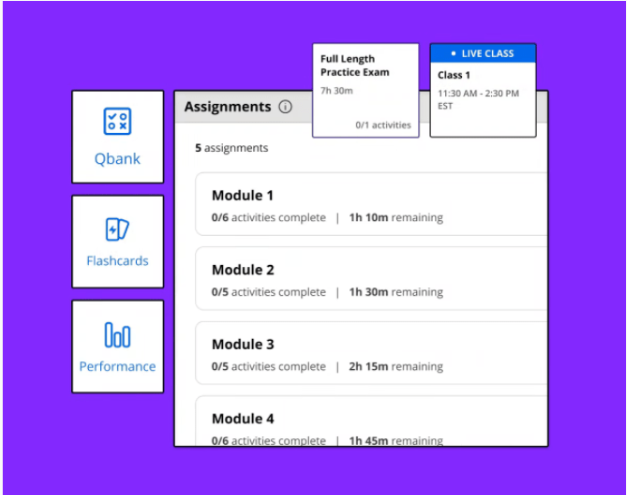 Then the lessons are further divided into subtopics like- chemical interaction, bonding, thermodynamics, etc. These sub-lessons have in-depth material like- test papers, video lectures, quizzes, book-based assignments, and more.
I really liked the video lessons while I was taking my course. The instructors cover each topic in detail and explain all the nitty-gritty.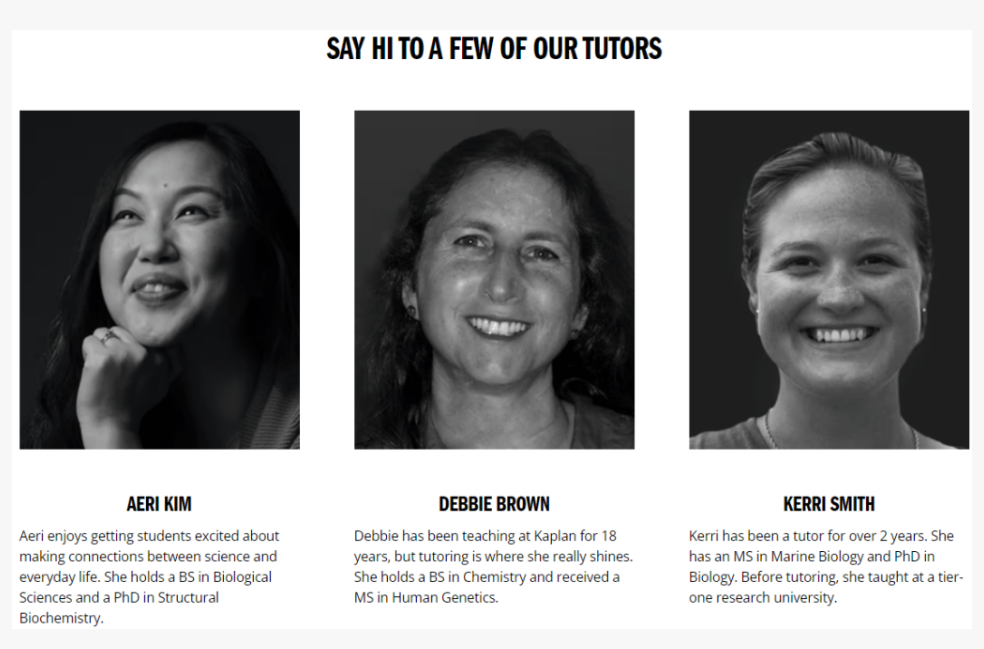 There is a large digital whiteboard where the coach explains the concepts using tables, formulas, graphs, drawings, and other graphics that make understanding even complicated topics easier.
On the side of each lesson, there is an outline that helps us to make a mind map. After the video lessons, we get access to quizzes and lesson assignments. This helps in revision and accessing ourselves as to how much we have learned.
Another best thing I liked about MCAT is the QBank. This tool lets us build practice problem sets where we can add timing, question type, and a number of questions. The tool has more than 2,900 practice problems, and with each problem, there is a text explanation as to why the answer you have chosen is correct or incorrect. 
KAPLAN MCAT Prep Review: Pros & Cons
Let's have a look at the KAPLAN MCAT Prep Pros & Cons
KAPLAN MCAT Pros
Pros of KAPLAN MCAT are given below:
High Quality Videos
700 Hours of Content
One of the Best if not the best hardcopy books in MCAT prep
KAPLAN MCAT Cons
Cons of KAPLAN MCAT are given below:
The problem explanation are brief. (Needs to give more detail)
Instructors doesn't respond as quickly as they should.
My Honest Verdict On Kaplan MCAT Prep Course
As you can see, all the Kaplan MCAT prep packages are quite expensive, and there are cheaper alternatives in the market. So do the Kaplan courses really outdo the other courses? Is it that good?
In my opinion, yes. All the material in the course package is extremely well-researched and well-put together. I have taken the Kaplan MCAT live online class package for my daughter, and she told me the course covered everything she needed for rock-solid preparation.
According to her, the video classes are well-planned, where the trainer covers even the slightest details. Plus, she said the study material they provide, along with the quizzes, is unlike any other material we usually get to see on other platforms.
My daughter has been preparing for the MCAT for the last two years, and she has tried other platforms as well. Initially, I was a bit skeptical of buying her the course because it's quite pricey, and I wasn't sure whether it'd be useful or not.
After doing some research, I bought the course for her, and I am glad that she found it extremely useful. She is yet to take her test, and I'll update you guys again once her results are out.
Talking about the cons, she said that the mobile app is not as efficient as it should be. And as I have seen the quizzes and other evaluation materials, I would say this course isn't for average students.
The practice tests are sometimes even tougher than the actual test. So kids must have the ability to understand the concepts.
Related Read:
Final Thoughts: Kaplan MCAT Prep Review (2023)
I hope this Kaplan MCAT prep review has helped you make up your mind as to whether you want to get it or not. While there are some minor drawbacks, overall, it's a great course to help you prepare for your medical school entrance.
Let me know if you've any further queries regarding Kaplan MCAT; till then, all the best!