Are you not sure how to get Coursera Certificates? Let me tell you. Coursera is one of the legit and cost-effective MOOC sites comprising thousands of courses and other learning programs conducted by different Universities and institutions.
Coursera certificates are the official endorsements demonstrating that you have successfully completed and passed a course.
But, coming to the point, are these certificates worth it?
The article below will help you determine the worthiness of the Coursera certificates and will give you a complete insight into the programs offered by Coursera.
Also, I have mentioned some of the top Courses offered by Coursera that may help you to boost your CV. So without any delay, let's dive into the article.
Are Coursera Certificates Worth It?
On the whole, the answer is Yes. Coursera offers great Courses from top-notch universities and Institutions conducted by experts.
These certificates add value to your resume, help you inculcate job-ready skills, and are recognized by potential employers.

Along with the flexible learning opportunity, Coursera courses also provide access to learning materials, discussion forums, and live instructors.
The efficiency and worth of Coursera certificates can also be demonstrated when you get trained in collaboration with companies like Google, AWS, Facebook, etc., with a number of projects for real-life learning experiences.
Why Should You Get a Coursera Certificate?
There are a number of reasons that can be taken into consideration for getting a Coursera certificate. Some of them are mentioned below.
Coursera certificates provide official recognition to learners from world-renowned universities and institutions.
These certificates help to increase career prospects and open doors to vast career opportunities.
In the current employment scenario, it has become a challenging task to stand out from the crowd, especially with many people vying for the same opportunity; Coursera certificates can help you stand out from the rest.
These certifications will also demonstrate your skills, dedication, and commitment to future employers.
Coursera learning programs
If you are in search of affordable learning programs, then Coursera is the perfect option to go for.
Coursera offers a diverse range of learning programs that are partnered with top universities and companies. Below are the programs offered by Coursera.
1. Courses:
More than 5000 courses are offered by Coursera that are taught by experts from world-class universities and institutions.

The main benefit of opting for Coursera over any other E-learning platform is that the Coursera certifications are accredited and recognized by employers.
2. Specializations:
The Coursera specializations comprise a series of courses that are designed to master specific skills required for the particular job role.
These specialization courses are a bit difficult as they show real business challenges and require a lot of work, but these courses are more recognized and provide an in-depth understanding of the topic.
3. Professional Certificates:
Coursera offers professional certification courses to help you prepare for a job or a specific industry.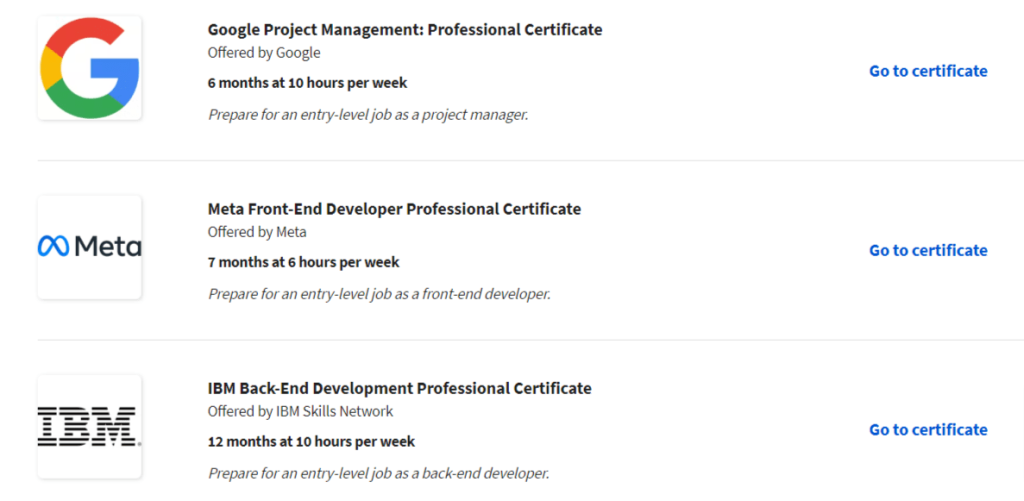 These types of courses are mainly offered by universities and companies in the field to help you expertise, gain knowledge and attain experience in the particular field.
4. MasterTrack Certificates:
MasterTrack certificates are a great alternative to the master's degree if you lack time or funds to complete one.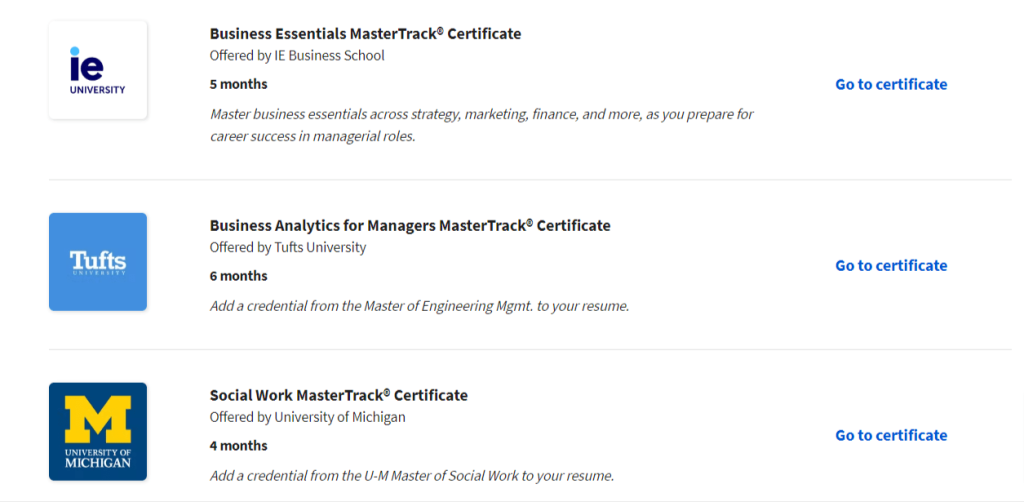 The certification programs offer a number of online modules that are educational, engaging, and extremely interactive and offer credentials at affordable prices.
5. Professional Certificates:
Similar to the specializations, professional certificates also comprises of series of courses to help you master a particular skill.
After the completion of the course, you will earn a certificate from the university or the institution providing the course.
6. Degrees:
Coursera provides access to students to earn a bachelor's degree and master's degree from the top Universities as it is partnered with universities like the University of London, Penn, etc.

The degrees offered by Coursera are legitimate and valuable.
How Much Do Coursera Certificates Costs?
To determine the cost structure of different learning programs offered by Coursera, check out the table provided below.
| | | | |
| --- | --- | --- | --- |
| Coursera Programs | Aim of Program | Duration | Price |
| Courses | Gain knowledge | 4 to 12 hours | Free or start from $49 |
| Guided Projects | Learn a specific skill | 1 to 2 hours | From $9.99 |
| Specializations | Master a specific skill | 1 to 3 months | From $39.99 with some free content |
| Professional certificates | Get job-ready skills for career | 4 to 7 months | From $39.99 |
| Coursera Plus | Provides access to 90% plus of catalog | various | $59 or $399 |
| MasterTrack Certificates | Earn credit toward degree | 4 to 7 months | From $2000 |
Can Coursera Certificates Get You a Job?
Coursera is one of the eminent names amidst the increasing trend of online learning.
The platform offers courses created by top-notch universities and delivered by experts from particular universities and institutions.
If you are wondering if it is possible to get hired with the help of Coursera certificates, then here is your answer.
Coursera certificates are proof that you have acquired a particular skill and greatly impact your chances of getting hired. They help you to stand out differently from the crowd in today's job market.
The certificates by Coursera add value to your resume, especially if you are looking for a job change or a promotion.
Top 11 Coursera Certificates Worth Pursuing
Coursera offers many specializations and other learning programs relevant to different industries.
Below are the top 11 courses that will definitely help you to get certifications and add value to your CV.
| | | | |
| --- | --- | --- | --- |
| Course name | Level | Skills acquired | Ratings |
| Google IT support professional certificate. | Beginner | Cloud computing, Binary code, Linux, debugging, encryption algorithms and techniques, etc. | 4.8 |
| Programming for Everybody (Getting started with Python). | Beginner | Basic programming language, Python syntax, and semantics, Python programming, etc. | 4.8 |
| Business Foundations Specialization. | Beginner | Marketing, Financial Accounting, Human resources, decision-making, etc. | 4.7 |
| Project Management Principles and Practices Specialization. | Beginner | Project management, change management, Budget estimation, change control, etc. | 4.7 |
| Improve your English Communication Skills Specialization. | Beginner | Communication, Public speaking, Presentation, professional, email writing, etc. | 4.8 |
| AI for Everyone. | Beginner | AI terminology, AI strategy, Workflow of data science projects, etc. | 4.8 |
| Learning How to Learn: Powerful mental tools to help you master tough subjects. | Beginner | Meta-learning, Test preparations, Pomodoro technique, etc. | 4.8 |
| Financial Management Specialization. | Intermediate | Financial management, risk management, Investment, Accrual, cash flow, etc. | 4.7 |
| Career Success Specialization. | Beginner | Team management, Task management, Information technology management, Leadership, etc. | 4.6 |
| Graphic Design Specialization. | Beginner | Branding communication, Graphic design, design theory, typography, creativity, etc. | 4.8 |
| Google IT Automation with Python | Beginner | Basic Data Structure, Basic Python | 4.8 |
Are Coursera Certificates Worth it?
A very simple answer is ABSOLUTELY YES. You can learn a lot through Coursera, in case you are looking for a Career change or a promotion, Coursera is the answer. Coursera Certificates have great value and definitely worth the investment. What makes Coursera special is the tutors, the partners. Industry experts who will teach you in depth and detail which will help you grow professionally.
There are courses which are free of money, you can also upgrade if you feel the need. Coursera also offers a refund and money back guarantee.
Related Read:
Conclusion: Coursera Certificates (2023)
If you are in search of an online learning program, simply opt for Coursera. It will not only provide courses at affordable prices but also provide ones that have real-world value.
The paid courses by Coursera offer certificates to the learners with additional coursework that free courses might not offer. Therefore, opting for paid courses is the better option.
If the job you are applying for matches the certified skill from Coursera, you are certainly ahead of the competitors.
That's all for Coursera certificates. I hope the above article was helpful to you. Do let us know your thoughts and queries, if any, in the comments section below.
FAQs – Coursera Certificates
What information is included in Coursera certificates?
The Coursera certificates comprise the 
Name of the course.
The signature of the instructor.
The logo of the partner institution.
Verification URL to check the authenticity of the certificate.
A statement showing that Coursera has confirmed the identity of the learner who completed the course. 
Can Coursera certificates be added to your resume? 
Yes, You can definitely add Coursera certificates to your resume, as they are a great way to add value to your resume and are widely recognized by future employers. 
Does Coursera provide free certificates?
No, Coursera does not provide any free certificates. If you are willing to enroll in a Coursera certificate program but can't afford to pay for it, in such case, you can apply for financial aid. 
Do the universities accept Coursera certificates?
Coursera offers certificates that are legitimate and accredited by leading universities and institutions. Hence, these certificates are accepted by both Universities and potential employers.