Are you looking to upskill, change career paths or simply expand your knowledge in a certain field? With the Coursera Plus free trial, you have the opportunity to do just that.
Coursera Plus is a comprehensive learning platform that offers access to over 4,000 online courses from top universities and organizations, all in one subscription.
From computer science and data science to business, personal development, and more, Coursera Plus has something for everyone.
So, what are you waiting for?
Start your free trial of Coursera Plus today and see what it can do for you.
With unlimited access to top-rated online courses and certifications, the possibilities for growth and learning are endless.
Let's understand what exactly Coursera Plus Free Trial is and take the first step towards achieving your personal and professional goals!
Coursera Plus Free Trial
There is a seven-day free trial with Coursera Plus that allows you to set up and try a specialization or degree for free.
You can earn a certificate during that seven-day trial, and it is valid.
You get access to all the courses without restrictions during the free trial period.

In addition, you can choose from 7000+ courses offered by more than 200+ universities worldwide.
Also, if you are not satisfied with the platform and want to discontinue the subscription, then you can simply cancel the plan without paying any charges.
Though Coursera Plus asks for the patent details, it will not charge you until your free trial period is over.
If you like it after the trial period, you can keep your subscription. Additionally, Coursera offers a 14-day money-back guarantee that enables you to cancel your plan without losing any money.
How to get Coursera Plus 7-Day Free Trial
Let's now check how to get Coursera Plus free trial.
Step 1: Simply visit the official website of Coursera Plus by visiting here.
Step 2: On the home page, click on the 'Start 7-day free trial' option. It will land you on a page where you will have to submit your details.

Step 3: You can sign up by filling in your details like email id and name. You may directly use your Google account to register or sign up.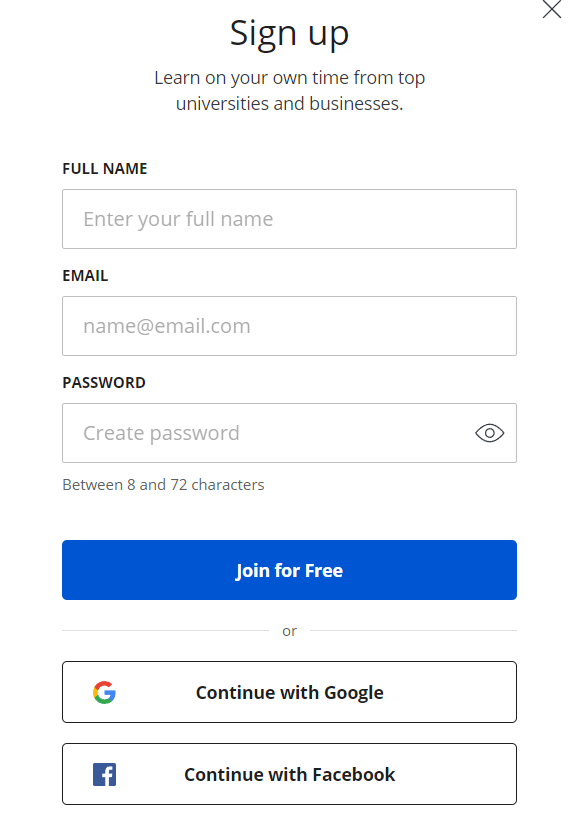 Step 4: Once you are done with the signup, all you need to do is to fill up your necessary payment details and simply clock on the " start free trial".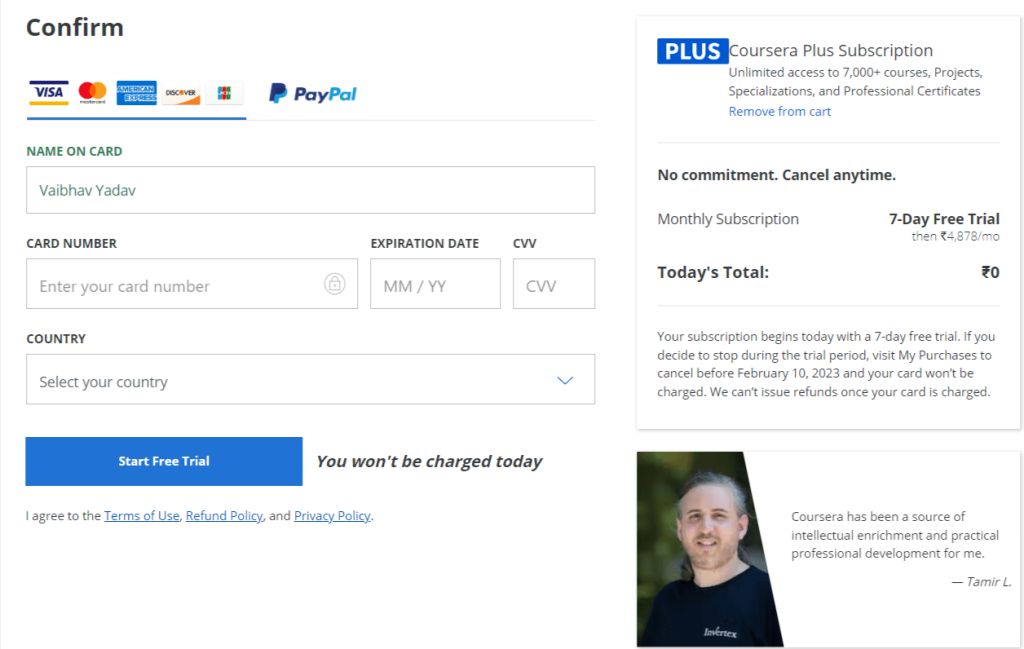 That's it! You can simply go through our Coursera Review to understand the platform completely.
Coursera Plus Free Trial Cancellation
You can end your free trial of Coursera if you decide not to continue with it.
When you connect to your Coursera account, go to "My Purchases" and then "Manage Subscriptions" to find your free trial. Then select "Cancel" next to "Free Trial" in the pop-up menu.
The remaining days of the seven-day trial will still be open to you, but you won't be able to access the course materials after that day.
Coursera Plus Pricing
Now let's have a look at Coursera Plus pricing plans.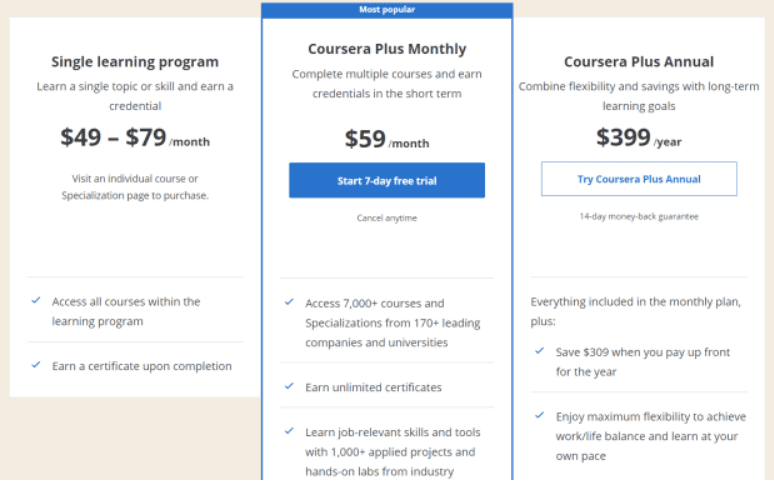 Users of Coursera Plus can choose between two plans. These subscriptions come with a 14-day money-back guarantee and a 7-day free trial.
1. Coursera Plus Monthly Plan:
The monthly plan costs around $59/month. This plan is ideal for those with more spare time who can enroll in several courses concurrently.
With this package, you have access to over 7000 courses and specializations from more than 170+ top businesses and universities.
Additionally, you can select from more than 15 professional certificates offered by various leaders in the business, like Google, Facebook, and others.
2. Coursera Plus Annual Plan:
Coursera Plus Annual Plan is billed annually, and it costs around $399 per year.
This plan offers all the features included in the monthly plan. Plus, users get maximum flexibility to achieve work and life balance and learn at their own pace.
The best part about this plan is you save maximum money when you pay upfront for the year.
Moreover, you get a 14-day money-back guarantee, so in case you want to discontinue the plan, you can apply easily.
Refunds are processed instantly through Coursera's My Purchases page.
Benefits of Coursera Plus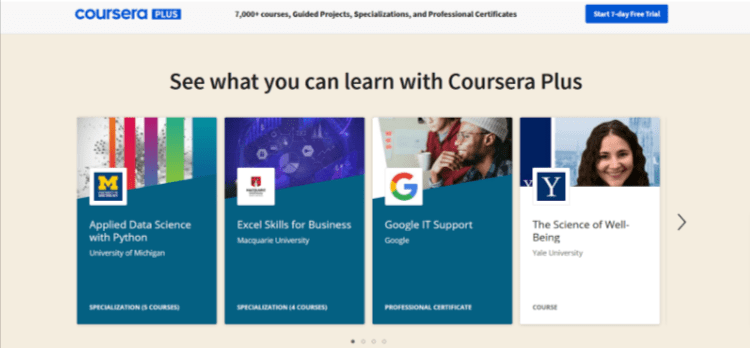 The benefits of Coursera Plus include the following:
Unlimited access to over 4,000 courses from 140+ top institutions.
Access to specializations, professional certificates, and Guided Projects.
No time limits on courses or certificates, allowing for self-paced learning.
Offline viewing of course material on the Coursera mobile app.
Graded assignments and quizzes, as well as peer-reviewed projects.
Access to a global community of learners and instructors.
Access to career support, including resume and portfolio building.
Coursera Refund Policy
When you can start with your free trial, you wont be charged for opting for a free trial for 14 days and you can just cancel it before the subscription. After buying a certificate from Coursera you can ask for refund within 14 days. The refund applies to Coursera Plus subscription & specialization. There is no refund for Guided Projects.
Is Coursera Plus worth it?
Coursera Plus is a valuable resource for those looking to continuously learn and expand their skills.
With a wide range of high-quality courses from top universities and organizations, Coursera Plus provides an affordable and convenient way to upskill.
However, it may not be the best option for those who only plan to take a few courses, as the cost of the subscription could outweigh the cost of individual courses.
So if you ask me, Coursera Plus has been a great choice, and it is worth paying for the top-quality courses.
Additionally, it covers a wide range of topics like business, personal development, data science, psychology, etc.
Related Read:
Final Thoughts: Coursera Free Trial (2023)
In conclusion, Coursera Plus is a valuable investment for anyone looking to expand their skill set and stay competitive in today's job market.
With a free trial, individuals can test the platform's offerings and explore a diverse range of courses from top universities and organizations.
Whether you're looking to upgrade your existing skills or learn something new, Coursera Plus is a cost-effective way to access a world-class education.
So, take advantage of the free trial and start learning today!
FAQs – Coursera Plus Free Trial
Does Coursera plus provide a free trial?
Yes, all Coursera Plus courses are available for a free 7-day trial. The free trial should be canceled before it expires if you don't want to be charged for the membership.
What will I get in the Coursera Plus subscription?
You can access more than 7,000 courses, specializations, professional degree programs, and projects on a variety of topics with the Coursera Plus subscription.
Does Coursera Plus offer a money-back guarantee?
If you decide to sign up for Coursera Plus annually, you will have 14 days after your purchase to request a refund.
Can I use Coursera Plus for free?
Only if you decide to pay monthly may you use the seven days of free access to the Coursera Plus courses. You won't get a free trial if you decide to pay annually, but you will get a 14-day money-back guarantee instead. But if you get a certificate within the 14-day timeframe, they have the right to reject your refund request.