If you're preparing for the GRE, you must have heard about PrepScholar. GRE is one of the toughest exams to get into grad school. If you're looking to crush the exam and wondering if PrepScholar can help you do it, you're at the right place!
PrepScholar is a newer and smaller company than other popular websites offering the course, such as The Princeton Review and Kaplan. It is only natural to have your doubts about it. We're here to help you clear them out.
Since most online articles on PrepScholar GRE review are biased, we decided to try it ourselves. We wanted to see if PrepScholar is really what they show in their ads and help you make an informed choice.
In this article, we will discuss our experience with PrepScholar GRE. We will discuss the features that make it stand out in the crowd and the possible downsides. Stick around to find out if the course is worth your money.
PrepScholar GRE Review 2023 (In A Nutshell)
Too lazy to go through their entire review? No worries! We understand that not everyone has the time to read an article word-by-word. That is why we are here with a small table giving you a quick glance at the course.
| Parameters | Rating |
| --- | --- |
| Course quality | 4.7/5 |
| Instructors | 4.8/5 |
| User interface | 4.6/5 |
| Learning experience | 4.9/5 |
| Overall | 4.7/5 |
PrepScholar GRE Review: An Overview
Did our quick table intrigue you to continue with the article? If yes, let's dive into the details without wasting more time!
PrepScholar GRE is a preparatory course for GRE providing lessons and study material at an affordable price. They use machine learning algorithms to determine students' weaknesses and strengths and create tailor-made courses.

PrepScholar was created by two Harvard Ph.D. graduates back in 2013. They aimed to provide customized study plans to students at a price that is affordable for the masses. Even though they are relatively new, PrepScholar's GRE program has gained immense popularity.
With a bunch of quality course material and practice sessions, PrepScholar GRE is the perfect way to prepare for the test at a low price. Moreover, they offer a 7-point increase guarantee, which is a bold claim for such an inexpensive course.
However, the course is completely based on a self-paced online format and does not offer any live classes. This might be a deal breaker for students who prefer in-person guidance. Although, you can always clarify your doubts using the student support feature. PrepScholar's 99th percentile instructors will assist you.
PrepScholar GRE Review: A Quick Glance At The Features
PrepScholar is packed with many quality features that we will discuss in detail in the article. However, if you're looking for a shortcut, here is a quick glance at the most important ones.
The diagnostic test creates a tailor-made curriculum for each student.
Affordable than most other options in the market with a similar course content quality.
Offers a 7-point increase guarantee.
Enhancement reports allow you to track your progress.
Enjoy year-long access to the course content from the date of buying.
GRE tips and grad school guidelines worth over $3,000.
Fun learning process.
300+ hours of mini lessons for new test-takers.
If you buy the GRE unlimited package, the instructors grade your essay.
Information FAQ section for student support.
Interactive lessons.
Personal reminders and updates.
Video lessons to explain difficult topics.
PrepScholar GRE Review: User Interface
PrepScholar is easy to use and has a sleek user interface. Even if you are not well-acquainted with online courses, you will get used to PrepScholar's interface quickly. There are tabs on the top of the page with options to get to the dashboard, progress tracking, strategies, calculator, quizzes, etc.
The dashboard gives you a clear picture of your assignments, quizzes, and weekly progress. The strategy section provides tips for tackling challenges and identifying important and unimportant texts.
PrepScholar GRE Review: Personalized Curriculum
One of the best features of PrepScholar is that it prepares a personalized curriculum for each student. When you buy the course, you cannot start studying right away. Instead, PrepScholar requires you to take a diagnostic test that evaluates your ability.
The test determines your skill level, weaknesses, and strengths. PrepScholar's algorithm named CustomPrep prepares a customized curriculum based on their performance level. As your skills increase, the quizzes and questions level up as well.
This feature allows students to progress slowly rather than being overwhelmed with difficult questions as soon as they start. Leveling up gradually allows room for improvement and noticeable score increases.
While other courses follow a one-size-fits-all approach, PrepScholar chose a different route that works for every student.
PrepScholar GRE Review: Progress Report
Being able to look at your skill level rise with time motivates you to do better. PrepScholar provides weekly progress reports to track how much you've accomplished. It also provides clarity on what you need to work on.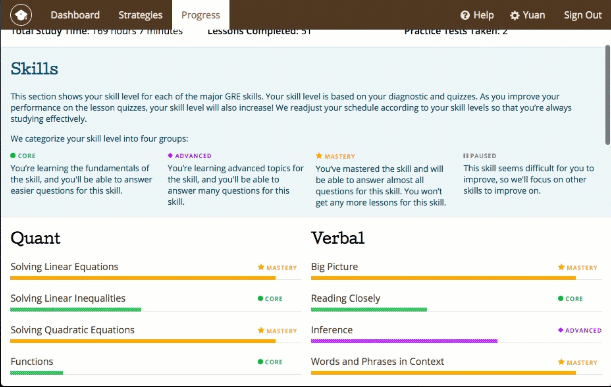 PrepScholar sends weekly emails on your progress against your goals by reminding you how much you've done and what's left to cover. It also informs you about your study schedule and sends reminders.
We thought this was an excellent method to motivate students to study. After all, it is nice to see your hard work paying off!
PrepScholar GRE Review: Game-Based Learning
If you were looking for a fun way to study for your GRE test, PrepScholar might be the one for you. PrepScholar offers a game-based learning process where it stimulates you to clear the exam like an interactive game.
When you first start the course, you will begin with solving a series of easy questions in each category. You can only level up and get more difficult questions if you get those questions right. If you've ever played mobile games, you know how this goes!
Students will feel challenged to complete more and more questions to get to the next level, which gives them practice for the exam. This is a fun learning process as it does not make the students feel pressured. They solve the questions of their own will.
PrepScholar GRE Review: Faculty
Although PrepScholar does not provide live or in-person classes, its designers are highly qualified instructors. For starters, the founders of PrepScholar are two professors from the world-renowned and prestigious institution, Harvard University.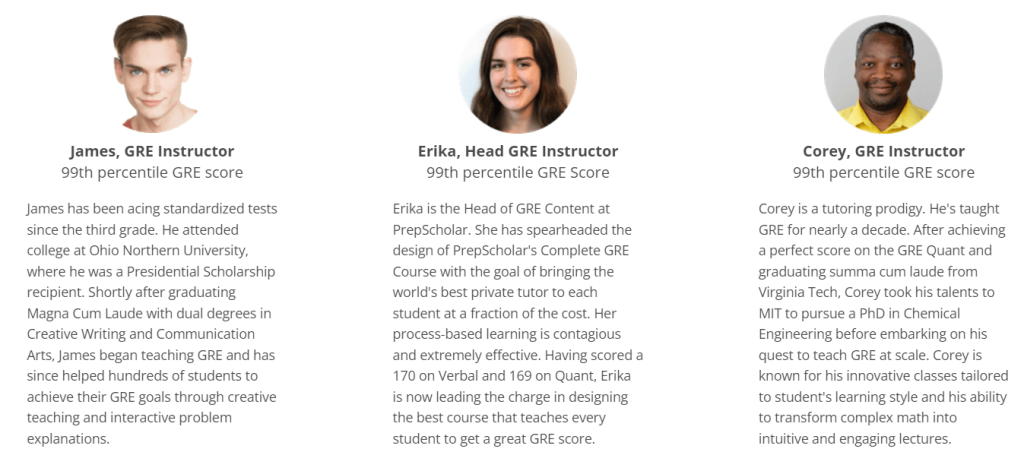 Besides that, the questions and explanations are designed by the top 1% of GRE scorers from the top graduate schools in the world. The instructors have years of experience and have won various awards for their work. Moreover, the team of experts continuously updates the program.
Lastly, all the instructors have a 99th percentile GRE score. So, they can definitely tell you a thing or two about clearing the GRE!
PrepScholar GRE Review: Is There A Point Increase Guarantee?
Even though PrepScholar is much more affordable than most of its competitors, it offers the highest point increase guarantee of 7 points! Yes, you read that right. PrepScholar confidently boasts a 7-point increase in your score after you take their course, or else they will give you a full refund.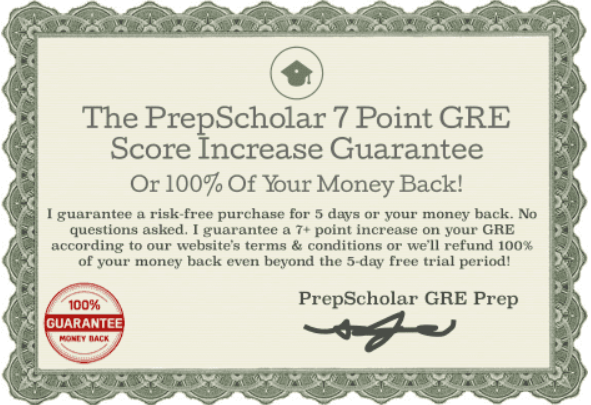 Along with having your money back, you get an additional one year of access to the course to try again. A 7-point score increase is a pretty dramatic difference and can take you from the bottom 50% to the top 25% of scorers.
So, this is a great way to improve your GRE score at an affordable price. You either get your money's worth or your money back!
PrepScholar GRE Review: Pricing
PrepScholar offers two pricing plans for the same course. One gives you one-year access, while the other lets you keep the course for a lifetime. Here are the prices: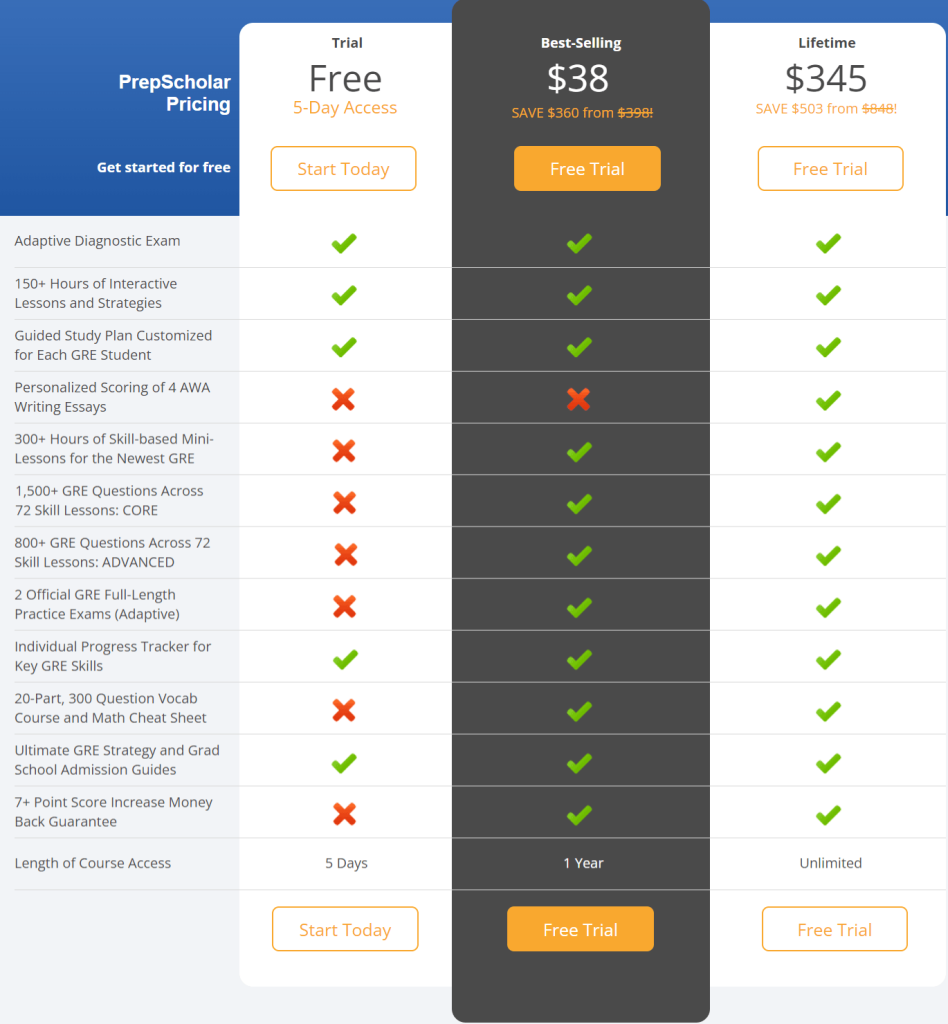 One-year access: $398
Lifetime access: $848.
Besides these, PrepScholar also offers a free trial of 5 days to let you see what you can expect in the course. If you're still skeptical about buying the course, you can try the free version for five days and decide for yourself. However, you won't get most of the features in this version.
Here is what you get in the free version:
Diagnostic exam.
150+ hours of lessons and strategies.
Customized study plan.
Progress tracker.
GRE strategy and grad school admission guides.
One of the best things we liked about PrepScholar is their money-back guarantee scheme. As we've already mentioned, PrepScholar gives you a full refund of your money if you do not boost your score by 7 points or more. Therefore, make sure to take advantage of this!
PrepScholar GRE Review: Pros And Cons
Let us now look at the pros and cons of PrepScholar. Determining the benefits against the downsides is the ultimate way to decide if a course is worth your money.
| PrepScholar Pros | PrepScholar Cons |
| --- | --- |
| Affordability | The lifetime access is expensive |
| Comprehensive course materials | No live classes or personal tutoring |
| Highest score guarantee | Lacks resources like flashcards and notes |
| Essay feedbacks | No mobile app |
| Long period of access of 12 months | Lesser test materials than other courses |
My Final Verdict: PrepScholar GRE Review
After everything, it all comes down to one question: Is PrepScholar worth your money? After trying the course, we saw that PrepScholar does not offer as many course format options and test materials as other courses. Still, the content quality is certainly worth it.
It offers a curriculum personalization option, a great feature for struggling students. Moreover, you have access to the course for a whole year, meaning you can start preparing 12 months prior to the test. This gives you a lot of time to upskill.
Lastly, what we think is a game changer is their refund policy. A 7-point increase is a bold claim, and PrepScholar does not only make a claim but guarantees to return your money if it turns out to be wrong. Therefore, we strongly believe that PrepScholar is worth a try.
Related Read:
Conclusion: PrepScholar GRE Review 2023
At the end of the day, you can never go wrong with course personalization, top-quality instructors, and a score improvement guarantee! Even though the platform is somewhat new, PrepScholar has made its way into students' hearts by helping them clear the toughest grad school exams.
If you're serious about crushing the GRE, PrepScholar can help you push in that direction. Like any other website, PrepScholar has its share of drawbacks as well. However, we found that the benefits outweigh the downsides. Despite the limitations, PrepScholar is packed with quality content and good features.
We hope our article on the PrepScholar GRE review helped you arrive at a conclusion and make a decision. We covered as many details as possible to make it easier for you to make a choice. If you still feel indecisive, you can always try the free trial for five days.
We've now reached the end of our review. Please leave questions and suggestions in the comment section below.
FAQs: PrepScholar GRE Review
Is PrepScholar Good For GRE?
Yes. We believe PrepScholar has quality course materials and an effective learning process for today's generation. Its diagnostic test feature stands out in the crowd. 
Do students need to buy additional course materials once they buy a PrepScholar course?
No! Everything comes in one single price. When you buy the PrepScholar GRE course, you get access to all the course materials, practice tests, quizzes, and guides under one price. 
Is PrepScholar completely online?
Yes. PrepScholar is 100% online. All the course materials are available online, and you do not need to drive to a center to study. All you need is a computer and a good Internet connection. 
Will PrepScholar increase my GRE score?
Most likely, yes. PrepScholar is designed by the top 1% of GRE scorers with a 99th percentile. Therefore, the quality of course materials is high. It also guarantees to increase your score by 7 points. 
Do you need to take the GRE before signing up for PrepScholar?
No. You do not necessarily need to be reattempting the GRE to sign up for PrepScholar. In fact, most of PrepScholar's students are first-timers.