Are you searching for a platform that will help you to create and sell courses? Then you might have run across the suggestions of Teachable. If you have ended up in here, then you are reading the right and informative Teachable review.
When I began my research to find a platform that could help me sell my courses online, I was overwhelmed by the number of platforms available. However, due to their complicated payment terms, lack of integrated features, and hard-to-use interface, I gave up each time.
Fortunately, during the process, I came across Teachable. Every platform has its own limitations and drawbacks. But, I found teachable to be suitable for beginners due to the functions and features it offers to the course creators.
In this Teachable review, I have stated all the features, working, pros and cons, pricing, and the rest of the required details of the Teachable platform.
Teachable Review 2023: In A Nutshell
If you are looking for an unbiased Teachable Review then here we go.
It was created in the year 2013. Teachable provides a platform for course creators and educators to create and sell their courses. On teachable, you can create courses from any domain and niche.
Teachable is an entire package that helps you create, sell and market your courses. The platform will take care of everything for you, including web hosting, page creation, and payment processing.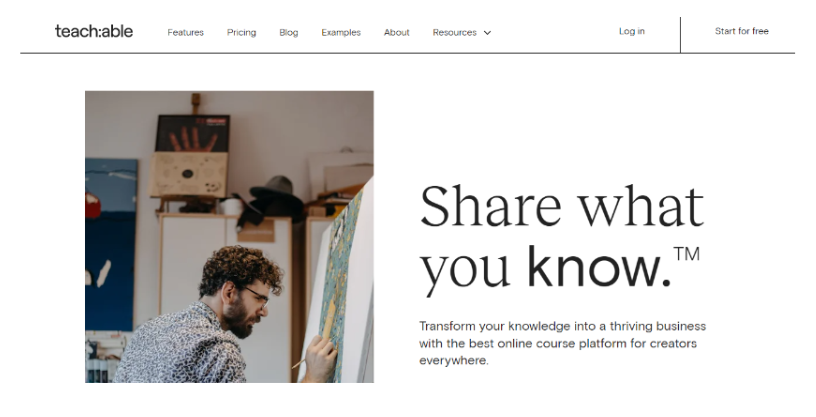 Moreover, the platform allows you to customize your pages according to your needs. With its easy-to-use functions and various integrated tools, Teachable makes it easy for beginners to set up their courses.
Teachable Review Overview
Teachable provides business owners and creators a platform to create their brands online. If you have expertise in a subject or are already an educator, you can create online courses to share your expertise and have better exposure.
Teachable's main website is called the school. Here, you can host your products and sell them. After signing up for a teachable plan, you will be able to create one school. An unlimited number of coaching, products or individual courses can be hosted in each school created.
How Do Teachable Work?
Lets have a look at How Do Teachable Work?
1. Sign up on teachable and choose a plan that suits your needs.
You will be required to create your account on teachable to create your courses and sell them. To use the platform to its maximum extent and earn profits, you will have to select a payment plan that suits you.
2. Once you have completed the signing process, you can create your first product.
To create a new product, you will have to click on the "+" icon on the left side menu. The icon is placed right beside the next to the product heading.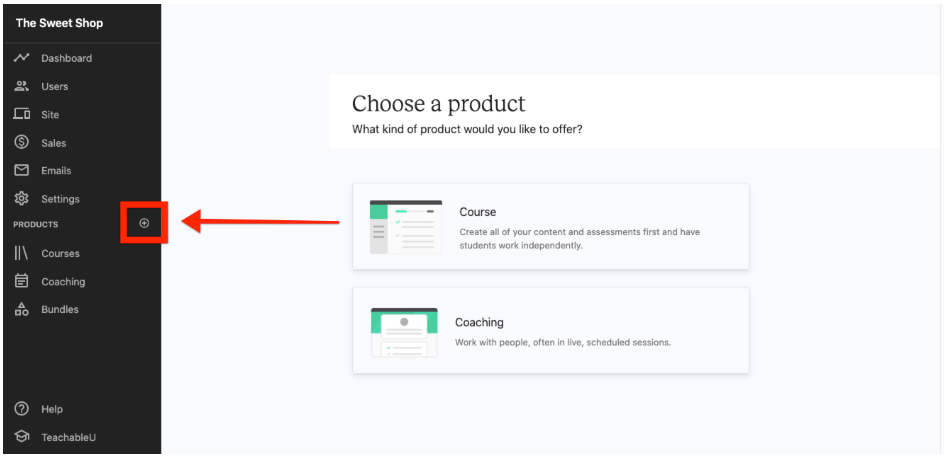 3. Next, you will have to select your product type
A Dialogue box appears after you click to create a new product. You will be asked to choose either coaching or course as your product type.
4. Fill out the required details about the product.
The information regarding the product has to be filled in to provide insights to your clients. You can revisit and check this in the information tab of your product.
5. Create and customize your landing page
You will have to customize your school pages and add the additional required pages including terms of use, and the home page.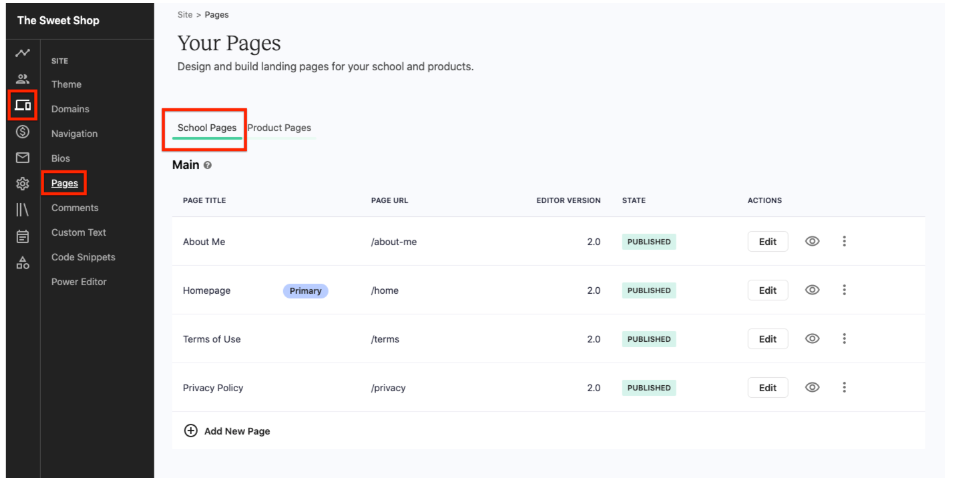 You will be able to access the school page from the sites> pages menu.
6. Add a featured block to your home page to make it easy for the learners to land on your products easily.
Customers click on the products that are easy to reach and navigate. Make sure to highlight your products and display them attractively on your home page.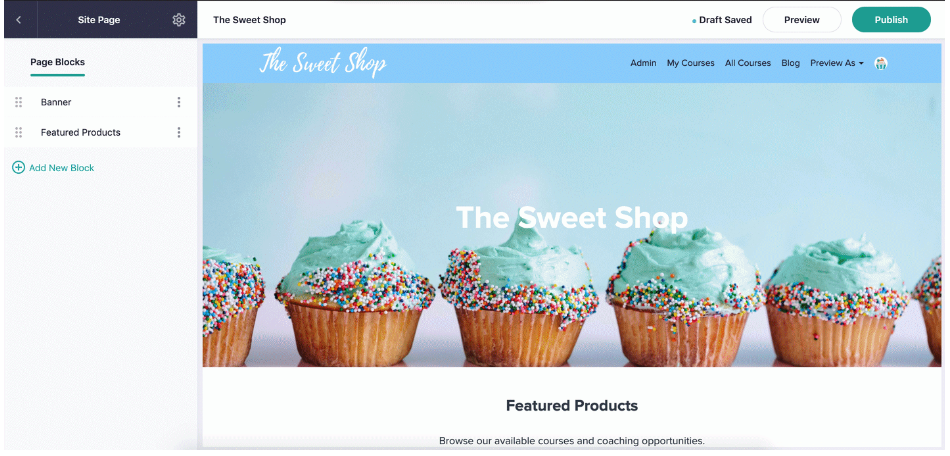 7. Set up the domain of your product
You can choose either a custom domain or a teachable subdomain.
8. Set up the payment gateways for purchasing your products
To sell and earn through your products, you will require to set up a payment gateway.
That's all with the working of the platform. Let us take a look at the unique features of Teachable.
Teachable Key Features: Explained!
Every platform has its unique features and accessibility. Teachable is filled with different features and functionalities.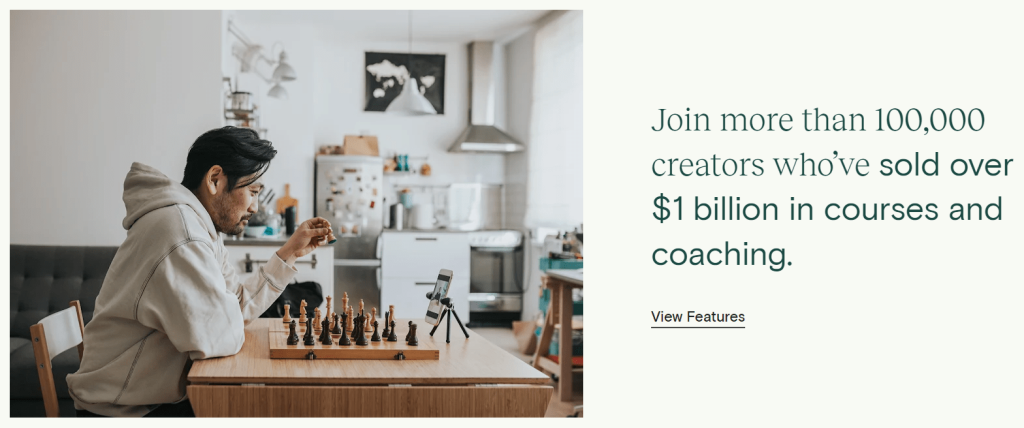 Let us take a gist of the features available on the platform.
1. The drag-and-drop builder makes it easy to create the courses
Teachable provides you with many tools to customize your pages and create your course. One of the tools that I loved the most is the drag and drop tool. It enables you to drag and drop video images and documents into the course page.
2. The Sales page allows thorough customization
Customizing your sales page and creating your unique brand are the features that add the cherry on top. This provides a unique space for all the course creators as well as attracts the attention of the learners.
3. You will be able to create a customizable check-out page
Teachable offers you all the e-commerce facilities with integration to various platforms. This makes transactions easier without the involvement of any third-party systems.
4. platform offers integrations with various in-demand tools
Tools like MailChimp, ConvertKit, Zapier, Segment, Google Analytics, etc. have been integrated with teachable to allow ease of use to the platform users.
5. Several student-educator communication features are available
You will be able to communicate with the students with the help of comments, and emails. To test the learning and development of students you can use available tools to create quizzes, and surveys. You will be able to provide a certificate of completion to the learners when they complete the course.
6. You can create unlimited courses
The paid plans offer you ease to create a number of courses in any of the niches you want. You can share the required content with the student and provide video lectures in the courses you create.
7. You won't have to worry about taxes and other payments
The platform takes care of all the payments and taxes. You will be saved from all the tedious calculations and payments.
Teachable Pros & Cons
Lets have a quick look at Pros & Cons of Teachable
Teachable Pros
Let's have a quick look at Pros of Teachable
You can create unlimited courses.
The website is easy to use.
Different learning tools.
They will provide you with great customer support.
Variety of plans to choose from.
The plans are in the affordable range.
Teachable Cons
Let's have a quick look at Cons of Teachable
You will have to pay transaction fees on all the plans available.
Designing the sales page is difficult for new users.
The platform provides you with a collection of useful integrations.
The process of monetizing the courses becomes easy with the help of teachable.
Teachable Alternative
Teachable has reached great heights and can be considered as one of the best online course platform. But, there are few alternative for Teachable which will cost less and might tick all the boxes for you.
Sr. No.
Teachable Alternative
Feature
Ratings
1.
Kartra
Lead Capture Forms
Videos for Landing Pages
4.6/5
2.
Kajabi
In Depth Analytics
Podcasts
4.5/5
3.
Thinkific
Great Customer Support
Email Marketing
4.7/5
Teachable Review: Courses
It provides you the flexibility to choose the subjects. The platform supports all the contents, domains, and niches.
The popular course categories on the platform include arts, business, course creation, careers, design, food and drink, health and fitness, marketing, music, home, and garden, photo & video, lifestyle and hobbies, productivity, travel, languages, photos, videos, writing, etc.
Once you join teachable, you will be asked to create your account and school. You can start off with the free plan available. Later you will be able to upgrade your plan as your business grows.
Teachable Pricing
There are 4 plans for you to pick from. The plans are free, basic, pro and business. Moreover, you will get coupon codes available for all the paid plans to avail some of the discounts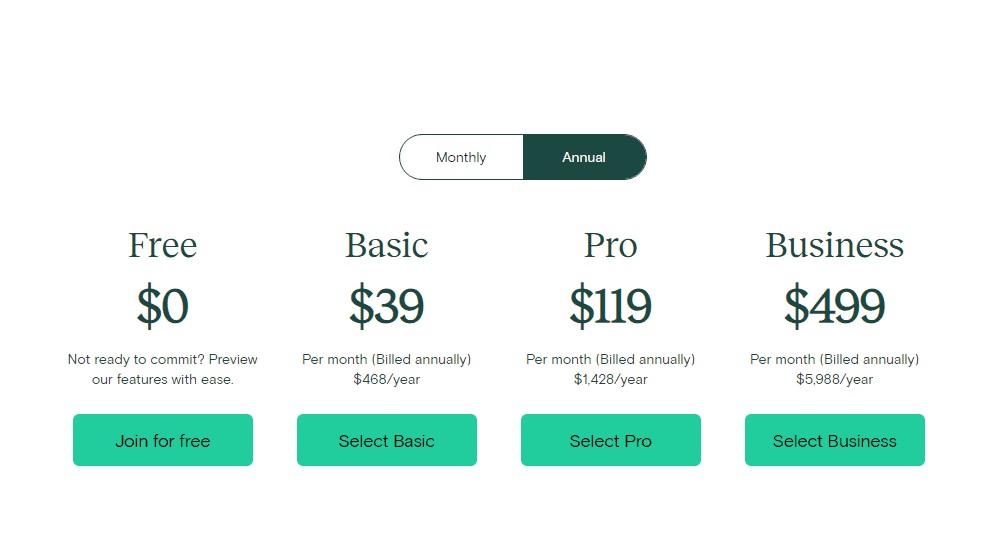 The plans available on the platform are as follows.
| | | |
| --- | --- | --- |
| Plans | Monthly | Annual |
| Free | $0 | $0 |
| Basic | $59 | $39 |
| Professional | $159 | $119 |
| Business | $665 | $499 |
Let us take a look at what different plans have to offer you.
Teachable Free Plan
The free plan provides access to 1 admin and unlimited students. But you will have access to only 1 course.
You can have access to an integrated website builder and payment processing. Tax handling, Referral marketing, and email support are the other features that you get to access.
Transaction fees on sales are $1 and an additional 10%.
Teachable Basic plan
In addition to the facilities offered in the free plan you get to access the features such as custom domain, and direct integrations. Besides the plan includes 2 admins with unlimited students.
You get extra access to email marketing, private community, launch accelerator, etc.
Transaction fees on sales are 5%
Teachable Professional plan
In the professional plan, you get access to 5 admins and live chat support. In addition to the basic features, you get public API, affiliate marketing, advanced reporting, etc.
Transaction fees are 0%
Teachable Business plan
In the business plan, you get access to 20 admins, advanced theme customizations, group coaching calls, etc.
Transaction fees are 0%
How to Create A Teachable Account?
When you create a teachable account, you will automatically create a school. You will be later able to disconnect the school from your teachable account.
Let us take a look at the steps to create your school on teachable:
If you are a new user, you will have to sign-up for a teachable account. If you are an existing user log in to your teachable account and skip to step
Enter your details in the dialogue box that appears on the screen. You will have to provide consent to the Techables terms and conditions. Then click on Create Account.
Enter a name for your school and then click on Create New School.
Once you have created your school, you will be asked to fill out a survey. You can skip this part as it is optional.
Click on Enter my school. You will be redirected to your school admin dashboard.
Congratulations! You have successfully created your teachable account. Now you can set up your school and courses and customize the landing page. 
Who Should Use Teachable?
Presently there are more than 100,000 creators on teachable. They have created and sold courses and classes for around $1 billion.
Educators in different fields like designers, programmers, writers, photographers, academic tutors, linguists, etc can use Teachable. The platform is easy to use for those who are not that familiar with the technology.
Whether you are an educator, small business owner, entrepreneur, student, or housewife, the platform is suitable for you to create courses. You can share your expertise with the help of the platform, in the comfort of your home, and with flexibility.
The platform is great for learners who are eager to learn various skills at an affordable price. Large organizations and companies can use Teachable to train their employees and help them learn faster.
You can also use the platform for branding your business by offering courses and providing insights into your business.
Above all, the platform is suitable for you, if you want to build an online school, create an online course, offer free or paid courses, or provide students with online academic tutoring.
This platform is also right for students or learners who have a keen interest in learning and want to upskill their knowledge. Teachable is used by millions of students to ace up their skills and curriculum.
Related Read:
Final Thoughts: Teachable Review (2023)
Considering everything, if you want to create a course and sell it online without investing a lot of time, Teachable will be a suitable option for you. Apart from being suitable for beginners, it has various features that make it easy to use.
With some of its drawbacks, it still serves the required purpose and will fulfill your needs. If you aren't a tech-savvy person, Teachable will help you to customize your pages easily without digging deep into technology.
I will surely recommend it to the people out there looking for a passive income through course creation. Its integration with various tools provides it an edge over others.
Above all, I found it efficient enough to fulfill my needs. You can take a free trial of Teachable and then judge it according to your necessities.
What was your experience with Teachable? Did you find it suitable for your requirements? Feel free to let us know if you have any doubt or a question about Teachable or about this article 'Teachable Review'.
FAQs Teachable Review
Is Teachable reputable?
Teachable is widely used by small business owners, content creators, students to generate passive income, beginners, etc. Experts can share their knowledge with the students and train enthusiastic learners. 
Is teaching on Teachable worth it?
Teachable is definitely worth it if you know how to take advantage of all the features provided. The platform is affordable and lives up to the expectations of the course creators and beginners. 
Can you make money on Teachable?
Yes, you can monetize your courses on Teachable. It will help you be a full-time or a passive income earner. 
Is Teachable good for online courses?
 Yes, Teachable is one of the most suitable choices when it's the subject of creating and selling online courses. It provides you options to integrate with many tools and drag and drop options to insert video lectures and other documents on the course page. 
Is there a free teachable plan?
Yes, there is a free teachable plan. However, it has limited time access and lacks many teachable features.