Udacity is the pioneer of the e-learning industry. You might not know it, But Udacity is the one who initiated it all, not Coursera or Udemy. After, I got to know about it. It hit me with a hint of amusement, just like you. I naturally wanted to try out Udacity and see how it works and what unique things it offers.
While looking at Udacity came across the founders' unique reason for naming the platform Udacity. It was derived from the founder's experience, struggle, and chances of bravery against their high-risk gamble.
But, I was convinced when. Though the name Udacity sounds unique and the story of it makes it a meaningful way to communicate your idea to the audience.
Still, I wondered how different a learning platform could be concerning the other platforms. So, I took up a course on Udacity.
Then, I realized why Udacity is still an impactful and relevant platform despite being competitive.
In this article, you will get a complete overview of Udacity, how Udacity works, its features of Udacity, its instructors, the sustainable model of Udacity, pricing, the pros & cons in detail, and much more.
Udacity Review: In A Nutshell
Udacity is an online learning platform that provides courses in various fields like Computer Science, Data Science, Artificial Intelligence, and Business. The platform offers learners individual courses, specialized programs, and nano degree programs.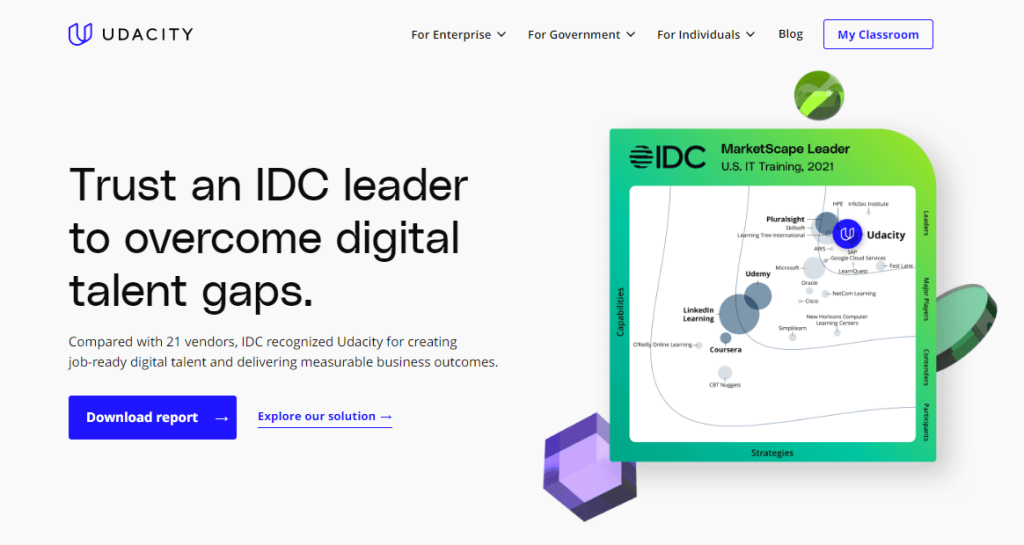 It provides an opportunity to learn at your own pace and convenience, allowing flexibility in learning. The courses on Udacity are designed by industry professionals and experts, ensuring that the content delivered is current, relevant, and applicable.
The platform is also known for its active community of learners and mentors, who support and guide learners throughout their learning journey. Overall, Udacity is a great platform for those who want to upskill or learn something new in their field of interest.
What are Udacity Courses like?
Udacity has partnered with several well-known corporations to provide quality education accessible to all from Silicon Valley. It includes Google, Facebook, Amazon, Nvidia, etc. It is also associated with some of the institutions, such as Stanford, to provide knowledge following the latest technological experts in the industry and technical fields.
Udacity has several courses on the platform, but the most popular courses on Udacity are undoubtedly their tech-related classes.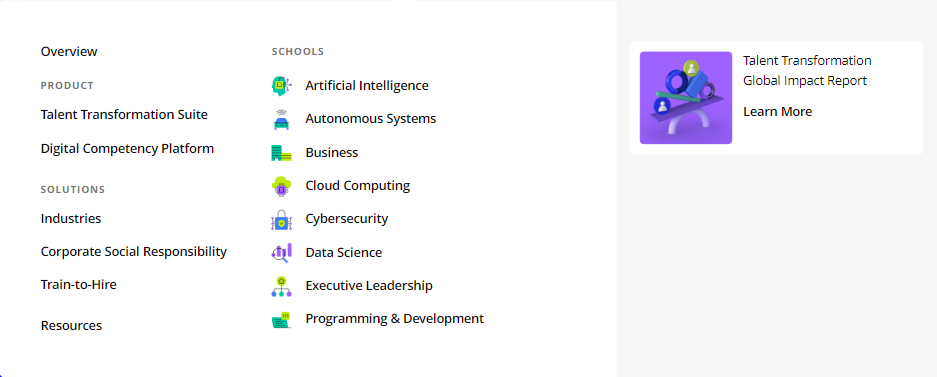 Though Udacity is not an accredited educational institutional platform, several of its courses, classes, and programs are not credit-bearing. However, the certificates issued by Udacity are highly valued by corporations in their recruitment and assessment procedures.
How good are Udacity Instructors?
Udacity works in collaboration with several leading corporations and institutions. Instructors of Udacity are highly qualified experts working in the industry.
Udacity has a unique feature where you can find out which companies have their programs, classes, and courses in collaboration with Udacity. It also tells you about the instructors involved in a particular company program.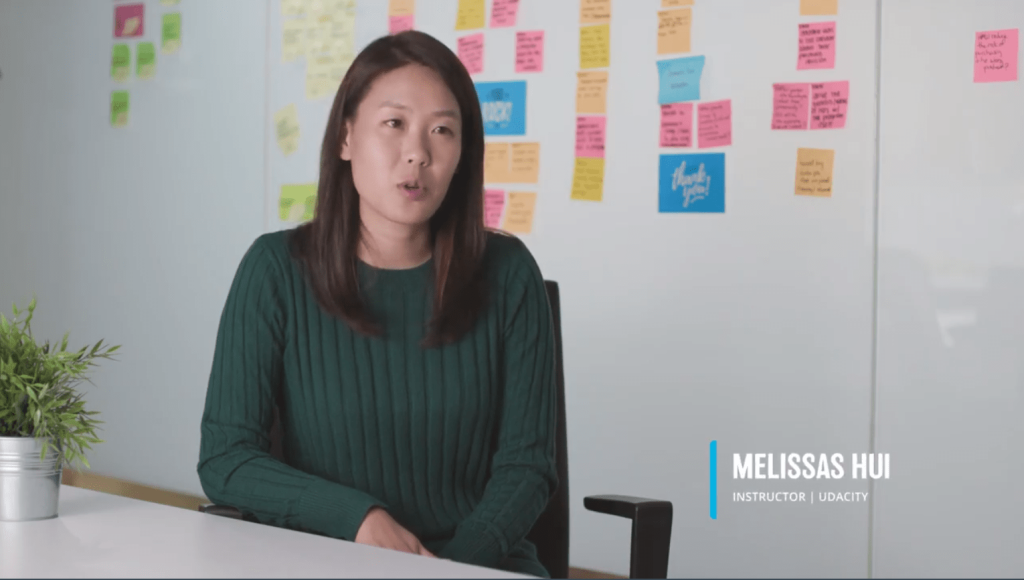 Accordingly, You can find out about the instructors teaching on Udacity. You can learn about them from information like which company they work for, their experience in the real world, how long they have been teaching, and how many programs they have on Udacity.
Functional Features of Udacity
Here we listed some features of udacity.
Course Structure
Most courses on Udacity are categorized into 10-20 minutes learning segments which I've found highly convenient and effective to learn with a short time constraint. Most courses are in the form of video lectures accompanied by quizzes and projects between the lectures.
Interactive Quizzes & Assignments
Udacity has a set of interactive quizzes, unlike the other platforms. Such quizzes work as a catalyst in your learning process as they don't require you to spend hours getting through them.
However, if you are attentive during the lectures and take notes while moving through the lessons, passing quizzes with good grades would be a slick of cake.
Udacity Certification
Previously, Udacity used to issue an informal certification ticket indicating course completion, but since 2014 Udacity has refused to issue such an informal ticket of certification for completion.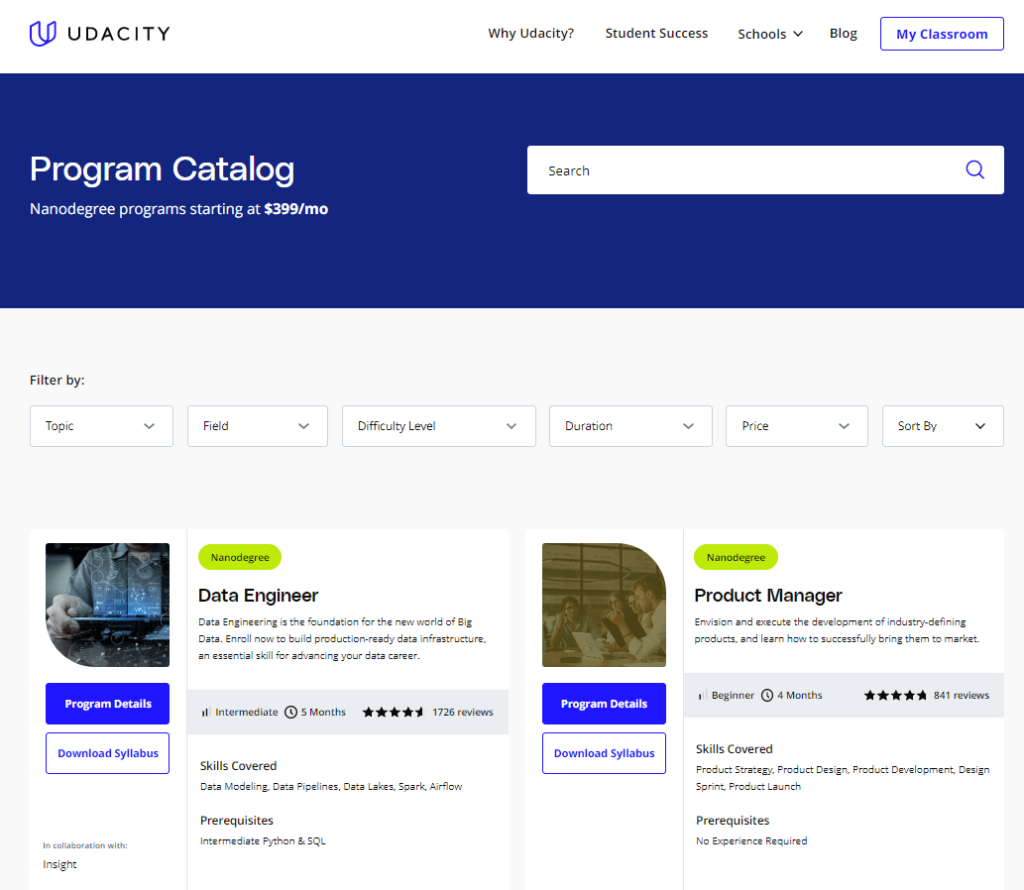 Instead, Udacity partnered with Pearson to provide a full-fledged employer with recognizable credentials to students after clearing a 75 minutes long exam.
What Courses does Udacity offer?
Udacity is famous for its simplified and advanced courses in the tech category. But, it still needs to pay attention to all other domains and industries. Instead, it offers high-quality premium courses in other domains, such as business, finance, management, etc.
Few categories of courses Udacity provides on its platform:
Artificial Intelligence
Autonomous Systems
Business
Cloud Computing
Data Science
Programming
Career
Development
Management
Micromanagement
What is Udacity Nanodegree?
Nanodegree is an online certification program exclusively on Udacity. It is a cost & time-effective alternative to traditional degrees. It resembles Coursera's Master Track programs and edX's Micro Master Program.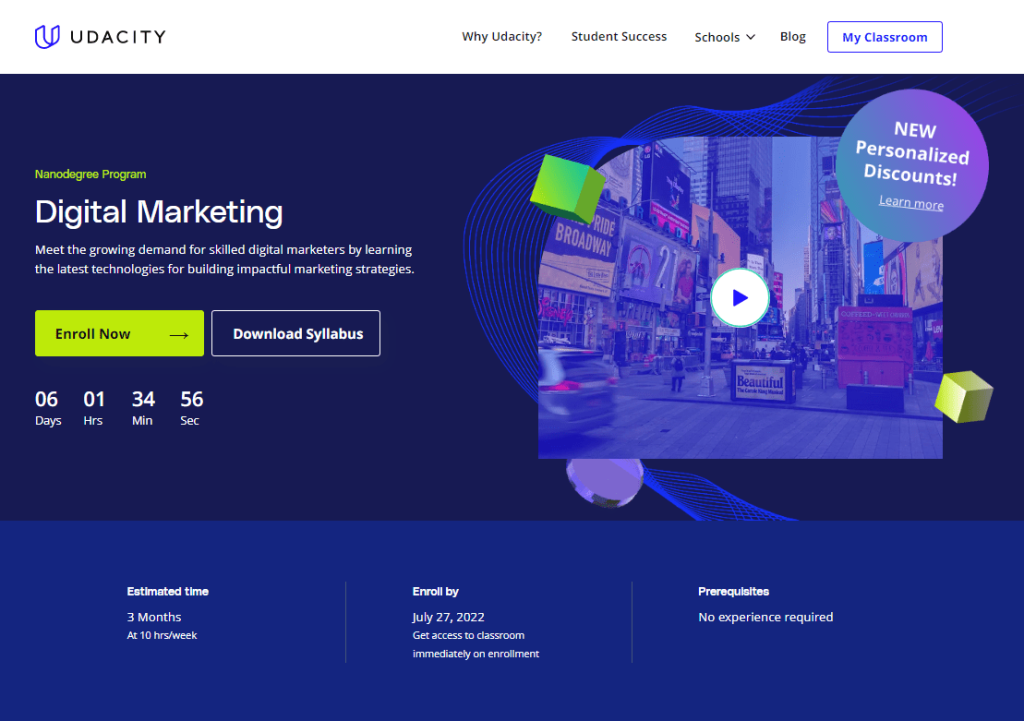 In Udacity Nanodegrees, you can study a particular subject & out with in-depth knowledge. Nanodegrees are generally 6-12 months long, and you pay for each month and get a certificate at the end. Students take up Nanodegree to learn a particular skill and study it thoroughly to become job ready.
Udacity Nanodegree degree Catalog
In Udacity, the program of Udacity Nanodegree has several courses divided into five major categories.
Programming & Development
Autonomous Systems
Artificial Intelligence
Data Science
Few Udacity Nanodegree programs
Introduction to Programming Nanodegree
Suppose you need help figuring out where to start your programming journey. Then, the Udacity Nanodegree of Introduction to programming would be a great initiation point. It doesn't require any prior knowledge. Instead, you'll learn HTML, CSS, Javascript, and Python in this.
Digital Marketing Nanodegree
Suppose you're curious to learn about digital marketing. But needed help finding a reliable source to study from. Then, Udacity Nanodegree of Digital Marketing could be your ideal choice for laying the foundation with several aspects of different platforms such as Mailchimp, ads, etc.
Business Analytics Nanodegree
Suppose you keep an eye on detail. Then, it could be your strength. If combined with analytical knowledge, Udacity Nanodegree of Business Analysis teaches how to analyze data and build substantial business models with Excel, SQL, and Tableau.
Who Should Use Udacity?
If you want to build skills in business, programming, data science, product management, cloud computing, cybersecurity, and more, consider enrolling in Udacity Nanodegree programs. They are perfect for building any new skill in a particular field by giving you 5-10 hours weekly.
This way, you can learn at your own pace. You will learn real-world skills that can help you land a good job. Industry professionals teach these courses, and the projects you do in these programs are real-world projects, so it will give you plenty of experience before looking for a job in the real world.
Will Udacity Courses Help Your Career?
If you are planning to take Nanodegrees seriously, it will help a lot with your career. You can become an expert in the topic of the Nanodegree you choose. You will also develop real-life skills to help you grow in your career. If you are already employed and want to get promoted for a position you don't have the skill for, then Udacity's Nanodegrees can help you get that promotion.
Udacity also offers various career services, from career advice to helping you completely rewrite your CV. They also offer you one-on-one interaction with their career advisors. You can also apply for Udacity's talent program, where you add your details and get listed in their talent base, and any employer can send you an invitation to apply for a role in their company.
What Do You Need to Enroll?
To enroll in any educational institution, you need to have certain documents and information ready. Firstly, you will require your photo identification, which usually comes as a passport or driver's license.
You must also provide evidence of your academic qualifications, such as transcripts and certificates from previous schools or colleges attended. You must also furnish your personal information, including your name, age, address, and contact details. Additionally, you might have to complete an admission form and submit it along with the application fee.
Depending on the level of education you wish to enroll in, there may be specific requirements, such as language proficiency tests, letters of recommendation, or portfolios. Therefore, it's advisable to research the institution's admissions criteria in advance to ensure you meet all its requirements.
Udacity Pricing
Although, Udacity is a subscription-based platform. But it provides over 200 courses on its platform that you can take up for free. These courses are molded to provide you with value in a compact environment.
Most of these courses are introductory while majorly covering career-related topics such as interview preparation and revamping your resume. These courses provide value but don't give a certificate of completion.
The pricing of courses on Udacity varies under the duration of the course. It makes the pricing structure of Udacity quite jargon, but it holds relevant value for money for the students.
Udacity Nanodegree programs start at $399 a month. The duration of the program may vary depending on the course & your choice.
Nanodegree Degree – Pricing Overview
| | | |
| --- | --- | --- |
| Nanodegree Duration | Monthly Pricing (Pay as go along)  | Full Access (Pay Upfront)  |
| 2-month Nanodegree  | $399 (Each Month)  | $558 (Complete Access)  |
| 3-month Nanodegree  | $399 (Each Month)  | $1017 (Complete Access)  |
| 4-month Nanodegree  | $399 (Each Month)  | $1356 (Complete Access)  |
| 5-month Nanodegree  | $399 (Each Month)  | $1695 (Complete Access)  |
| 6-month Nanodegree  | $399 (Each Month)  | $2035 (Complete Access)  |
Scholarship & Financial Aid By Udacity
Udacity provides scholarships to students who need help to afford their courses. You can check for the available scholarships on the platform. It has more than 10 categories under which students can apply for scholarships and financial aid. Udacity scholarships are exclusively sponsored by third-party organizations such as Google, Intel, Accenture, etc.
Udacity Refund Policy
Udacity provides a refund policy on all its courses and programs, irrespective of the course duration. When a program is purchased on Udacity, it comes with a 7-day refund policy.
You should access the course as soon as possible. So, you may claim a refund if unsatisfied with the course.
Top Programs on Udacity
Front End Development
You may find this course under the programming and development category. I've found this course most liked and reviewed in the development category. It is one of the most popular courses in the category as well.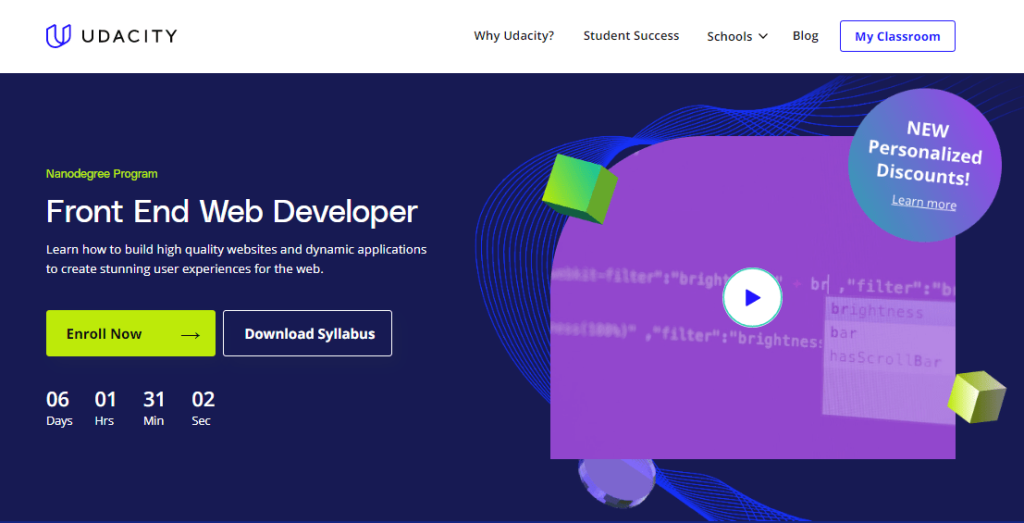 In this, you'll learn various skills required to build a responsive website from start to end using CSS and flexbox. This course is 4 months long with 5-10 weekly participation hours. You can check the details of the curriculum here.
Product Manager
You may find this course under the category of business and management. I've found this course to be the most popular in business and management. In this program, you'll learn about developing a product strategy, market analysis, designing and delivering products based on market research, and more.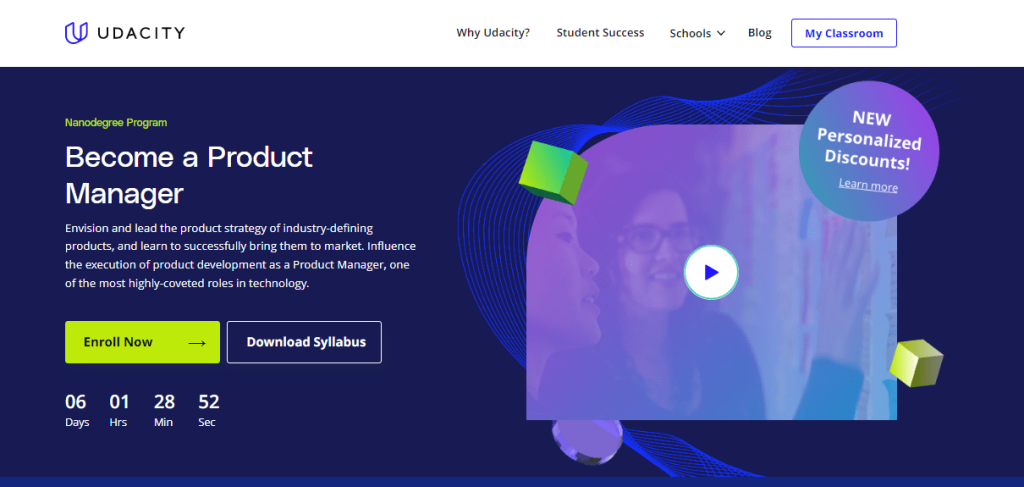 This course is 2 months long with 5 hours of weekly participation. You can check out the details of the curriculum here.
Self-Driving Car Engineer
You may find this course under the category of autonomous systems. This program teaches you about edge-cutting robotics, machine learning, and artificial intelligence.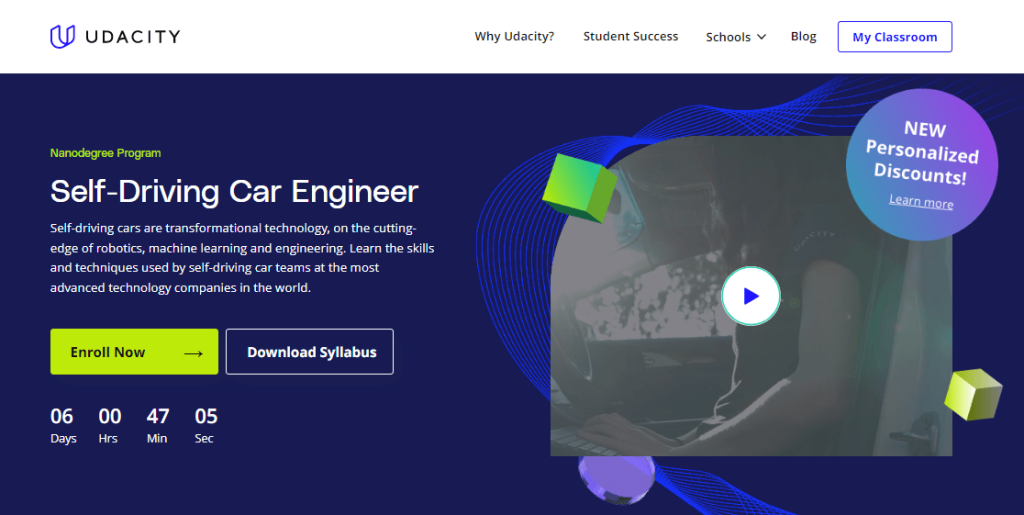 This course is six months long with 5-10 weekly participation hours. You can check out the details of the curriculum here.
Pros and Cons of Udacity
Some many pros and cons of Udacity.
Pros of Using Udacity
User-friendly Interface
After using Udacity for quite a while, I know it has the most user-friendly interface. Accessing lessons, assignments, quizzes, and projects is very simple. You can easily switch between video lectures and assignments. It also reminds you of deadlines and submissions.
Mentor Support
Udacity Nanodegree programs have a feature of mentor support where you get assigned a mentor who will help you throughout the course. You can ask away all your doubts whenever you feel like it. Mentors guide you through the course and give feedback for improvement. In the Nanodegree programs, mentors are generally industry experts, which gives Udacity students an unfair advantage over others.
Discussion Forums
Udacity has another effective and unique feature of discussion forums or peer chat groups. In addition to mentor support, students can access discussion forums and chat groups to help each other.
Cons of Using Udacity
No Udacity App
While using Udacity, you may encounter only the backdrop it has, which is that it doesn't have a dedicated application to host its material and resources, unlike all of its competitors.
Lack of Practical Activities
Udacity does provide a good amount of quizzes and projects in the course of the program. But, at some point, it needs more practical activities. However, with the recent advancement, I would like more practical activities in the curriculum.
Alternatives of Udacity 
If there's a strong competitor of Udacity out there. That's Coursera. 
Coursera provides excellent courses with premium quality across different domains and languages. For example, you can get courses at Coursera at a much lower cost than Udacity. 

Coursera offers independent courses from individual instructors, specialization, professional certificates, master tracks, and degree programs.
You may find edX a lot like Udacity as it has fairly similar features.
EdX does provide a few extra features for auditing the courses available on their platform for free, but Edx is fairly inexpensive compared to Udacity.

Code academy is another comprehensive alternative when learning programming languages. They offer great pricing for Java, Python, and SQL courses.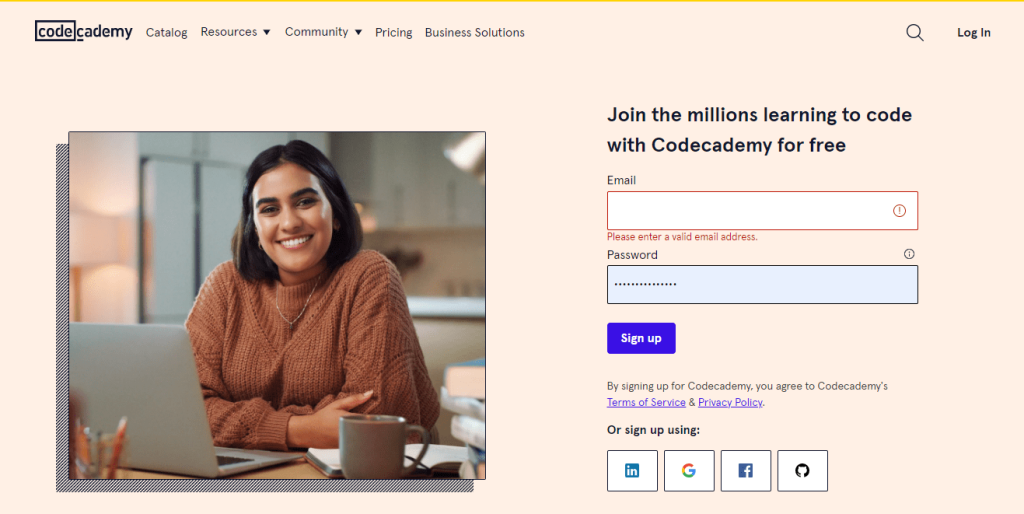 Datacamp is an effective and cheaper alternative to Udacity. Datacamp is beginner friendly. Choosing Datacamp for intermediate courses in tech would be a wise decision. It was later moved to Udacity for advanced courses.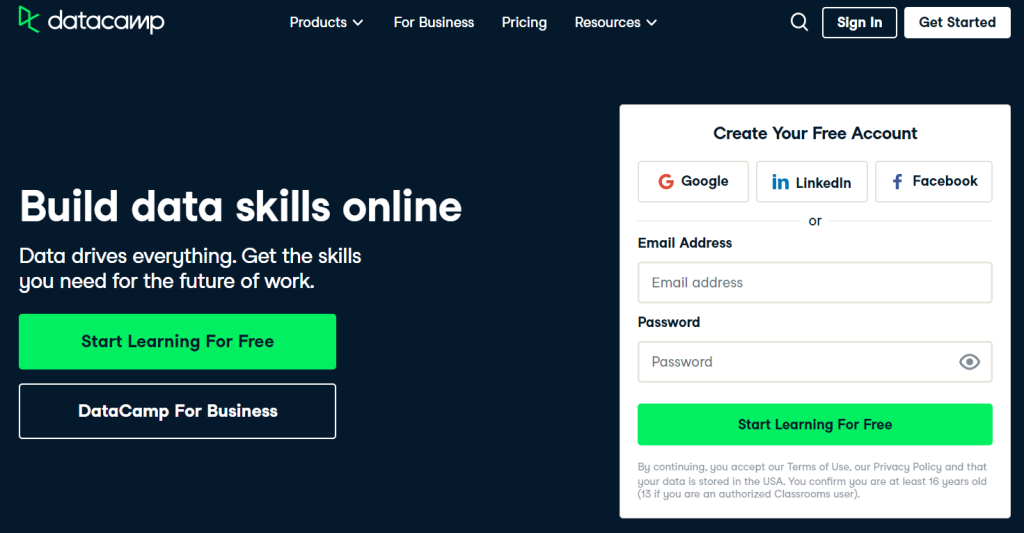 Conclusion: Is Udacity Worth It?
Udacity is one of the best e-learning-based platforms that provide hand on experience. At the same time, several other platforms are emerging as effective alternatives.
Udacity should be addressed because it has in-demand tech courses, mentor support, peer support, and other effectively enhancing attributes.
FAQs On Udacity
Can I get a Udacity Nanodegree for free? 
You can get a Udacity Nanodegree for free through Udacity Scholarships. Check out their Scholarship page, where they offer scholarships in 10+ categories. It may have something for you. 
Can I get a job after completing the Udacity program?
Udacity provides industry-credible certification, which gives you an advantage in landing a job. 
Can I complete a Udacity Nanodegree in a month? 
You can complete a Udacity Nanodegree in a month, depending on your interest, determinism, and caliber. 
 Is Udacity Nanodegree accredited? 
Any university does not accredit Udacity Nanodegrees, but you'll receive a certification from the associated university after completing a Nanodegree successfully.
Is Udacity Worth it? 
With the industry's credible certification and field expert teaching. It's worth it to invest your money and time in Udacity.