Education is one of the essential investments for any individual, but the rising tuition fees have discouraged many from pursuing higher education.
Fortunately, there are tuition-free colleges that provide students with the opportunity to earn a degree without incurring a financial burden. These colleges are affordable, offer quality education, and provide career opportunities to their graduates.
This article will explore some of the best tuition-free colleges in the United States. From military academies to liberal arts schools, these institutions offer a variety of programs for students to choose from.
Whether you're seeking a career in technology or interested in the arts, a tuition-free college may be the answer to your financial concerns.
What Does Tuition-Free College Mean?
Tuition-free college refers to a system of higher education where students do not pay any fees for tuition. It means that the government, private organizations, or other entities cover the entire cost of tuition for eligible students.
This system is often implemented to provide greater access to higher education for individuals needing more financial resources to pay for tuition.
Tuition-free college programs typically require students to meet certain academic and financial criteria, such as maintaining a minimum GPA, filling out detailed financial aid applications, and demonstrating financial need.
In some cases, these programs may also require students to work part-time or participate in community service activities as a condition of receiving tuition-free education.
Tuition-free college has gained significant attention in recent years, as many believe it could help increase college enrollment rates and reduce student loan debt.
Top Tuition-Free Colleges: In a Nutshell (2023)
Here is a list and a summary of the top 10 tuition-free colleges in the USA:
| | | |
| --- | --- | --- |
| S.No | Name of college | Highlights |
| 1. | Alice Llyod College | The Alice Lloyd College in Pippa Passes, Kentucky, is a four-year liberal arts college. |
| 2.  | Antioch College | Antioch's cooperative education degree program is among the best initiatives offered by tuition-free colleges in the country. |
| 3.  | Barclay College | The college offers a solid scriptural foundation and accepts all forms of evangelicalism. |
| 4.  | Berea College | It stands out from other colleges because it gives students a free education. |
| 5.  | College Of Ozarks | The College of the Ozarks offers engineering, science, and the arts courses. |
| 6.  | Curtis Institute Of Music | The Curtis Institute of Music offers courses leading to a certificate of professional studies in opera, a bachelor's degree in music, and a master's degree in music. |
| 7.  | Deep Springs College | The university has less than 30 students enrolled at once. |
| 8.  | Sterling College | Qualified students can anticipate a tuition-free junior and senior-year farming curriculum under this project. |
| 9.  | United States Air Force Academy | Members who graduate from this free institution serve 5 years on active duty and 3 years in the reserve.  |
| 10.  | United States Naval Academy | Students at the Naval Academy are midshipmen serving in the American Navy.  |
10+ Best Tuition-free Colleges In 2023
Free colleges and excellent education are ideal for many people looking to improve their lives through higher education. Interested individuals can receive a debt-free education from one of these top ten Tuition-Free Colleges.
1. Alice Lloyd College:
According to Forbes, Alice Lloyd College (ALC), founded in 1923, is one of the most financially stable colleges in the country. Alice Lloyd College provides free college education to qualified students in the service area of central Appalachia, which includes sections of Kentucky, Ohio, Tennessee, Virginia, and West Virginia. Alice Lloyd College has the advantage of being among the free colleges with the lowest debt graduates carry. Candidates for a degree accept the terms of the work-study program at ALC, which enables students to complete their education while supporting themselves by working on campus and in the neighborhood.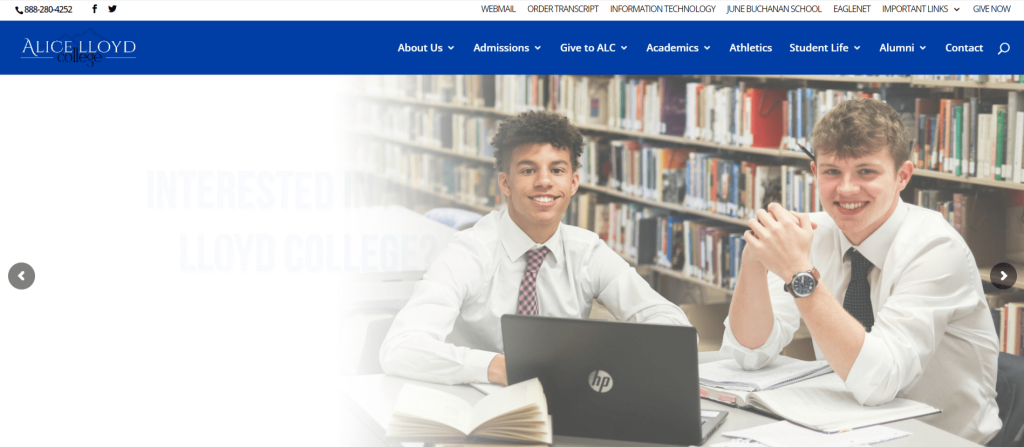 Furthermore, students at Alice Lloyd College put in at least 160 hours per semester at the institution. Roughly 600 students enrolled at Alice Lloyd College are pursuing one of the institution's 18-degree programs.
2. Antioch College:
Antioch College, located in rural Yellow Springs, Ohio, is one of the country's top free-tuition universities, with fewer than 100 students. Students alternate between academic terms in which they learn in a classroom and terms in which they participate in "co-op" experiences, during which they work full-time in a setting of their choice. Co-op courses frequently allow students to navigate challenging situations, improving their awareness of the potential work environment.

One of the perks of going to Antioch College is taking advantage of the school's commitment to being affordable. Part of their mission statement says that funding should not hinder education. Instead, the institution pledged to allocate $7.5 million for scholarships and grants for all its students. In addition, they determine student tuition on a need-based formula that considers the family's income and the amount of government help to which the student is entitled.
3. Barclay College:
Barclay College is one of Kansas' finest institutions, with free tuition provided by a Quaker school. Barclay provides various distinctive programs, including a bachelor's degree program in psychology and biblical counseling and courses in youth ministry, pastoral ministry, and worship/arts and theology.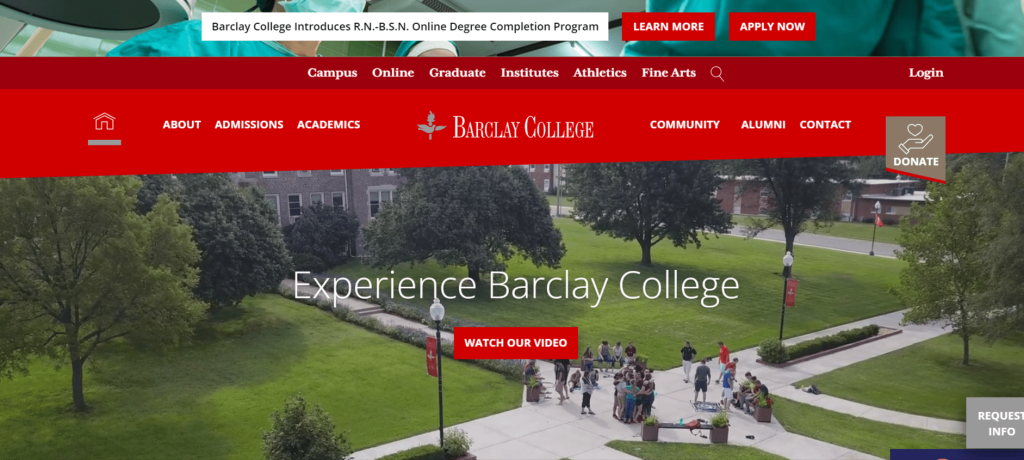 Supporters of Barclay College are committed to ensuring that all deserving students have access to a thorough, superior Christian education. As a result, many accepted applicants are given an instant $15,000 full tuition award. Barclay College not only allows students to graduate debt-free but also believes all students should have access to the college application process.
As a result, they provide a free application process to all applicants, regardless of financial situation. Additionally, even though online programming funding is less than residential programming, undergraduates still get $600 in scholarships to study online through any of Barclay's certified online education models.
4. Berea College:
Berea College, founded in 1855, is a nondenominational, tuition-free Christian school. Berea also sends each student an average of $1,000, which can be used for things like books, fees, housing, and food, among other things. Forbes names them as one of the top five best free institutions in the nation (in the best value category) for students pursuing academic degrees, recognizing them as one of the top free colleges in the nation.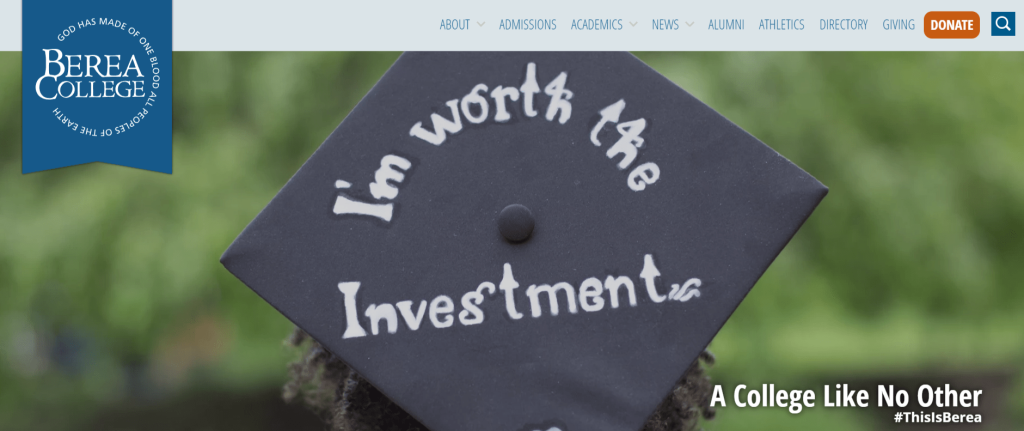 Berea College has baccalaureate programs in more than 30 majors, and more than 1,600 students are studying for baccalaureate degrees in more than 30 majors at the college. A further accomplishment of Berea is that it was the first institution in the southern part of the country to provide co-ed students with racially integrated classes.
5. College Of Ozarks:
The College of the Ozarks (COO) is one of Missouri's premier universities, offering students free tuition and the opportunity to graduate debt-free. The college was established in 1906 with the intention of opening as a high school, but the location was later transformed into a postsecondary institution. Their main goal is to give everyone they believe deserves it—especially those lacking the resources—access to a thoroughly Christian education. They support the development of patriotic Christian leaders with a strong work ethic as a cornerstone of ethics.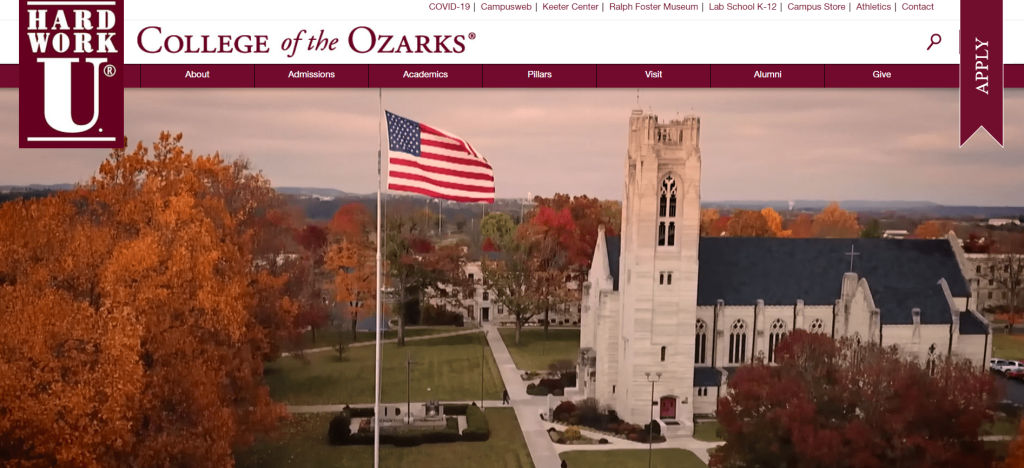 With the help of the College of the Ozarks scholarship, undergraduate education is free for students. Each student in the work program works two 40-hour work weeks per school year and 15 hours per week of paid employment. When making financial contributions to the scholarship program, friends of the college expressly support this Christian-centered practice by enabling students from all socioeconomic backgrounds to get a top-quality education.
6. Curtis Institute Of Music:
Curtis Institute of Music and Julliard are among the most prestigious performing arts schools in the United States, offering a hands-on approach to learning and a concert-packed schedule each year. Only 165 students register each year at the elite Curtis Institute of Music. In addition, each student at Curtis Institute of Music can receive individualized instruction from renowned musicians because of the school's cozy atmosphere.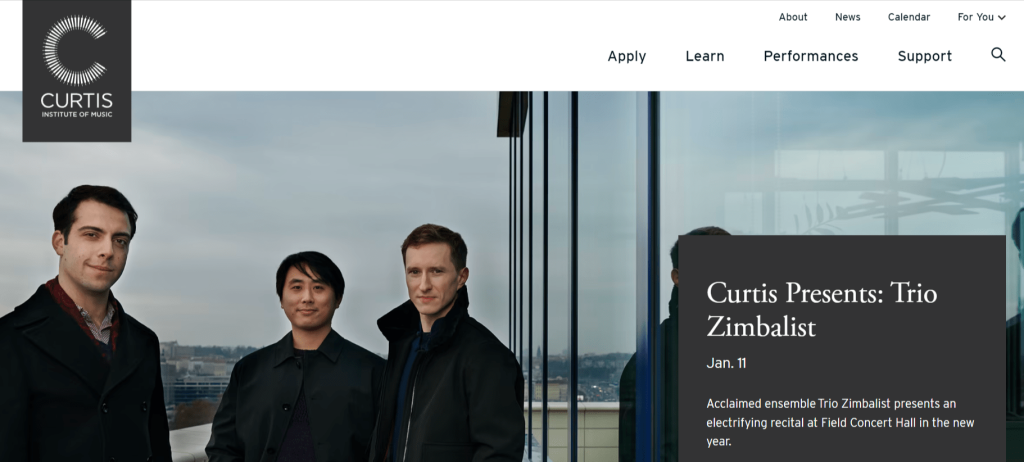 To attract the best musical talent, all Curtis students receive merit-based, full-tuition scholarships regardless of their financial condition. Additionally, students can qualify for additional loans or scholarships to help pay for additional expenditures. Curtis Institute of Music pays the full tuition for the few talented students who attend each year. Thanks to donations and endowment income, the Curtis Institute of Music can provide its students with a stress-free lifelong present.
7. Deep Springs College:
California's High Desert is home to Deep Springs College, a school that doubles as an alfalfa and cow ranch. This two-year liberal arts program is solely available at this school for men. Deep Springs College is a small, excellent institution with an annual admission rate of roughly 15 students. Regardless of financial need or other considerations, this Nevada-based college automatically covers all admitted students' tuition and housing costs.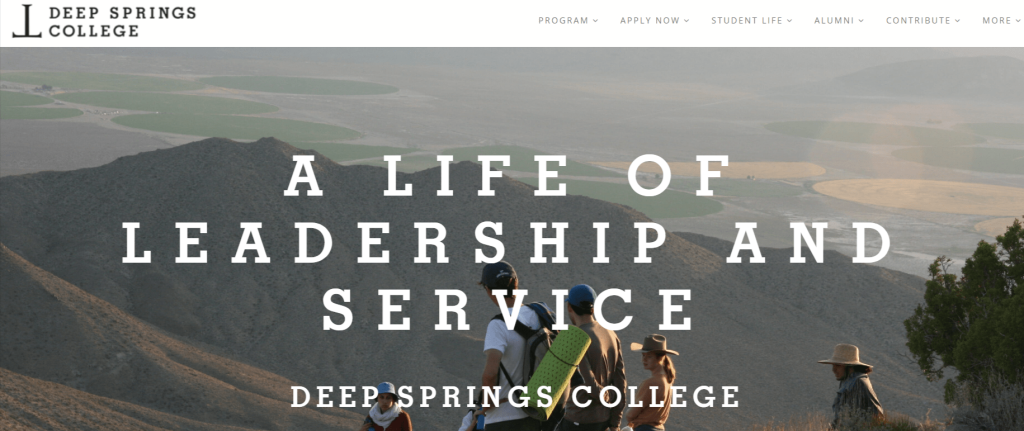 These scholarships are worth more than $50,000, but candidates must still cover the costs of their health insurance, books, travel, transit, and security deposits. Students at Deep Springs College must put in at least 20 hours of work on the ranch as an additional trade-off. Those who still need money should speak with the academic dean to learn about funding options for additional costs.
8. Sterling College:
The Wendell Berry Farming Program at Sterling College offers a tuition-free program if you are interested in farming or livestock management. This implies that the program is only open to students who have earned at least 60 college credits—at Sterling College or another institution—and who desire to pursue farming as a profession. For a two-year commitment, only 12 students are chosen, and those who qualify for the Pell Grant or hail from underrepresented groups in farming have an advantage.

Suppose this differs from what you were looking for. In that case, Sterling also provides a work program that reimburses a minimum of $1,650 annually for at least 80 hours every semester (subtracted from your overhead college fees). In addition, you can work on the farm, in the dining halls or kitchens, in executive suites, or even in neighborhood public schools.
9. United States Air Force Academy:
The United States Air Force Academy offers cadets a free education with room and board and tuition worth over $400,000. While finishing their schooling and undergoing air force training, students at this institution participate in military, athletic, educational, and personality development programs. Students have a choice of more than 20 majors and minors, with some of the more well-liked options being business management, systems engineering, and economics.

The US Air Force Academy only accepts 15% of applicants, making admission tough and highly competitive. With more than 4,000 students enrolled, the student body is slightly bigger than most of the institutions on this list. Cadets are tested to the maximum and taught to use every ability, skill, and strength.
10. United States Naval Academy:
The Navy Academy, the naval service's undergraduate institution, trains young people to become professional commanders and managers of Marines and sailors. After four years of study, they leave the Academy with bachelor's degrees in science and commissions as second lieutenants in the Marine Corps or as ensigns in the Navy. Furthermore, graduates of the Naval Academy commit to a minimum of five years in the Navy or Marine Corps.

Midshipmen at the Naval Academy are entitled to free tuition, housing and board, and medical and dental care from the Navy. Although the trade-off is that to receive full scholarships, students must do five years of active duty following graduation. You also take advantage of the standard perks of active duty, such as discounts on commercial travel and housing and access to military aircraft with a room available for worldwide travel.
Can International Students Go to College in the US for Free?
Unfortunately, most international students are not eligible for free college education in the US. While some scholarships and grants are available, they are limited and highly competitive.
However, international students can still pursue their education in the US by applying for student loans or finding sponsors to cover their tuition costs.
Additionally, some colleges and universities offer work-study programs that allow students to work part-time jobs on campus to offset the cost of tuition.
International students need to research and explore all their options before deciding on a college or university in the US to ensure they are comfortable with the financial commitments and resources available.
Related Read:
Conclusion: Best Tuition-Free Colleges (2023)
The institutions listed above are well-known free-tuition colleges and universities in the United States that accept domestic and international students. However, each institution has its requirements that must be fulfilled. Students should talk to the schools they want to visit directly before deciding.