Your hunt for Udemy pricing ends here!!
Udemy is one of the most popular platforms out there. Many students, as well as working professionals, prefer Udemy. It has more than 20 thousand courses, and the courses are in more than 75 languages.
Udemy offers paid courses, a Personal plan, a business plan, and an enterprise plan. So how much will you have to pay for Udemy, and how can you save the most?
I have provided details about Udemy plans and their pricing in the following article. From the detailed guide, you can compare all the pricing and can go for the plan that provides you with the most value. Before that let me tell you the features of Udemy.
Udemy Key Features
Key Features of Udemy are given below:
Amazing video Quality
You can control the playback speed
Downloadable resources available
Impressive UI
Once paid, You will have access to it for lifetime.
Highly updated content
Udemy Pricing: In A Nutshell
Udemy provides users with paid courses that do not require any subscription. You can simply purchase a course you need and pay only for one course. The paid courses will cost you around $15 to $200.
However, if you want to go for more than one course on Udemy and want to upskill yourself, you can go for the personal plan. You also get some additional benefits from the personal plan. It will cost you almost $27 per month.
The business plan provides users access to group learning features and other extra benefits. The business plan will cost you approximately $ 30 per month for each user.
Last but not least, Udemy also offers an enterprise plan. To get access to the enterprise plan, you atleast need 21 members in your team. Moreover, to know the pricing of the enterprise plan, you will have to get in touch with their team members.
Let us take a detailed look at all the plans and pricing offered by Udemy.
Udemy Paid Courses
The paid courses on Udemy start at $15. You can select from a wide range of courses available in each subject. The subjects that you can get classes on are Python, Excel, Data science, Web development, designing, playing an instrument, etc.
Apart from that, in paid courses, you get access to study resources along with video lectures. Udemy also provides lifetime access to the course, and you can view this course on your phone as well as on TV.
Above all, you also get a certificate of completion at the end of the course.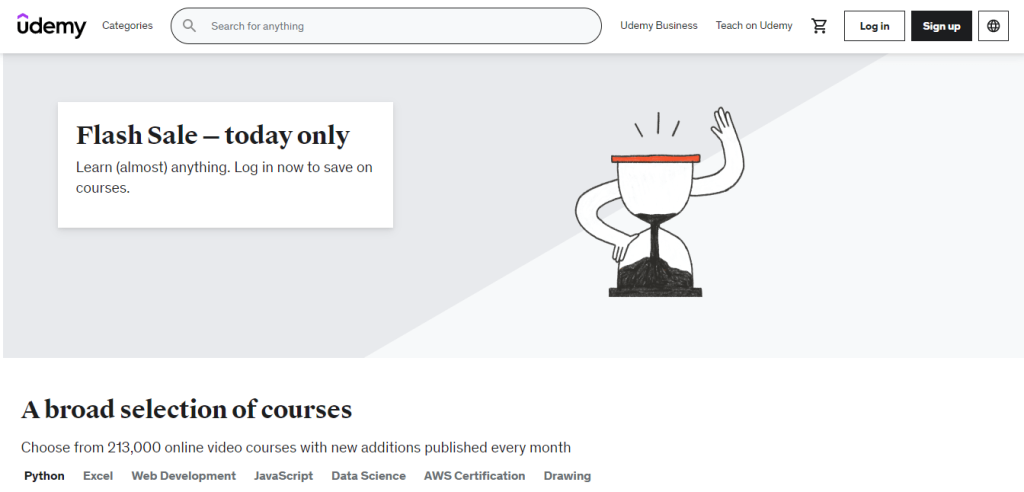 Who is it for?
The paid course option is best for people that have to go just through a single course on Udemy. They can opt for a single-paid course option. However, they won't get any access to the career guide session.
Udemy Personal Plan Pricing
The personalized courses will cost you around $16 per month. However, you can start with a free trial for seven days. After going through a free trial, you can decide whether you want to purchase the personal plan.
The personal plan offers the following to the users:
More than 8000 professional and personal development courses.
More than 4000 practice exercises.
Career guides for web developers, data scientists, and others.
More than 3000 top instructors have created the courses.
Udemy Personal
Who is it best for?
The personal plan is suitable for learners who are interested in completing more than one course in a month. They also access career guide support to help them excel in their careers.  Udemy Personal also provides with a 7 days free trail.
Udemy Business subscription
It's subscription costs around $360 per month. Small businesses can go with the business subscription to boost the skills of their team members. 
The Business plan of Udemy offers the following:
Access to more than 8000 courses.
Custom logo and URL.
Access to teams' analytics and adoption reports.
Access to the courses through the mobile app.

Who is it best for?
It is best for companies with 5 to 20 team members. All the team members can access the business account and go through different courses. The analysis report of their performance will be sent to the team lead.
Udemy Enterprise subscription
Udemy Enterprise subscription is ideal for large companies. This plan provides access to a large number of courses.
To know the details about the pricing of the enterprise subscription, the team leader must contact Udemy.
Besides, Udemy business has partnered with Corp U to create the Udemy leadership development program.
The Enterprise Subscription Offers The Following:
Access to more than 20,000 courses.
It creates a learning path for the users.
Custom URL & logo.
It allows the admin to create a user group.
Advanced insights and analytics of the employee's performance.
Access to the courses on the mobile application.
Eligible for Udemy Business Pro and other add-ons.
Who Is It Best For? 
The Udemy Enterprise course is best for a large company with over 21 team members. These companies can provide employees with courses to develop their professional and personal skills.
Udemy Refund
Udemy gives users a refund within 30 days of purchase on the paid courses and business plan. If they are unhappy with the course and its content, Udemy users can request a refund for a course they have purchased. However, the refund must fit the refund policy criteria of the company.
Besides that, Personal plan users can cancel their plan anytime if they are unsatisfied with the courses provided by Udemy.
Udemy can reject your refund if a large portion of the course is already covered. Besides, excessive refund requests from your account may also lead to the rejection of your refund, and your account may be marked as spam.
For more refund details, you can check out the refund policy page of Udemy.
Comparison of Different Subscription Plans
Let us take a look at a comparison of the offerings of the plans provided by Udemy.
| | | | | |
| --- | --- | --- | --- | --- |
| Features | Free courses | Paid Courses | Personal Plan | Business plan. |
| Price. | $0 | Starts at $15 | $16 per month | $360 |
| Lecture videos | Available | Available | Available | Available |
| Assignments | Available | Available | Available | Available |
| Study resources | Available | Available | Available | Available |
| Discussion forums | Available | Available | Available | Available |
| Number of courses | 500 | 213,000 | 8,000+ | 20,000+ |
| Available on Mobile phone | Not available | Available | Available | Available |
| Free trial | Not available | Available | Available | Not available |
| Refunds | Not available | Within 30 days. | Cancel anytime. | Within 30 days. |
| Subjects | 25 | 150 | 150 | 150 |
Accepted Payment Methods: Udemy Pricing
Let's take a look at the payment methods which are accepted by Udemy.
Udemy allows you to purchase their courses through Debit cards or Credit cards like Mastercard, American Express, Visa, Discover and JCB. For Brazilian students , if they will to purchase Udemy courses they can purchase it through Boleto Bancario. For some countries in Europe, Asia, & several Latin America Nations, they can either choose cash method or bank transfer. PayPal is also payment method supported by many countries.
Udemy Alternatives
In this table I have given you several Udemy Alternatives
| Sr. No. | Udemy Alternatives | Pricing |
| --- | --- | --- |
| 1. | MasterClass | $120-$240 |
| 2. | Skillshare | $165 per year |
| 3. | LinkedIn Learning | $240 (Annual Membership) |
| 4. | Coursera | $399 a year( Coursera Plus Subscription) |
| 5. | Udacity  |  $399/month (4-month course) |
Related Read:
Final thoughts: Udemy Pricing (2023)
Udemy courses are surely beneficial for people who are looking forward to enhancing their skills in professional life as well as personal life. Apart from that, $16 per month for the personal plan is quite doable compared to paying $15 for just one course.
Hence, Udemy is worth trying for the price that you will have to pay, considering that you surely will come across various discounts on the platform. Besides, there's always a chance to get your money back within 30 days if you are unsatisfied with your course.
FAQs: Udemy Pricing
How much does an Udemy membership cost?
Udemy membership costs almost $27 per month. With the membership, you get access to unlimited courses that are carefully created according to the requirements of the users. Besides, you also get access to a 7-day free trial to check the features and the quality of the content provided by Udemy. 
Is the Udemy Subscription worth it?
If you want to work on your hobbies and get value for money, Udemy is surely worth it. It also caters to your professional and personal growth. However, if you are looking forward to leveling up in your career or looking to switch your career path, then you must go for another platform.
Do we have a yearly subscription to Udemy?
Udemy provides monthly subscriptions only. It allows users to access thousands of courses from its vast library. You can select a course from IT, app development, web development, soft skills, design, marketing, etc.
Is Udemy one time payment or monthly?
Udemy offers a monthly payment option to users. However, you won't find any annual payment option. You can repurchase the plan again for the next month to continue getting the advantage of the courses provided.