Looking for what the pricing structure of LinkedIn looks like? Want to know if it's even worth it? Don't worry, I got you!
This article is specifically written for people like you who want to know about-
the types of courses LinkedIn Learning provides,
what kind of subscription plans it has,
what benefits you'll gain out of it,
which kind of plan is good for you,
if it is even worth it,
billing criteria, etc.
With 17000+ courses provided worldwide, LinkedIn Learning has expanded its audience to more than 700 million users. It gives benefits of developing your skills, getting recommendations, and adding courses to your profile for further suggestions for your skill-building in the field of Business, higher education, government agencies, etc.
What Does LinkedIn Learning Provide?
Linkedin Learning provides a lot of benefits once you try its premium. Many of its key benefits include:
You'll get a number of courses with the best instructor available worldwide.
Earn a certificate.
Offline access to the course.
Free trial.
Refund policy.
Personalized recommendations.
Live office hours with experts.
Is LinkedIn Learning Available For Free?
Unfortunately, it is a paid subscription, and why shouldn't it be. I mean they have like the most valued courses with the best industry experts to coach students and with so many features. Why would something like that be for free at all?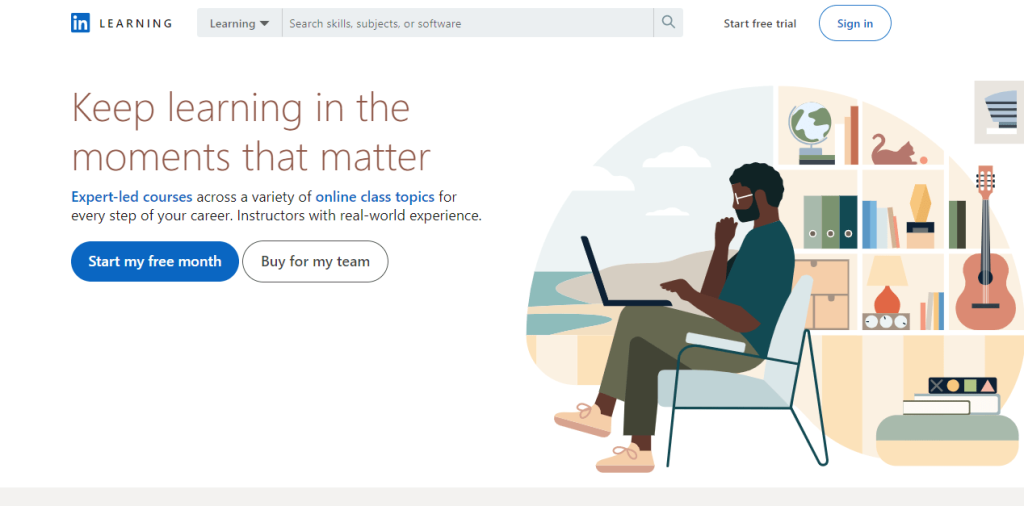 But you do get a one-month free trial. You can cancel anytime you want. It'd look something like this.
Benefits Of LinkedIn Learning Premium:
Along with the variety of courses that Linkedin Learning provides, the best parts still remain-
The one-month free trial, where you can judge for yourselves, whether this platform works for you or not.
You'll also get in the habit of navigating around the platform, in order to make the best use of it after completion of your free trial.
Also, you can cancel your subscription anytime you want and reactivate the plan likewise.
You have the option of a refund available.
You can get monthly as well as annual subscriptions according to your time commitments.
You can go for a one-time payment for just one course among the 5000 courses available with this offer.
Download the content.
Live classes by experts of the industry.
Option for studying in groups together by opting for a team plan which can be cheaper than the individual plan.
Certification is there too just as proof of you getting that skill in your pockets.
There is an option of group study under collaborations and the Watch Party feature, where you can chat with peers.
Individual VS Team Plans:
In an individual plan, you only pay us a single individual, buying the plans according to the subscription you want, is a little costly. A 30-day Refund guarantee is available. Pricing is available as per the subscription plans.
But under a team plan, two or more two individuals together buy the subscription comparatively cheaper. Refunds and free trials aren't available under this option. Personalized pricing is there.
For more pricing information, under this plan click here.
Types Of Subscriptions Available:
As told before, there are only two types of subscriptions available.
Apart from these, you can also go for a one-off payment that is opted for one course and just pay for that only. Based on these I've curated information about individual and team plans below under pricing structure.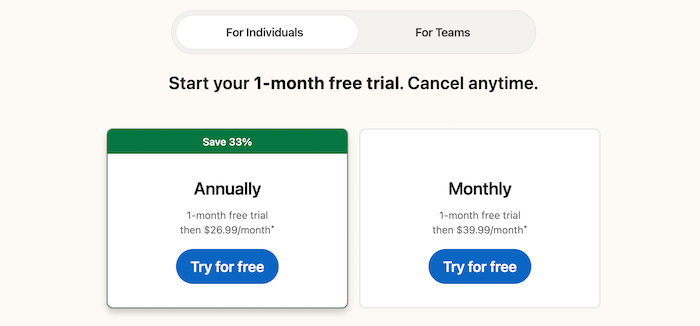 Pricing Structure:
| | | | | |
| --- | --- | --- | --- | --- |
| | Individual (One-off payment) | Monthly plan | Yearly plan | Team plan |
| No. of courses | 1 | More than 17k | More than 17k | More than 17k |
| Free trial | Month | Month | Month | Not available |
| Price | 25-50 USD | 40 USD | 324 USD | Personalized |
| Certification | Yes | Yes | Yes | Yes |
| Refunds | 30-day | N/A | N/A | N/A |
Billing Criteria of LinkedIn Learning:
There are various billing methods you can opt for and the features that are included for your learning and paying for just the same. Everything that comes under billing is what I've listed under this section. Go through it once to get a clear idea of payments in LinkedIn Learning.
Billing/Payment Methods
The billing methods available are using debit/credit cards or PayPal. There are many currencies available in which you can pay depending upon your nationality and ease.
Cancellation
In order to cancel your plan, follow these 3 simple steps:
For cancellation of your subscription, you can go to your profile.
Then go to Premium Subscription Settings.
Go to Manage Premium Account and click on Cancel subscription.
Refund
As told before, a refund isn't available for annual/monthly subscriptions. But like that of individual plans, a 30-day refund guarantee is available.
This is something LinkedIn Learning has to say about its refund policy:
Image Source: LinkedIn learning
Reactivating the plan
To reactivate your plan, follow these few simple steps:
Go here.
Click on reactivate once you log into your account.
Select the subscription you'd like to buy.
Review:
Confirm your billing cycle
Select Payment Method
Review your order
Tap on Place order.
Tip: Billing is only available on the Desktop.
How To Access LinkedIn Learning?
To learn the entire navigation and how to access Linkedin learning in the best possible way, I'd suggest watching this tutorial video provided by the platform only for easier use.
You'll move to a page like this.
Related Read:
Brief of Costing On LinkedIn Learning (2022)
You can't get anything for free in this world. The same applies to one of the skill-rich platforms- LinkedIn Learning. LinkedIn has made its name in the world. The brand has a unique identity in itself providing career opportunities from all around the globe just one click away from you. Isn't that crazy, you just have to fill in the details for the type of opportunity you are looking for! CRAZY!!! And not just this, it has grown to provide the very needed skills for your career as well. What more than getting personalized recommendations for the skills you should own?
So it comes at a price, not that expensive to be honest! This kind of offer is rare to get. Totally worth grabbing it before you lose your mind finding answers for what you should really learn! When at a very affordable rate you can get one solution to all your problems!!!
FAQs:
Is LinkedIn Learning available for free?
NO. But it does provide a one-month free trial where you can enjoy the benefits of your premium after filling out your payment details.
What kind of audience is targeted here?
The kind who are into Business, Technology, and Creativity.
Which type of subscription is most suitable?
You should definitely stick with an annual premium as it is a comparatively cheaper and smarter option if you are here to spend some good time learning here and earning as many skills as you can to stand out like me.
What kind of payments does LinkedIn Learning accept?
Credit/ Debit card or via PayPal.
Is LinkedIn Learning worth it?
If you are here to learn and make the most out of your learning experience, skill gaining, and adding more certificates to your CV all at an affordable rate, so YES!!! You shouldn't waste any minute now thinking about it. Just log in and click here and get started.