Are you looking for a fun and interactive way to learn complex topics in math and science? Look no further than Brilliant.org. This innovative online platform offers a unique learning experience for individuals of all ages and skill levels.
From interactive courses to challenging problem sets, Brilliant.org offers a comprehensive approach to learning that is engaging and effective. But is it worth the investment?
In this review, we will explore the features, benefits, and potential drawbacks of Brilliant.org, helping you determine if it is the right learning platform for you. Read on to discover why Brilliant.org is a top choice for students and educators.
About Brilliant.org Review: In A Nutshell
Brilliant is an online learning platform that approaches education and learning with a community drive. The founder believes that humans are wired to learn in the presence of their fellow learners and peers.
Brilliant is a learning platform that provides various STEM-related courses. They provide various courses in subjects like science, math, engineering, technology, etc.
It has more than 70 courses to offer on its official website, which may constitute areas with several interests, such as neural networks, solar sciences, energy, cryptocurrency, and many more courses which are unlikely to be found in the curriculum of our traditional educational institutes.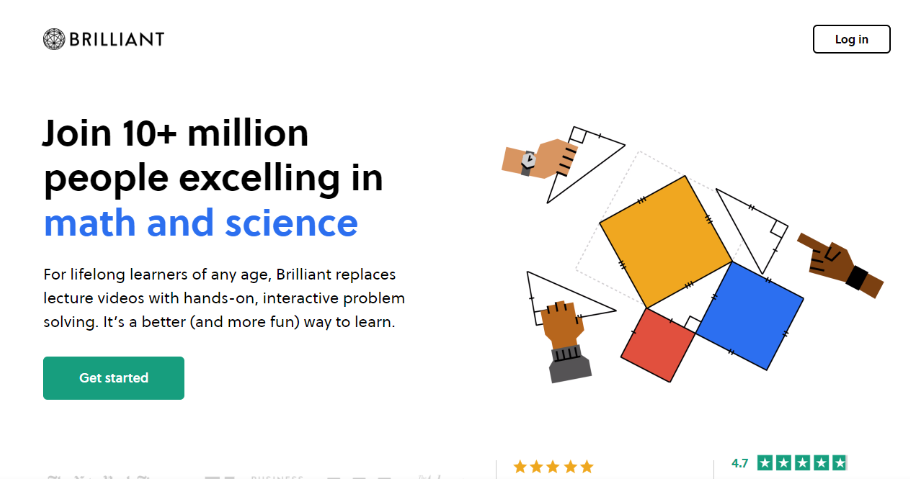 Brilliant plans to breed on the urging curiosity of students to fulfill their appetite for interest exploration. In terms of education, learning, and exploring different fields. The founder, Sue Khim, is an innovator in online education and fully recognizes and understands that newly found interest and urging curiosities cannot be stimulated through a collection of dry video lecture compilations.
So, Brilliant makes an enormous effort to make its lessons interactive with community curation, daily challenges, and quizzes. Brilliant goes a mile ahead to provide neck depth learning material and engagement while learning.
What Are Brilliant Courses Like?
Brilliant courses are designed to simplify abstract concepts and complex ideas while keeping them interactive, engaging, and progressing. To keep this approach in application in their lectures. Short quizzes, daily activities, and challenges follow their teaching methods.
Brilliant courses are designed to stimulate young learners' shearing curiosity and keep it simultaneously informative, relevant, and appealing to them. Brilliant courses tap into young minds' intuition, curiosity, and intriguing instincts. To give a sense of encouragement and progression.

Brilliant offers several courses for all kinds of learners. It doesn't matter if you're a student, working professional, learning enthusiast, or hobbyist. Brilliant follows an algorithm that initially asks questions to decide a particular learning pathway that best fits your learning approach. 
Here's a little breakdown of all the main subjects whose several courses are available on Brilliant. 
Mathematical Thinking
Geometry
Statistics and Probability
Contest Math
Calculus
Advanced Mathematics
Scientific Thinking
Classical Physics
Quantum Mechanics
Applied Science
Foundational Computer Science
Applied Computer Science
Logic and deduction
Mathematical thinking
Algebra
Classical physics

A typical format of a Brilliant course

It starts with some basic lessons, stories, and simple questions and tries to tap into your learning instincts and finds insights about the user.
It uses those insights of the user to find out about their learning pattern and presents more quizzes and complex problems based on it.
Suggests different ways to approach difficult problems that may initially seem out of reach to the learner.

For Whom Brilliant Is Best For?

Brilliant is great at modifying its course content based on its target audience. Its STEM-based courses aim to teach critical thinking and problem-solving and sharpen young minds.

Although courses available on their website claim to be appropriate for all ages. They are specifically aged " 10 to 110″. But I've found it more appealing to young learners—students pursuing their education between primary and high school.

Some of their other advanced courses focus on topics like computer science, computing, engineering, etc. which are covered in detail, including high-end concepts and general terminology. I was amazed to see the curriculum of some of their courses which covers few subjects in depth that even college generally needs to catch up on.

I've found Brilliant courses to be most suitable for school, and college students as college students might have to filter out the courses based on their interests and learning inclinations. At the same time, school students need help to get the hang of their advanced learning content.

Instructors Of Brilliant

Brilliant keenly supervises their educators before they are encouraged to make lectures on the platform. Instructors of Brilliant are dedicated educators in their respective fields.

Brilliant works in collaboration with several leading institutions. Brilliant Instructors are highly qualified experts in the technology, Mathematics, Science, and geography industry.

They are experienced Professors and Lecturers of some of the most reputed universities in the world, such as the University of Chicago, Columbia University, Penn State University, etc.

Brilliant is the only platform that brings you premium quality education courses to develop STEM skills. They have insightful modules created by their instructors, which makes them promisingly trustworthy.

Structure of Brilliant Courses

Brilliant courses are designed to simplify abstract concepts and complex ideas. Video lectures are curated as an amalgamation of guided problem-solving and storytelling accompanied by activities to reflect its practical application, engaging quizzes, and daily challenges.

Brilliant courses have an amazing feature that establishes a learning path tailored especially for the learner individually depending upon their abilities to give you a better learning experience.

Brilliant is a platform for curious people who are only sometimes interested in meaningful learning. They want to try different subjects, follow their inclinations, and dive deep into them. People who are only sometimes obliged to follow the traditional school subject and learning patterns only.

Few Popular Courses on Brilliant

Suppose you've decided to try out a few courses on Brilliant but need help understanding where to start; then you can start with their few popular courses.

Here's a list of the Top 5 popular courses on Brilliant
Applied Probability
If you've been intrigued about learning 8the mechanics behind the casino game or the prediction of rolling three dice simultaneously makes your eyes sparkle like mine. Then, this course would be a learning treat for you.
Applied Probability teaches how random events can be predicted using certain concepts of Applied Probability. This course is spread out into 23 modules explaining more than 150 concepts of Probability, followed by Interactive quizzes.
It's a course for everyone, but prior knowledge of Algebra could be beneficial. Otherwise, You might need clarification on it.
Quantitative Finance
If you're into mathematics… But more inclined towards the statistical and financial aspects of it. Then, you must check out this course on Brilliant. It deep dives into the concepts of statistical modeling and financial markets.
Quantitative Finance teaches several complex concepts of mathematics and statistics, such as Bayes' Theorem, Fermi Estimation, Markov Chains, Parameter Estimation, Utility Functions, Variance, Covariance, etc. Basic knowledge of Probability, Mathematics, Statistics, and Algebra is preferable for this course.
Logic
Suppose you look at the most popular courses on Brilliant. Logic is in their Top 3 list of most popular courses. Logic is a special course that stimulates critical thinking, logical reasoning, and problem-solving.
Logic makes to deal with real-life based situations, game theory, logical fallacies, machine logic, and many more. The course is divided into 260+ concepts, such as logic gates, knights, knaves, and more.
Computer Science Fundamentals
If you're looking for a course to start with your interest in computer science, then this course would be a good place to begin your new journey.
Computer Science Fundamentals doesn't require any prior knowledge. Instead, the course is divided into 20 modules covering the core concepts such as binary search, indexing, interfaces, parallelism, decision trees, etc., followed by 150+ exercises and conceptual activities.
Science Foundation
Suppose you're someone who has a knack for learning the details and mechanics behind things from a scientific learning perspective. Then, you can check out this course.
The Science Foundation teaches about the comprehensive basics of scientific thinking concerning your everyday application involving the concepts of Classical Mechanics, Physics, Electricity, and Magnetism.
How does Brilliant work?
Brilliant is a website and app designed to provide personalized learning and practice in math, science, and computer science concepts. Brilliant's approach to learning is based on problem-solving, visualization, and interactive learning.
The platform offers a variety of courses, quizzes, and challenges specifically tailored to each user's skill level and interests. For example, users can sign up for a free trial or choose from several premium subscription options to access Brilliant's content.
With a vast library of problems and solutions, users can practice and improve their skills while receiving feedback and guidance from Brilliant's fellow learners and experienced instructors.
Brilliant's intuitive and engaging platform has made it a popular choice for learners of all ages and backgrounds seeking to improve their STEM knowledge and skills.
Brilliant Premium Subscription
Brilliant is available for both free and paid courses. You can access some of their free courses available on their platform. To get the gist of what they have to offer in their courses.
Brilliant gives a 7-day free trial to access courses available on their platform. You'll be asked to put in your credit/debit card credentials. But don't worry; you won't be charged a penny during the trial period. If you don't like it, you can easily cancel your subscription plan before the 7-day free trial period ends.
After enjoying a 7-day free trial period, you'll be presented to choose one of their subscription plans if you like Brilliant courses and want to explore and learn more from them.
Brilliant Pricing Structure
Monthly Plan: The monthly subscription plan of Brilliant costs $24.99.
Yearly Plan: The annual subscription plan of Brilliant costs $150.
Group Plan: The group subscription plan of Brilliant costs $299.98 yearly. You can access Brilliant courses from three different accounts in the Group plan.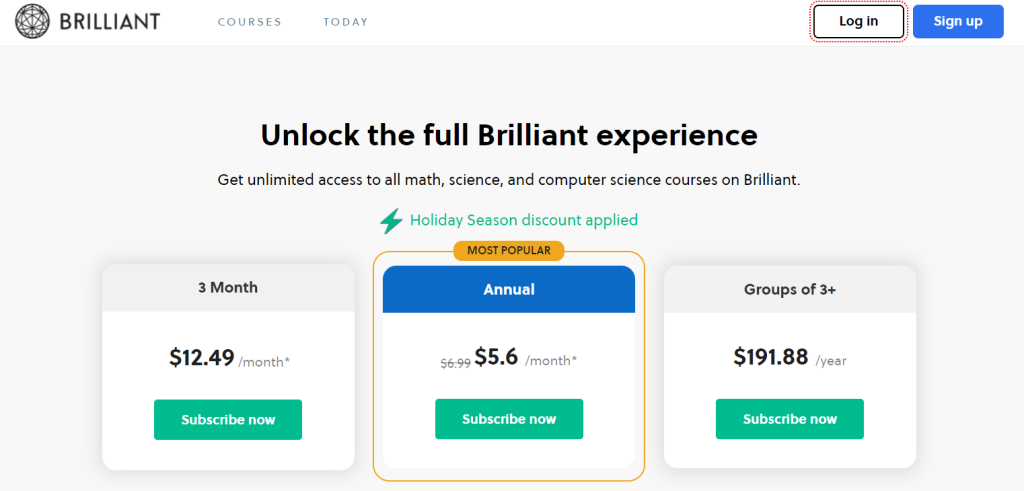 With the subscription plan of Brilliant Premium, you get access to all the courses available on their platform. Brilliant Premium also offers Guided courses and expert-led courses in mathematics and science.
It also offers the convenience of offline mode access for an uninterrupted learning experience.
Pros & Cons of Brilliant
Here are a few pros and cons of Brilliant here.
Pros Of Brilliant
User Experience
The brilliant platform has an interactive, convenient, easy-to-use interface, resulting in a great user experience, even for a new user. You can easily navigate through several of their courses, exercises, etc., if you're more of a visual learner. Then, video lectures of Brilliant would be a slice of cake for you to finish off.
Learning Community
Brilliant has curated a closed-net community exclusively for its user-base Community Wiki. It has thousands of worthwhile content available developed by the experts of Brilliant. It is a goldmine of information with all the information relevant to your course and interest.
Daily Challenges
Brilliant has cracked an amazing technique to make the learners return to their platform through their Daily Challenges, which feels like a small game or an activity. It gives the user a fun daily game related to their interest, critical thinking problems, or other unique concepts.
Cons Of Brilliant
No Certificates
Brilliant only offer certificates upon completion of their courses or guides, which I've found to be a drawback at this price point.
Expensive
The basic monthly subscription plan of Brilliant Premium costs $24.99, which is expensive because Brilliant only offers courses based on STEM subjects. Although the content available in their courses is great. Still, It doesn't justify $24.99 a month.
Related Read:
Conclusion: Is Brilliant Premium Worth it?
Brilliant is a niche-specific online learning platform. It's appropriate for school students, which makes it promising. Brilliant is great at occupying the educational space for children and school students.
It captures their attention by involving them in activities, challenges, quizzes, and overall a great learning experience by disguising it as a games-like experience to diffuse short concepts. That's a clever move.
Brilliant's target audience is mainly young children and school students inclined to learn and practice STEM subjects and develop critical thinking and problem-solving skills. Then, it would be a great investment for your child.
Suppose you're a parent or an educator. Children are surely going to benefit from a platform like Brilliant. It'll work great as a supplement to their regular academic curriculum.
FAQs On Brilliant.org Review
Is Brilliant for beginners?
Yes, Brilliant is a great learning platform for beginners. It has a convenient, user-friendly interface. Brilliant customizes the profile of every learner individually depending upon their abilities and learning patterns.
Is Brilliant Free for Students?
No, Brilliant offers a 7-day free trial period for all its users. However, it doesn't provide any additional student discounts.
Is Brilliant accredited?
No, They are not accredited, as Brilliant doesn't provide any certification upon completion of their courses.
How can I cancel the 7-day free trial period?
Brilliant has great customer support. You can easily cancel your 7-day free trial period anytime. All you need to do, Head over to your dashboard under the subscription settings. You'll find the 'cancel button. Click on it, and your subscription plan will be canceled immediately.
Does Brilliant provide Refunds on their Subscription plans?
No, Brilliant clearly states on its sales page that it provides no refunds. But they do make a few exceptions in certain situations. First, drop them an email and let them know your situation. If they find your situation genuine and reasonable, they might make an exception for you.