Online or E-learning platforms are tools that are designed to create effective virtual learning environments. Edx and Coursera are the leading ones in the race.
These platforms offer a diverse range of benefits over traditional learning as they are more cost-effective and provide an opportunity for learners to take up courses without any geographical barriers.
You might be facing challenges regarding the selection of platforms among edX Vs Coursera and might be dealing with questions regarding the courses, pricing, customer support, ease of use and so on.
To answer all your questions and help you choose the best online learning platform, I have provided comprehensive information on edX Vs Coursera.
Before we get completely immersed in the comparison between Edx and Coursera, let's quickly summarise both.
Category
edX
Coursera
Platforms
Desktop, iOS, and Android
Desktop, iOS, and Android
Number of Courses
3000 plus
5000 plus
Number of learners
40 million and above
92 million and above
Instructors.
Experts from reputable universities and organizations.
Experts from reputable universities and organizations.
Average Course duration
For Courses: Several weeks to a few months.
Degrees: Approximately 3 years.
For Courses: Approximately 4 to 12 hours.
Specializations and Professional certificates: 1 to 6 months.
Degrees: 2 to 4 years.
Ease of Use
Easy to use.
Easy to navigate.
Customer Support
Highly communicative, 24/7 customer support.
24/7 customer support. Users of Coursera plus can access the chatbox for any other issues.
Price of Individual Courses.
$50 to $300 per course.
$29 to $99 per course.
Free Course
All courses
2,500 plus.
Auditing a Course
Users can audit any course on Edx for free.
1000 plus elective courses only.
Overview of Edx Vs Coursera
Edx and Coursera are one of the best and largest e-learning platforms offering a diverse range of courses.
Before learning more about Edx Vs Coursera, let us go through the overview of both E-learning platforms.
Overview of Edx
Edx is an E-learning platform founded by the Massachusetts institute of technology and Harvard University to offer high-quality education to everyone and everywhere.

It is one of the excellent E-learning platforms that offers 3000 plus courses and comprises around more than 5 lakh users.
Edx offers courses in more than 34 languages and has more than 45 million learners from about 70 different countries.
From engaging video lectures and dynamic graphics to data visualizations, Edx provides users with amazing and enjoyable learning experiences.
Overview of Coursera
Coursera is a leading online learning platform and the largest massively open online courses provider, offering over 5000 courses from the world's top universities, colleges, and corporate trainers.

The courses offered by Coursera are highly engaging and based on a comprehensive study that helps learners to achieve the desired skill sets.
Coursera was founded by Stanford University's computer science professors Andrew Ng and Daphne Koller and comprised 92 million registered users.
Features of Edx
Self-paced training and online discussion groups for effective communication.
Easy and intuitive handling of the platform and courseware.
Several ways to authenticate and access learning content.
Provides access to bookmark the course contents.
E-certificates after completion of the course.
Features of Coursera
Self Paced learning option
Access to Obtainable financial aid.
Provides access to offline courses and videos.
E-certificates after the course completion.
Graded assignments, projects and quizzes with feedback.
Pros and Cons of Edx
Below are some of the advantages and drawbacks of using Edx as an E-learning platform.
Pros of Edx
Free access to the content.
Most of the content on Edx is free of cost. You can take up courses at your pace without the need to pay.
Partnerships.
Edx is a global E-learning platform that has partnered with top companies, prestigious companies and Universities like Harvard and MIT to create courses.
Refund Policy.
Edx provides a 14 days refund policy if you decide you don't want to continue with a particular course.
Verified Certificates.
The Edx provides verified certificates on the completion of courses. These certificates will definitely help you to head-start or progress in a variety of in-demand fields.
Cons of Edx
Topic Limitation.
Edx has a limited course library as compared to that Coursera. It mainly specializes in higher education and Sciences.
No course structure.
The courses available on Edx have been put together by their partner, who has access to create the course as per their preference. This has led to inconsistency in the course structure.
Pros and Cons of Coursera
Here are some of the pros and cons of Coursera.
Pros of Coursera
Lets Look at the Pros of Coursera
Curated Website
Coursera has a perfectly curated site that provides access to exclusive course materials that you can refer to.
Flexible learning options
Coursera offers numerous courses and opportunities to earn verified MOOC certificates at your convenience.
Quality Education
The courses offered by Coursera are delivered by top universities like Yale University, Stanford University, Johns Hopkins University, Duke University, University of London etc., which will definitely help you to improve your knowledge and inculcate marketable skills.
 Subtitles for Courses
The Coursera courses have subtitles in different languages, which makes it possible to learn the courses in your native language.
Cons of Coursera
Lets Look at the Cons of Coursera
Full courses are not available for free.
Coursera does not offer a complete course for free; to take assessments, submit quizzes or get a certificate of completion, you are required to pay for that particular course.
Waiting Period
You do not have access to the course materials until it is currently running, as the courses have specific start and end days. Once you enrol or sign up for the course, you will have to wait for the course to start.
Courses offered by Edx and Coursera
Both Edx and Coursera offer a wide range of courses. Whether it is Science, arts, or humanities, you can access all the courses in different fields on both E-learning platforms.
Let us have a look at some of the top courses offered by both platforms.
Courses offered by Edx
Here are some of the top courses offered by Edx.
Name of Courses
Level
Skills
Ratings
Programming for every day (Getting started with Python).
Beginner
Basics of computer programming using Python,
Functions and code reuse, Conditional execution,and Repeated execution.
4.8
Introduction to Project Management.
Beginner
Core knowledge and applied skills in Project management,Essential communication skills.
4.8
A Hands-on Introduction toEngineering Simulations.
Intermediate
Fluid dynamic simulations using Ansys Fluent,
Structural mechanic simulations using Ansys Mechanical,
Verification and validation of simulations etc.
4.7
International Law.
Advanced
Introduction to international law, Making international law, applying international law, Claiming responsibility etc.
4.7
Courses offered by Coursera
Coursera is one of the leading E-learning platforms offering a number of courses. Below are some of the top courses on Coursera
| | | | |
| --- | --- | --- | --- |
| Name of Course | Level | Skills | Rating |
| Foundation of Project management | Beginner | Project Management, Strategic Thinking, Organizational Culture, etc. | 4.9 |
| Technical Support Fundamentals | Beginner | Linux, Binary code, Customer support, Troubleshooting. | 4.8 |
| Learning How to Learn: Powerful mental tool to help you master tough subjects. | Beginner | Test preparation, Pomodoro technique, Meta-learning, learning to learn. | 4.8 |
| How Things work: An introduction to physics. | Intermediate | Physics and its applications. | 4.8 |
Pricing Policy of Edx Vs Coursera
The pricing of the course is the major deciding factor when selecting a particular course.
Edx and Coursera offer different pricing plans. To learn more about the pricing policies of both platforms, go through the following table.
| | | |
| --- | --- | --- |
| Features | Edx | Coursera |
| Pricing of individual courses | $50 to $300 | $29 to $99 |
| Annual Subscription | No annual subscription | $399 |
| Refund Period | 14 days | 14 days |
| Free trial | Edx courses are technically free, except for Boot camps, executive education courses, and professional education. | 7 days free trial on subscriptions and professional certificates. |
Edx Pricing Plan
You can access the courses of Edx in two ways.
Auditing a Course- You can get free access to the course contents by auditing a course.
Purchase verified tracks- To get verified certificates and resourceful materials, you can purchase the course from $50 to $300.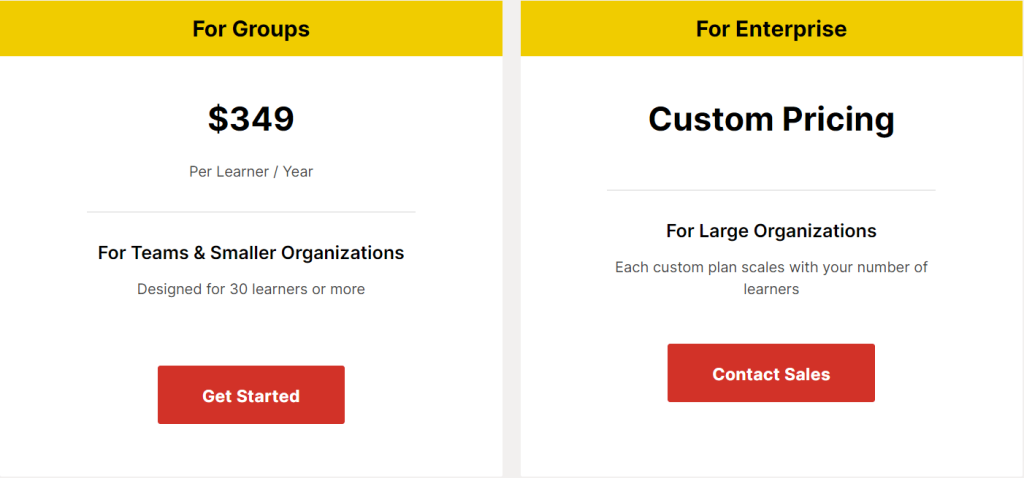 To get access to the degree plans and other programs, you may have to pay a total sum of around $10,000 to $25,000.
You can get a refund from an individual course on Edx by unenrolling the course up to 14 days from the date of purchasing it.
The most important benefit of Edx is that all the courses offered by the platform can be audited for free.
Coursera Pricing Plan
Coursera provides both Individual pricing plans as well as annual subscriptions. The individual course price is from $29 to $99.

Like Edx, Coursera also allows users to audit courses, but the only difference is that only 1000+ selective courses can be audited on Coursera.
Similar to Edx, the degree programs offered by Coursera will cost you around $10,000 to $25,000.
Excluding the degree and other programs, the Coursera annual subscription will cost you around $399 and will reward you with certificates after completion of the course.
Criteria for choosing an online learning Platform
Here are some points that should be brushed up on before selecting a particular online platform to take the courses.
Clear and easy-to-follow instructions
The best E-learning platform will comprise courses or assessments with straightforward and crystal-clear instructions rather than complex and confusing ones.
Engaging learning content
The platform should provide video content or course materials that are engaging and interactive to encourage the learners' active participation.
Support and Guidance
It is necessary for any platform to have easily accessible customer support and an easy-to-reach tech team to help you out with any issues or difficulties.
You can also look for courses on such a platform that provides access for the learners to reach out to the experts or the instructors directly.
The privacy policy should be clear
The privacy policy demonstrates how your information is stored, how it is shared, and with whom it is shared as well as the purpose of sharing. All these points are required to be clear.
The payment process should be secure
Before proceeding with the payment process for any course on any online learning platform, make sure which type of encryption the platform uses for secure financial transactions.
Related Read:
Key Takeaways: edX vs Coursera (2023)
Both Edx and Coursera are beneficial and efficient online learning platforms offering an excellent virtual learning experience.
You can opt for Edx if
You are looking for specialisation courses relevant to the field of computer and data science.
If you are looking for high-quality courses from the top partnered institutions.
You can go for Coursera if
If you are looking for a diverse range of courses.
If you are searching for courses in languages other than English.
Both platforms are very close to each other in this comparison race, and the winners are we, the learners who can access the courses or programs from top-notch universities or institutions through these platforms.
Go through all the details of both platforms mentioned above and select the best one as per your preference.
Do let us know your choice of platform among Edx and Coursera in the comments section below.
FAQs – edX vs Coursera
Which platform among Edx and Coursera has the maximum number of courses?
As compared to Edx, Coursera offers a diverse range of courses in various fields. 
Is it possible to get 100% free certificates from Edx?
No, Edx does not awards free certificates. In order to get one, you will have to purchase that particular course, complete all the assignments and quizzes offered by the course and pass the course.
Are certificates offered by Coursera legit?
Yes, Coursera is one of the top-notch online learning platforms offering high-quality courses led by reputed universities and institutions, making it legit and valuable.