Do you want to prepare for your upcoming tests but can't find the correct methods to learn effectively? In that case, the Magoosh promo code is the perfect opportunity to score merit-level grades in your test at a pocket-friendly price!
Magoosh has helped millions of students implement stress-free study before their tests and reduce their performance anxiety during exams. So if you are someone who stresses a lot about your test Magoosh is the perfect platform to prepare.
Magoosh New Year Deals 2023 — 30% Off
Magoosh is offering a new year offer on all exam preps.🎯
Claim a 30% discount on GRE, GMAT, SAT, ACT, and LSAT.🔥
This article will discuss the Magoosh promo code and its additional advantages. In addition, we will include an elaborated easy guide on how to avail of the Magoosh promo code.
With that, let us quickly dive into the article!
Magoosh Promo Code 2023
If you are planning to prepare for GMAT, GRE, SAT, ACT, or LSAT this new year, then Magoosh has the perfect offer for 2023. Magoosh has announced a flat 30% off on all of their courses for most exam preps. The promo codes are different for every exam prep. For the LSAT and GRE, the promo code is "NYE2023." The promo code for SAT courses is "SATNYE2023," for ACT courses, "ACTNYE2023," and for GMAT courses, "GMATNYE2023." The promo code is only available till 6th January 2023.
However, it does not mean you have to wait until the discount codes go live; you can unlock Magoosh's free trial, where you use the platform for seven days without any charges and then decide whether it fits your needs or not.
Note: You Can Also Check our detailed Magoosh SAT Review here.
So what are you waiting for? Go ahead and check out our easy-step guide to using the exclusive Magoosh promo codes.
How to Redeem Magoosh Promo Code?
After reading all about the exciting deals offered by Magoosh promo codes, you must be wondering how to use them. Check out our ste0bysteo guide to find out.
Step 1: Visit the official website of Magoosh by clicking HERE.
Step 2: Select the exam you are preparing for and click on the icon.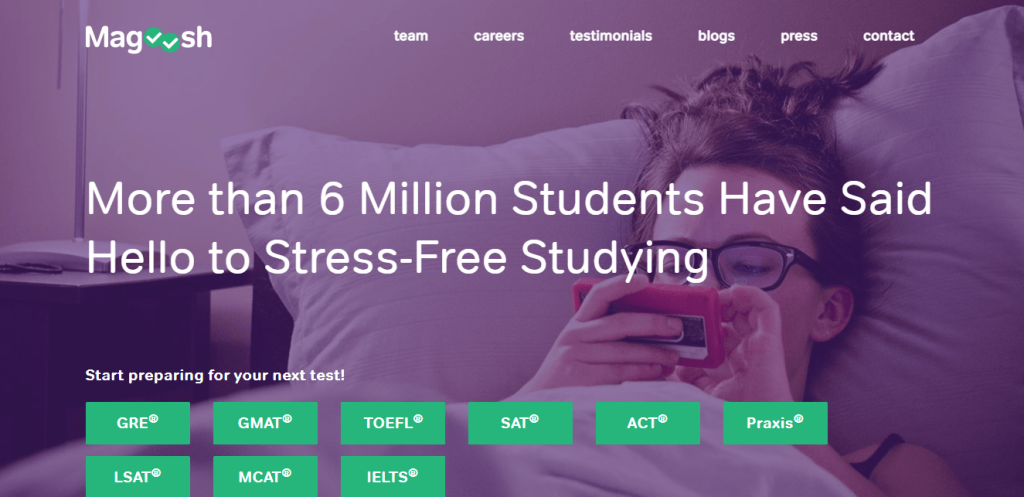 Step 3: Once you land on the details page, tap on 'Explore our plans.'

Step 4: Scroll down to see the test pricing you want to prepare for and select the time range that you feel is appropriate. Depending on the time you have to appear for your test, choose the plan that will benefit you the most and click on 'Signup now.'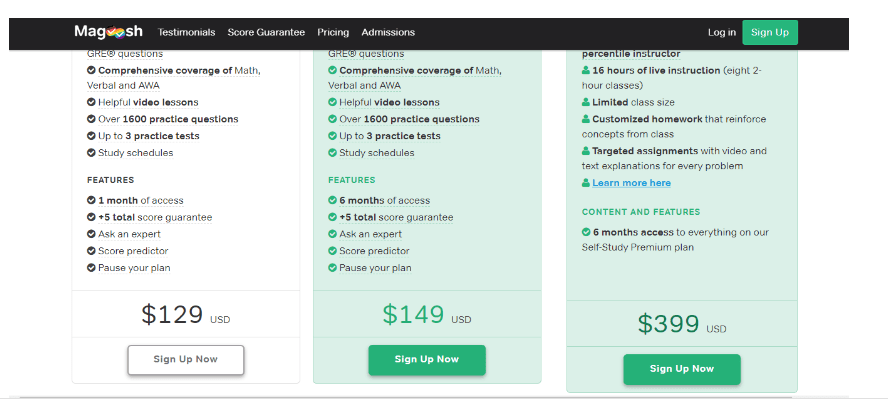 Step 5: Complete the registration process by filling out all the details required.

Step 6: After the registration, select the payment mode, whether you want to complete the full payment or pay in installments.

Step 7: Select the payment method and provide all your credentials.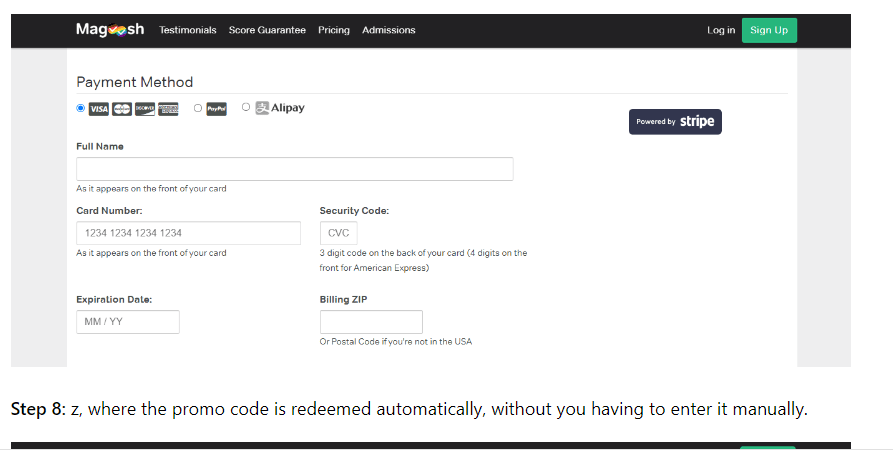 Step 8: z, where the promo code is redeemed automatically, without you having to enter it manually.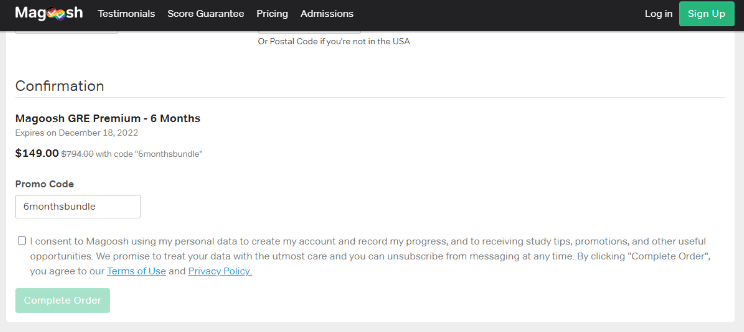 Step 9: Lastly, tick on the consent box and tap on 'Complete Order'.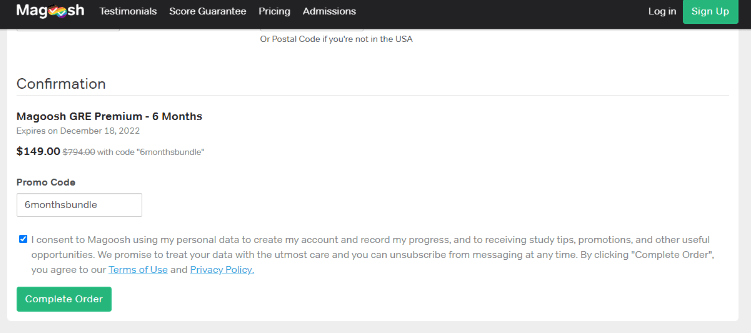 Congratulations! You have successfully availed of our exclusive Magoosh promo code. So prepare for your test with complete confidence and have a stress-free study time.
Magoosh Pricing Explained!
Magoosh has standard introductory pricing, where the subscriptions are divided into three parts. The first two come under the self-study plan; the last one is the guided study membership.
Depending upon your entrance exam Magossh has a different pricing plan for all. To know more about its pricing, refer to the table below.
| | | | |
| --- | --- | --- | --- |
| EXAM | PLAN | PRICING | FEATURES |
| GMAT | 1-6 months | $149-$549 | In this plan, you get access to Math, verbal IR, and AWA along with hundreds of video lessons, practice questions, and diagnostic tests. |
| TOEFL | 1-6 months | $109-$129 | Details TOEFL instud=ction guide, graded writing assistant, six full-length mock tests, unlimited ask-an-expert-questions, etc. |
| GRE | 1-6 months | $129-$399 | 8 sections of officially licensed GRE questions with comprehensive Math and AWA coverage. |
| IELTS | 1-6 months | $109-$129 | The course includes a score predictor, target band score guarantee, graded writing, peaking assessments, and many other powerful tools. |
| SAT | 1-6 months | $129-$399 | Data-driven score prediction, engaging classes. Study schedules, and several video lessons and practice questions. |
| ACT | 1-6 months | $129-$399 | Smart progress tracking, score improvement guarantee, curated study schedule, online help from ACT, etc. |
| Praxis | 1-6 months | $79-$99 | From Praxis core math to reading to writing is covered in the preparation program. Personal email assistance and feedback are given on practice questions. |
Related Read:
Final Verdict: Magoosh Promo Code (2023)
Magoosh promo codes are something you should not miss out on if you are preparing for an entrance exam. So whether you are an engineering student trying to clear GRE or a student who wants to apply to their dream college abroad but has to clear IELTS or TOEFL first, Magoosh caters to everyone's needs.
We hope this article helped you in availing of the Magoosh promo code. Over to your, what are your reviews about Magoosh? Let us know in the comments section below!
FAQs On Magoosh Promo Code
What is the available payment on Magoosh?
Magoosh has two payments available; either you can pay via PayPal or through your debit/credit card. Just fill out all your credentials at the time of billing and place your order. 
Does Magoosh offer promo codes all year long?
Although Magoosh has a certain number of sales throughout the year, it is best advised to grab an offer when you see it, as you might not get that deal later. 
How much discount can I get with the Magoosh promo code?
Magoosh has several offers and tries to keep it as feasible as possible every time. You can avail of Magoosh promo codes with discounts of around 10%-60% anywhere in between.