Preparing for GMAT is not for the weak-hearted. What is even more difficult is finding the right course to enroll in to prepare for the test. To ensure you can get into the graduate school of your dreams, you must choose wisely and go for the best.
Hundreds of thousands of online and in-person GMAT prep courses are available, making it challenging to pick one. You want to go for something that suits your learning pace and budget. There are also different courses for first-time attempts and for people who want to take a retest. 
So, today's article will discuss the best GMAT prep courses. Let's dive in without wasting any more time. 
Best GMAT Prep Courses: Our Top 9 Picks!
We understand that not everyone has the time to go through our long article and read about each course one by one. We have a quick list of the best-handpicked GMAT courses and why we love them prepared for you! 
| | | |
| --- | --- | --- |
| Sr. No. | GMAT Course | Best for |
| 1. | Magoosh | The best overall GMAT prep course |
| 2. | Princeton Review | In-person course options and private tutoring |
| 3. | PrepScholar | Comprehensive online courses |
| 4. | GMAT Official Starter Kit | Created by GMAT makers themselves |
| 5. | Target Test Prep | Robust instructions help improve the quantitative score |
| 6. | Veritas Prep | Provides live classroom experience |
| 7. | Manhattan Prep | Best to prepare in a short time |
| 8. | TestMasters | Biggest score improvement guarantee |
| 9. | Kaplan | Authentic test-taking experiences |
List of 9 Best GMAT Prep Courses
So you have decided to go through the long list. This section includes details about each course and what makes them different from the others. We hope you will find the perfect one for yourself and clear the exam in one go!
1. Magoosh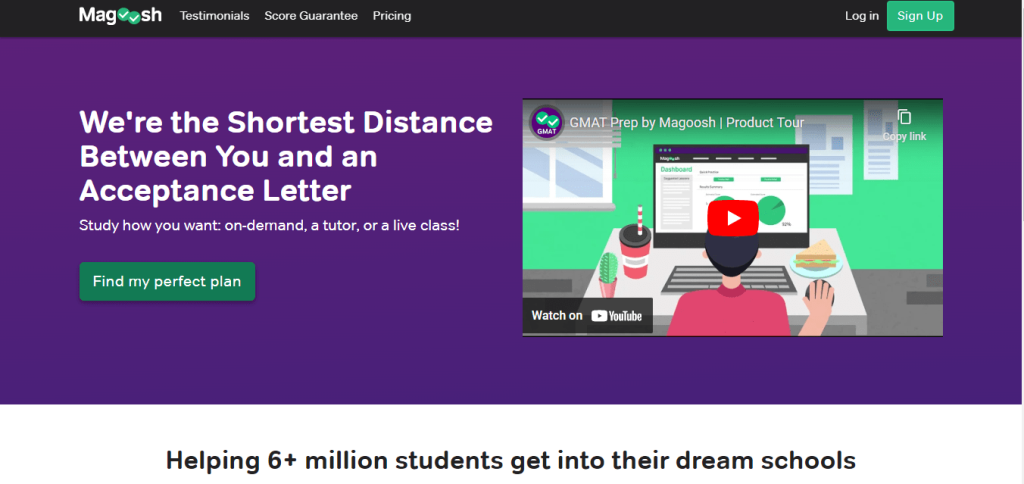 | | |
| --- | --- |
| Course access | 1 year |
| Pricing | $149-$549 |
| Rating | 4.6/5 |
A platform that has helped over 6 million students get into their dream schools, Magoosh is our overall best choice for GMAT prep. It provides online support for students 24×7, tons of practice sessions, and comes at a great price. You also get the option to get in touch with experts for one-on-one sessions where you can clear out your doubts. 
The course guarantees to increase your GMAT score by a 90-point gap on average. Enroll in this course today and access hundreds of video lessons, over a thousand practice questions, and review the course material anytime to refresh your basics. 
Course highlights:
The personalized study gives the feel of a classroom.
Suggested questions based on your previous ones.
Option to pause your study program.
Free trial.
7-day money-back guarantee.
2. Princeton Review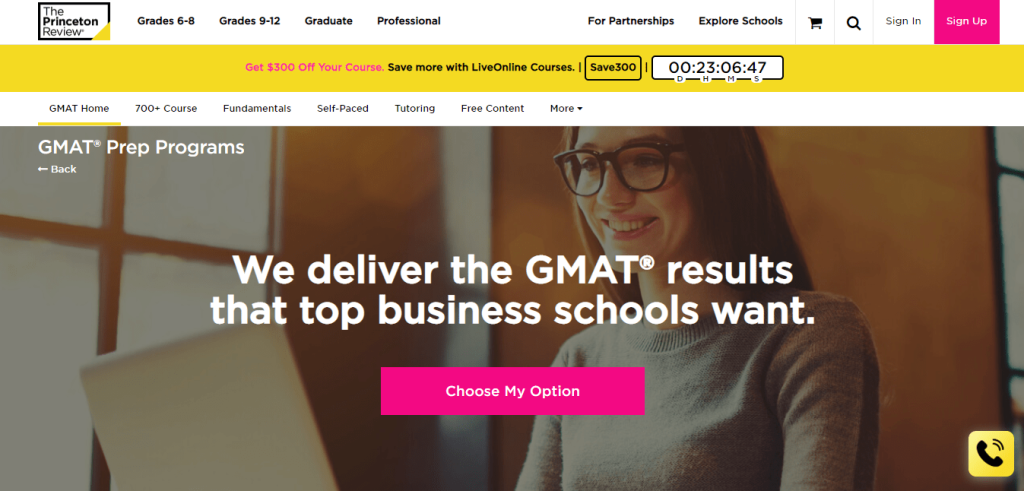 | | |
| --- | --- |
| Course access | 4 months |
| Pricing | $699-$1499 |
| Rating | 4.1/5 |
The Princeton Review course guarantees to get you into one of the world's top 25 business schools that require a top GMAT score. One of the best features of the course is that it uses the strategies used by its top students to help the currently enrolled ones. Therefore, it can adequately prepare you for the test and help you score the highest.
In Princeton Review, you can choose from three courses or opt for personal online tutoring, where you get an hour-long session with an expert. Additionally, if you do not prefer online teaching, Princeton Review also offers in-person tutoring.
Course highlights:
700+ score guarantee
Get expert feedback on your essays
Video explanations for every question
Helps you determine your weak points and your strengths
Maximum of 12 students in one course to ensure quality time with the instructor
3. PrepScholar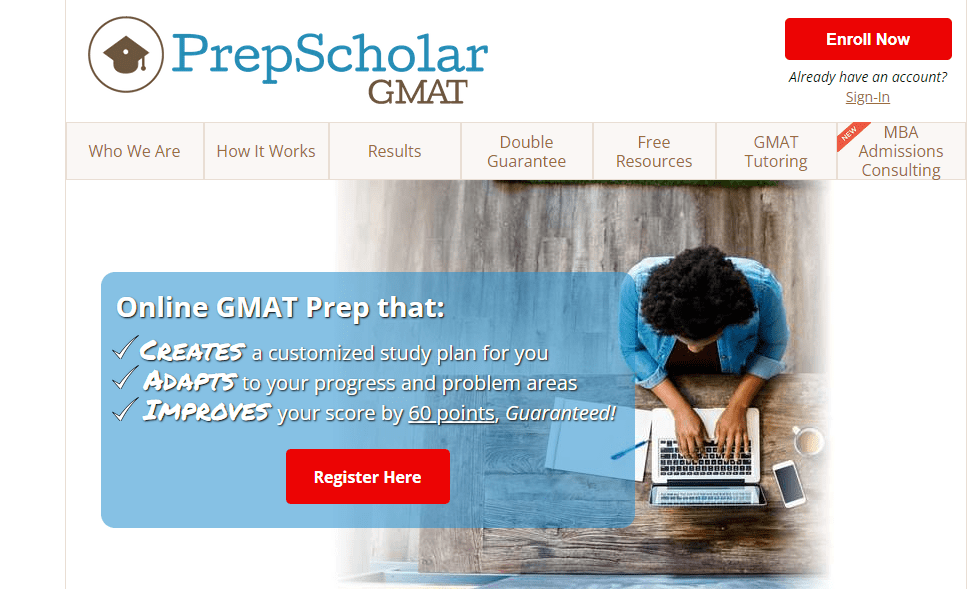 | | |
| --- | --- |
| Course access | 4 months |
| Pricing | $99-$399 |
| Rating | 4/5 |
If you are looking for a program where you can create a customized study plan, PrepScholar is the one for you! Founded by two Harvard graduates back in 2013, PrepScholar is a pocket-friendly and comprehensive online program for GMAT. With courses starting at less than $100 and a free trial option, you never have to worry about your money going to waste.
PrepScholar's assessment feature determines your skill level and creates a curriculum tailor-made for you. This ensures learning at your own pace without feeling like you are running out of time. You also get weekly study reports and can track your progress to decide your next step.
Course highlights:
Tutors scored in the 99th percentile
Provides interactive videos for learning
Offers detailed answers to your question
Robust program with 100 hours of content
5-day free trial on all plans
4. GMAT Official Starter Kit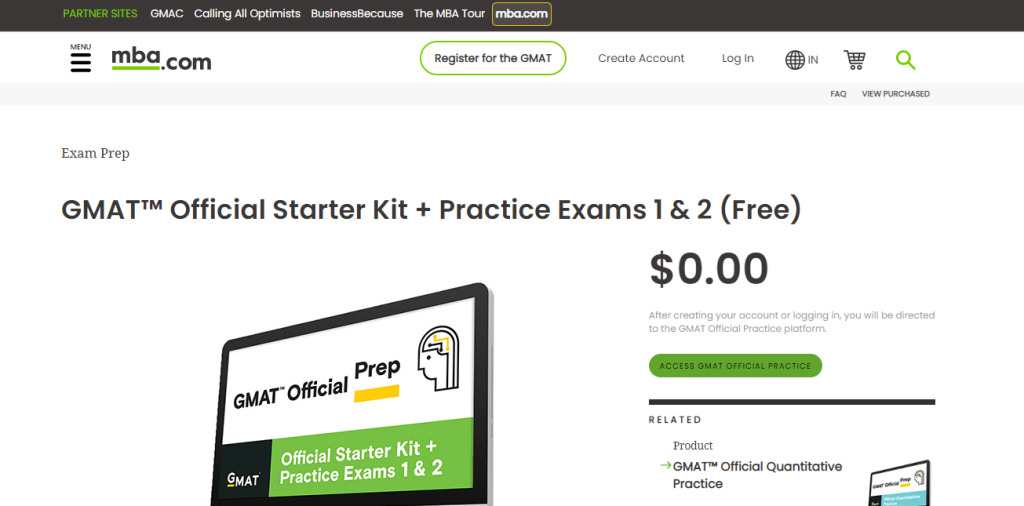 | | |
| --- | --- |
| Course access | Lifetime access |
| Pricing | Free |
| Rating | 4.3/5 |
Created by the Graduate Management Admission Test makers, the GMAT Official Starter Kit is a great way to kickstart your GMAT prep. Not only will you experience the real exam feel, but you will also get that free of cost. Upon signing up at MBA.com, you can access tons of free resources and study materials with no hidden costs.
However, while the resources are free, they are limited. You will likely need to enroll in other courses to prepare better for the test. This program is good for getting started with your preparation and understanding what you can expect.
Course highlights:
Official practice exams
Provide questions that adapt to your skill level
Time management reports
Custom practice sets
The scoring algorithm is the same as the actual GMAT exam
Free and unlimited access to the course materials
5. Target Test Prep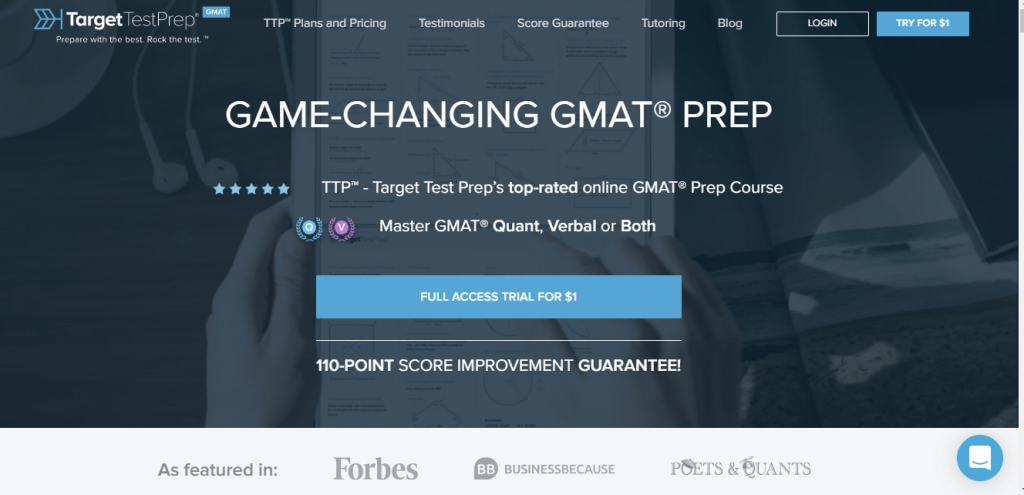 | | |
| --- | --- |
| Course access | 4 months |
| Pricing | $149-$499 |
| Rating | 4.8/5 |
On Target Test Prep, you get to learn directly from the experts! With over 1,200 wisdom-packed videos, 4000+ practice questions, and expert tips and tricks, you are bound to excel on the test. The course allows you to create a personalized plan to study at your own pace. Smart analytics lets you track your most common errors and turn your weaknesses into strengths.
The average GMAT score after preparing from Target Test Prep is 730, and 92% of the students enrolled reported scoring 700 and higher. So, without wasting any time, check it out today! Want to know the best thing about it? You can try it with just a dollar!
Course highlights:
800 instructor-led HD videos
Well-explained chapters
Real-life examples that help you understand better
Questions are tailor-made for you
Opportunity to apply your newly learned skills and knowledge to test yourself
Score improvement guarantee
Live online support
6. Veritas Prep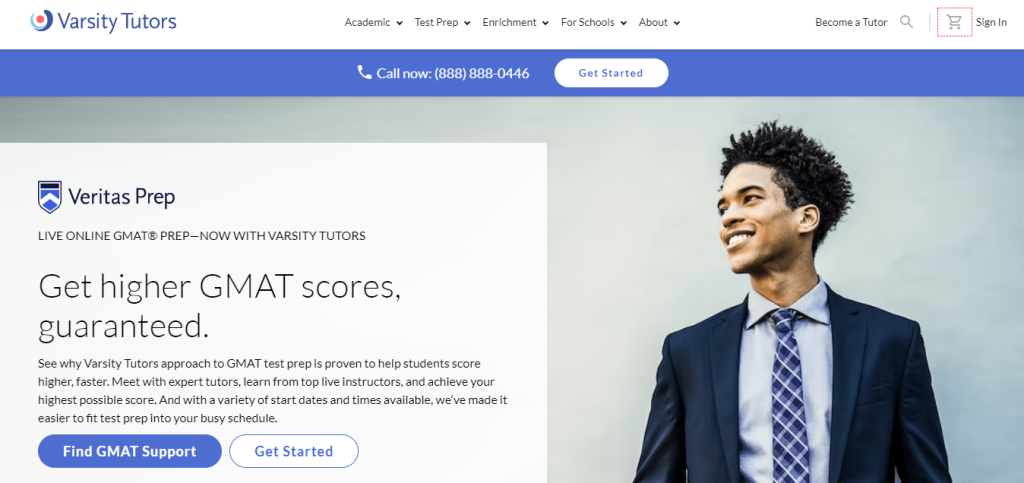 | | |
| --- | --- |
| Course access | 1 year |
| Pricing | $599 |
| Rating | 4.4/5 |
Varsity Tutors have been tutoring over a million students worldwide and providing them with quality classroom experience. Veritas Prep, a GMAT course, has connected with Varsity Tutors to help students score higher points and get into the business school of their dreams.
The tutors are highly qualified in over 3,000 subjects, including AP courses, world languages, test preparation, college essay writing, and all K-12 subjects. There are four ways you can study with Veritas Prep: one-on-one instruction sessions, small group classes, large classrooms, and adaptive self-study programs.
If you do not see an improvement after purchasing their program, you can get a full refund!
Course highlights:
Live support for students
Study at your own speed through a flexible learning experience
Interactive video lessons
Track your progress by tackling questions
7. Manhattan Prep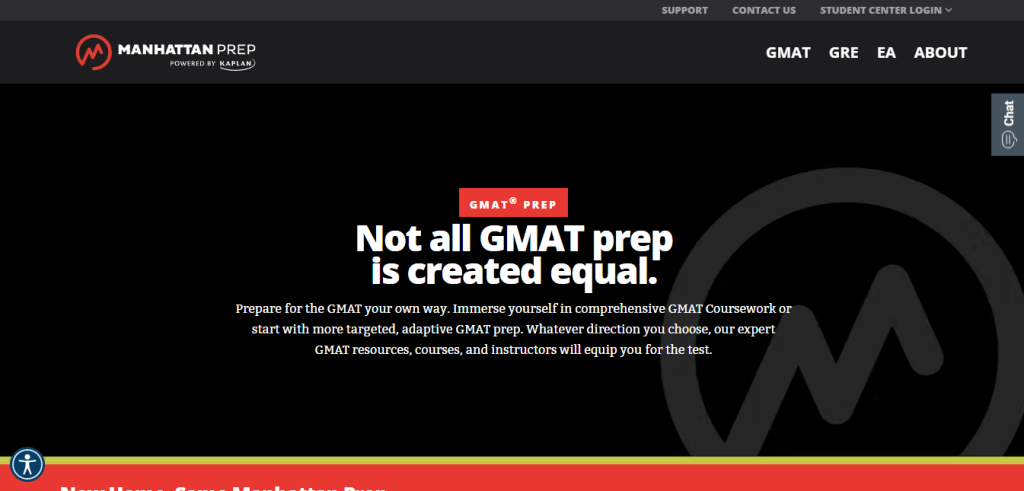 | | |
| --- | --- |
| Course access | 1 year |
| Pricing | $1,399-$2,599 |
| Rating | 4.1/5 |
Everyone has their preferred study method, and Manhattan Prep understands that. With both Live Online and Private Tutoring, the 99th-percentile GMAT experts can help you get the score you need to get into graduate school.
One-on-one private sessions help you create a customized study plan. Even if you go for classrooms, the student intake in every class is kept to the minimum to ensure the right balance of individual attention and active participation. Moreover, the brilliant instructors provide an enjoyable learning experience by making the driest material interesting.
Course highlights:
The curriculum is based on the real exam and is updated regularly.
Adaptive practice tests
Wide course selection
Learn all subjects from the mobile app
8. TestMasters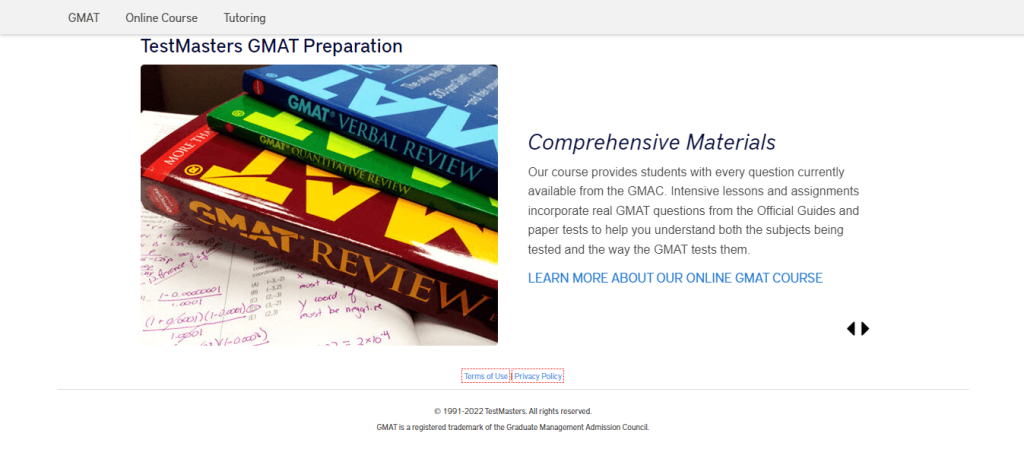 | | |
| --- | --- |
| Course access | 4 months |
| Pricing | $175-$950 |
| Rating | 4.1/5 |
TestMasters has been helping students study for the past 25 years, offering the highest score improvement of a hundred points. If you follow the course religiously, do the practice tests and the assigned work, and still see no improvement, you can take another course free of cost!
There are two-course options available- in-person and online tutoring. There is also an option for in-person private tutoring for a highly personalized experience. Interactive video lessons, written explanations, whiteboard sessions, practices, and drills allow you to master your skills and turn your weaknesses into strengths.
Course highlights:
Multiple course delivery options
99th-percentile instructors
Interactive games make the learning process fun
Computerized score reports determine your progress and skill level
Unique question types
Learn expert strategies
9. Kaplan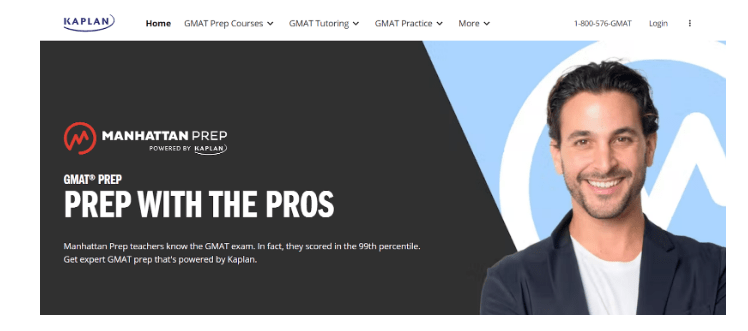 | | |
| --- | --- |
| Course access | 6 months |
| Pricing | $359-$2,599 |
| Rating | 4.2/5 |
The last on our list is one of the best GMAT prep courses out there! Kaplan offers high-quality course preparation with comprehensive prep resources. Its in-depth study materials and various course-taking options make it one of the best on our list. You can choose between a self-paced experience or live teaching and get full-length practice tests with both options! 
With 30+ hours of live class, Kaplan helps you improve your score faster than any other. The program lets you interact with your instructor and have your doubts clarified by experts. Additionally, you get access to a math workshop, foundations of GMAT guides, a test simulation booklet, and much more.
Course highlights:
Small and personalized classes
GMAT Strategy Guide Set
Learn at your own speed
High-quality practice questions
Track work progress with small reports
Final thoughts! GMAT Prep Courses
So, this was our list of GMAT prep courses we handpicked for you. We evaluated various programs before choosing the top 9, so you get the best experience. We have considered several factors, including cost, program length, format, access length, quality of instructors, etc.
We understand that not everyone might have the highest budget; therefore, we have included free courses and programs with free trials and refund policies on our list. Each course offers something unique, but all of them provide quality education. Whatever you choose, you are bound to see a difference in your GMAT score.
We hope this article helps you pick a course and crack your way into one of the world's top business graduate schools! With that being said, we would love your feedback on our list. Please drop your questions or suggestions in the comment section below.
FAQ: GMAT Prep Courses
Is private tutoring better than studying in a classroom?
What option you choose for yourself depends on how much of a quick learner you are. Private tutoring allows you to have a one-on-one session where the expert gives you their undivided attention. On the other hand, a classroom keeps students stimulated and enables them to compare their skills with their peers. 
Is a GMAT prep course worth it?
A quality GMAT prep course is the shortest distance between you and the school of your dreams. However, whether it will be worth it to buy one depends on your dedication to following a specific study schedule and motivation. 
When is the right time to start preparing for GMAT?
There is no specific right time to start preparing for GMAT, and you can begin anytime you want. However, we recommend preparing for at least 5-6 months. 
Are any questions repeated on the GMAT test?
No. You will not see any repeated questions on the GMAT test. You may try practicing similar questions, but do not specifically do the ones already asked. 
How much do GMAT prep courses cost?
GMAT prep course cost depends on the length, quality of instructors, and study materials offered. The price range is usually between a few hundred to over a thousand dollars. Private tutoring is expensive.