Are you searching for the best Nclex review courses to receive your license and start practicing?
After successfully completing your nursing school, the last step between you and your license is the Nclex. I know you want to finish this challenging exam and start practicing.
However, you must pass the Nclex review course to cross this hurdle. Here, you will need a Nclex review course that will fulfill your needs and help you achieve your goal. There are plenty of courses available in the market.
So, which one will be suitable for you? You will need to research a lot and invest your time in it. No worries. We have researched and listed the best Nclex review courses to ease your work and save time so that you can focus on preparation.
What more are you waiting for? Let us take a detailed look at all the top courses available and what they offer.
Best Nclex Review: In a Nutshell.
If you don't have enough time to get into the details of the courses, the following is a glimpse of the courses we have picked.
| | | |
| --- | --- | --- |
| Sr. No. | Platform | Ratings |
| 1. | Nursing.com | 4.8/5 |
| 2. | Kaplan | 4.7/4 |
| 3. | UWorld | 4.4/5 |
| 4. | Hurst | 4.5/5 |
| 5. | Nurse Plus Academy | 4.6/5 |
| 6. | ATI | 4.1/5 |
| 7. | Archer | 4.3/5 |
| 8. | Simple Nursing | 4.2/5 |
| 9. | NCLEX Mastery | 4/5 |
| 10. | Nurse Achieve | 4.5/7 |
We have considered the points like key features, quality of the video lectures, live sessions, practice questions, simulated tests, unique offerings, overall performance, and student ratings.
Let us take a detailed look at the best Nclex courses and their details. This article will help you find the best suitable Nclex course that will help you excel and be a partner in your preparation journey.
1. Nursing.com
I found nursing.com to be a mind-blowing platform to prepare for Nclex. They offer video lectures, problem explanations, chat sheets, simulated nclex exams, etc.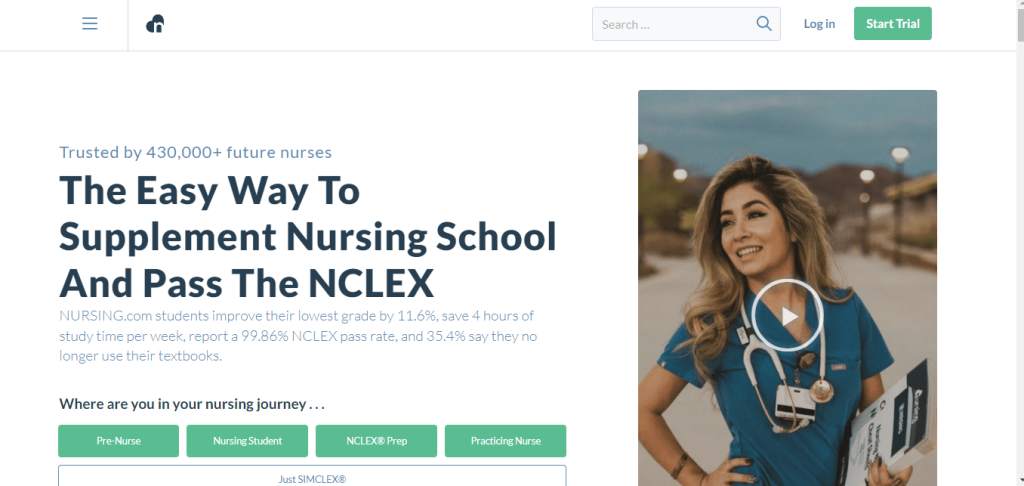 The SIMPLEX provides you with question levels the same as the nclex exams. The question quality and difficulty levels are similar to the nclex exam. Their software is on point to provide a realistic feel of the exam.
They offer the learners more than 300 video lectures, more than 6000 practice problems, and an E-book with a content summary, cheat sheet, and much study material.
The lectures are just 10 minutes in length. They cover all the topics with great visuals, which makes it easy to grasp and retain the information.
Key features:
The platform has a mobile app for android as well as ios.
SIMPLEX is the best feature that provides a realistic experience of the simulated nclex exam.
Video lectures consist of graphics and illustrations.
A great option for visual learners.
They provide you with a lot of practice materials.
Ratings: 4.8/5
2. Kaplan
Kaplan provides you with live classes. The instructors have significant knowledge and help the students to understand the topics by giving tips and tricks for the lessons. The live lectures consist of communication between students and the professors.
You get 18+ hours of live lectures. Apart from that, you get video lectures and practice problems. They help you break down the concepts and understand them in depth. You will be able to strategize the test and the questions.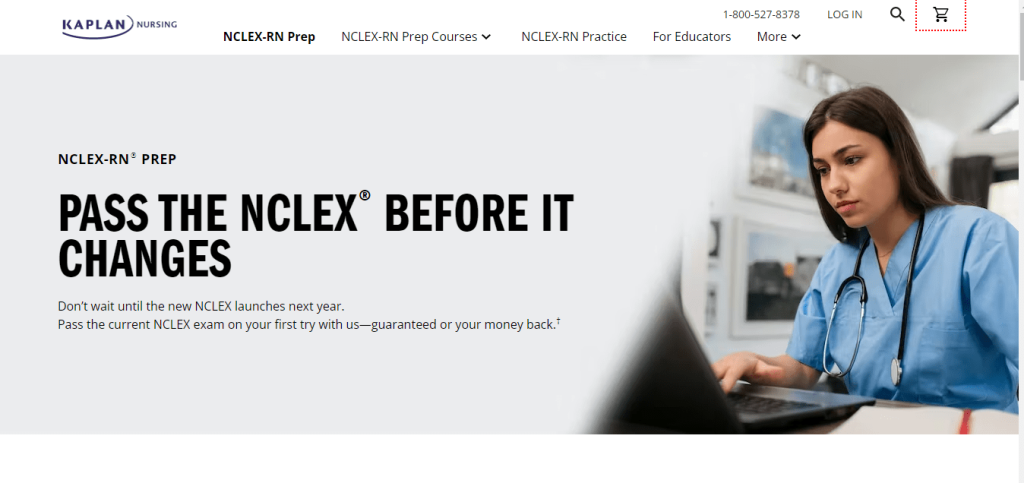 Key Features:
The platform is excellent for students who are not good at self-studying.
The practice problems are realistic and resemble the actual nclex exam.
A great Nclex algorithm.
The mobile app provides you with flexibility.
Ratings:4.7/5
3. UWorld
Uworld offers practice question banks and problem explanations. They are great for self-study and repeaters. Their package will give you a complete revision and prepare you to face all the questions you will encounter during the Nclex exam.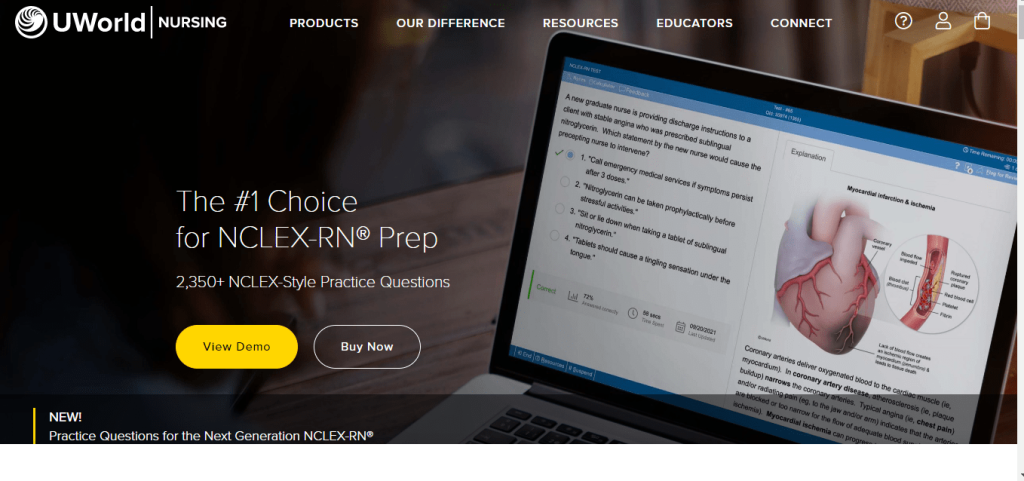 However, they do not offer video lectures or live classes. Also, the packages don't include prep books.
The problem solutions provide the learners with the minute details of the concept. You will also be able to revise the topics thoroughly if you go through all the explanations of the questions. You will find a lot of graphics and visuals in the explanations to clarify the concepts.
You will be able to track your performance using analytics. They also provide you with self-assessment tests to track your growth and performance. You will have customizable study tools like flashcards and online notebooks to help you with the retention of the concepts.
Key features:
On-the-point explanations of problems.
Full of visuals and graphics to make the learning process easier.
Excellent packages for practice problems.
Flashcards to help you revise and learn.
Offers more than 2000+ questions.
Ratings: 4.4/5
4. Hurst
They provide you with practice questions, tests, concept reviews, etc. The platform offers you value for the money. The best plan I found on the portal was $199 for three months.
Furthermore, they offer live lectures in person and virtual way. You will find self-study materials, and lectures are self-paced. You will also benefit from practice problems and some of the simulated exams.
Moreover, they provide you with the course workbook. It consists of breaking down all the concepts and topics into smaller in-depth segments.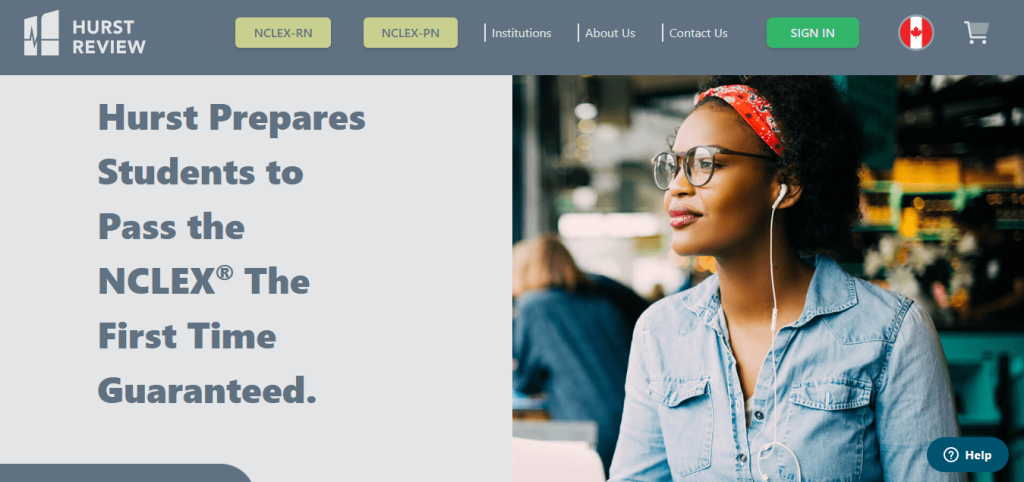 Key Features:
They offer 98.6 percent of pass rates.
They offer a 100% money-back guarantee.
Offers in-person classes.
The workbook makes studying easier.
The platform gets an overall good score on all the materials and offerings.
Ratings: 4.5/5
5. Nurse Plus Academy
Nurse Plus is more about practicing the problems and clearing the concepts. You get access to more than 2500 problems and a few simulated tests. The problem solutions are pretty detailed. They will surely help you in content review.
One of the drawbacks of the platform is that you cant move on to the next topic until you complete all the practice problems of the previous topic correctly. I found it quite annoying, but from another perspective, it is effective.
Their Nclex simulator is on the point, and I found it very realistic. Flashcards and cheat sheets are a great add-on to your preparations.
Moreover, the packages are affordable and budget-friendly. They even have sales on their portal from time to time. However, you won't find any prep book, live lectures, or video lectures.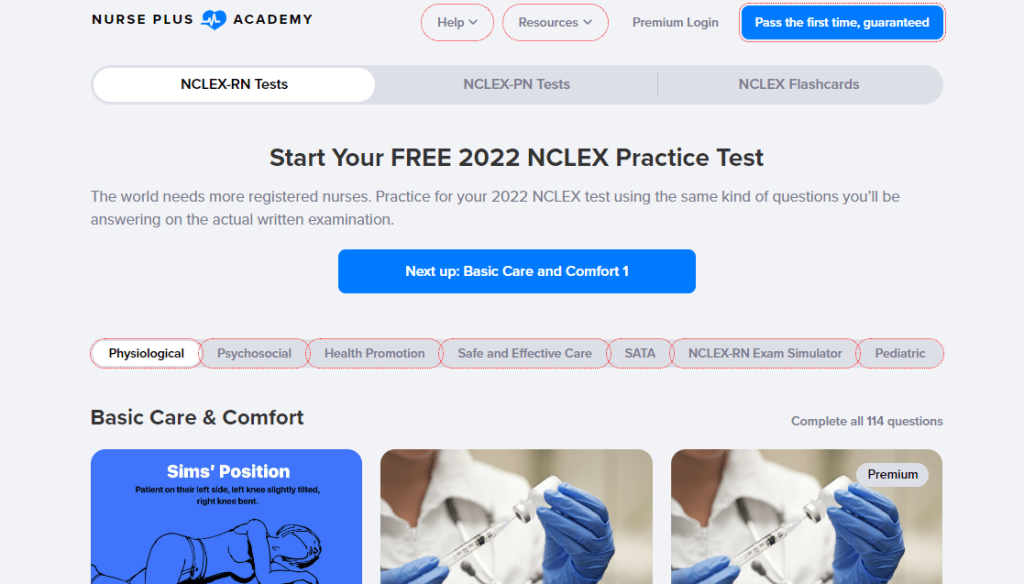 Key features:
You get flashcards for revision and retention of the information.
The marathon tests help to revise the topics.
The platform has a passing calculator.
You get customized tests.
Highly realistic practice problems.
Ratings: 4.6/5
6. ATI.
They provide you with the review material according to the Nclex style. The reports offered by the ATI on students' performance are rational and to the point.
The question bank offers you around 5000 questions for Nclex prep. The platform provides you with a professor for live reviewing your tests and helping you strategize for your next exam. They will help you revise all your concepts and provide solutions for the areas you are facing issues with.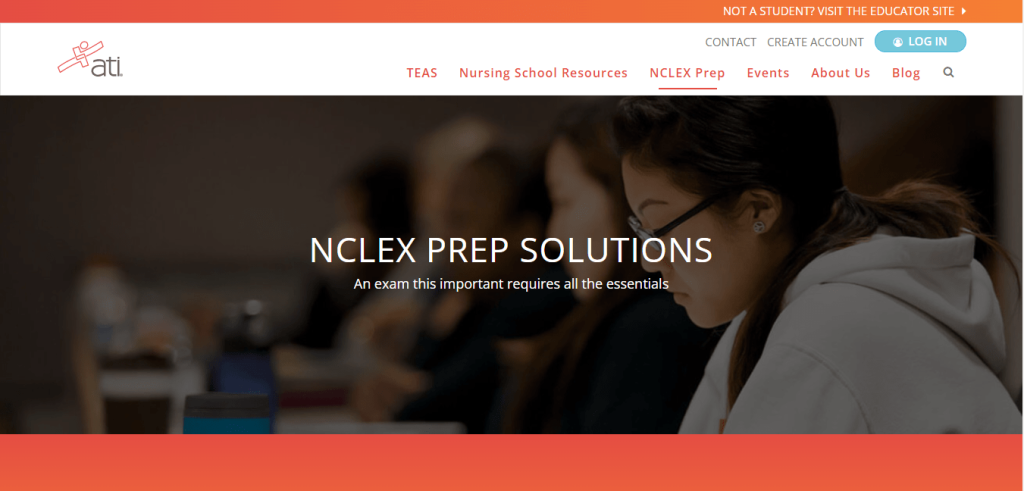 Key features:
The mobile app makes learning flexible and to the point.
It helps to test your strengths and weaknesses.
Live instructors will help you to review your tests.
Ratings: 4.1/5
7. Archer
The platform offers you a lot of practice questions. The question bank consists of more than 2800 questions. You will also be able to customize your exams according to your needs. You can assess yourselves using the performance graphs. The platform offers an adaptive computer mode to practice the tests in the simulated environment. Apart from that, you will get full-length crash course videos and handouts.
They are new to the Nclex courses. You won't get the best study materials here. However, what more can you expect at $ 89 for 60 days? The plan is affordable and will prepare you with the basic and intermediate questions.
Recently they have improved their graphics and visuals. I have added it to the list because it is worth the money you are paying and is great to clear your foundational topics.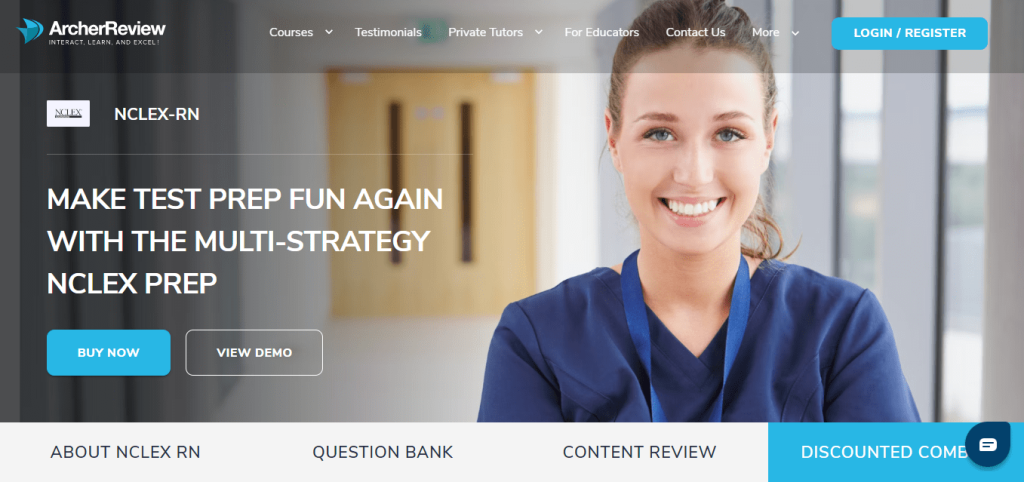 Key feature :
Affordable price range.
Mobile application to access the course contents on the go.
Helps to strengthen the basics.
Multiple assessments to excel at the concepts.
Self-paced courses.
Ratings: 4.3/5
8. SimpleNursing
The platform offers you around 10,000 Nclex practice questions. The solutions are video based and help to clear the concepts. They contain an in-depth explanation of the topics.
You will also get the advantage of the test assessments to check your preparation for the final exam. You will receive a clear and deeply analyzed report on the topics you are lagging at. You can track your learning progress and your performance compared to your peers.
The test prep technology gives you tools, features, and analytics to help you with your prep and maintain your performance.
Above all, it offers you 1000+ fun video lectures which include memory tricks and test tips. You also get access to 1,500 prep questions that are timed and untimed. Furthermore, you get 800+ study guides with required test information and tactics, written and video rationals.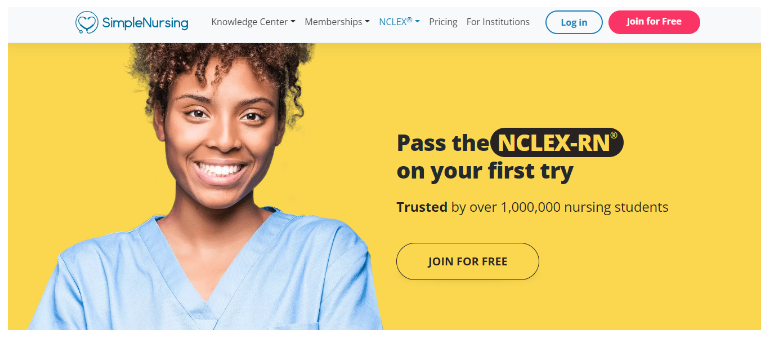 Key Features:
The video lectures are great for visual learners.
Unlimited resources in the video library.
Assessment exams to prepare you for the Nclex exam.
Practice questions have a difficulty level similar to the nclex exam.
Ratings: 4.2/5
9. NCLEX Mastery
One of the features I liked most about the platform is its rationale. When your attempted answer is wrong, you get a video solution for those incorrect answers. These solutions consist of graphics and engaging, in-depth explanations of the topics.
Nclex Mastery offers many practice questions, mnemonics, quizzes, medical terminology guides, progress trackers, etc.
An additional feature this platform provides you is offline access to the app's contents. The app is available on all devices. You can sync your progress across all your devices.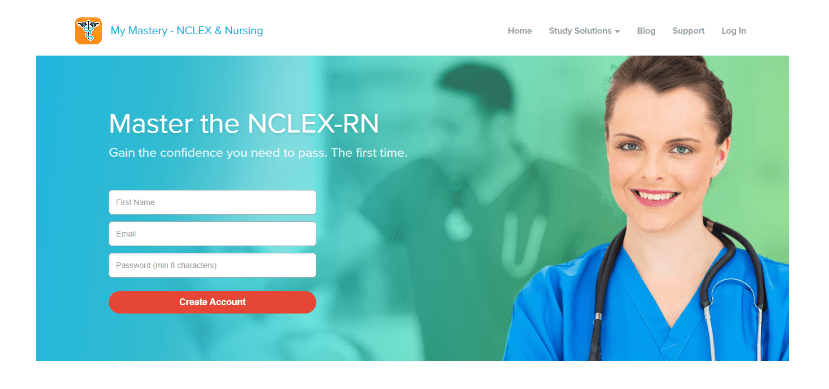 Key features:
Practice Questions are based on past papers.
Mnemonics to help you retain the topics longer.
Quizzes to asses yourself and the prep.
Terminologies to master the medical terms and definitions.
Track your progress with detailed statistics.
The app is available on mobile and tablets.
You can access the contents without a network.
Ratings: 4/5
10. Nurse Achieve
Nurse Achieve has got everything one will ever need to clear the NCLEX-RN or NCLEX-PN. Covering all the major aspects, the course comes with 130 Chapters where you can go forward with your own pace. You can take mock tests/exams until you feel you are good to go with an unlimited attempts feature, which will make you understand your performance better and later you can work on it to achieve the desired results with a help of detailed reporting on your performance.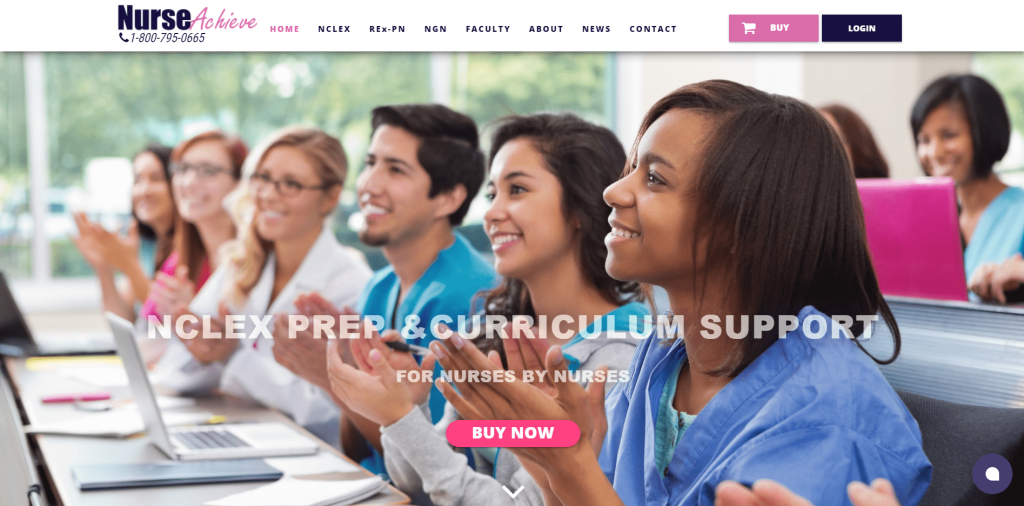 Key Features
Unlimited Mock up Tests
Supports the Next Generation NCLEX
Learn at your Own Pace
Rating : 4.5/5
Related Links :
Final Verdict – Best Nclex Review
That was all about the best NCLEX review courses.
We have covered all the necessary details about all the courses mentioned in the list. If you are still confused about which course is the best one for you, let us go through a little recap.
Suppose you need an overall package with all the features and on-point study materials which provide you with everything you need. Then the most suitable course for you is Nursing.com. It is our best pick for the Nclex prep. It has excellent video lessons and practice materials. The simclex indeed is a bonus for the learners.
However, if you cannot maintain the schedule with self-study lectures and need live classes, Kaplan will be the most suitable for your needs. It is our second-best pick. It provides you with the best practice materials and great problem explanations.
I hope the article has helped you choose the best pick for you. Remember to comment about your choices and let us know your thoughts. Wishing you luck with your Nclex preparation and exam.
FAQs: Best Nclex Review
Which NCLEX review is best?
The best Nclex review is Nursing.com. It is a comprehensive package. It provides you with everything you need to excel at your Nclex exam. The second best Nclex review is Kaplan. It provides you with the benefit of live classes and numerous practice problems. 
What NCLEX prep has the highest pass rate?
Hurst claims to have a first-attempt pass rate of 98%. It has helped more than 400,00 candidates to clear their exams. 
How long should one study for NCLEX?
To prepare and excel for Nclex, you must dedicate a minimum of two to three months to the preparation. The first two months should include thorough preparation, and the last month should be devoted to the practice and simulated tests. 
How many hours a day should I study for the NCLEX?
You must dedicate 2 to 3 hours daily for the Nclex preparation. You must divide the topics according to your weakness and strength and prepare a schedule accordingly. On weekends you can try to dedicate 5 to 6 hours to the preparation.