Have you been wondering about taking up a course on NFTs? Are you confused or overwhelmed by the numerous NFT courses present online? If so, then worry not, this article is your perfect guide for choosing the best NFT courses in 2022!
NFTs are becoming the latest trend, and GenZ is making millions out of it with the latest technology. NFTs are art pieces in their base, but their technicalities are what overwhelm most people who want to learn how to make NFTs and sell them.
The abundant number of NFT courses present online does not help as, by most chances, you'll end up getting confused about which course is the best for you. Therefore, we decided to write this article by handpicking some of the best NFT courses with our days of research and recommendations from experts! 
Top 9 Best NFT Courses 2022 (Free & Paid)
Since NFTs are something that you can make money from online, it makes sense that you learn all about how to make them through an online medium.
These courses differ by their availability on specific online platforms. To ensure this list does justice to both the paying and non-paying viewership, both free and paid NFT courses are mentioned below.
So, without further ado, below is the list of the best NFT courses you can find online.
Here is the list of paid NFT courses.
1. NFT Fundamentals (Buy, Create, and Sell NFTs) (Udemy)
If you are entirely new to the world of NFTs and want to know everything about them from the very basics, this course is your best bet. Other than the impeccably knowledgeable content of this course, its teacher makes learning and implementing its taught lessons relatively easy and efficient.

George Levy is the teacher for this course. He is the founder of BIT (Blockchain Institute of Technology) and is a pro at teaching. By the time you're done with this course, you'll know how to be a pro at buying and selling NFTs in digital mediums.
Lessons:
Introduction to the World of NFTs
NFT Overview
Buy, Create and Sell NFTs
OpenSea Gas-Free Marketplace
Solana Blockchain
Thank you and Additional Resources
Time Duration: 2 hours and 37 minutes.
Price: $8.29 (During most offer periods).
2. NFT -NFTs Essential Training Course 2022 (SkillShare)
Made by Amir Rimer, NFTs Essential Training Course 2022 is an excellent guide to understanding, making, buying, and selling NFTs. In this course, you get to start by learning what NFT is, what a blockchain is, how to establish a wallet at MetaMask, and how to sell NFT using the platform of OpenSea.

With the latest updates of this Skillshare course, there are now lessons about handling new technologies, such as Monday and phantom. In addition, this course also emphasizes the history of NFT and how it came to be, along with how you can protect your NFTs from the beginning.
Lessons:
What is an NFT?
What is a Blockchain
The history of NFT
How to Protect Your NFTs
Getting Images
Modifying Images
Add text
How to Set Up using a MetaMask wallet
Sign Up for OpenSea
How to Buy an NFT
Build An Audience
Time Duration: 11 hours and 16 minutes.
Price: The course is included in the subscription of Skillshare at $168/year.
3. The Complete NFT Course -Learn Everything About NFTs (Udemy)
The Complete NFT Course focuses mainly on briefing you about NFTs in detail and then takes up the pace to its main emphasis. The course provides a detailed guide to creating NFTs.

Additionally, the course presents a good amount of content on how to buy and sell NFTs. However, note that this course is the best for someone who wants to learn how to make NFTs, rather than someone who wants to learn about the technicalities of an NFT.
Lessons:
Learn everything about NFTs
Time Duration: 4 hours and 47minutes.
Price: $8.09
4. How to Market And Grow Your NFT Project (SkillShare)
If you are just stepping into the world of NFTs and are looking to get the best overview of how NFTs work, this course is the best choice for you. The course mentions everything about NFTs, including what they are, why they are getting so famous, etc.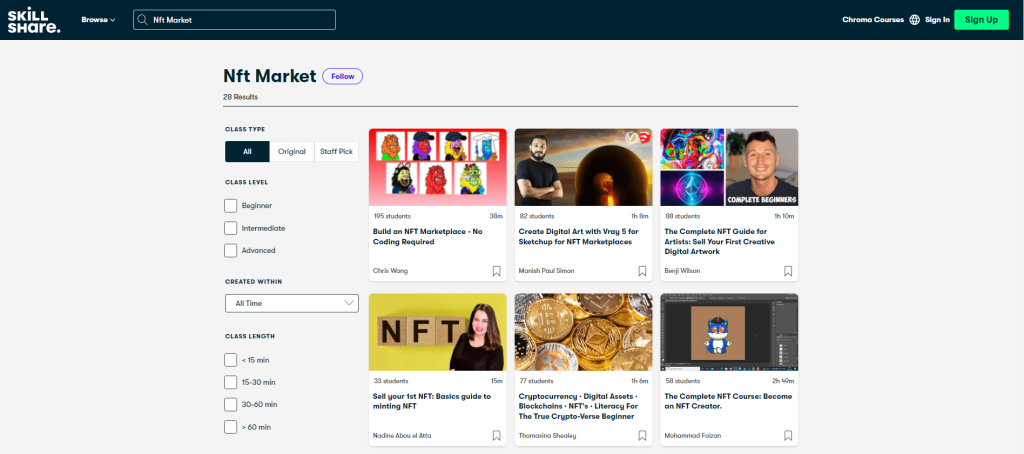 You first get to see a detailed explanation from Ali Matar, a professional NFT artist. After which, you get to take a deep dive into the technical work of NFT and how you can start a career of your own as a professional NFT artist. Furthermore, the course takes you through a detailed description of a professional NFT artist and how you can generate income through your NFTs.
Lessons:
Introduction to the NFT World
What are NFTs
Why People are Buying Digital Art and Not Physical
Gas Fees and Blockchains
Installing MetaMask
Who are You, and Why Should People Buy from You?
How Can People Provide Values to Your Art?
How to Grow Your Following?
Should You Reach Out to Collectors?
Creating a Community Project
How to Make People Give Value to Your Project?
The 70/30 Formula
How to Make Money After Minting
The 2nd and 3rd Approach to Make Money
Time Duration: 1 Hour and 7 minutes.
Price: The course is included in the Skillshare Subscription.
5. Master NFT in 7 Days (Nasa Academy)
If you are someone who wants to challenge themselves with a course that could help them learn a boatload about NFTs, including how to make, buy, and sell them, this course will be your ultimate guide!
Presented by Ben Yu, this is a course for those curious about NFTs and who want to become pro-NFT artists in the shortest possible time.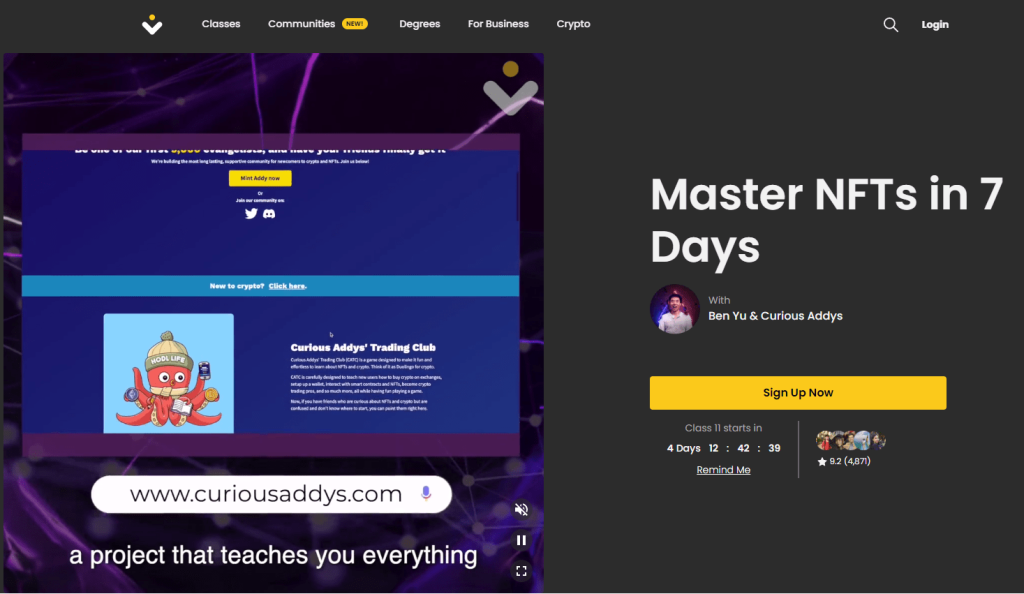 This course challenges and teaches you how to make and sell NFTs so that you get good results. Moreover, you also get to watch case studies and real-life examples that Ben presents, which help you form a better view of how NFTs work.
Lessons:
What are NFTs?
How to buy NFTs (Basic) Part I
How to buy NFTs (Basic) Part II
Strategies to buy the right NFTs Part I
Strategies to buy the right NFTs Part II
Bonus Content
Time Duration: 12 hours and 43 minutes.
Price: $99.99
Best NFT Courses Online -Free
Not everyone wants to invest money in courses. There are plenty of free resources available online. Below we handpicked some of the best courses that you can avail fyourself or free!
1. Ultimate NFT Programming Tutorial -Full Course (YouTube)
Presented by Moralis Web3 channel on YouTube, the Ultimate NFT Programming Tutorial is a course made for curious self-learning individuals. This tutorial consists of content from someone who wants to learn how to make their NFTs and handle all of its technicalities.
Unlike other courses, the course allows you to follow along and imitate the instructor to get a whim of how you would have to do it yourself. After that, you can practice all of the learned things using the resources provided along with it. Ultimate NFT Programming Tutorial is great if you want to learn and become confident about managing NFTs like a pro.
Lessons:
Introduction
Contract Programming in Solidity
Using JavaScript VM
Working with Metadata
Deploying smart contracts
Testing on OpenSea
Using NFT Dashboard WebApp
Rendering NFTs on the FE
Implementing Transfer
Time Duration: 2 hours and 8 minutes.
2. NFTs For Beginners in 45 Minutes (YouTube)
Reigning in as the start of small courses, the NFTs For Beginners in 45 mins is one of the best courses you can take as a beginner. It covers mostly all the theoretical explanatory parts concerning the topic of NFTs.
Along with being an excellent explanatory video, Gary Vaynerchuk also guides you through the process of making and minting your first own NFT. This course entails everything that a beginner needs to know. Although it does not go too deep into the subject, it still provides quite a thorough explanation of the world of NFTs.
Lessons:
What are NFTs?
How to look for one?
How to sell them?
How to buy them?
OpenSea Guide
Making your first NFT
Time Duration: 45 minutes.
3. NFT & Metaverse Investing Masterclass (Udemy)
Using systems and communities to one's advantage is one of the most challenging tasks when it comes to the NFT world. The NFT & Metaverse Investing Masterclass lets you do just that. By doing so, you can then sell, invest, and buy NFTs and tokens in Metaverse as a professional.

While learning from this course, Stefan Speaks will guide you thoroughly. He is an NFT artist and is known for his creations that go with the name of Personality NFT and Game of Life DAO. The core of this course focuses on first letting you get a deep understanding of what NFTs exactly is and what creates their value. Lastly, you will also learn to think about the future while working on NFTs and, therefore, become capable of making suitable NFT investments.
Lessons:
Overview of NFTs
All About NFT investment
OpenSea intro
MetaMask Wallet
Future Investment Opportunities
Time Duration: 2 hours.
4. Introduction to NFTs: Non-fungible Tokens (Linkedin Learning)
LinkedIn Learning is one of the best platforms for getting beginner certifications. Introduction to NFTs comes in the list of the popular beginner-level courses present on LinkedIn. The instructor of this course is Jonathan Riechntal. He is a best-selling author, writer, speaker, advisor, coach, and investor.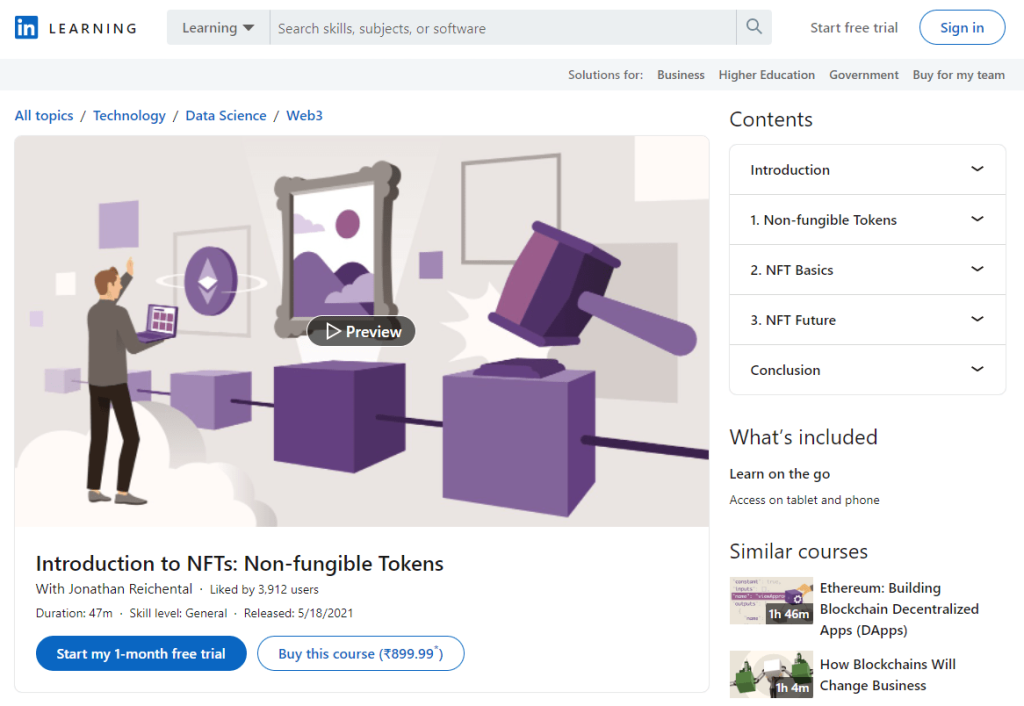 In this course, you will get to learn all about NFTs and what is their connection with blockchain. Along with this theoretical explanation, you will also learn how you can make NFTs of your own on the recognized platform of Ethereum.
Lessons:
Introduction to NFTs
History
Making Your Own NFT
Platform
Time Duration: 1 hr
Related Read:
Conclusion: Which is The Best NFT Course?
NFTs have become the trend worldwide, and their population is not losing traction. The lifetime of NFTs is just starting, and therefore this is the best time to start learning about NFTs and how you can make some of your own.
There are many courses present online on NFTs, and this abundance of choices can leave you confused and frustrated. Hence, this list above will help you choose the best course for yourself without falling into the loop of looking for the best option and giving up due to confusion.
We hope this article helped you pick the best NFT course -free and paid. Which course are you choosing? Let us know in the comments section below!