Looking for Best Nanodegree Program? Well, You've got a great taste as you have come to the right place, We got you 12+ Best Udacity Nanodegree Programs. This piece contains EVERYTHING about Udacity Nanodegree that you did or didn't know. By the end of this course, you'll have a Nanodegree to pursue sure.
I have started it with the 3 W's (What | Why | Where) of Udacity Nanodegree programs to make you familiar with this new concept.
Then we move ahead with HOW to choose the best Nanodegree program for you.
Once we know the process, we dive right into the categories. And lastly, I have a special gift for you! – I have picked the top 10 Udacity Nanodegree programs, to save you from spending your money recklessly on a random course!
3 Ways to Understand all About Udacity Nanodegree – (What, Why, Where)
What is a Udacity Nanodegree?
Udacity provides a wide range of courses and programs for Nanodegrees.
A Nanodegree is a program with a time duration of fewer than twelve months. It is a compiled package of modules embedded into one single course to make the path to career goals easier.
Why Udacity of all other platforms?
Udacity, unlike most e-learning platforms, makes sure that students are getting a better grasp at topics by providing them with much more interactive courses like quizzes, videos, and interviews with the instructors, as well as industry experts.
It also provides different portfolio-related projects for you to represent your practical skills on the topic. You can also add your projects on LinkedIn, and Github under the education section by Udacity.
Where does it benefit you?
Udacity also provides free access to Nanodegree programs for one complete month. These programs include moderated lectures, mentorship, and reviews on the projects you complete with any kind of help that you might need. Later, adding such projects to your profile will increase your reach among recruiters and open more employment opportunities.
Things to consider while choosing the best program:
Know your niche: You need to know where your interest is or the one that aligns with your skillset.
Pick a specific course: Now that you know your niche, pick a course accordingly. If even that doesn't help, follow the next step.
Research about the type of jobs available: Look for the type of jobs that your field provides. Type of jobs that are currently in demand. You would come across a particular skill-set that you need to acquire, that will help you to pick your Nanodegree program more easily.
Look for certified Nanodegrees: Not all courses provided have a certification in Udacity. The free courses are like textbooks with no certifications. Certifications help you keep track of what you've learned.
Time duration: Notice the time duration for your ease. Every course's rate depends on the time you take to complete the course.
Price: Check for the affordability of the course. Keep an eye out for discounts and some are available for free.
Categories available under Nanodegree Program:
Lets look into the Categories available under Nanodegree Program.
1. School of Data Science:
Data science is the art of extracting data, manipulating and visualizing it with a number of tools and techniques. It is not just limited to that but also widens its horizons to predictive analytics and machine learning. Acquire valuable skills under the supervision of experts, and mentors and learn with peers with the same goal.
2. School of Artificial Intelligence:
Artificial intelligence is taking huge control over every other industry out there. It is doing every other human activity possible in a lesser time and more efficiently with lesser mistakes that can be corrected with a slight change in the code. AI is very common in the sectors like robotics, machine vision, NLP, etc. The number of employment opportunities has hiked up too.
3. School of Programming :
Programming is the very first step to take in an IT Industry. Programming means learning any basic language to be able to communicate with the machine to make the work a lot easier. It opens the door to a lot of different fields. Front-End Web developer, Full-Stack Developer, Data Scientist, Data Analyst, Machine Learning Engineer, etc.
4. School of Autonomous Systems :
Autonomous Systems is a growing career in the field of automated vehicles. You can take your career one step ahead by gaining new practical skills from this Nanodegree program if you have an interest in autonomous/ robotic/ flight engineering. There is soon going to be a lot of money in this business.
5. School of Cloud Computing :
Cloud computing is a big pathway for digital transformation. Cloud computing is the delivery of services like databases, networking, intelligence, and analytics. It introduces innovations and flexible resources and a place to store your data on demand. Learn cloud computing and bag a good job.
The business has different components beginning with an idea, user research, designing, distribution, strategy, and analysis. Businesses can either start from scratch or can be developed ahead. Learn different techniques, strategies, and tools to learn more about business. There are multiple courses/Nanodegrees available for the same.
7. School of Cybersecurity :
The internet has held more than 1 million exabytes of data since 2014. It is expanding its storage day by day. Taking that into consideration it's just as important to keep the data safe from theft, privacy invasion, cyber-attack, cyberbullying, etc.
Every 39 seconds, a cyber-attack occurs leading to data theft. That's where cybersecurity comes into play. Acquire new skills to protect the data of people with your own hands.
8. School of Product :
There are various Nanodegree programs available to get hands-on industry experience in Product Management. The US has a high demand for this role and good annual packages. Learn about AI products, Training models, Prototyping a product, Agile Software, Freelancing, etc.
Before we get into the list, you should take a look at our Udacity review here.
Top 12+ Accessed Nanodegrees on Udacity for the Beginners in Different Niches:
Here are the best 12+ Accesses nanodegrees on Udacity there.
1. Android Basics
Time duration: 4 months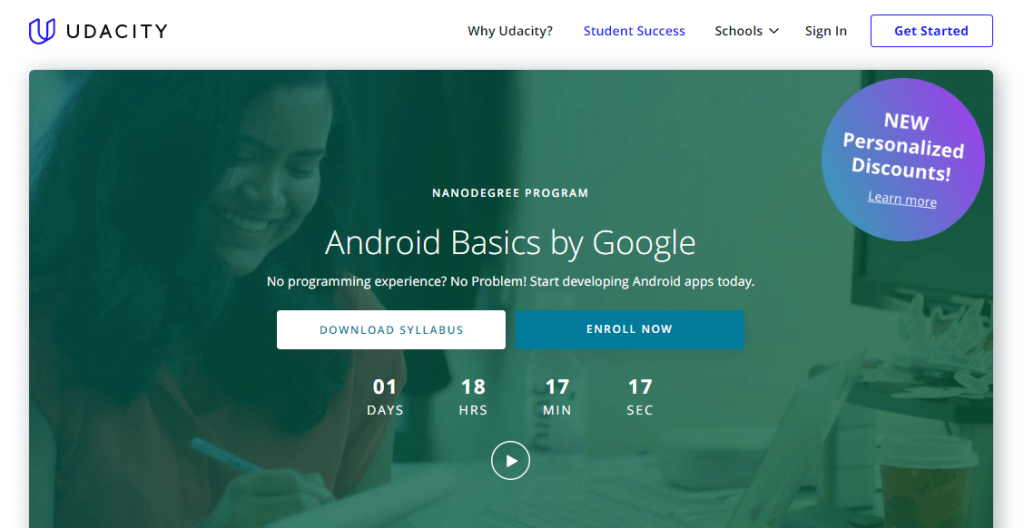 Learn:
User Interface i.e. transforming hand-drawn app designs into layouts using XML
How to make a coffee-ordering app using Java and concepts of OOPs.
How to use multiple screens, handling touch of Android works and playing with the visuals.
Networking with Web APIs, Http Networking, JSON parsing and the threads.
Prerequisites: None
Benefits: Android Developers are in huge demand, get a job, and make real-life projects under the supervision of industry experts in just 4 months.
Fees: 294.67 USD per month | 751.32 USD for 3-month access
2. Business Analytics
Time duration: 3 months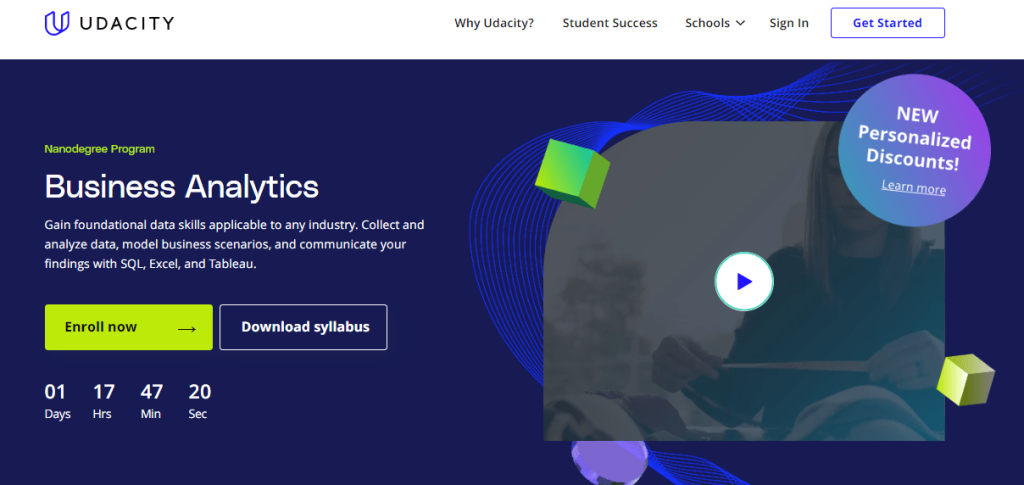 Learn to interpret and visualize data. Develop your excel skills to manipulate and analyze data with proper statistics. Grasp another concept of database language- SQL (Structured Query Language), to create, update, store and retrieve databases. Once you are done with that, you can finally create impactful visualizations of data telling stories in your own way.
Prerequisites: None
Fees: 294.67 USD per month | 751.32 USD for 3-month access
3. Programming for Data Science and Python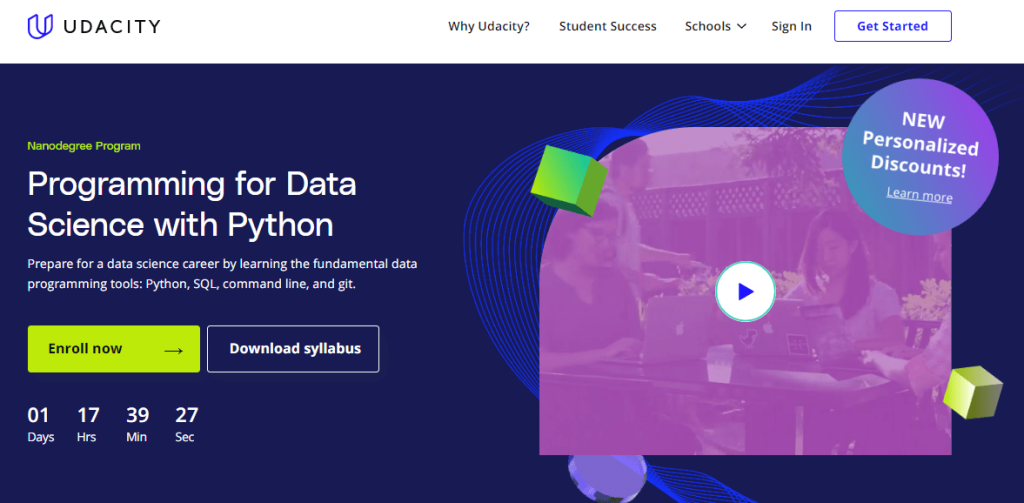 Time duration: 3 months
Learn the programming fundamentals required for a career in data science. Start by learning the very basic SQL (Structured Query Language) and its fundamentals, writing queries to solve big problems. In the next module, you learn the basics of Python and the concept of data structure and oops. Finally once you are done, get hold on version control to track, manage and share your code efficiently with other data scientists as well.
Level: Beginner
Fees: 294.67 USD per month | 751.32 USD for 3-month access
4. UX Designer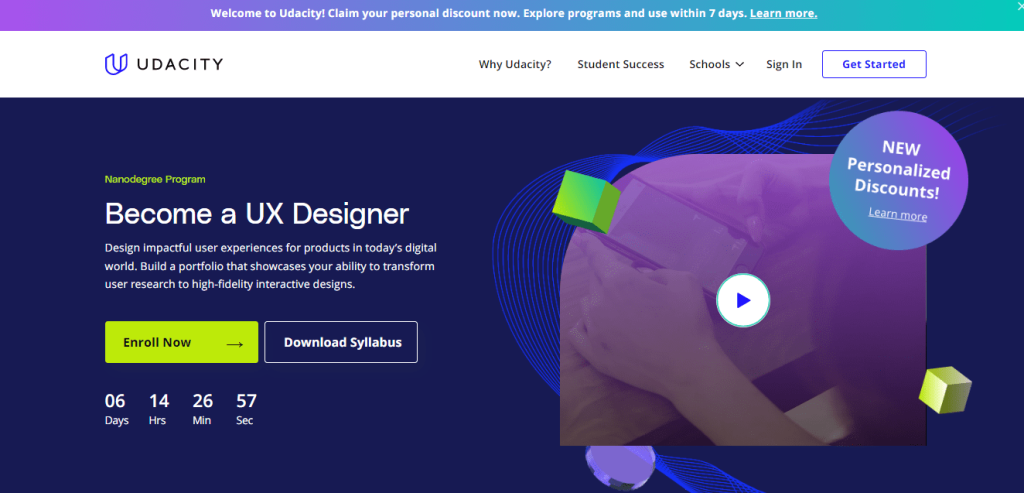 Time duration: 3 months
Learn: UX Fundamentals & Design Research. Understanding the needs of your user with proper research, surveys, and interviews. Low-Fidelity Prototyping which means converting research findings into testable prototypes in order to take user feedback for design iterations. Then know how to enhance engagement for interactive designs by remote testing and experiment performing for post-launch analysis. Finally learn how to build and maintain a proper UX Portfolio to introduce your designs in a more appealing manner to customers.
Fees: 294.67 USD per month | 751.32 USD for 3-month access
5. Product Manager
Time duration: 4 Months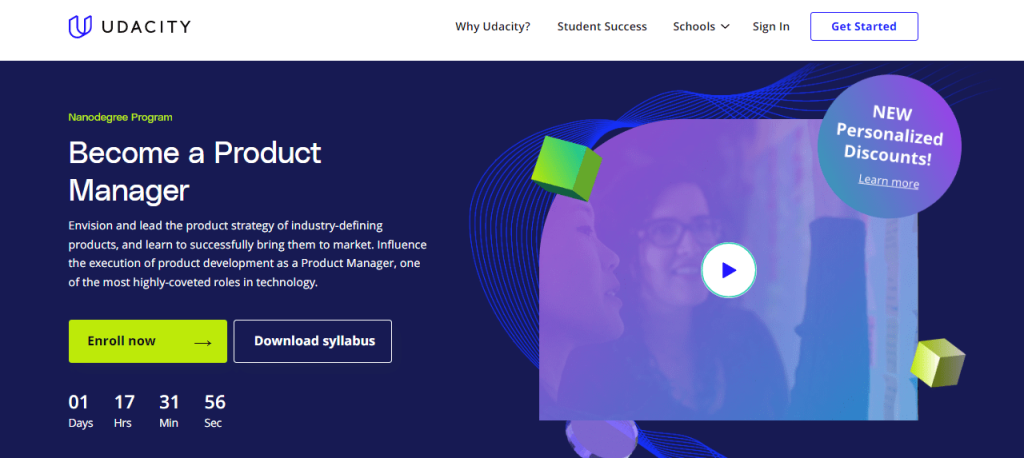 If Product management came easy, you wouldn't need this course.Here you'll learn about the most effective strategies – proper market research, target user definition, hooking people with your idea, creating a prototype with it to solve real-world problems. Learn how to handle the product development stage and to identify and overcome the launch risk, and keep your product up-to-date. Do this course if you want that job you keep hearing about.
Fees: 294.67 USD per month | 1001.71 USD for 4-month access
6. Digital Marketing
Time duration: 3 Months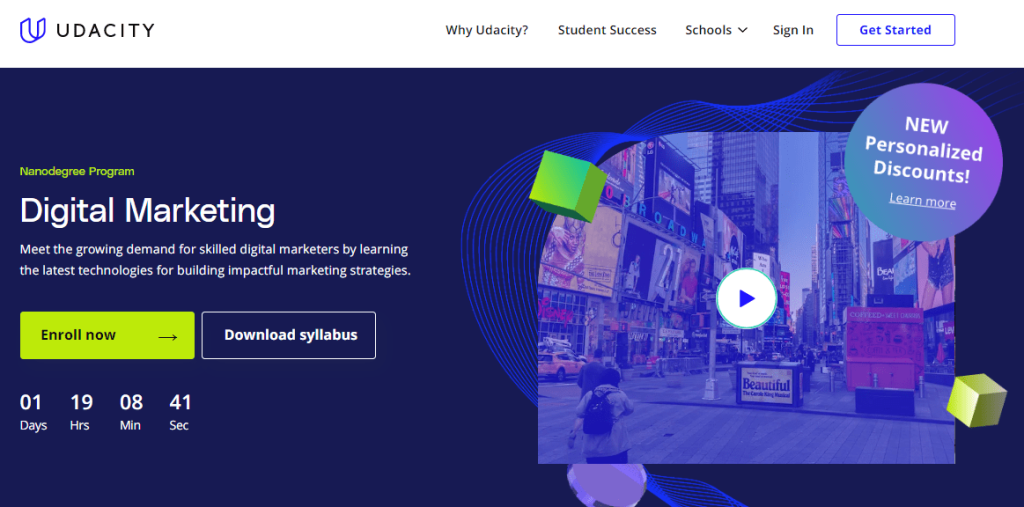 Digital marketing is one of the most in-demand domains. In this course, you will learn about:
Marketing fundamentals like B2B and B2C businesses
Content Planning strategies to grow and enhance the impact of any business.
Promoting content with Digital Marketing on social media with advertisements, posts, etc.
Learn about SEO (Search Engine Optimization), Email Marketing, and lastly, learn how to use Google Analytics to keep track of your business.
Fees: 294.67 USD per month | 751.32 USD for 3-month access
7. Become a C++ Developer
Time: 4 Months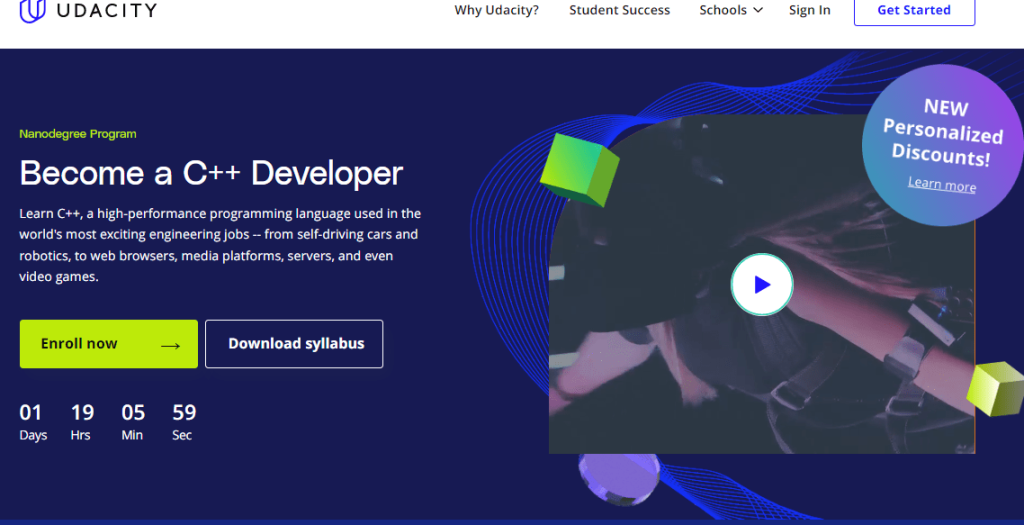 C++ is one of the oldest and most efficient programming languages used till date. The number of job fields this language creates is huge. If you're a fresher in coding, this is the course you must take.
From learning the basics of C++ to creating real-life projects. Learn concepts of OOPs, memory management, running threads in parallel. Build your own projects by the end of this course and add to your resume to be on the priority list of recruiters in the same field.
Fees: 294.39 USD per month | 1000.79 USD for 4-month access
8. Deep learning
Time: 4 Months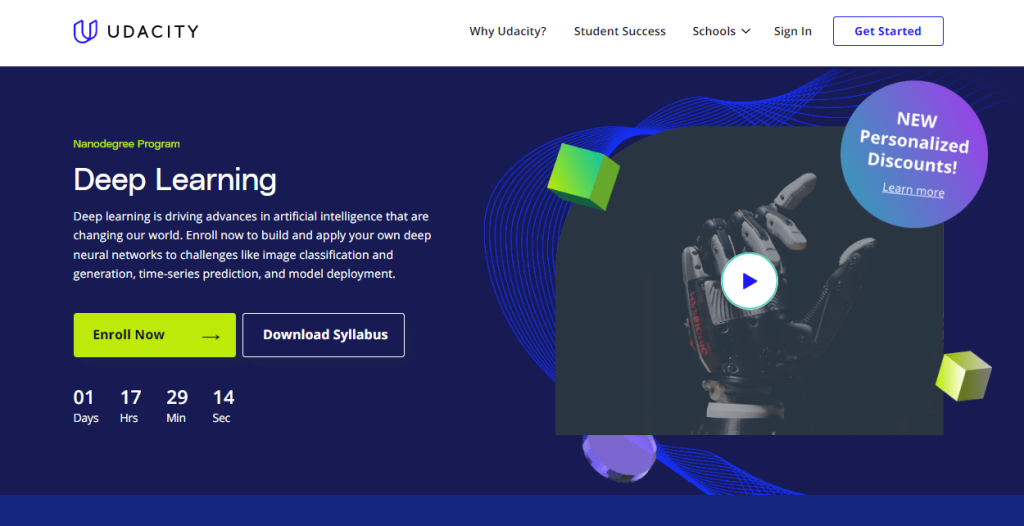 Prerequisites: Python, Linear Algebra & Calculus
Deep Learning is playing a major role in Artificial intelligence. From image classification, surveillance cameras, time prediction to model deployment, it helps everywhere.
In this course, you get to learn about:
Multi-neural networks, data compression and image denoising.
Generating TV Scripts
Deep Convolutional GAN (generative adversarial network) to generate realistic images.
Build, deploy a model on your own and how to access the gateway to access the same from the website
Fees: 294.39 USD per month | 1000.79 USD for 4-month access
9. Become an AWS Cloud DevOps Engineer
Time: 4 Months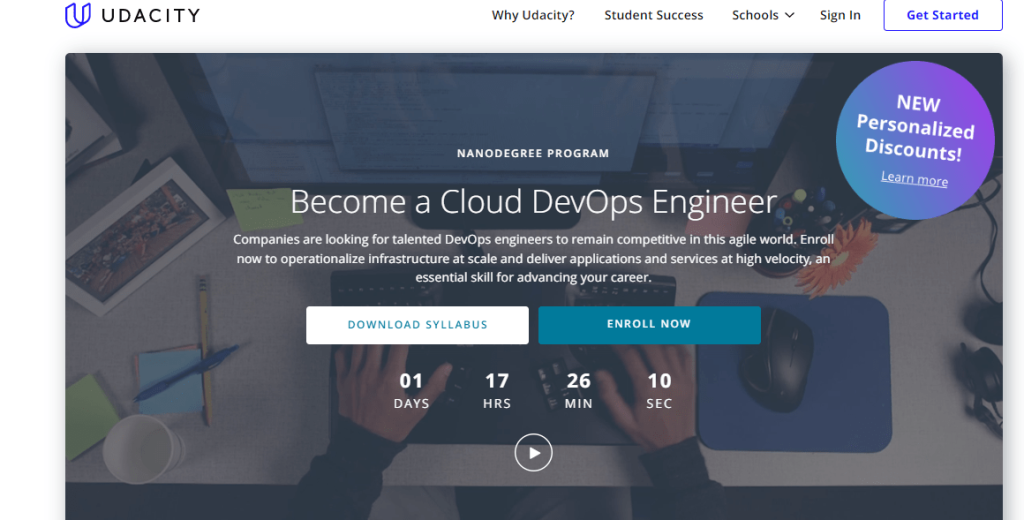 Prerequisite: JavaScript, CSS, HTML, Linux Command-Line. OOPs
Learn the basic fundamentals of Cloud.
Make Cloud architectural designs and deploy using CloudFormation.
Learn how to build CI/CD pipelines by learning about continuous integration and deployment.
Monitoring and alerting
Learn various Machine Learning Microservices using Kubernetes
Fees: 294.39 USD per month | 1000.79 USD for 4-month access
10. Flying Car and Autonomous Flight Engineer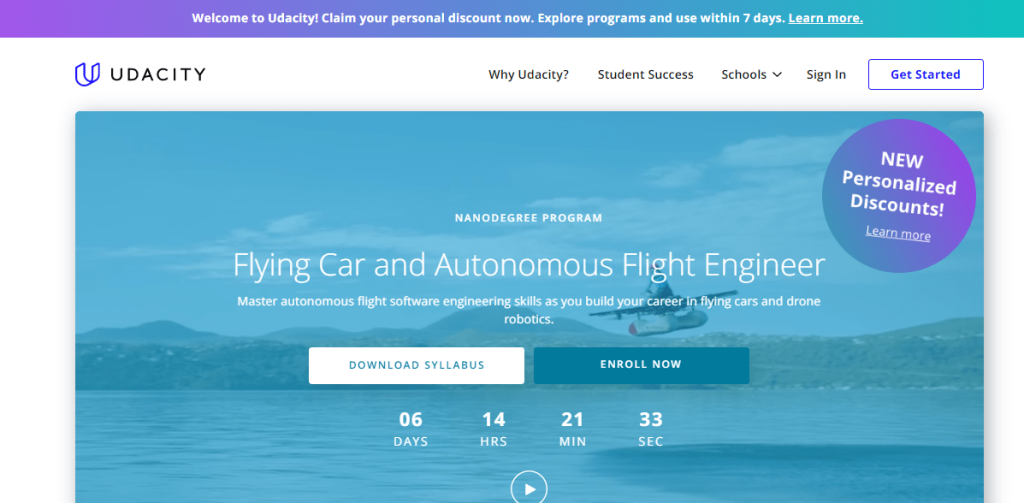 Time: 4 Months
Prerequisites: Mathematics and Programming
Making robots fly seems a little hard to achieve with a Nanodegree, doesn't it? But, NO. By the end of this degree, you can do it.
This course starts with a quadrotor test platform, working with a custom simulator, taking the quadrotor to the first fly-off.
Then you learn to optimize 2D solutions to navigate through 3D problems. Then you'll get first-hand experience in building your own controller for the drone.
Learn estimating attitude and position using EKF (Extended Kalman Filter).
Finally, learn to control fixed-wing aircraft in simulation on your own.
Imagine the type of projects you'll be able to do on your own once you complete this course. The fees of this nanodegree is totally worth it. You can't argue with that.
Fees: 294.39 USD per month | 1000.79 USD for 4-month access
11. AWS Machine Learning Engineer
Time: 5 Months
Prerequisites: Basic knowledge of machine learning algorithms and Python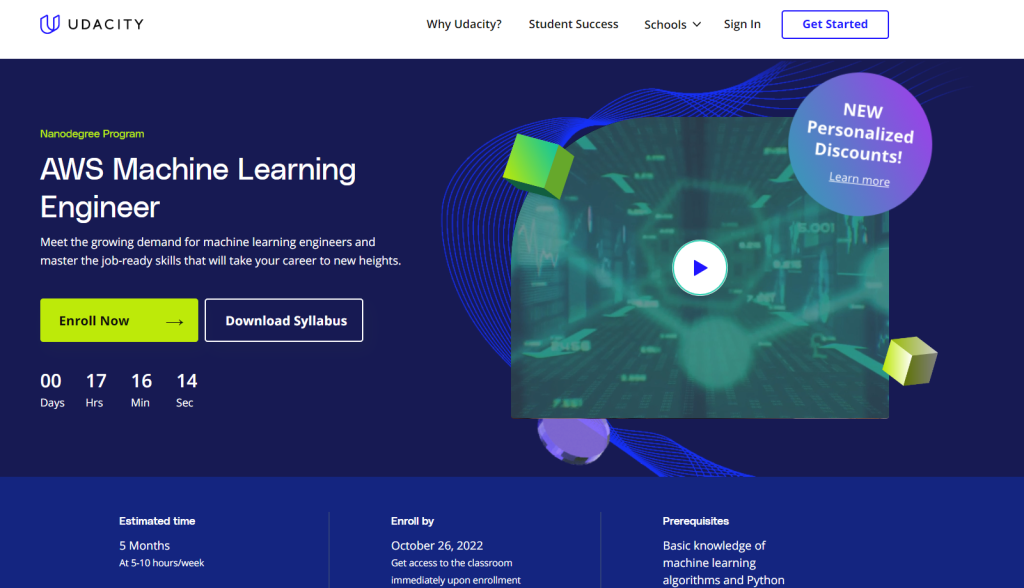 This machine learning program of Udacity is designed for programmers, data analysts, and software engineers. To understand this course completely, you will need to have a good understanding of Python first.
In this course, you will learn about the following:
A basic introduction to Machine Learning
Learn to develop your very first Machine Learning Workflow
Topics about NLP and Computer Vision
Learn to use Machine Learning Projects on SageMaker
Work on a real-world project to use the knowledge of this course
Fees: $399/mo or pay $1356 for five months of access.
12. Blockchain Developer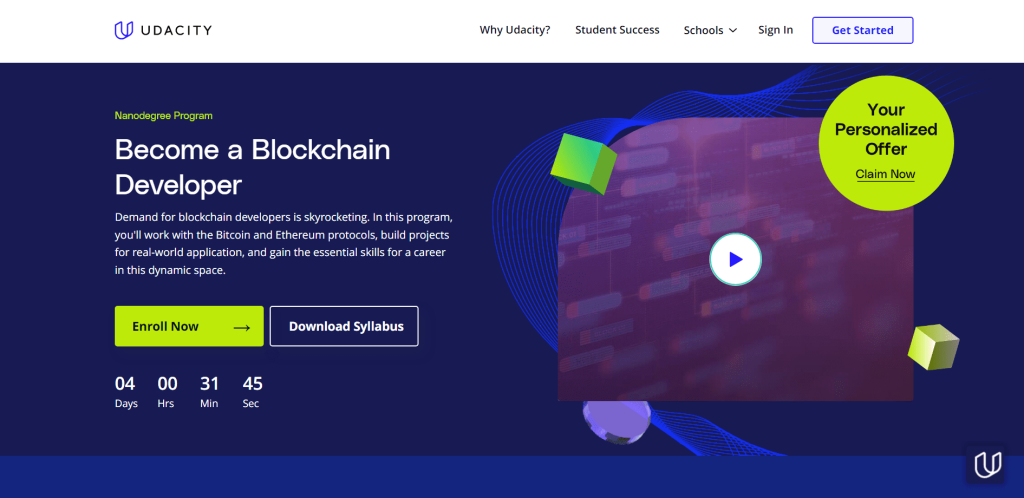 Blockchain is the technology which is used for cryptocurrency. This astonishing technology has seen quite a sharp rise in the market, It has opened up new avenues for programmers. By opting for this course, it will be a great opportunity for all the enthusiasts to cash in.
You must have experience in web development via Java Script. This is hands down, one of the best courses on Udacity Nanodegree. This Nanodegree involves training in Blockchain Architecture and Dapp.
You will be have an immense support and advice from the Udacity's Mentor which will definitely help you land a job as a Blockchain developer or Engineer.
Time : 4 Months.
Prerequisites : Object-oriented programming
Fees : $399/month
Related Read:
Conclusion: Best Udacity Nanodegree Courses (2023)
Everyone is moving ahead in their life, building their careers in the most convenient way possible. Udacity provides you with professionally built Nanodegree programs such that you don't miss out on important topics and do not even waste time on unnecessary ones.
Talking about my personal experience, I started my journey with Programming for Data Science and Python. The benefit of choosing this program was that I already knew C and C++, so I could very quickly learn Python, and Data Science was then no big deal. This field of Data Science has a lot of options for making real-life projects and the price is just fair. In case you don't know C/C++, start with C++.
If you are still confused, I would say pick any of the courses listed above, the link is given below every course. Atleast get started with one, experience it yourself and if you don't like the course, there is a 30-day free trial just for that. Pick any one Nanodegree, if you don't like it by the end, you have nothing to lose! As simple as that. But it will be very stupid of you to waste your 30-day free trial. Be the smart kind.