Codecademy has gained significant popularity with the increase in coding demands globally.
However, is it worth investing your time and money?
Let's be honest here. Codeacademy may not be the right platform for everyone. So, who is Codeacademy right for?
This is where I will help you with this Codeacademy review.
I will analyze its features, course offerings, and overall effectiveness in teaching programming skills.
I will also compare Codecademy with other popular online coding platforms and provide our verdict on whether Codecademy is worth your time and money.
With that, let's dive into the details!
Codecademy Review: In A Nutshell
Before we go into the details, here is a quick overview of Codecademy.
| | |
| --- | --- |
| Ease Of Use | Easy To Navigate |
| Features | Interesting and unique features |
| Courses and Curriculum | In-depth and Concrete Courses |
| Pricing | Starts at $17.49/month along with the free plan. |
| Best for | Best for anyone who wants to learn coding and computing. |
| Support | Featured articles and community support |
| Certifications | Yes |
| Overall Rating | 4.9/5 |
Codecademy Review: Overview
Codecademy is a huge online learning platform that offers coding and computer science courses. It aims to provide courses on 17 various categories and 15 different programming languages.
These programming languages include HTML, Java, CSS, Python, and many more.
The categories offered on Codecademy cover subjects like Data Analytics, Machine learning, web Development, IT, DevOps, etc.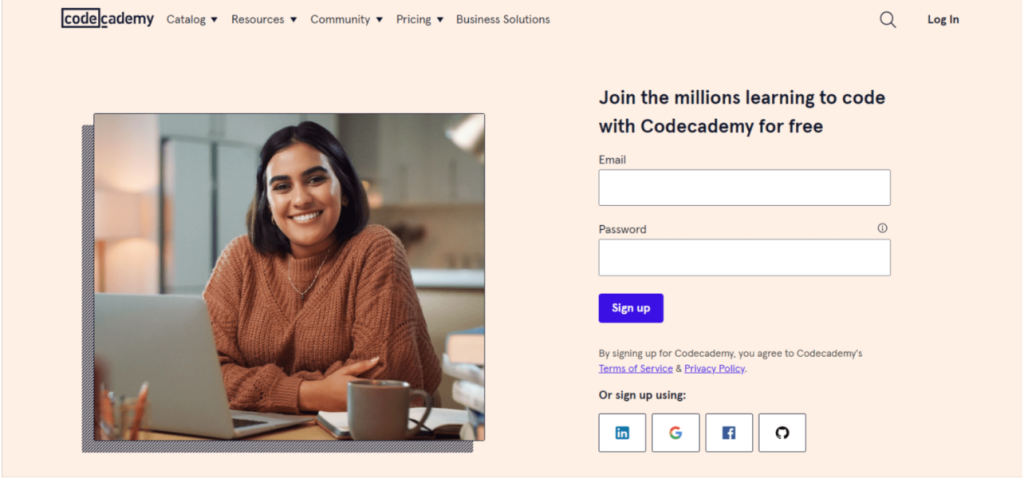 Founded in 2011 by Zach Sims and Ryan Bubinski, Codecademy has more than 45 million learners as of now. Currently, there are more than 300 courses available on this platform.
Codecademy believes in creating a new interactive way of learning that makes the courses more engaging, flexible, and accessible for users.
Some of these courses are free, while the advanced courses are paid, which helps build technical skills and learn code.
The reason why Codecademy stands out differently from other platforms is because of its real-world projects and customized tests that enable learners to put their knowledge into practice.
I tested some of the courses on this platform, and I would say this is an exceptional platform that offers comprehensive courses for beginners to advanced learners.
Codecademy Review: Features
Codecademy is renowned for the features they offer. While using this platform, I was impressed by the features that this platform is providing.
Let's have a look at the features.
Wide range of courses on 15 different programming languages.
More than 60 free courses.
A huge community of coders and programmers.
Code-as-you-go, approach to gain practical knowledge.
Practical projects where you can build your coding skills.
Huge library of resources.
Excellent customer support.
Skill paths to get to expert level.
Codecademy Review: Ease of Use
When it comes to Codecademy, it has a super easy user interface.
It has easy-to-handle and real generic accessibility that attracts the users the most.
Firstly, Codecademy will ask you to sign up to get access to the various free courses available on it.
The help section has many blogs, videos, and articles that will make your journey easy to find the best suitable course as per your choice.
You will not see extra pop-ups or any other unnecessary information. You can simply navigate the learning path or skill you want to pursue.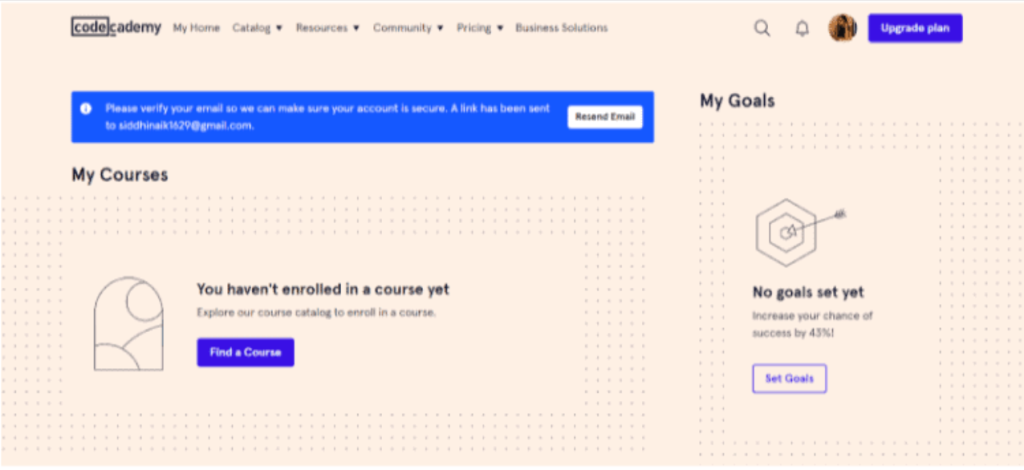 Besides that, Codecademy has a feature to set your personal goals that help you achieve the learning target.
With this feature, you can also create your own workspace to explore and experiment with your learnings.
Considering such capabilities, I would say Codecademy has a perfect user interface and is quite easy to use.
Codecademy Review: Curriculum
When talking about the curriculum on Codecademy has a super cool library of courses, practice tests, and projects. 
Codecademy offers many Career and skill paths that are the foundation of Codecademy's basic framework. You are free to take any courses individually in any order.
There are more than 12 career paths on Codecademy that provide factual knowledge to learners and cover in-depth skills.
These career paths include:
Back-End Engineer
Business Intelligence Data Analyst
Computer Science
Data Engineer
Data Scientist: Analytics Specialist
Data Scientist: Inference Specialist
Data Scientist: Machine Learning Specialist
Data Scientist: Natural Language Processing Specialist
Front-End Engineer
Full-Stack Engineer
Machine Learning/AI Engineer Career Path
iOS Developer
With these skill paths, you will gain practical and specific skills that will be useful to implement at your job immediately.
Moreover, there are more than 15 programming languages available to learn from. These are:
Bash
C
C++
C#
Go
HTML & CSS
Java
JavaScript
Kotlin
PHP
Python
R
Ruby
SQL
Swift
Codecademy provides most of these for free, but you can upgrade to the Pro plan to get a more concrete understanding.
Other than these languages, Codecademy has other courses in different categories. These includes:
Cloud Computing
Code Foundations
AI
Computer Science
Cybersecurity
Data Analytics
Data Science
Data Visualization
Developer Tools
DevOps
Game Development
IT
Machine Learning
Math
Mobile Development
Web Design
Web Development
All-in-all seeing the curriculum on this platform, Codecademy offers exceptional courses and career paths to their users.
Codecademy Review: Courses
Now, coming to course quality, as I said earlier, Codecademy has a huge library of more than 300 courses on various subjects. There are over 60 courses that are completely free.
These lessons are built with learning in mind, which offers many opportunities for practicing, helpful tasks, and projects.
Codecademy lessons use the code-as-you-go technique. This means even if you are a newbie to coding, you will have clear concepts and examples.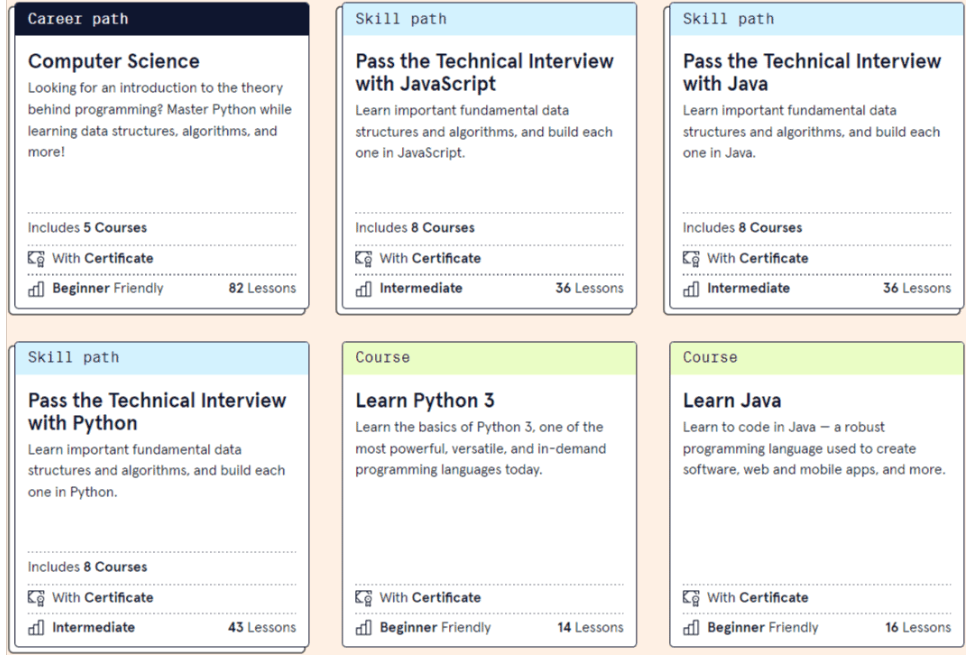 When you choose the course, Codecademy provides a complete overview of the syllabus and prerequisites you need to follow.

Every course covers detailed concepts. You will begin with the basics, and gradually you will develop your skills and perform the project work.
You will be able to see the progress and continue your journey even if you decide to quit.
Codecademy keeps you engaged by providing you badges whenever you complete the tasks and lessons.
Plus, there will be a Q&A forum, by which you will be able to solve your queries and communicate with other students.
Well, here are some of the courses on Codecademy that make this platform stand out from other platforms.
Learn HTML
Learn Python 3
Learn JavaScript
Learn SQL
Code Foundations
Full-Stack Engineer Career Path
Learn How to Code
Undoubtedly, these courses provide value and impart essential skills.
Further, in the resources section, you will be provided with a huge range of resources in the form of Cheat Sheets, Docs, articles, videos, preparation tools, projects, and a few learning tips and career advice.
Codecademy Review: Quizzes And Projects
With each course on Codecademy, you will experience various quizzes and exercises to solve for better understanding and in-depth knowledge of the course.
I was able to write and edit the codes with the help of these quizzes and projects. Yes, these quizzes determine the complete understanding of users once you attempt them.
Moreover, projects on Codecademy are designed to provide hands-on learning experiences. You will have to finish each activity and mark it as completed to jump on to the next one.
Plus, Codecademy also offers a mobile practice that is available on iOS and Android apps.
The Codecademy Go app is an additional resource for Pro membership subscribers. It provides access to practice and examines the coding without time constraints.
Codecademy Review: Pricing And Plans
Pricing is the most important factor when it comes to reviewing online learning platforms.
Talking about the pricing plans of Codecademy, three different plans are available. The individual plan, the student plan, and the team's plan.
Moreover, there are free courses available in various categories like programming languages, computer science, and others.
Let's have a look at these.
Codecademy Individual Plan:
There are three options available in the individual plan.

Basic Plan: Free
Plus Plan: $17.49/month
Pro Plan: $29.99/month
| | | | |
| --- | --- | --- | --- |
| Plan | Monthly Pricing | Annual Pricing | Best For |
| Basic Plan | Free | Free | Basic courses |
| Plus Plan | $34.99/month | $17.49 | Step-by-step guide |
| Pro Plan | $59.99/month | $29.99 | Interview Prep and career paths |
Codecademy Students Plan:
Codecademy provides a student plan for eligible college students. It is an annual membership and provides the same features as the Pro plan but with a 55% discount on the regular price.
Codecademy Pro student plan: $149.99/year.
With this plan, you get step-by-step guidance, practice exercises and unlimited access to the video content, and a certificate of completion.
Codecademy Teams Plan:
Codecademy also offers pricing solutions for larger teams and businesses.
This plan aims to create easy and scalable training programs for the entire organization.
There are two variations to this plan.
Teams Plan: $299/per user/year
Enterprise Plan: Customised
Codecademy Discounts
Codecademy regularly offers many discounts and coupon codes on its website. This helps learners to gain new skills by saving a huge amount of money.
Usually, Codecademy offers 50% to 60% off on their annual and monthly subscriptions.
Currently, there is no discount available on the official website. But you can stay tuned with us as we regularly update our content. This will help you get regular updates about the latest discounts and coupon codes.
Codecademy Review: Pros and Cons
Now that you have an overall idea about the complete platform. Let's have a look at some of its pros and cons.
| | |
| --- | --- |
| Pros | Cons |
| Comprehensive lessons | Courses are not accredited. |
| Real-world applications keep learning relevant | Some courses are text-based so you may struggle to understand them properly. |
| Practical lessons to help fast and effective learning. | |
| Active and interactive community forums. | |
| More than 300 courses are free | |
| Engaging quizzes and assessments | |
| Huge library of learning resources | |
Codecademy Review: Suitability
As Codecademy has a lot to offer, it provides many benefits to its users. As per my experience with this platform, I feel it is perfect for anyone who is willing to learn coding and various programming languages.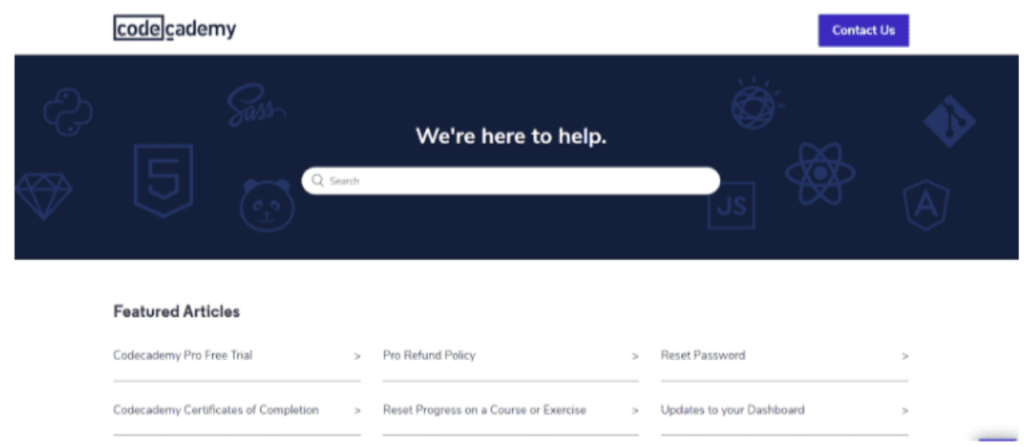 Specifically, it is more suitable for:
Anyone who is interested in learning the basics of computer science at no cost.
Students or learners who are looking for comprehensive knowledge in coding.
Learners who want to step into machine learning and data science.
Students who need practical knowledge
Professionals who want to stay updated with the new trends and who want to brush up their coding skills.
Codecademy Review: Alternatives
You might be looking for similar options to Codecademy. Right?
Well, yes, Codecademy is not the only option that provides courses on coding and computing. There are several compatible alternatives available that are providing the same quality and features to their users.
If you think Codecademy is not the suitable option for you, then here are some Codecademy alternatives to check:
1. Pluralsight
Pluralsight is a top competitor of Codecademy as it provides a huge library of more than 7000 tech courses.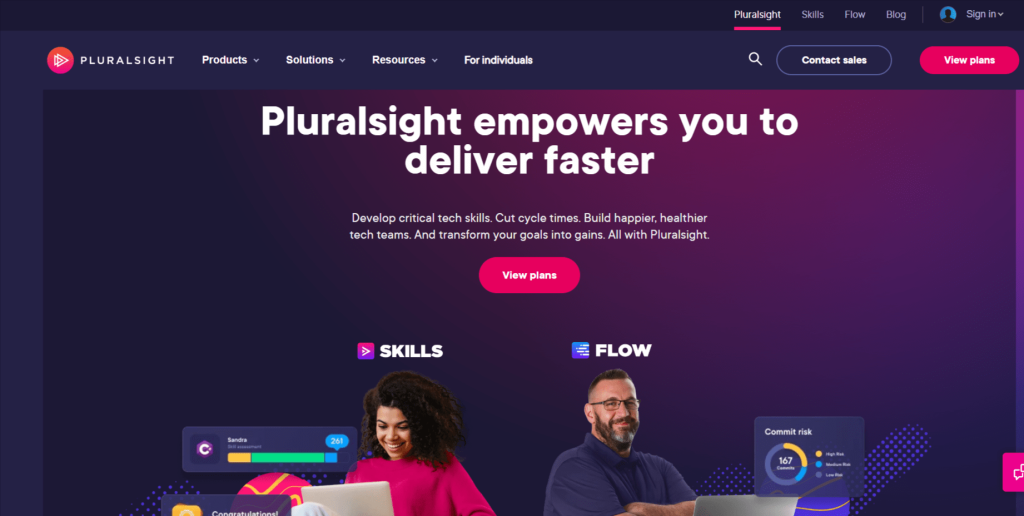 It aims to provide practical skill courses like computing languages, coding, and many more.
2. Coursera
This platform is very popular with students from all around the world. This can be a suitable option if you are looking for in-depth knowledge and instructions from highly qualified teachers.

Coursera also provides certificates that are accredited by many well-known universities.
3. edX
Another great competitor for Codecademy is edX. There are a variety of courses on topics like computing and coding. The courses on this platform are provided by prestigious institutes and colleges. If you are looking for a cost-effective option, then edX is good to go.

4. Udemy
This platform is a great online learning resource to learn and polish coding skills. It offers a wide selection of courses in various disciplines. It is a great alternative if you are thinking of learning coding at your own pace.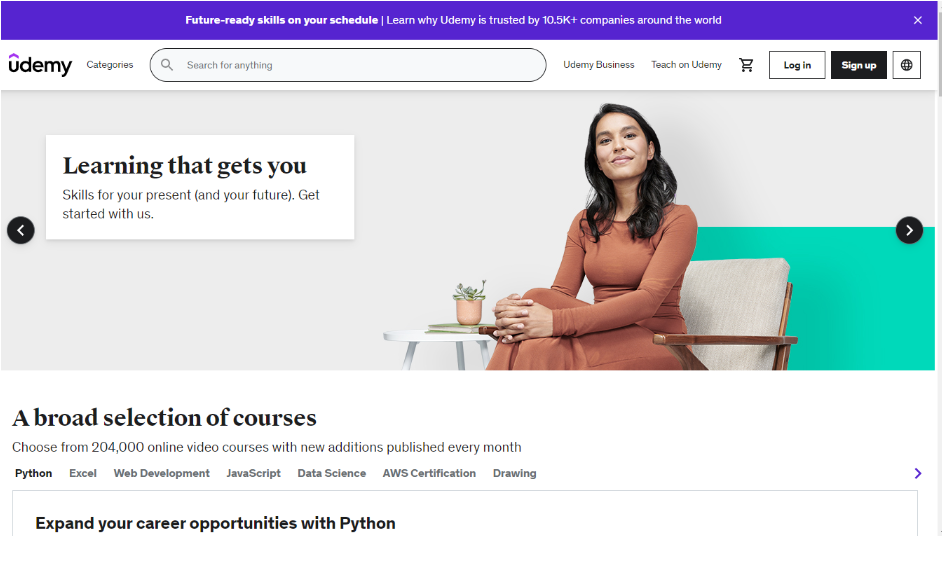 Related Read:
Conclusion: Codecademy Review (2023)
So, finally, here we are with the complete Codecademy review.
No doubt, Codecademy is an exceptional platform. So investing in it can be a good decision.
And if you are still confused about it, then try checking out the alternatives I have mentioned above.
I hope my experience helped you to understand the platform completely. What are your thoughts on this? Let us know in the comment section below.