The Great Courses offers a wide range of educational courses in various disciplines, including history, science, philosophy, literature, and more.
However, let's be honest.
The platform may not be the right fit for everyone.
To determine if The Great Courses is worth my time and money, I decided to review it based on various parameters.
If you are a lifelong learner or simply looking to expand your knowledge, this review will help you determine whether The Great Courses is the right choice for you or not.
Let's quickly start with the review.
The Great Courses Review: In A Nutshell
Before we go into the detailed review, here is a quick overview of The Great Courses platform.
| | |
| --- | --- |
| Platform | The Great Courses |
| Ease of Use | Easy to navigate |
| Features | Huge library of 800 courses.Well-designed courses.Training from real-world experts.Transcript purchase options.Updated course content. |
| Price | Starting from $39 |
| Content Quality | Excellent |
| Instructors | Top-notch industry experts. |
| Overall Rating | 4.8/5 |
The Great Courses Review: Overview
Founded by Tom Rollins, The Great Courses is an online learning community that aims to provide courses on history and other variety of topics.
There are two models of this platform which are completely different from each other.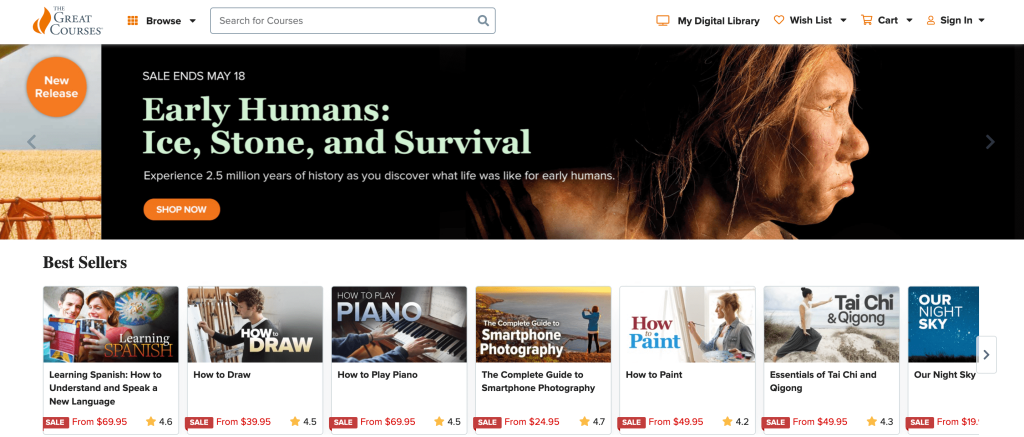 The Great Courses where you will pay for each separate course and The Great Courses Plus which is also known as Wondrium, provide annual and monthly subscriptions for the complete platform.
This platform is now known as the leading global media brand that provides educational classes in a very accessible and affordable way.
As of now, there are over 800 courses with more than 9000 lectures on this platform. Additionally, you can access these courses from a TV, computer, or any smart device.
Moreover, the courses are instructed by professors from renowned universities and field experts who provide practical knowledge based on their experience.
The Great Courses Review: Features
Here are some of the features that The Great Courses offers to their users:
More than 800 courses are available to learn from.
Well-designed and concrete courses.
Classes are taught by real-world experts.
Offline, App, and web version available that suits your schedule.
Huge library to store your courses in an easy place.
Transcript purchase options.
Updated course content.
The Great Courses Review: Instructors
Talking about the instructors on The Great Courses, most of the instructors are well-degreed professors.
These instructors are part of renowned universities like Yale, Princeton, and Harvard.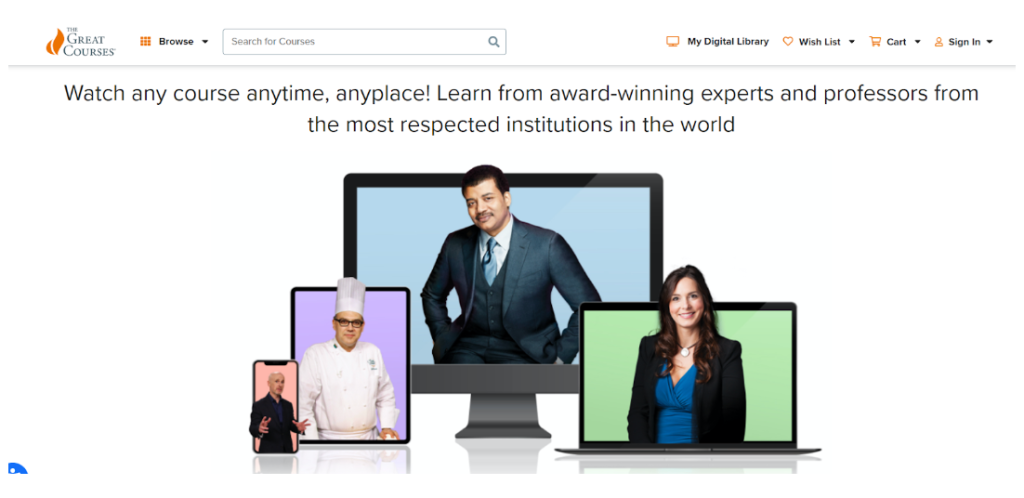 Other than professors, The Great Courses instructors also include industry experts, international speakers, published authors, and CEOs from various renowned companies.
The Great Courses Review: The Great Courses vs The Great Courses Plus
There are two ways to take courses on The Great Courses.
Firstly you can sign up for free and pay for the courses that you want to enroll.
Other than that, you can buy a monthly or annual subscription to The Great Courses Plus and enjoy various courses.
The Great Courses is based on individual sales of course content while the Plus version offers a subscription-based charge.
As per the company behind the websites, both models are separate entities.
Once you sign up, you can search for the courses from the library of 800+ courses.
Here I have mentioned what is included in The Great Courses and the Great Courses Plus.
| | | |
| --- | --- | --- |
| | The Great Courses | The Great Courses Plus |
| Length | Varied (average 6 hours per course) | Average of 8-10 hours |
| Billing | Pay as you go | After a 14-day free trial. Monthly or annual subscription |
| Includes | It includes video/audio/DVD, guidebooks, and downloadable material. | Access to all the courses available on The Great Courses Plus, Wondrium magazine, and free guidebooks. |
The Great Courses Review: Cost
When it comes to reviewing an online learning platform, pricing is the most crucial factor to consider. Let's have a look at the cost of The Great Courses.
The Great Courses Price:
For all the classes in The Great Courses, you will have to pay individually for each course.
Though for all non-subscribing members, this site offers 5 to 10 free sample courses.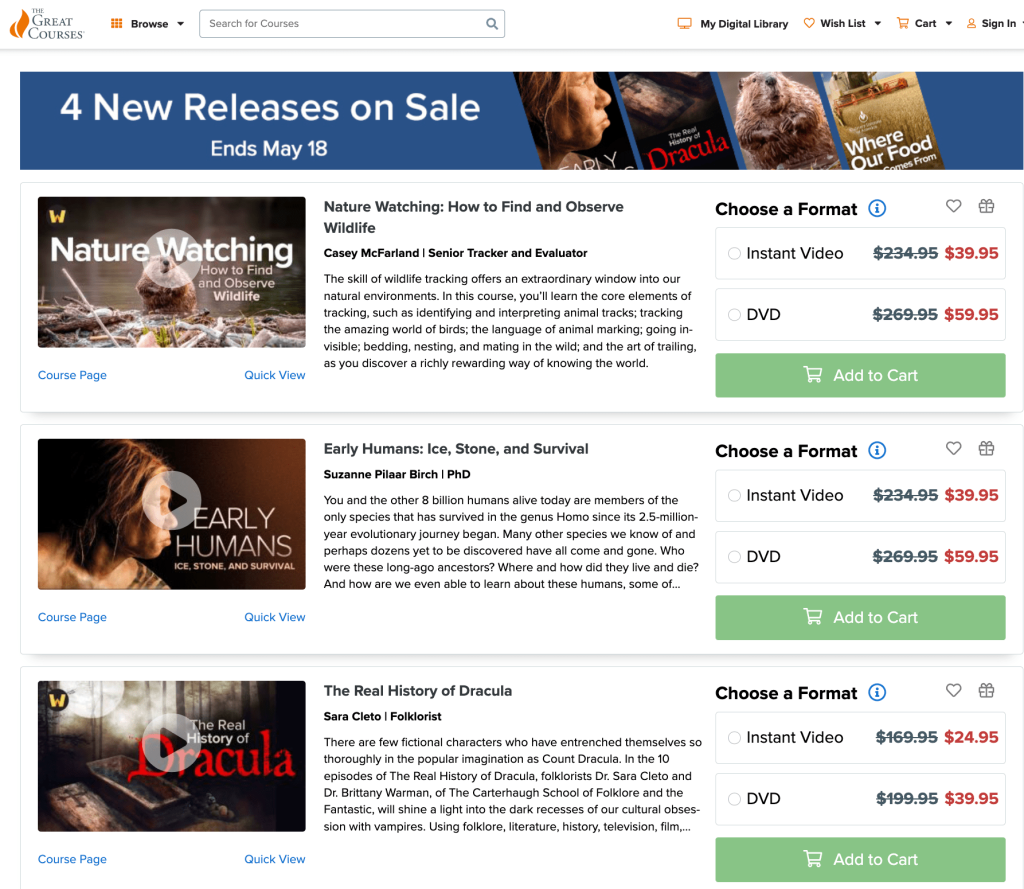 The price for these courses varies from course to course. The average price for these courses is $17-$500.
This may seem pricey, but if you are interested in a specific course or two, then it is worth taking. Most of the lectures last around 30 minutes and cover on average 20-30 classes.
The Great Courses Plus Price:
The Great Courses Plus offers subscription plans like annual plans and monthly plans. There are three subscriptions available on this platform.
The monthly plan costs you $20 per month when you will be billed monthly.
The quarterly plan is for $15 per month. It will be billed around $45 for every 3 months.
The annual subscription costs $12.50 per month. The total billed would be $150 once a year.
As per my experience with this platform, I think The Great Courses Plus is a suitable pricing option as you get access to all the courses.
The Great Courses Free Trial:
The Great Courses offers a free trial for 14 days to help you test the courses on this platform.
You can cancel this membership at any time within the 7 days but you will have access to complete 14 days.
It also includes unlimited acess. However, there is no refund policy available with this platform.
The Great Courses Review: Course Quality
Course quality matters when it comes to reviewing the online learning platform. The courses on The Great Courses are designed to be comprehensive and of high quality.
The courses are delivered in a filming style like whole camerawork, and professors are shown in the classes. I went through the sheer amount of courses and honestly, the course quality is super incredible.

Most of the courses are beginner-level courses and provide detailed insights into the topic.
Along with the course, it provides a complete course overview, audio/video transcripts, downloadable resources, and Q&A sections.
The Great Courses provides more than 800 courses in 13 different categories. These categories include:
History
Health, Fitness and Nutrition
Programs for Young Learners
Math
Economics and Finance
Food and Wine
Philosophy and Religion
Hobby and Leisure
Music and Fine Art
Professional and Personal Growth
Science
Literature and Language
Travel
Best Courses: My Top Picks!
These categories cover a wide range of courses. Here are some of the best courses on The Great Courses platform:
1. How The Stock Market Works:
How the Stock Market Works is one of the most popular courses offered by The Great Courses.
This course is designed to provide a comprehensive understanding of how the stock market operates, from its history and evolution to the various investment strategies used by traders and investors.
The course is excellent for anyone looking to learn more about the stock market and investment strategies.
Instructor: Ramon P. DeGennaro
Rating: 4.5/5
2. Thinking Like An Economist:
Thinking like an Economist course explores the fundamental principles and concepts of economics.
Professor Bartlett explains how these concepts can be used to analyze various economic issues, such as pricing, production, and competition.
The course also covers macroeconomics, including topics such as GDP, inflation, and monetary policy.
Instructor: Randall Bartlett
Rating: 4.6/5
3. The Art Of Video Storytelling
This course discusses the importance of storytelling in video production and the various elements that make up a compelling story. Professor Lenz goes on to explain how to identify and develop a story idea, including how to research and conduct interviews
The course covers a range of video genres, from documentaries to music videos, and explores the unique storytelling challenges of each.
It is also well-organized and structured, with each lesson building upon the previous one to provide a comprehensive understanding of video storytelling.
With its practical focus, engaging content, and knowledgeable instructor, this course is a valuable resource for anyone interested in the art of video storytelling.
Instructor: Bob Kirst
Rating: 4.7/5
4. How To Build A Thriving Workplace: A Leader's Guide
How to Build a Thriving Workplace: A Leader's Guide is a course that provides leaders with practical strategies for creating a positive and productive work environment.
The course covers topics, including communication, feedback, recognition, and work-life balance.
With its evidence-based strategies, practical recommendations, and knowledgeable instructor, this course is a valuable resource for anyone seeking to build a thriving workplace culture.
Instructor: Beth Cabrera
Rating: 4.9/5
5. How To Play Chess: Lessons From An International Master
This course begins by introducing the basic rules of chess and the different pieces on the board. Instructor Dr. Kopec then goes on to explain the fundamental principles of chess strategy, such as controlling the centre, developing your pieces, and creating threats.
It focuses on practical skills. Dr Kopec provides numerous examples of chess games and analyzes the moves made by both players. He also provides guidance on how to think strategically and make effective moves during a game.
Instructor: Jeremy Silman.
Rating: 4.7/5
The Great Courses Review: Pros and Cons
Now that we have an overall idea about the platform, let's have a look at some of the pros and cons of The Great Courses.
| | |
| --- | --- |
| Pros | Cons |
| Tailored and easy-to-understand courses | Might be a little pricey |
| Online and offline learning option | No quizzes and assessments |
| Huge range of topics to choose from | |
| Get training from well-recognized teachers | |
| Simple and easy to use | |
| Multiple subscription options | |
Related Read:
The Great Courses Review: Final Verdict (2023)
The Great Courses is a valuable resource for anyone looking to expand their knowledge and learn from experts in various fields.
The instructors are knowledgeable and passionate about their topics, which makes the learning experience enjoyable and memorable. While the courses can be expensive, they are worth the investment for those who are committed to lifelong learning.
I strongly recommend The Great Courses for anyone seeking to enhance their knowledge and understanding of the world around them.
What are your thoughts on this? Let us know in the comment section below.