Needless to say, all competitive exams are difficult to crack, yet prep courses like Princeton Review MCAT can make it easier for you.
I attended the classes and reviewed every aspect from course curriculum to private tutoring to study materials. So I can guarantee it.
In this article, I have talked about my experience, including its features, benefits, and pricing plans so that you get an overview.
Forget your exam tension. You might find the Princeton Review MCAT beneficial and buy it right away!
Princeton Review MCAT: In A Nutshell
It is a power-packed learning program specially curated for MCAT preparations. You are guaranteed maximum results by taking minimum time. 
Yes – that's Princeton Review MCAT tagline, but it is true, though. All the lessons are straight to the point with no unwanted fluff information. 
In fact, the instructors use mnemonics to teach formulas at times which makes the learning experience even more exciting. Needless to say, MCAT generally has a lot of portions to cover, yet Princeton Review MCAT got you.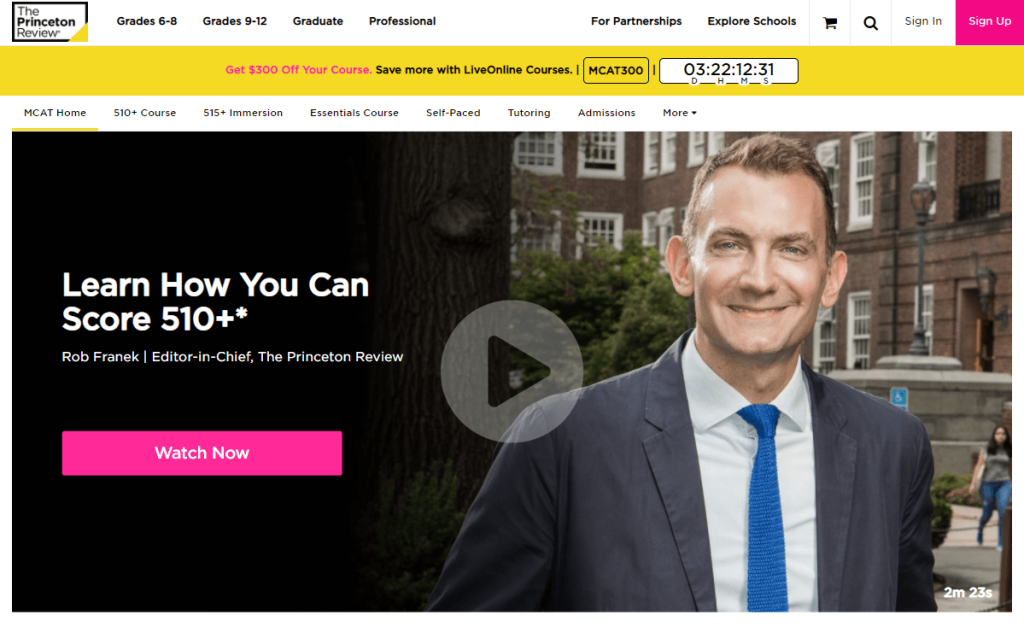 Regarding video lessons, you get a whopping 500+ lessons which means you not only get a treat but a complete feast to get going, my friend.
Let me tell you that if you religiously consume the content, you are guaranteed a score increase in the actual MCAT. You can take it as motivation!
Although it stepped down from making the best mobile-friendly platform, the Princeton Review app offers 550 flashcards for you.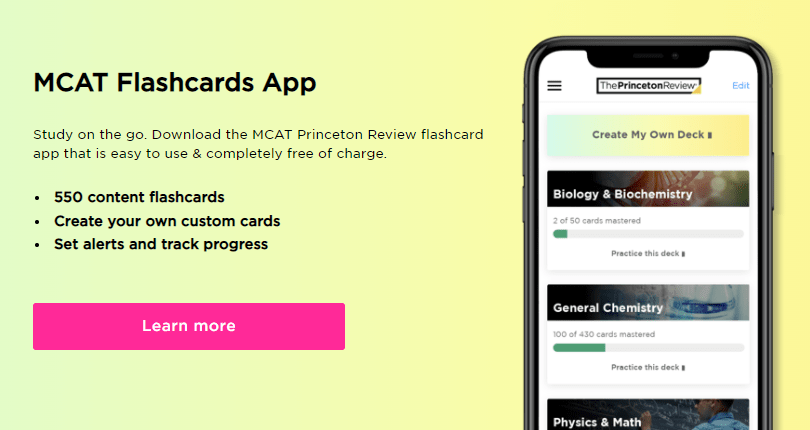 Still, the flashcards in Princeton Review are a great way to memorize and revise what you have learned so far from the curriculum. At least, that is one way of making it fun.
Last but not least, It takes up to 16 full-length practice tests, which is a generous number of practice tests for a prep course to offer. In fact, each practice test that you complete in gives a detailed report. 
The one thing that makes the practice tests special is that you can review the incorrect answers, spot your weakness, and find your potential.
In other words, I'd say you can use it as a manual score predictor because why not?
Note that it spoils you with a plethora of study materials by offering books that are section-oriented, course-based workbook, and hard copies. 
Princeton Review MCAT installed popping graphics to give visual overviews and explained each section in-depth so that you do not get bored studying them.
How is the Course Curriculum in Princeton Review MCAT?
Hands down, it is one of the best MCAT prep courses to produce SO MUCH content that you do not have to rely on additional materials. 
With 500+ in-depth video lessons, you can instantly get the gist of the MCAT syllabus and get going with the revision part after attending the classes. I am not kidding!
Still, it is a lot of content for an average student to consume, and ensured to break down its course curriculum into several components so that the lessons are easier to follow and quick to understand based on the sections.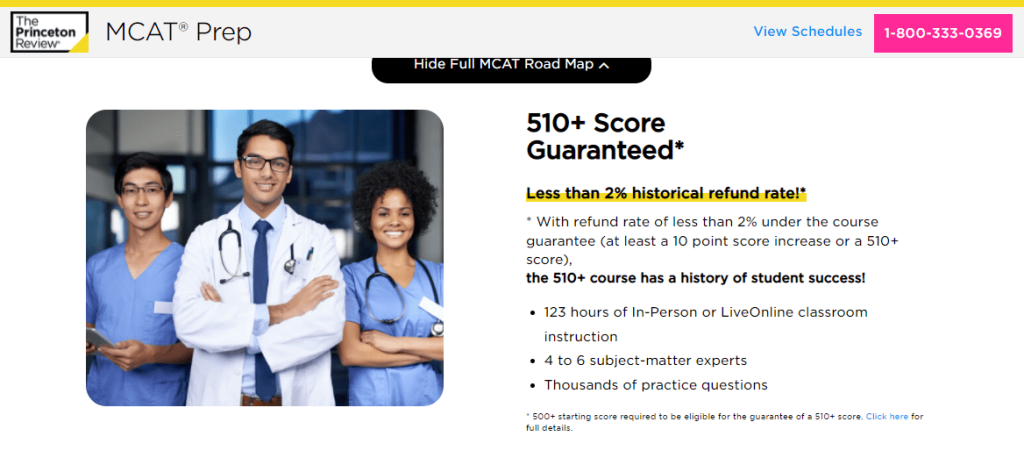 The course curriculum follows the pattern of reading, learning, and writing. I found Princeton Review MCAT learning pattern quite intriguing. Princeton Review MCAT takes the voiceover-style approach of the on-demand video lessons. *claps*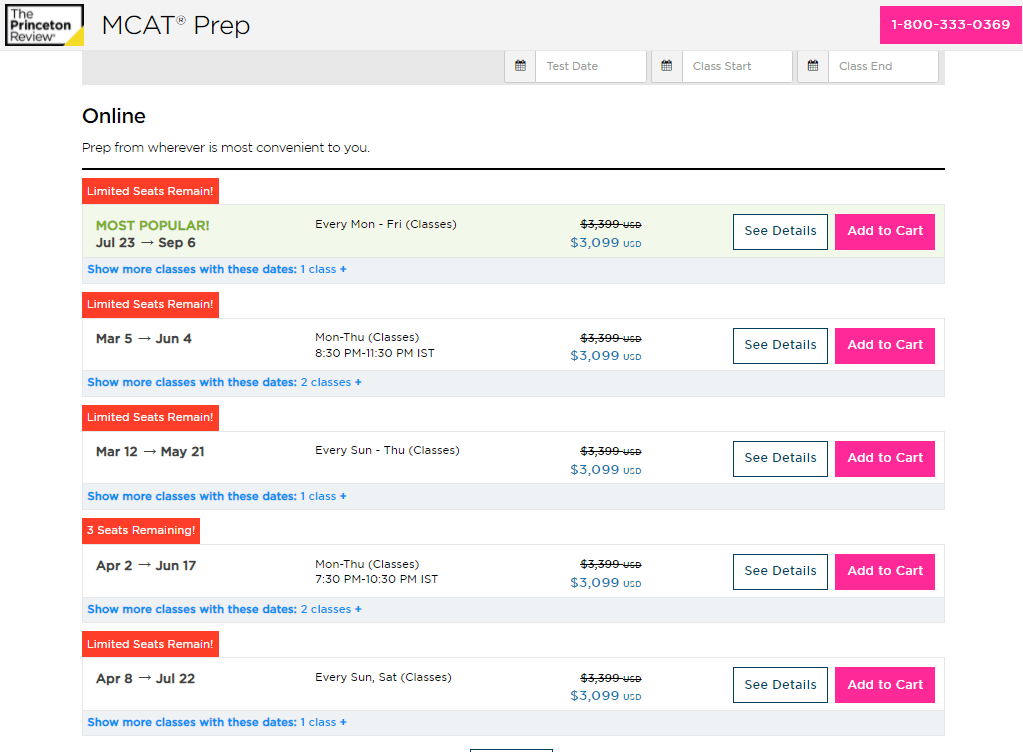 If you are a student who'd like engaging instructions and teaching, then Princeton Review MCAT might be a little disappointing. Still, Princeton Review MCAT is on-point.
The best part is that each practice question in Princeton Review comes with an in-depth explanation which means if you are in doubt, Princeton Review got you.
Remember when I said that each subject in MCAT is broken down into several sections? Well, each section has sets of bite-sized classes for you to learn easily.
There is no discrimination in the production of practice questions, and all the packages in Princeton Review MCAT offer 2500+ problems for instant revising.
Expanding the learning in Princeton Review MCAT, the flashcards integrated into the Princeton Review app are quite engaging and fun to use. Still, you cannot access the course materials via the application. Overall, Princeton Review MCAT is splendid.
What Do You get in Princeton Review MCAT?
Let's talk about all the benefits you will get in Princeton Review MCAT, shall we?
Although bright students might only need the course curriculum to go with the MCAT preparations, average students demand additional benefits. It's true!
Section-focussed teaching
MCAT-dedicated student guide
A plethora of MCAT study materials
Personalized homework after each lesson
Yet it is fair for a student to expect benefits when Princeton Review MCAT comes with a cost, and so I am glad to tell you that you'd get "MCAT Topic Focus," wherein the desired instructor in Princeton Review will take over a section and teach it in-depth.
Most students complain that they cannot cover up a specific section in MCAT, and so this feature might let you observe the teaching in detail and make you understand it.
What's more? You also get an exclusive MCAT Student Guide in Princeton Review MCAT that covers literally everything that a student must know about MCAT.
In fact, Princeton Review also takes you through several sessions where they give compelling advice and guidance on admissions, exam ranking, and many more.
Additionally, in Princeton Review MCAT classes, you'd get personalized assignments as and when you complete a class which makes it even more engaging to follow.
Lastly, you get plenty of study materials as Princeton Review MCAT prep books on all the subjects covered in MCAT so that you get an overall learning experience.
The Princeton Review MCAT prep books are quite heavy, yet it has everything you need to learn with detailed explanation and appealing graphics for easy understanding.
Do you get private tutoring in Princeton Review MCAT?
Anyone can take up online classes that are pre-recorded by a random educator, yet the learning experience from a private one-on-one session is different.
Do you get the opportunity to dive into private tutoring sessions? Hell, yes. Princeton Review MCAT offers private tutoring sessions for $183 per hour in-person and online.

Using the private tutoring, you can get customized teaching wherein the instructor will focus on your weakness and guide you. 
In fact, it is proven that customized teaching is more efficient rather than standardized teaching where most students might not comprehend properly.
The private tutoring sessions does not seem like it is done for namesake. Instead, the instructors observe your capabilities and suggest test-taking strategies and learning techniques personally tailored for you.
Princeton Review MCAT: Pricing & Refund Policy
I have shared everything, yet the most crucial aspect that finalizes your decision is pending. Yes – pricing plans.
It does not give a plan and tell you purchase. Instead, Princeton Review ensured to categorize its pricing structure after tailoring it to various options.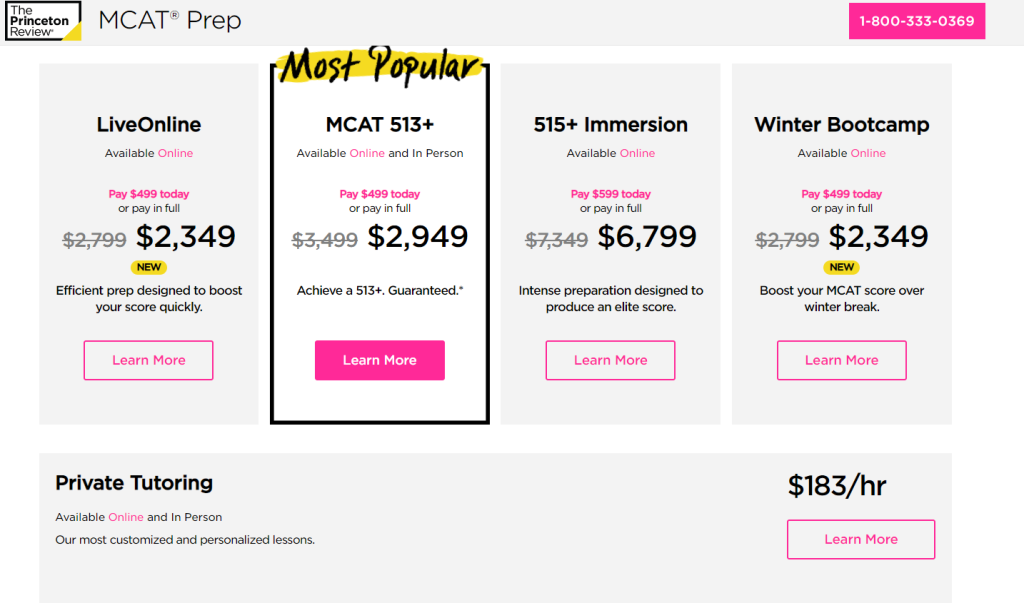 From section-focusses to private tutoring, It provides it all. Let me give a heads-up on all the packages offered.
Self-paced
Essentials
MCAT 510+
Immersion 515+
Private tutoring
MCAT topic focus
CARS skill builder
Counseling program
Along with the pricing plans, I have mentioned some of the exclusive programs offered. I noticed that only Princeton Review offers them.
Self-paced
You can buy self-paced module at $1549 and take the classes whenever, wherever, and however you want. I'd recommend purchasing the self-paced plan if you are a busy student with lesser time.
You can the code "MCATSP150" and save up to $150!
Essentials
You can attend live instructions and exclusive on-demands by paying $2799. This is the best way to learn and gather helpful notes since you are attending classes in real-time. Don't miss out on this opportunity!
You can use code "MCAT550" and get $550 off on your Essentials purchase!
MCAT 513+
You have scored 510+ in your MCAT. To make this happen in real life, buy MCAT 513+ at $3499 and get guaranteed a 513+ minimum score.
Online or in-person? It does not matter. You can choose it according to your needs!
Immersion 515+
The immersion 515+ plan is the most intense plan where you get robust training and teaching so that you can rank at the highest in MCAT. 
The teaching in Immersion 515+ is quite extensive compared to other plans, and so any student who is desperate to achieve the best score in MCAT can take this.
You can purchase the Immersion 515+ at $7349. Yet, you can use the code "MCAT550" and save up to $550 without any hassles.
Private Tutoring
I have discussed the private tutoring earlier in this article. Check it out and come back. I'll wait. Done? Okay. The private tutoring is priced at $183/hr with no additional fee. The best part is that you can also take it in person.
You can get customized lessons from the instructor through private tutoring sessions.
Winter Bootcamp
The Winter Bootcamp is a LiveOnline Bootcamp that will start on 12 December and will be there till 20 January. The pricing of Winter Bootcamp is $2799, but you can get it at just $2349 with our Princeton Review promo code. This Bootcamp will give you access to 16 full-length online MCAT practice tests and more than 500 on-demand videos, and it guarantees to improve your MCAT scores.
Other programs
Other programs include CARS skill builder at $1099, a pre-MCAT course, MCAT topic focus at $1399, which is basically section-focussed teaching, and a Counseling program at $3500, which provides advice to get clarity about MCAT.
Still, I can guarantee that the MCAT topic focus is beneficial because students who struggle with a specific section can find it easy to learn and comprehend.
You can purchase it as an add-on to your existing plan.
Mobile App
To keep up with other MCAT test prep platforms, it launched its MCAT mobile app. However, there is very limited content available on this mobile app. You can find only 550 flashcards on this app; all are related to the content available on the official website. You can not make any actual progress through the app because there are no video content, quizzes, and practice tests available on the app.
It would be really good if they connect their coursework to the app in the future because it will help students, and they can learn on the go. However, flashcards are also good to remind you what you have studied on the platform, but they are not as good as the actual thing.
Pros & Cons
It offers one of the best learning experiences, yet some downsides need to be addressed and so let me quickly highlight them below:
Pros
You get an in-depth course curriculum in Princeton Review MCAT.
The voiceover-style teaching is quite intriguing and easier to learn.
Princeton Review MCAT also provides section-focussed teaching.
A plethora of study resources from flashcards to hard copies.
All types of learning are available; self-paced, live, and on-demand.
The practice test also provides a detailed report on completing it.
You will receive a personalized assignment after each lesson.
A minimum score is guaranteed in Princeton Review MCAT.
You also get 550+ flashcards in the Princeton Review app.
Cons
The mobile application does not support course materials.
Related Read:
Final Thoughts: Princeton MCAT Review [2023]
Tops the game in the production of study resources. Not to forget, even the course quality was on-point because it did not add any fluff.
Usually, prep courses might add random facts to increase the lesson duration, yet it had a digestible approach with the only necessary content.
From private tutoring to personalized assignments, Princeton Review knew how to train an average student and make them into one of the bright students.
With a minimum score guarantee, you can buy it without any confusion because you have your score ready. Of course, you can't expect a 510+ score increase without studying. If you do your part, Princeton Review will help.
FAQs
Is Princeton Review MCAT free?
Unfortunately, Princeton Review is not available for free.
Can you take private sessions in Princeton Review MCAT?
Yes, you can opt for private tutoring sessions at $135/hr in Princeton Review MCAT.
Does Princeton Review MCAT guarantee a minimum score?
Yes, Princeton Review MCAT guarantees a minimum score up to 510+, but you have to purchase a specific plan to achieve it.
Do you get self-paced learning modules in Princeton Review MCAT?
Yes. Princeton Review MCAT offers self-paced classes at $1549/- only.