Are you confused about whether Kaplan SAT prep is worth the investment? I'll help you figure out.
I used and reviewed Kaplan SAT prep and shared my experience in a detailed Kaplan SAT prep review, So that you can learn about everything that Kaplan SAT prep offers.
In this article, you can find the overview of Kaplan SAT prep and several aspects like the features of Kaplan SAT prep, benefits, downsides, and pricing.
I have also shared my final thoughts on Kaplan SAT prep that might help you.
Kaplan SAT Prep Review: In A Nutshell
Kaplan SAT Prep is an instructive online learning platform that provides engaging in-person, on-demand, and live classes to better your SAT prep.
In Kaplan, you are promised 50+ exceptional video lessons that narrow down complication sections into simple learning modules to learn efficiently.
Along with the video lessons, you get 1000+ practice questions. Which you can use to revise your learning acquired from Kaplan. Even if you are stuck in a particular practice question in Kaplan, you can refer to the explanation under the question.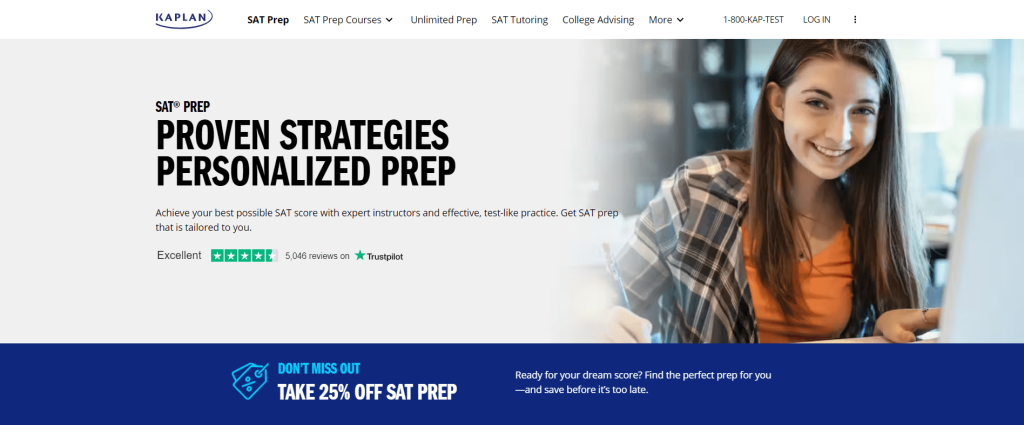 Although the number of practice questions might seem limited, the selection of questions guarantees quality over quantity. Regarding the curriculum, Kaplan has a robust approach where you learn, drill, and practice as and when you complete.
The schedule flexibility in Kaplan is worth buying. It's because not every student has the time to put in the hard work and study for their SAT exam religiously.
Coming to ease of use, Kaplan ensured to make a well-designed responsive, and informative interface. The dashboard setup is excellent with easy-to-click tools.
The instructors in Kaplan do not constrain themselves to the standard format and offer insightful test-taking strategies so that you can write your SAT with ease.
Some students claimed downsides like a heavy load of homework and artificial SAT practice tests in Kaplan. Overall, Kaplan does a great job!
Kalpan Courses
We have listed below the Kalpan Courses
| Sr. No | High School | College Admissions | Graduate Admissions | Healthcare | Finance | Accounting | Insurance | Real Estate | Engineering, Architecture and Design | Technology | Publications | Languages | Explore Solutions for Students and Professionals |
| --- | --- | --- | --- | --- | --- | --- | --- | --- | --- | --- | --- | --- | --- |
| 1. | ISEE® Prep | AP® Exams | GMAT® Prep | COMLEX USA® | CFA® | CPA | Insurance Licensing & CE | Real Estate Licensing | FE Exam | AXELOS | Kaplan Prep Books | Learn A Language | All Exam Prep |
| 2. | SHSAT Prep | ACT® Prep | GRE® Prep | USMLE® Prep | FRM® | CMA | – | Home Inspection | FE Civil Exam Prep | Amazon | Manhattan Prep Books | Study Abroad | Study Abroad |
| 3. | SSAT® Prep | PSAT Prep | GRE® For MBA | NCLEX-RN® Prep | CAIA® | CIA | – | Contracting | PE Exam | CERTNEXUS | Kaplan Professional Books | IELTS® | Learn A Language |
| 4. | GED® Prep | SAT® Prep | GMAC™ Business Fundamentals | NCLEX-PN® Prep | FDP® | EA | – | – | PE Structural (SE) | Cisco | ASVAB Prep Bookstore | OET® | Advance My Career |
| 5. | – | – | LSAT® Prep | CCRN® Review | ESG | – | – | – | PE Mechanical Exam Prep | Microsoft | – | – | Graduate School |
| 6. | – | – | BAR Review | ISPN® & CGFNS® | CFP® | – | – | – | Surveying | Oracle | – | – | College Admissions |
| 7. | – | – | MCAT® Prep | INBDE® Prep | Financial Modeling | – | – | – | ARE 5.0 Exam Prep | VMWARE | – | – | High School |
| 8. | – | – | DAT® Prep | PANCE/PANRE® | Professional Skills | – | – | – | NCIDQ Exam Prep | PMI | – | – | – |
| 9. | – | – | OAT® Prep | NREMT® Prep | Securities Licensing & IAR CE | – | – | – | – | GIAC | – | – | – |
| 10. | – | – | – | PTCE Prep | CPE | – | – | – | – | – | – | – | – |
| 11. | – | – | – | BMAT® Prep | – | – | – | – | – | – | – | – | – |
What All Do You Get in Kaplan SAT Prep?
Although Kaplan might not offer as fancy tools and features as its competitors, you are in for a generous amount of resources. Still, the benefits vary for each course option that you take at Kaplan. In fact, there are no compromises in material quality.
Additional content
SAT prep hard copies
Real SAT practice tests
A high score guarantee
As an add-on to the current curriculum you experience in Kaplan, you also get 16 hours of additional pre-recorded content that usually focuses on specific sections.
Often students who get confused with particular chapters might find the additional lessons intriguing and consider it a supplementary resource. You get well-written content in hard copies that can elevate your study in terms of study materials.
Kaplan used appealing graphics and vibrantly coloured illustrations to enhance your concentration. It is also a psychological trick – you focus on images over words.
Regarding practice tests, you get 8 full-length practice tests, but there is a catch. Half the practice tests are real SATs approved by the College Board, so students who'd like to have a hands-on SAT exam writing experience might find it interesting.
You also get a high score guarantee in Kaplan, wherein you can write your SAT easily, and if you didn't hit the jackpot, then Kaplan is ready to return your money.
One of Kaplan's biggest (or not) drawback is that it has not been updated with a mobile application. 2023 is here, and I am unsure why Kaplan did not consider it.
It could be a problem if you are a visual learner and often learn from your mobile screen. That's why, usually, Kaplan is recommended to be accessed via laptops.
What I Think Can Be Improved In Kaplan SAT prep?
As much as I bragged about the benefits involved in Kaplan, I have to be honest about the overlooked downsides of Kaplan so that you can get a clear idea.
I noticed that Kaplan provides content access relatively short compared to other mid-range SAT prep courses, and it got me thinking Kaplan is falling back.
Because most students have to deal with tight schedules and study plans, it would be great with Kaplan extended its content access. I am not demanding a flexible learning experience, but a mere expansion would help.
Only recently, Kaplan added an unlimited package that allows you to soak in enough time and fully immerse in the learning. It felt like a downside primarily because similar SAT prep courses offered lifetime access in the same budget range.
Plus, the fact that you also get additional lessons is quite funny because you already do not get the time or access period to complete the pre-recorded lessons. How will you extend your access period to finish the additional lessons? I'd say it is ironic!
Who Will That Affect?
It might majorly affect slow learners as they tend to spend more hours on a section.
On the contrary, a major bait, I don't necessarily want to label it as "bait," but Kaplan does not guarantee a specific number for the score improvement. In contrast, other SAT prep courses like Princeton Review and Magoosh SAT do.
This way, you are not actually guaranteed a score improvement. Kaplan only advertises a "high score guarantee," so even if you score one point higher, then you cannot argue with Kaplan because it is still higher. I am not sure why Kaplan does it.
As a learning prep course, it must guarantee a specific number for score increase so that potential students might have an idea of what their scorecard might look like.
Does Kaplan Offer Private Tutoring?
Although interactive live instructions and classroom sessions are effective, nothing can match a student's teaching in a private one-on-one session.
The usual learning packages in Kaplan do not match SAT tutoring in Kaplan, wherein you get up to 40 hours of one-on-one private tutoring. Along with private tutoring, you get complete access to an entire live course with 4 SAT hard copies.
In fact, you can take your learning experience to the next level by taking up to 8 full-length practice tests with complete score analysis. Did you notice? Although you must purchase private tutoring separately, you are blessed with several benefits!
The price for private tutoring sessions can start from $1999. Yes – it is quite expensive, but look at all the benefits you get under a single roof. Yay!
If you are on a mission to significantly increase your SAT score, pay $4599, get 40 quality hours of private tutoring, and get the utmost benefit of test-taking strategies.
Still, you can pay for private tutoring anywhere from $167 to $384 monthly in Kaplan.
Kaplan SAT Prep: Pros & Cons
The following are some of the valid points followed by downsides in Kaplan SAT:
Kaplan SAT Prep Pros
Lets have a look at Kaplan SAT Prep Pros:
You get short and digestible content in Kaplan SAT Prep.
Proven test-taking strategies are shared within the course.
More than 50 video lessons are provided in each Kaplan plan.
The opportunity to write 4 real SAT exams approved by the College Board.
All the study materials in Kaplan SAT Prep are offered in hard copies only.
The option of a money-back guarantee is available in all the pricing plans.
Kaplan Unlimited Prep covers multiple tests, including SAT, ACT, PSAT, and AP.
Kaplan SAT Prep Cons
Lets have a look at Kaplan SAT Prep Cons:
The high score guarantee does not give an estimated number.
Some students might find Kaplan SAT Prep expensive.
Why Should You Choose Kaplan SAT Prep?
If you want to prepare for SAT, then there is no better option than Kaplan SAT Prep. It is the best investment for your future. Kaplan SAT Prep is the best SAT prep course for students. It also offers value for money, and you also get points increase guarantee with it. Kaplan is more affordable than most of the SAT prep courses available on the market.
You can also try a free SAT class if you want to know all everything about it. Kaplan also offers an SAT book which you can use to prepare for your SAT exam offline. If you have already taken SAT exam before and don't know how to increase your score, then it is the best platform for you to invest.
Expert Guidance and Support
Kaplan provides excellent Guidance and Support. At Kaplan, there are experienced experts who will help out the students whenever they need help. The instructors are highly knowledgeable and have great knowledge and understanding about SAT Exams.
The tips and strategy through these experts comes in handy for students to stay motivated, set realistic goals, offer strategies and much more.
Kaplan SAT Prep Pricing Explained
We have seen everything from course quality to study materials to private tutoring, but what are the pricing options in Kaplan? Let me guide you through each plan.
You can either access Kaplan at the comfort of your home, get insightful instructions in-person with Kaplan instructors, or get the best of both worlds, which is why Kaplan has introduced multiple ways for students to get the best learning experience:
Kaplan On-Demand
You can purchase Kaplan On-Demand at just $199 and get compelling seld-paced learning modules that you can take whenever you want with no time limitations. Along with the learning modules, you also get insightful test-taking strategies.

In fact, there is a dedicated instructor-led content review in Kaplan that you can use.
Kaplan Live Online
Kaplan has introduced its Live Online module that gives a classroom experience with live instructions led by top educators from the Kaplan team. You can get Kaplan Live Online from $699 onwards (at $59/m) and unlock 1000+ SAT-like questions.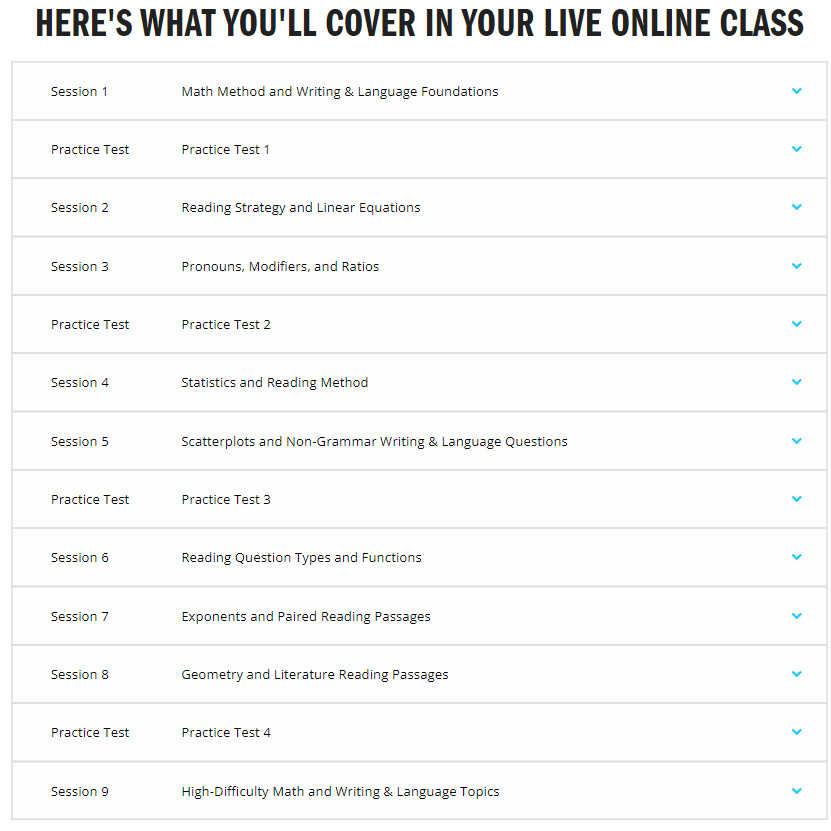 Additionally, Kaplan Live Online allows you to take 15+ hours of bonus content, 4 real SATs approved by the College Board, and 4 resourceful SAT prep books.
The Kaplan Live Online module is effective, wherein you get private chat options. For instance, if you doubt but want to ask it personally, hit up the private chat!
Kaplan Unlimited Prep
Kaplan emphasizes "unlimited," which means you get unlimited classes. From ACT to SAT to PSAT, Kaplan has covered most of the competitive exams under a single roof.
Even if you do not know the test dates, Kaplan Unlimited Prep has covered you with self-paced courses on multiple tests that you can start immediately.
This plan is similar to Kaplan On-Demand, but you get compelling video lessons on multiple tests like the ACT, PSAT, AP, and more.
What's a learning prep course without the production of study materials?
This plan offers 10+ prep books, and you can get the Kaplan Unlimited Prep at $1999. If you had to purchase each plan individually, it might cost more than $2000. Think!
Kaplan Private Tutoring
Kaplan offers a separate plan fully dedicated to private tutoring wherein the charges vary from the hours of instruction that you get. Let me quickly highlight the pricing structure for the tutoring packages: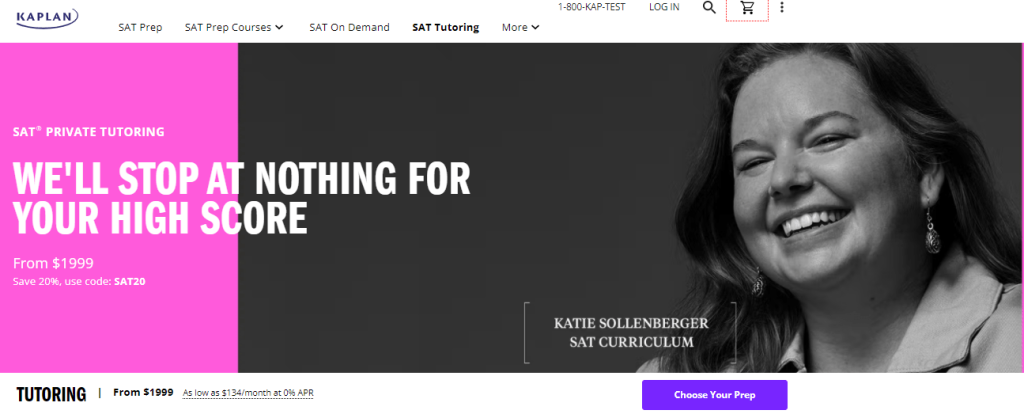 You can get Kaplan Private Tutoring for:
10 hours at $1999
20 hours at $2899
30 hours at $3799
40 hours at $4599
Although all the plans focus on private tutoring, you also get bonus benefits like complete access to an On-Demand course, 8-full length tests with score analysis, and 4 SAT prep books in hard copies. You get more than you are paying for!
Related Read:
Final Thoughts On Kaplan SAT Prep Review (2023)
After going on a rollercoaster ride with Kaplan in all aspects, it is evident that Kaplan is not about offering fancy tools or convenient time schedules. Kaplan speaks in quality and does not compromise for it at any cost. Yes – Kaplan is worth the money!
Although Kaplan falls back on certain features that you might find in other SAT prep learning courses, Kaplan stands strong with its existing coursework and quality.
In fact, you get the study materials in hard copies that are insightful and well-written so that you can instantly grasp a section's understanding. In contrast, other SAT prep courses' study materials are as effective as they claim to be.
To wrap up the review on Kaplan SAT prep, I'd say you can go ahead and buy it ASAP!
FAQs On Kaplan SAT Review
Does Kaplan SAT offer a money-back guarantee?
Yes, Kaplan SAT offers a 3-day money-back guarantee. You can get your money back within three days of the purchase if you cancel it. You can also get 75% of your money back if you cancel within seven days of your purchase.
How many points increase guarantee does Kaplan SAT offer?
Kaplan offers 160 points increase guarantee in your SAT score from your previous score. If you have studied rigorously with all the course material provided by Kaplan SAT and still fail to get the score guarantee, then Kaplan will refund your money.
Do you get private tutoring at Kaplan?
Yes. Kaplan has offered private one-on-one tutoring sessions starting from $1999 onwards.
How do you get the study materials for Kaplan SAT?
Kaplan offers all the study materials in hard copies only.
Are the Kaplan live classes worth it?
The Kaplan live classes are completely worth it. You can get better guidance and course materials in the live classes, which you won't get on the self-paced plan.
How many times can I take SAT?
There are no restrictions on the number of times you can take SAT. But most of the students take it only 2-3 times.