This review discusses an in-depth look at Magoosh GRE prep, examining its strengths, weaknesses, and overall value.
Even if you are a student just starting your GRE prep journey or a seasoned test-taker looking to switch up your study routine, this review will provide you with a detailed assessment of Magoosh GRE prep.
This will also help you make an informed decision about whether it's the right choice for your GRE prep needs or not. So, buckle up and get ready to dive into the world of Magoosh GRE prep!
Magoosh GRE Prep Review: Key Takeaway
Here is a quick overview of Maggoosh GRE prep that you can refer to.
| | |
| --- | --- |
| Course Quality | In-Depth And On Point. |
| Pricing | Starts at $143.20 |
| Free Trial | 7-days free trial |
| Features | Varies as per the plan |
| Live sessions | Yes |
| Practice Tests | 3- practice tests |
| Support | 24/7 support |
| Overall Rating | 4.9/5 |
Magoosh GRE Prep Review: Overview
Magoosh GRE Prep is an online test preparation platform designed to help students prepare for the Graduate Record Examination (GRE).
The platform offers a comprehensive suite of study materials, including video lessons, practice questions, and full-length practice tests.
It provides the most updated, tried, and tested resource materials based on analyzing students' answers.
The courses on GRE Magoosh are designed by many certified experts to help students prepare and ace GRE with ease. Unlike the other GRE prep courses, the GRE Magoosh allows you to decide the subject area you want to study.
Currently, there are more than 6 million students who are part of the Magoosh GRE.

Why this platform is in demand is due to the fact that they are offering some exceptional courses at affordable pricing. It offers many affordable programs with incredible customer support and study materials.
According to Magoosh, its users have an average score of 159 for Quantitative Reasoning and 157 for Verbal Reasoning. Plus, 20% of Magoosh students score in the top 10%, and 18 alumni have earned a perfect GRE score.
Moreover, if you choose the Magoosh GRE Prep, then you can also refresh the skills that are essential for SAT or ACT.
As per my experience with Magoosh GRE, it provides on-point courses and comprehensive study materials to its users.
Magoosh GRE Prep Review: Key Features
Here are some of the key features that Magoosh provides to its users.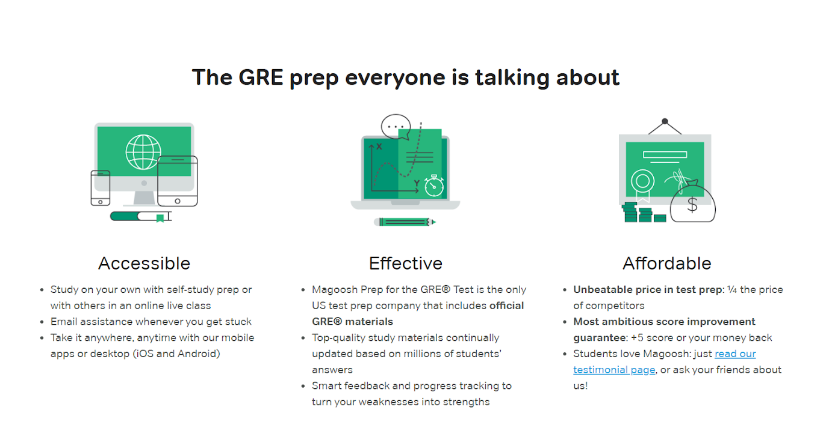 Accessible and self-paced learning.
Email assistance and support.
Highly effective study material and courses.
Feedback and progress tracking system.
Quite affordable as compared to the competitors.
7-day money-back guarantee.
Magoosh GRE Prep Review: Course Quality
Let's now have a look at the Magoosh courses and their effectiveness.
After going through the courses on Magoosh, I would definitely say, yes, they provide value.
You get lessons in module format that represent the various topics in GRE. Each module contains one or two videos. After completing those, you can access the short practice test that helps you test your knowledge.
Courses are designed in a way that users can improve their scores and cover all the caveats of the GRE. So talking about the course quality, yes, they have top-notch production of videos.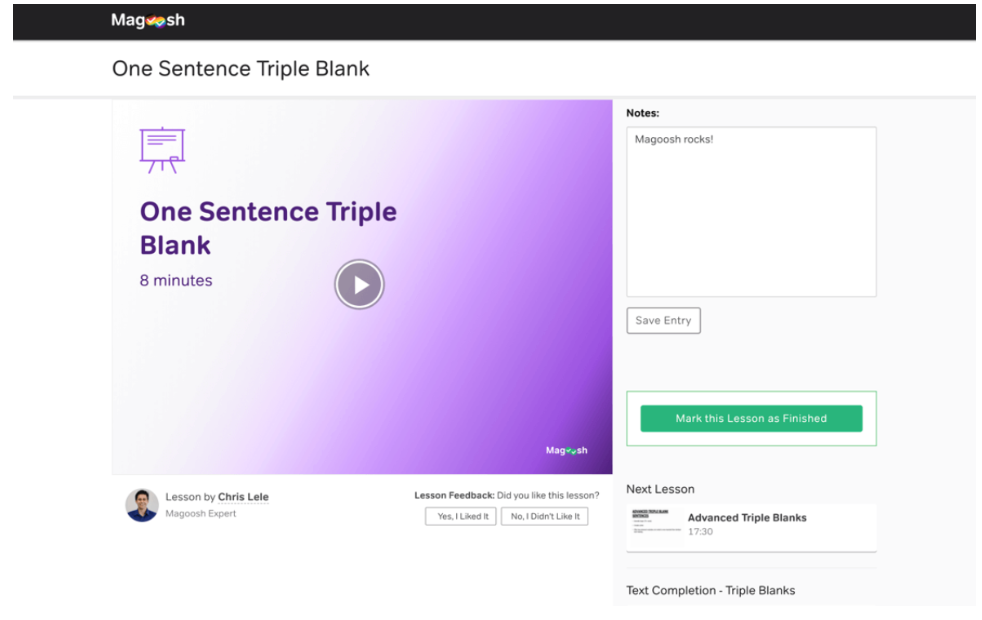 Moreover, to help their users, Magoosh has made a full transcript for each video lesson available.
When it comes to the content, the quant videos are structured in a detailed format, which means you don't even need to be a pro math player. You can start from scratch.
Verbal lessons on Magoosh provide excellent strategies and techniques to cover all types of questions. What I liked most was their technique of breaking down the paragraph to find the answer quickly.
In short, content is handy for concept-building and understanding the fundamentals of the exams.
But one thing I found as a downside of this platform is that Magoosh sometimes fails to mimic the difficult questions that appear in the GRE test.
Like for instance, the level of 'hard questions' on Magoosh is much different from those from Exams.
So if you are focusing on scoring more than 160 on the GRE, then Magoosh practice questions may not be enough for you, especially with quant.
But if we ignore this pitfall, you will still get something good for your GRE preparation.
Magoosh GRE Prep Review: Resources
Now that you have an overall idea about the platform as well as the course quality they provide. Let's see what you get other than that as resources.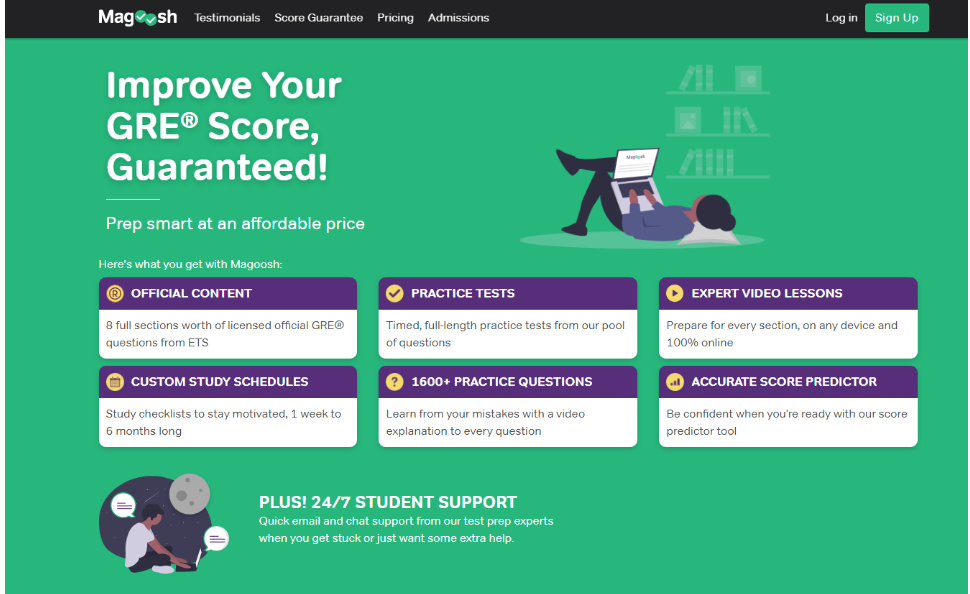 Practice Tests:
GRE learners on Magoosh can access the three full-length practice tests. These mock tests are specially designed to give you an idea of what the main exam is like.
These tests provide question examples that are very similar to the main exam. However, the Magoosh GRE reviews state that many users experienced the practice tests as a little more difficult than the actual GRE.
Well, I think the GRE quant section is harder than they are in the GRE test.
In contrast, the verbal review section is moderate.
Other than that, I feel Magoosh should offer more than 3 full-length tests as per the difficulty level. This might help learners to practice more and work on saving time while taking the main GRE.
Live Classes
Beforehand, Magoosh only used to provide access to the pre-recorded video lessons. But many users have been asking for the live sessions. So Magoosh launched a new package of 6-month premium and online classes.
These live classes are conducted by certified online instructors five times a week. They are specially created for students who need explanations of various problems.
So, this unique attempt from Magoosh makes it stand out from others.
Score Tracker
The score tracker tool helps track your growth by analyzing your overall performance in quizzes and practice tests. It will give you an idea of the estimated score you can perform in the main GRE.
The score predictor provides you with general feedback so that you can work on areas where you are lagging and improve your performance.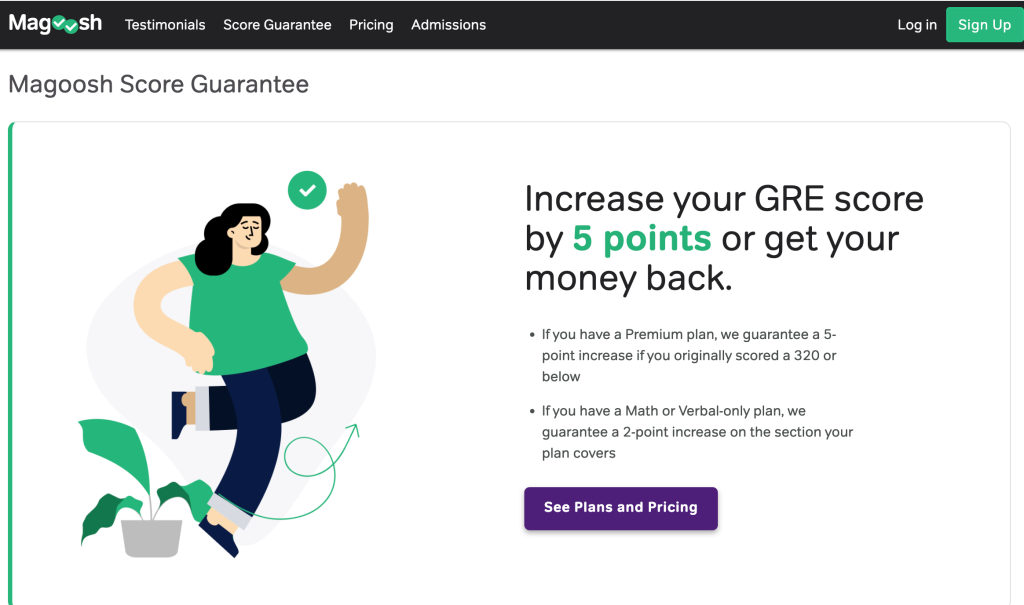 This feedback is accessible on the main dashboard and enables students to compare their progress and pace with those of other test-takers. Such information is useful in helping students modify their study plans and concentrate on the areas where they may require more practice to achieve their objectives.
Mobile App
The mobile app is another reason why Magoosh is more popular. This app includes verbal flashcards, questions, and progress trackers.
It is compatible with both Android as well as iOS devices.
The vocabulary app is a great supplementary tool that you can use to increase your score on verbal reasoning and analytical writing.
But, notably, it has very few materials than the online platform. So it is perfect when you use it along with the course.
Magoosh GRE Prep Review: Pricing
Magoosh offers multiple pricing plans for their GRE prep materials, allowing students to choose a plan that best suits their needs and budget. Below is a detailed breakdown of Magoosh's pricing plans: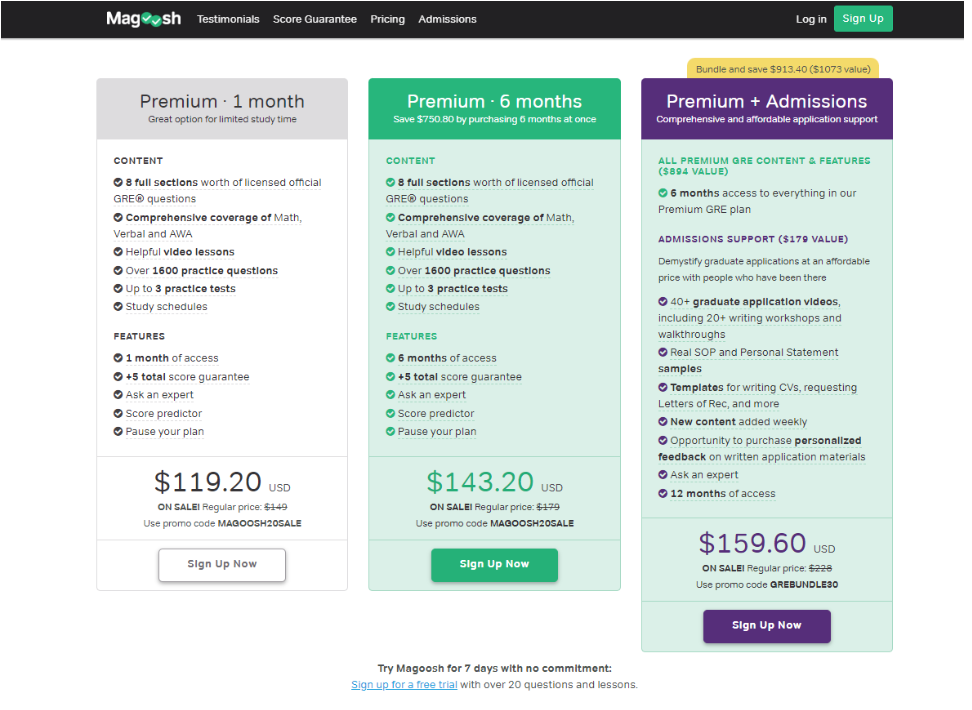 Free Basic Plan: This plan offers a 7-day free trial that gives students access to a limited selection of practice questions and video lessons. Although it is not as comprehensive as Magoosh's paid plans, it still offers a useful introduction to the platform's features and materials.
1-Month Premium Plan: Magoosh's 1-month premium plan costs $149.
6-Month Premium Plan: Magoosh's most popular plan is the 6-month premium plan, which costs $179.
Premium + Admissions: This plan comes for $220.
Discounted Price: Currently, a 20% discount is available on each Magoosh plan. Here is a discount code that can help you save huge money: MAGOOSH20SALE.
Here is a detailed overview of the pricing plans of Magoosh GRE prep.
| | | | |
| --- | --- | --- | --- |
| Plans | 1-Month Premium | 6-Month Premium | Premium + Classes |
| Price | $149 | $179 | $220 |
| Discounted price | $119.20 | $143.20 | $159.60 |
| Duration | 1 Month | 6 Months | 6 Months |
| Video Lessons | Yes | Yes | Yes |
| Live online classes | No | No | Yes |
| Mobile App | Yes | Yes | Yes |
| Video and Text Explanations | Yes | Yes | Yes |
| Free Trial | Yes | Yes | Yes |
Overall, Magoosh's pricing plans are affordable and provide students with access to high-quality GRE prep materials, including video lessons, practice questions, and full-length practice tests.
Magoosh GRE Prep Review: Pros and Cons
Now that you have an overall idea about the platform, let's have a look at the pros and cons of the same.
| | |
| --- | --- |
| Pros | Cons |
| 7-day free trial | No personal interaction during the course |
| 5-point increase guarantee | Fewer practice tests |
| User friendly | You may lack easy evaluation |
| Accessible on Android, computers, and tablets. | |
| Practice questions just like GRE | |
| Free flashcards | |
| Score tracker algorithm | |
Magoosh GRE Prep Review: Alternatives
It might be a case that Magoosh GRE prep may not be a suitable option for you. So here are some of the Magoosh GRE Prep alternatives that you should consider.
1. Manhattan Prep GRE
Manhattan Prep GRE is another popular online test preparation platform that provides an alternative to Magoosh for students preparing for the GRE.

This platform is designed to provide students with a personalized study experience tailored to their specific needs and learning style. Students looking for an alternative to Magoosh may want to consider Manhattan Prep GRE as another viable option.
2. Kaplan
Like Magoosh, Kaplan offers a comprehensive suite of study materials, including video lessons, practice questions, and full-length practice tests.

However, Kaplan also provides students with personalized study plans, progress tracking, and access to expert tutors who can provide one-on-one support and guidance. For students looking for an alternative to Magoosh, Kaplan is a strong option to consider.
Magoosh GRE Prep Review: My Experience
So here is my overall experience with Magoosh GRE.
My experiment with these courses was pretty good. The variety of resources available was impressive, from video lessons to practice questions and full-length practice tests.
The material was organized in a way that was easy to navigate, and the adaptive nature of the platform helped me focus my studying on areas where I needed the most improvement.
The ability to track my progress and compare my performance to other test-takers was particularly helpful in keeping me motivated and on track.
Overall, I found Magoosh to be a valuable addition to my GRE prep toolkit. I recommend it to anyone looking for a comprehensive, user-friendly test prep option.
Related Read:
Final Verdict: Magoosh GRE Prep Review (2023)
I hope this review gave you a better understanding of Magoosh GRE prep and its effectiveness as a test prep option.
As per my assessment, Magoosh provides a comprehensive suite of study materials, including video lessons, practice questions, and full-length practice tests, which are all accessible on an adaptive platform.
I recommend Magoosh as a top choice for students seeking a comprehensive and user-friendly GRE test prep option. Try it out for yourself and see how Magoosh can help you achieve your GRE goals!
So what are your thoughts on this? Let us know in the comment section below.