Confused between the many PSAT prep courses and wondering which one is right for you? We're here to help!
Scoring well on your PSATs prepares you for the main exam and helps you get into the school of your dreams. The key to excelling in your PSATs is dedication, hard work, and courses with the best materials.
In this article, we've listed the top 7 PSAT prep courses that will help you to crack PSAT. We considered various factors before compiling our list, such as pricing, curriculum, and platform.
So without any delay, let's get started!
Top 7+ PSAT Prep Courses: A Quick Summary
We understand that many of our readers have busy schedules. This table will allow you to take a quick glance at the top 5 courses and their features. You do not need to go through the entire article. However, if you need details, feel free to continue after this.
| | | | | | | |
| --- | --- | --- | --- | --- | --- | --- |
| Sr.No. | Prep Course | Price | Practice Questions | Practice Tests | Money-Back Guarantee | Best For |
| 1. | PrepScholar | $397 | 7,100+ | 10 | Yes | All-inclusive content |
| 2. | Princeton | $799 | 2000+ | 2 | Yes | Personalized instructions |
| 3. | TestMasters | $599 | – | 3 | Yes | Offline study materials |
| 4. | Kaplan | $1999 | 1000+ | 2 | Yes | Unlimited access |
| 5. | Varsity | $75-$249 per hour | Depends on your tutor of choice. | Depends on your tutor of choice. | Yes | Live tutoring, 1:1, or in group sessions. |
| 6. | Elite | Request a quote | 1000+ | Weekly | No | Learning fundamentals |
| 7. | Kranse | $499 | None | 2 | Yes | Strategic learning |
Continue reading for a detailed description, including key highlights and pros & cons of each PSAT prep course.
1. PrepScholar PSAT Review
PrepScholar is the perfect option for students seeking comprehensive guidance for their PSATs. It has ample practice materials and offers detailed video lessons.

However, the basic plan does not have the live instruction option. You can only attend live classes with the Complete Prep and Tutoring option.
Key Highlights:
Progress tracker.
Diagnostic test before starting the course.
Personalized study plan.
Affordable than other options.
Pros:
Vast materials and content.
Higher score guarantee.
Live instruction from experts.
Cons:
No self-paced option.
Lack of physical books.
2. The Princeton Review
The Princeton Review has consistently produced the top 1% of SAT scorers for many years. There are a variety of course options to choose from, such as self-paced and live tutoring.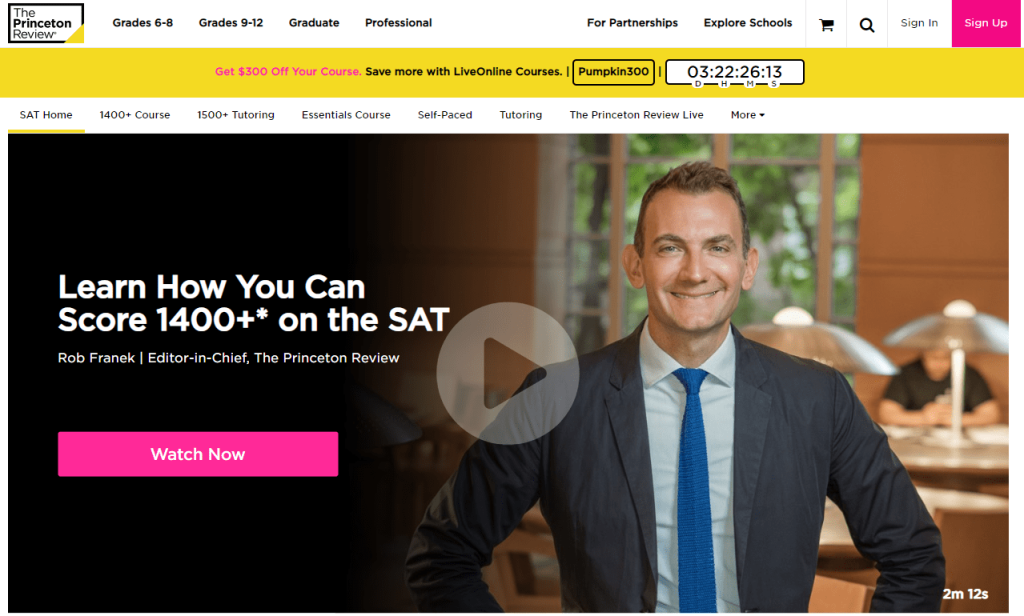 While some options are entirely online, some are offline. Therefore, regardless of your study style, you are bound to find something that suits you.
Key Highlights:
Tutor satisfaction guarantee.
Customized study plans.
Score reports on practice tests.
More features on the mobile app.
Pros:
Additional features besides tutoring.
Reasonable prices for tutoring.
Personalized private tutoring.
Cons:
Higher price for 1:1 sessions.
Not self-paced.
3. TestMasters PSAT Prep Course
The best thing about TestMasters is that they cover both PSAT and SAT lessons. They have great instructors and provide detailed explanations in a digestible manner.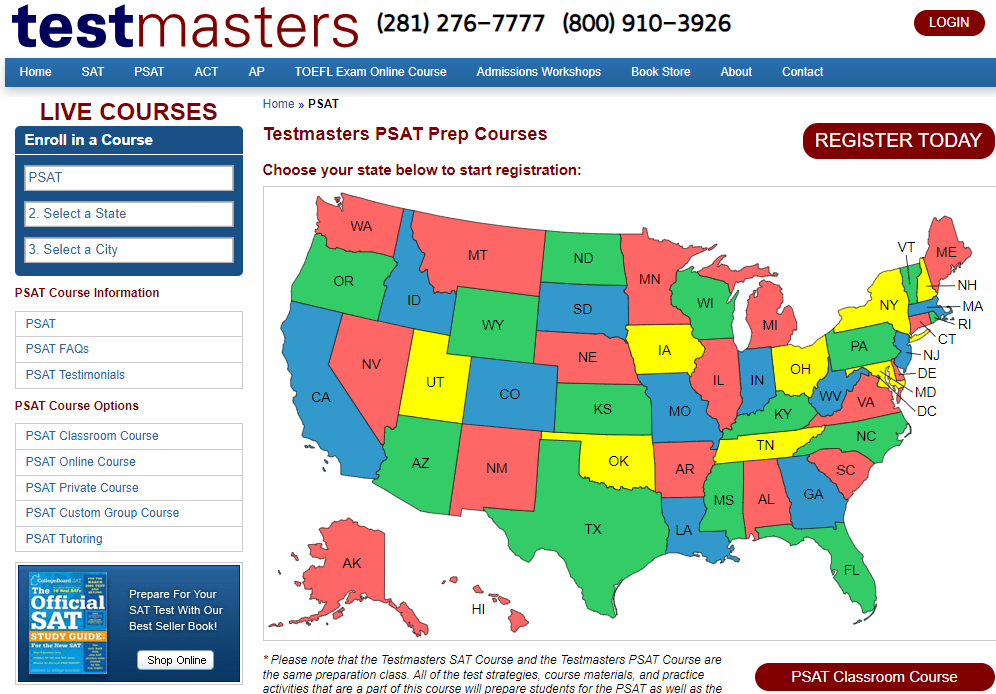 They also guarantee to improve your score by 30 and 300 points in different course plans. However, it may not be as advanced as the previous two options.
Key Highlights:
Score increase guarantee.
Both live and online modes are available.
Small class sizes.
Performance tracking.
Pros:
Experienced instructors.
Extensive study material.
Comprehensive content review.
Cons:
An expensive option.
No mobile app.
4. Kaplan PSAT Prep
Kaplan is a popular name when it comes to test preps. Students can study with a live instructor, download offline course materials for a self-paced study, and an unlimited PSAT and SAT prep package.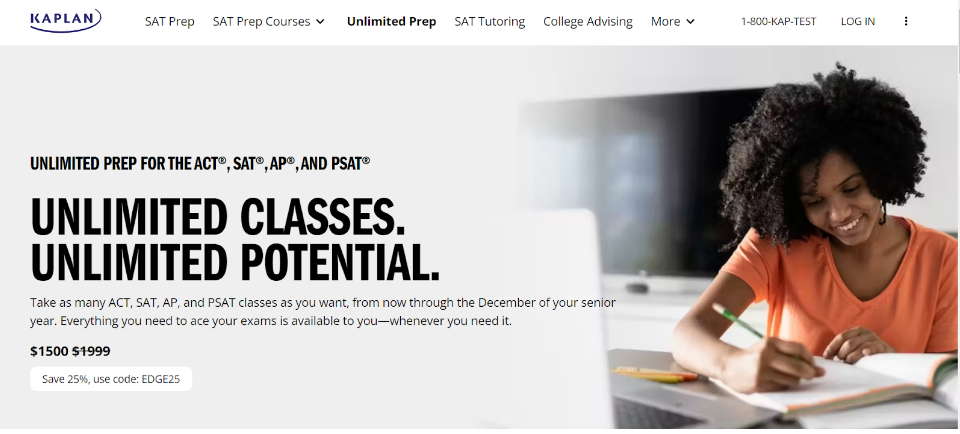 Kaplan is dedicated to improving your skills by assessing your weaknesses and strengths and creating the perfect study plan.
Key Highlights:
Partnership with College Board.
Free resources (Study guides).
Interact with other students.
Flexible options.
Pros:
Live classes with PSAT teachers.
Detailed score reports.
Identify your weaknesses.
Cons:
Fewer video lessons.
Higher price for private sessions.
No study plan.
5. Varsity Tutors 8-Week Prep Class
Varsity Tutors is like Uber for tutoring. It is an enormous tutoring platform with thousands of tutors offering courses with different content and prices.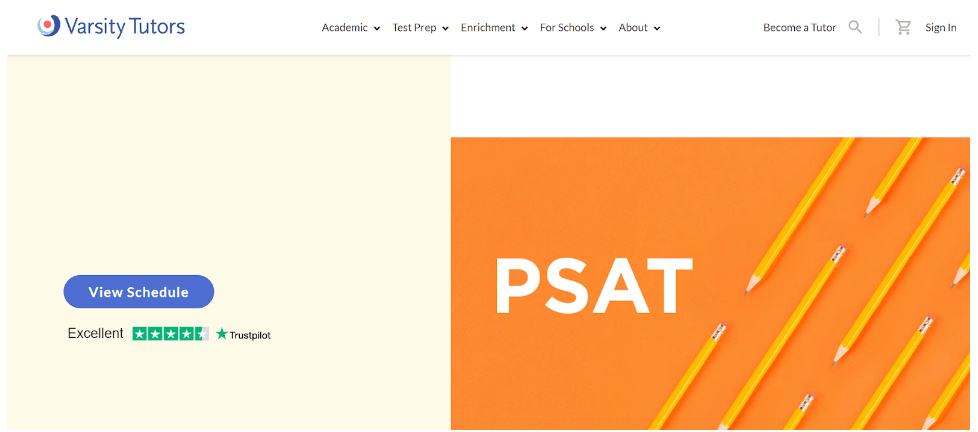 The uneven quality of teaching can be unattractive to some students. However, choosing your tutors according to your budget and time provides unmatched flexibility.
Key Highlights:
Personalized study plans for all.
Experienced, 99th percentile tutors.
Flexible scheduling.
Interactive lessons.
Progress tracker.
Pros:
Choose your tutor.
Supplementary resources apart from tutoring.
Cons:
Cost varies from tutor to tutor.
Variable tutor quality.
6. Elite PSAT Prep
Elite's faculty includes some of the best instructors in the industry. It allows students to study a challenging curriculum to take the PSATs during tenth or eleventh grade.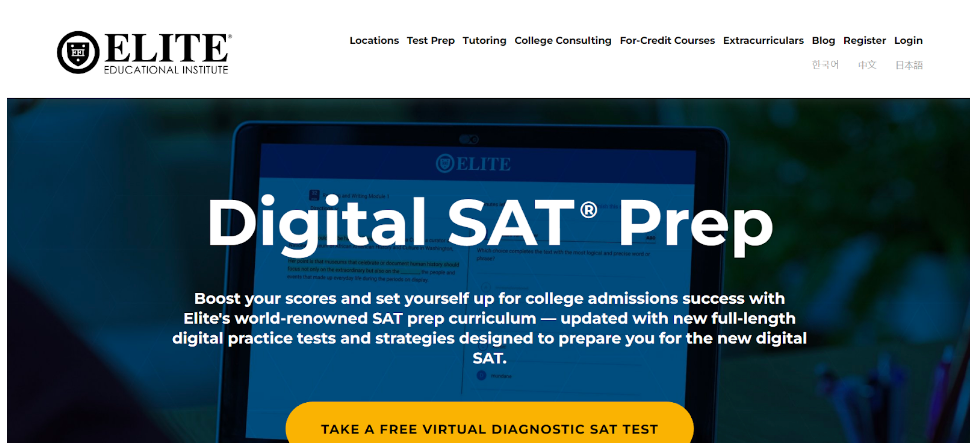 The teachers are enthusiastic and provide a lively and motivational environment. The best thing about Elite is that it prepares you for all standardized tests and helps with your academic career.
Key Highlights:
Focus on math skills.
Focus on the basics.
Enjoyable and motivational classes.
Pros:
Comprehensive study materials.
Expert test strategies.
Structured curriculum.
Cons:
No flexibility.
Lack of personalization.
Requires a time commitment.
7. Kranse Institute PSAT
Kranse's strategic approach toward teaching is brilliant. The 10-minute-long videos help students study with focus without getting bored or overwhelmed with too much information.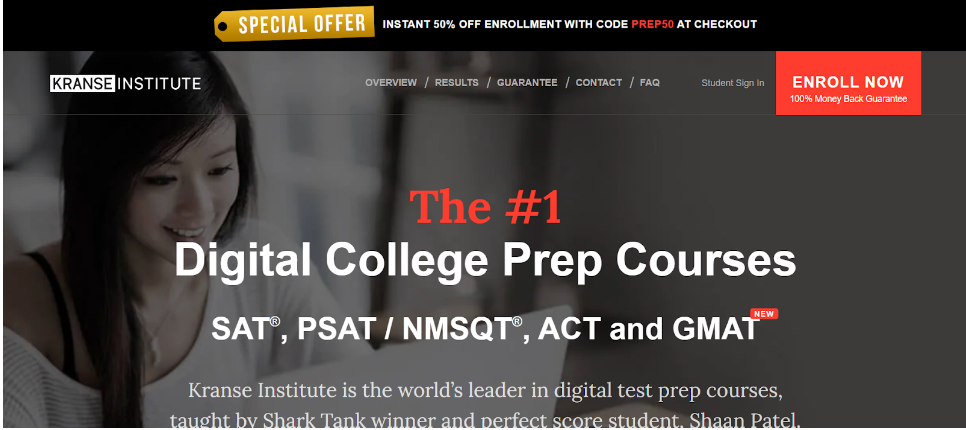 The classes focus on shortcuts rather than memorization. The average score improvement is 200, meaning you move from the 50th percentile to the 9th percentile in one go!
Key Features:
Adaptive learning technology.
Taught by former perfect students.
Bite-sized videos.
A unique approach focused on strategy.
Pros:
Self-paced.
Mobile-friendly access.
Value for money.
Cons:
Lack of live interaction.
No personalized plan.
Related Read:
Conclusion: Best PSAT Prep Courses (2023)
There is no one answer to the question, "Which is the best PSAT prep course?" You must consider factors like pricing, teaching methodology, and flexibility to find the best one.
Different students have different needs and learning speeds. What works out for your friend may not work out for you, and that's okay.
Our list includes courses with various teaching styles and pricing options. Determine what you need to prepare effectively and make an informed decision.
However, if you are still confused, here is our top pick: PrepScholar PSAT Review.
We hope you liked our article. Drop your feedback in the comment section below.
FAQs
What features should you look for in a PSAT prep course?
Before you choose a course, ensure it has the following features: experienced teachers, plenty of practice questions and practice tests, flexibility, and is within your budget. 
Can you retake the same course free of cost if you're not satisfied the first time?
Some courses offer a satisfaction guarantee and allow you to retake the course if unsatisfied. You should review a course's terms and conditions and policies before buying it. 
When is the ideal time to start preparing for the PSAT?
It is recommended to start preparing for the PSATs at least six to eight months before the test date.