Are you, like millions of other students, confused about which ACT course to pick to begin preparing for the test? There are countless best ACT prep course websites, all claiming the same thing. It is easy to feel puzzled, but we are here to help you with the 10 Best ACT Prep Courses For 2023 !
ACT is a standardized exam to measure student performance in subjects like English, science, math, and reading. It is one of the two main exams that colleges require for admissions. How well you score depends on how well you prepare, and you need good instructors.
Thankfully, there are various online ACT prep courses available that guarantee a score improvement. Today's article will discuss the top courses to prepare for the ACT and what they are best for.
Let us dive into the details now!
Top 10 ACT Prep Courses 2023 (In A Nutshell)
Do not have enough patience to read about every course in detail? No worries! We have a quick list of courses prepared for our lazy readers! Whether you are taking the test for the first time or making a second attempt, these will help you score well.
| Sr. No. | ACT Prep Course | Best for | Ratings |
| --- | --- | --- | --- |
| 1. | Princeton Review | Our overall best choice | 4.6/5 |
| 2. | Magoosh | Best offers | 4.7/5 |
| 3. | Kaplan | Best for studying at your own pace | 4.6/5 |
| 4. | ACT | Best to study at a tight budget | 2.6/5 |
| 5. | PrepScholar | Best for students with learning disabilities | 3.3/5 |
| 6. | Testive | The best free trial scheme | 4.5/5 |
| 7. | Higher Scores Test Prep | Best quality instructors | 3.9/5 |
| 8. | PrepExpert | Best online offers | 4.6/5 |
| 9. | Peterson's | Best for interactive content | 4.1/5 |
| 10. | ClearPath Advantage | Best for Personalized Attention | 4.1/5 |
The following is a detailed description of our top handpicked ACT prep courses, their key highlights, and website links. The list contains paid and free options, and the courses vary in length, materials, and intensity. Keep reading to increase your chances of getting into the school of your dreams!
1. Princeton Review
| | | |
| --- | --- | --- |
| Course Access | Pricing | Rating |
| 12 months | Tutoring starts from $39.99/hr., and courses range from $499-$1,299.99 | 4.6/5 |
The Princeton Review ACT prep course sits at the top of our list for several reasons. For starters, it offers course teachings in multiple formats- in-person live instruction as well as one-on-one private tutoring. With 35 years of experience helping students prepare for the ACT, Princeton Review strives to understand why students fail and develop winning strategies.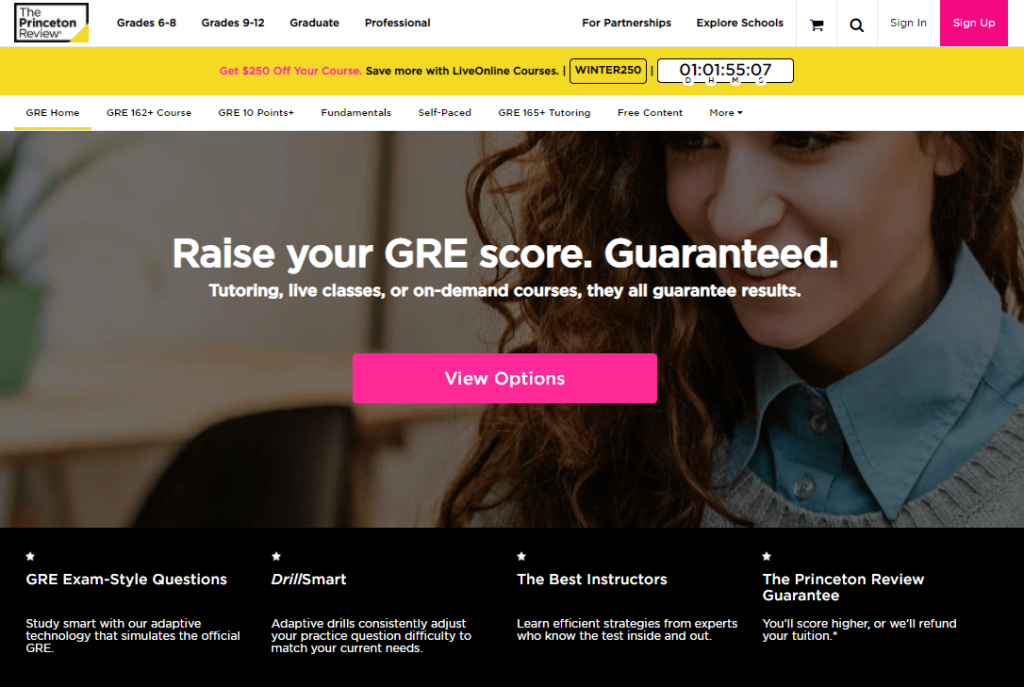 Their most popular course is ACT 31+, which guarantees to achieve 31+ points in just two months! The plan includes 36+ hours of classroom teaching by the top percentile instructors, four scheduled practice tests along with an additional seven full-length practice tests, and much more. To put the cherry on top, they also offer a money-back guarantee!
Princeton Review Course Highlights: 
Let's take a look at the Princeton Review Course Highlights
24/7 on-demand tutoring
Personalized study plan tailored for you
Study the mobile app on the go
Attend sessions as many times as you need
Wide variety of course materials
2. Magoosh
| | | |
| --- | --- | --- |
| Course access | Pricing | Rating |
| 12 months | $99-$158 | 4.7/5 |
Magoosh is the best course to make the most of your money. With a starting price of only $129/month, you get great product offerings and access to them for up to a year. You can set your weekly schedule as per your convenience- no pressure! Instead of trying to absorb intense content, you can start with their bite-sized videos and learn little by little.

Magoosh allows students to maintain a study streak, which is a good strategy to keep them focused and develop better study habits. And with 24/7 support from experts, students can always ask for help whenever they get stuck with a question.
Magoosh Course highlights: 
Let's take a look at the Magoosh Course Highlights
7-day money-back guarantee
Hundreds of video instructions by experts
+4 point score improvement guarantee
Score prediction based on available data
Smart progress tracking
3. Kaplan
| | | |
| --- | --- | --- |
| Course access | Pricing | Rating |
| 6 months | $119-$749 | 4.6/5 |
Partnered with ACT makers, Kaplan offers teachings from top-rated teachers and official ACT practice questions. You get live classrooms where you study among a few other students and 1-on-1 private online tutoring. The self-paced option allows you to study at your own speed without having to keep up with a teacher.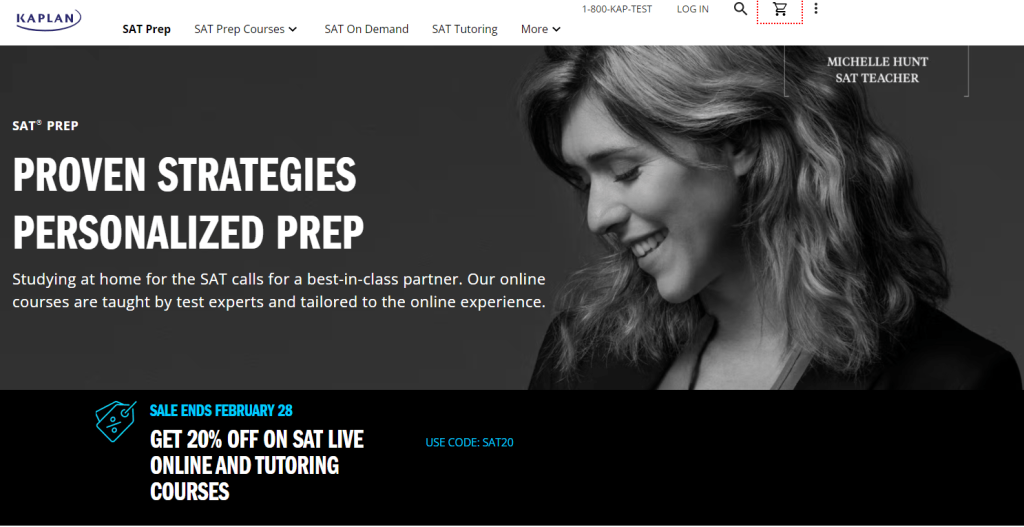 One of the best things we like about Kaplan is that it includes practice questions and tests from the official exam, which gives you an idea of what to expect on the test day. Private tutors give you personalized homework according to your skill level so you can strengthen your weak areas and practice what you have learned.
Kaplan Course Highlights: 
Let's take a look at the Kaplan Course Highlights
Unlimited classes until you graduate high school.
Live classes are intense.
Off-camera teachers answer your questions privately.
16 hours of live online instruction.
Personalized question bank with over 2,000 questions.
4. ACT
| | | |
| --- | --- | --- |
| Course access | Pricing | Rating |
| Unlimited access | Free | 2.6/5 |
ACT prep course has been developed by the makers of the American College Testing themselves. Even though they have been given a rating of only 2.6 out of 5, this course is a good and affordable way of getting started with your preparation. Whether you are exploring ACT or want to buy a prep course, this is a great starting place.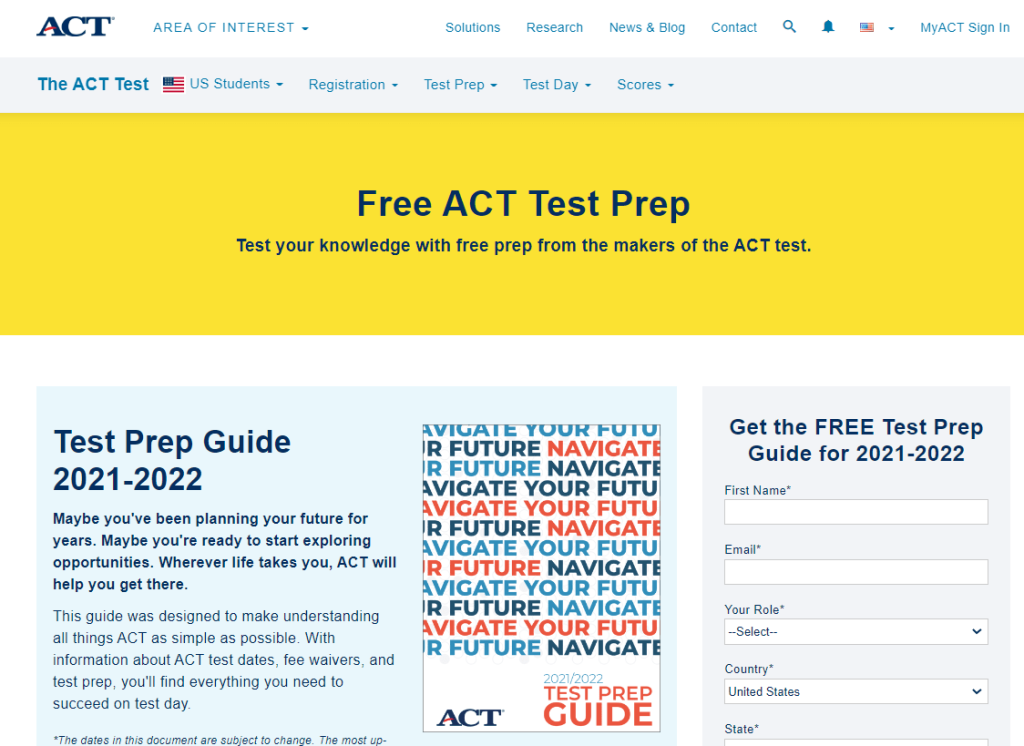 The official ACT course includes a full-length practice test and access to general test-taking strategies to prepare you for the test day. A score report tells you what you missed so you can work on those specific areas. You also get access to certain resources that help you turn your weaknesses into strengths.
ACT Course Highlights: 
Let's take a look at the ACT Course Highlights
Live support options.
Options for students with learning disabilities.
Official ACT subject guides.
5. PrepScholar
| | | |
| --- | --- | --- |
| Course access | Pricing | Rating |
| 12 months | $397-$995 | 3.3/5 |
PrepScholar prepares a student by beginning with the basics to target the ACT optimally. It aims to measure students' abilities, find their weaknesses and strengths, and develop an effective learning plan. The course guarantees a score improvement of +4 points and claims to give you your money back if that does not happen.

PrepScholar boasts an enormous question bank of high-quality practice questions, 100 hours of instructional content, and 4,300 realistic questions. These questions cover all subjects of the exam, including math, science, English, reading, and the essay. Their team of experts with a 99th percentile score is ready to prep you for the exam 24/7!
PrepScholar Course Highlights: 
Let's take a look at the ACT Course Highlights
Learn ACT answering strategies.
Review your mistakes and correct them.
Lessons and questions are personalized according to your skills.
Personalized messages of encouragement so you never lose motivation.
Tracked progress is sent to your email at the end of every week.
Free trial.
6. Testive
| | | |
| --- | --- | --- |
| Course access | Pricing | Rating |
| 4 months | Starting at $99-$499 | 4.5/5 |
Testive ACT course prep offers its teachings in all formats- in-home, online, and one-on-one private tutoring. The interactive and highly qualified instructors help students target their weak points to achieve the best possible score. Testive aims to prepare you 100% for the test by providing detailed explanations for each question and test-taking strategies.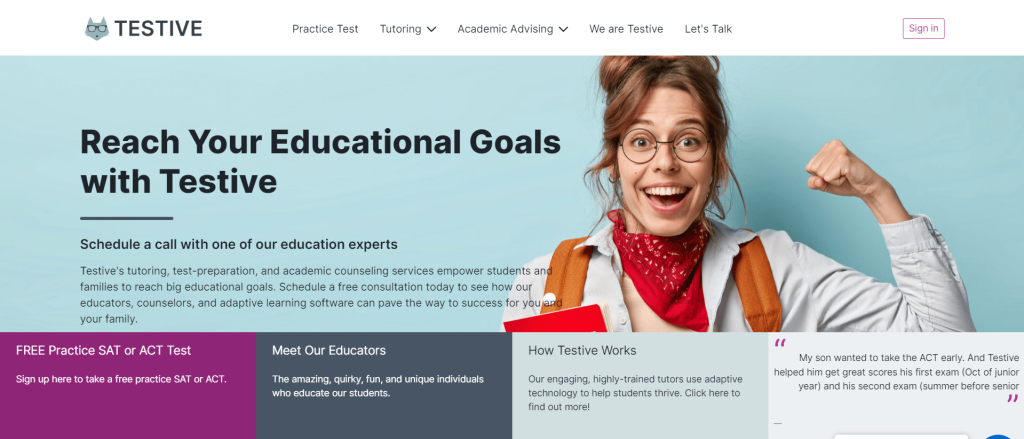 Testive offers a boot camp plan for students who started preparing late. The intense boot camp will help you prepare less than six weeks before the exam date. For those with time on their hands, you can take advantage of their personal coaching, weekly one-on-one sessions, and content mastery help with their Coaching Plus option.
Testive Course Highlights: 
Let's take a look at the Testive Course Highlights
14-day free trial.
Personalized tutoring.
Numerous practice tests.
Adaptive learning platform.
Develop academic maturity and study skills.
7. Higher Scores Test Prep
| | | |
| --- | --- | --- |
| Course access | Pricing | Rating |
| 3-12 months based on your package | $187-$647 | 3.9/5 |
Whether you are upset over your previous scores or looking for strategies to score well in less time, Higher Scores Test Prep is the right place to start. The teachers at the course strive to reduce the time it takes to prepare and the cost of quality preparation. The platform has helped thousands of students in the last 12 years to score well on their ACTs on budget.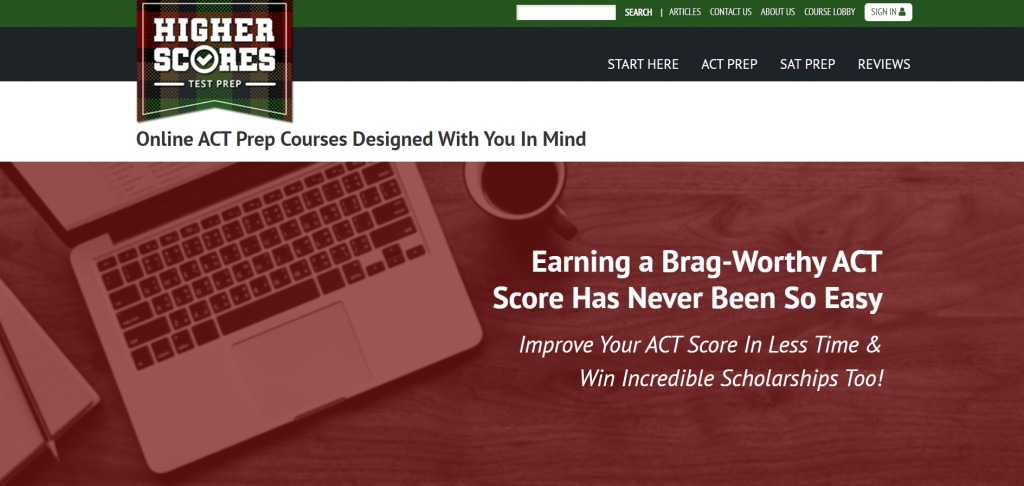 Higher Scores Test Prep provides a proven study plan that teaches without making the student feel overwhelmed with the syllabus. The courses are flexible, making it easy for anyone to fit them into their schedule. The lessons are pre-recorded so that you can watch them anytime. Additionally, each student receives personalized guidance from an expert and weekly emails to keep their study on track!
Higher Scores Test Prep Course Highlights: 
Let's take a look at the Higher Scores Test Prep Course Highlights
Downloadable ACT prep materials.
Weekly countdown emails are sent to students and parents.
Personalized Q&A and video explanations.
Unlimited email support.
100% satisfaction guarantee.
8. Prep Expert
| | | |
| --- | --- | --- |
| Course access | Pricing | Rating |
| NA | $299-$1,299 | 4.6/5 |
With a 4-point score improvement guarantee, Prep Expert's highly qualified tutors claim to help students achieve their highest scores ever. Their proven test-taking strategies have helped over 50,000 students clear their ACTs and earn $100,000,000 in college scholarships.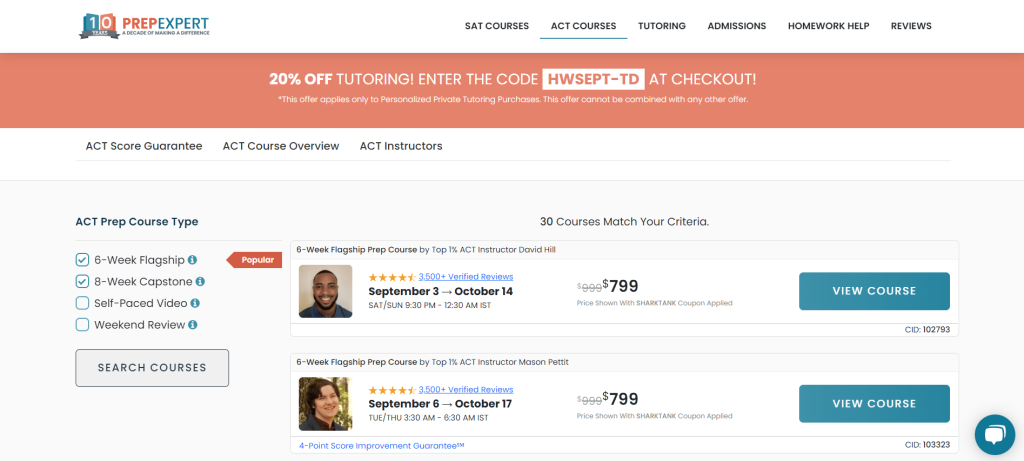 Prep Expert is the best choice for those looking to prepare in a short time. Their extensive online course offerings best suit students with tight schedules. Among the short courses, there is a weekend review course and 6-week and 8-week classes.
Prep Expert Course Highlights: 
Let's take a look at the Prep Expert Course Highlights
Online and live online options.
Money-back guarantee.
Live support options.
Engaging classes.
Affordable plans.
9. Peterson's
| | | |
| --- | --- | --- |
| Course access | Pricing | Rating |
| 1-6 month access based on subscription | $39-$49/month | 4.1/5 |
With a single subscription plan, Peterson's offers unlimited access to over 185 courses and practice tests. The comprehensive online courses come with study guides for each subject. Along with that, you get 11 full-length practice tests, 900 written lessons, step-by-step video tutorials from prep experts, and much more.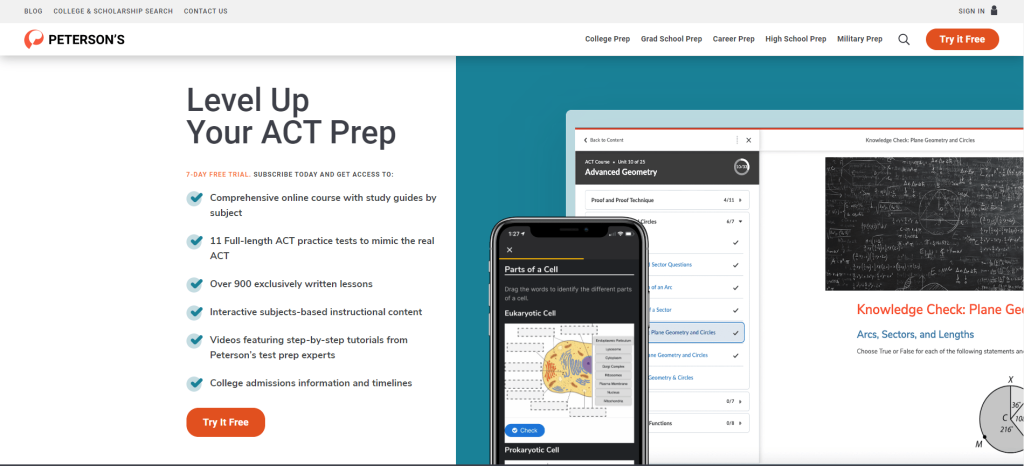 The video instructions are interactive and engaging, so you never get bored. One of the things we like about the course is that it offers a mobile app using which students can learn on the go. It is impossible to carry your computer all the time, but you can certainly study using your phone wherever you are!
Peterson's Course highlights: 
Let's take a look at the Peterson's Course Highlights
Customized prep strategy.
Detailed answers for all questions.
College admission information and timelines.
Student support.
10. ClearPath Advantage
| | | |
| --- | --- | --- |
| Course Access | Pricing | Rating |
| 6 weeks | $3175 – $3775 | 4.1/5 |
Established in the City of Chicago, ClearPath is an educational company that has a very unique approach. Their program's main focus is on small group of students (4 in one group). So they can pay personal attention and tutor them 1 on 1. The personalized attention for students can be considered as one major plus considering they will spend more time with the Tutors.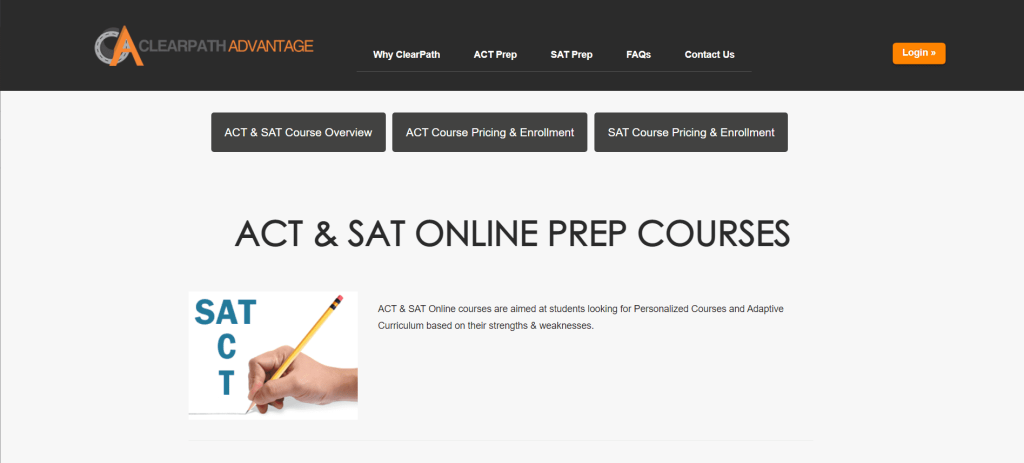 While setting up the classes they make sure to make a group of similar students in terms of their skillset. This eventually helps dictating the pace of the class. Highly interactive class with Tutors willing to help after the class hours in order to help the students. Tutors assign the students the homework, the progress is been recorded for better growth. 10-15 exams are taken to make sure the student gets ready by the end of the course.
The only drawback in all of this is the pricing structure. It is considered very expensive but with the quality provided by ClearPath, it is highly debatable whether it is worth every penny or not.
ClearPath Advantage Course Highlights :
Let's take a look at the ClearPath Course Highlights
ClearPath only allows 4 students in one class in order to make them understand better.
Tutors allow students to reach out to them post classes.
Tutors assign homework on a regular basis and track your progress report.
10-15 exams are taken to make students understand the structure.
Related Read:
Final Thoughts: Best ACT Prep Courses (2023)
Every student has a different method and pace of studying. What worked for your best friend may not work for you, but that does not mean you are any less smart! You need to pick the right ACT prep course. To do that, you need to consider factors like your learning style, prep time, budget, and the features you want in a course.
Most importantly, you need to develop the right prep strategies. Luckily, most of these courses focus on strategy, tips, and tricks rather than only teaching ACT subjects. Make sure you pick one wisely, follow the course material as instructed, and complete your homework. When you do this, nothing can stop you from getting into the college you have dreamt about since high school!
We hope you liked our article on the best ACT prep courses. We included some of the top ones in the market right now. For questions or suggestions, please use the comment box below.
FAQs: Best ACT Prep Courses
Can an average student crack the ACT using online prep courses?
Any average student can crack the ACT when they choose the right online prep course and follow their study schedule properly. 
How long are ACT prep courses?
ACT prep courses come in a variety. The shortest ones may contain only a few hours of instructional videos, while the longer ones may contain weeks or months of content. 
How early should I start preparing for the ACT?
It is recommended to begin preparing as early as possible, or at least when you are in your sophomore year of high school. Doing practice tests for a long time will make you aware of your weaknesses and strengths and give you time to study accordingly. 
What are some tips to improve your ACT score?
Here are some expert tips that can help you improve your ACT score: 
Practice questions.
Reduce time on one question.
Target weak points.
Eliminate wrong questions. 
Is one month enough to prepare for the ACT?
Yes, but only if you are willing to work very hard. One month is not a lot of time, but a dedicated study schedule will help you clear the test. We recommend doing practice tests as much as possible.