Looking for the Best Colleges In Canada? well, Let us tell you which ones are the best for you. Canada is a popular study location for overseas students, and the government issued over 500,000 study permits in 2021. Colleges and universities in Canada provide an excellent education in a variety of fields. The correct college may assist you in establishing a solid academic foundation, educate you for the job market, and serve as a vital stepping stone for your future career.
If you plan to study in Canada, you've come to the right spot since this article provides a list of the best institutions in Canada for international students.
Best Universities In Canada: In a Nutshell (2023)
Here is a list of the 12 Best Universities In Canada, along with the city they are in and their QS World University Rankings 2023.
| | | | |
| --- | --- | --- | --- |
| S. No. | University Name | City | Global Ranking |
| 1. | University of Toronto | Toronto, Ontario, Canada | 25 |
| 2. | University of Calgary | Calgary, Alberta, Canada | 246 |
| 3. | University of Montreal | Montreal, Quebec, Canada | 118 |
| 4. | University of British Columbia | Vancouver, British Columbia, Canada | 45 |
| 5. | University of Waterloo | Waterloo, Ontario, Canada | 166 |
| 6. | University of Alberta | Edmonton, Alberta, Canada | 119 |
| 7. | University of Windsor | Windsor, Ontario, Canada | 451-500 |
| 8. | McMaster University | Hamilton, Ontario, Canada | 144 |
| 9. | Dalhousie University | Nova Scotia, Canada | 308 |
| 10. | McGill University | Montreal, Quebec, Canada | 31 |
| 11. | Centennial College | Toronto, Canada | 77 |
| 12. | Western University | London, Ontario, Canada | 114 |
Now let's have a look at the Best Universities In Canada
Top 12 Colleges in Canada for International Students
As an international student in Canada, you must conduct research to locate universities that offer the programs and experiences you seek. Here is a list of some of the greatest colleges in Canada, together with details on the types of courses they offer and tuition costs for international students:
1. University Of Toronto:
The University of Toronto has created one of the most significant research and teaching faculties in North America, providing outstanding students at all levels with an unparalleled intellectual atmosphere on any other Canadian campus in terms of breadth and depth. University of Toronto was founded in 1827 and presently has locations in Scarborough, Mississauga, and downtown Toronto. Faculty at the University of Toronto co-author more research articles than their peers at any other university in the United States or Canada, except for Harvard. As a measure of influence, the University of Toronto consistently ranks among the top five U.S. institutions whose discoveries are most frequently cited by other scholars worldwide. The faculty at the University of Toronto is also widely regarded for their teaching abilities and dedication to graduate supervision. Undergraduate, graduate, and professional programs at U of T draw students from across Canada and internationally.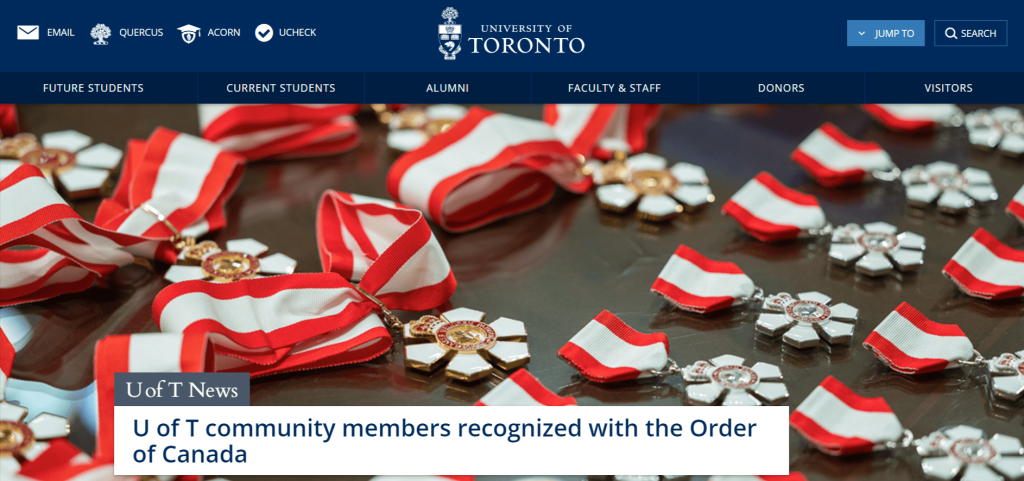 Their students have exclusive opportunities to study from eminent scholars. Off-campus, they can experience the outstanding advantages and attractions of Canada's preeminent urban area, the Toronto region. On campus, students can create personal learning communities within a comprehensive undergraduate college system, participate in over 1000 organizations and co-curricular activities, and compete on various intramural and intercollegiate athletic teams.
2. University of Calgary:
The University of Calgary is a public academic institution with over four campuses and fifty research units. It ranks eighth among the best colleges in Canada and is home to approximately 30,000 students and 160,000 alumni. The university is the leading academic research institution in the country, with a research income of $325 million and a funding budget of $700 million. This educational institution believes in delivering both practical and theoretical education.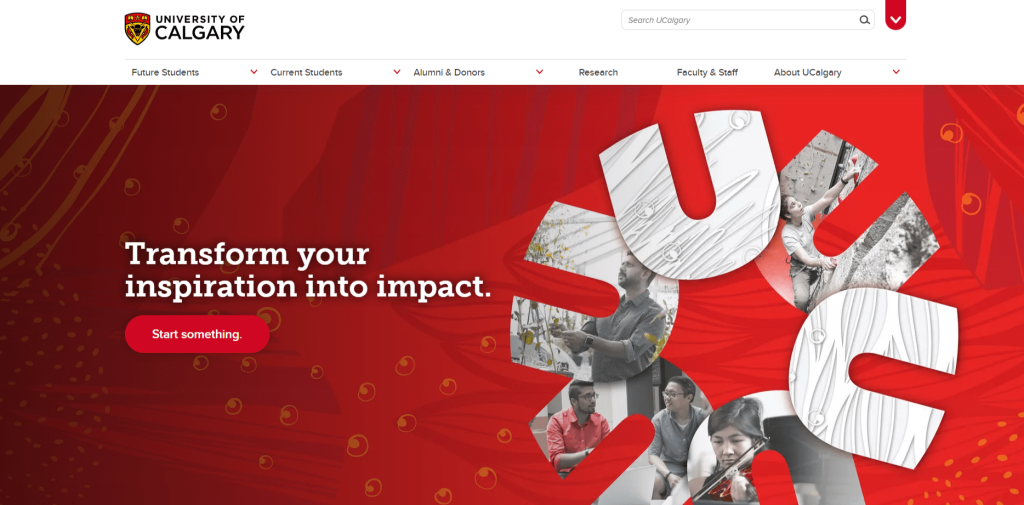 The University of Calgary hosts both domestic and foreign students and also sends students overseas for semesters through its alliances with over 140 other nations. University of Calgary is also home to the premier business and medical schools in the region (Cumming School of Medicine and Haskayne School of Business, respectively).
3. University of Montreal:
The University of Montreal was founded in 1878 as a public, French-language research institution in Quebec, Canada. University of Montreal consists of eight distinct campuses. Other campuses include the Laval campus, MIL campus, and Saint-Hyacinthe campus. The main campus consists of 65 hectares of land. This university's impressive educational infrastructure, highly qualified faculty, short-term courses, and scores make it one of the most desirable places to study in Canada.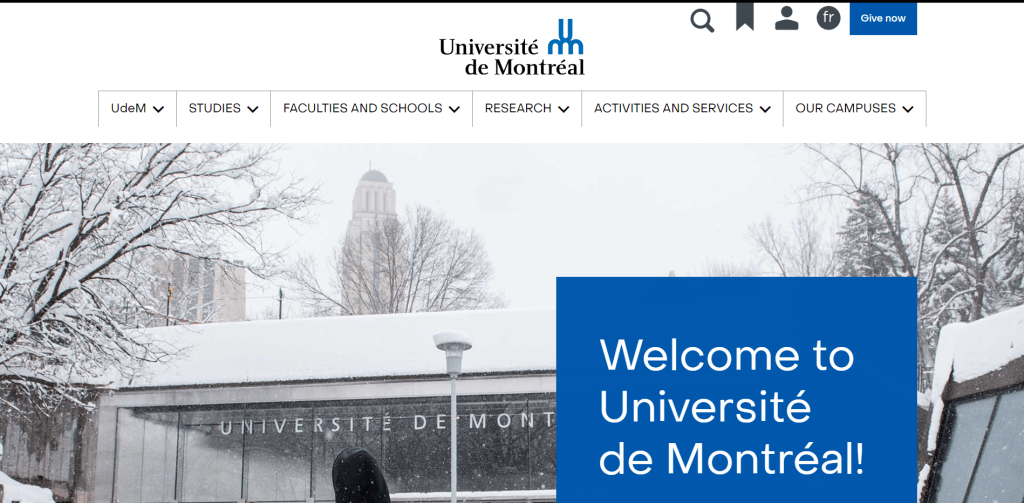 It offers 600 study programs over 13 faculties, including Law, Dentistry, Medicine, Nursing, Arts and Sciences, Music, Optometry, etc., and is renowned for its higher education. Different university campuses offer education in various subjects. University Language Centre offers courses in more than fifteen languages. The annual tuition for the university's courses is between $9,893 and $23,083. Students at the University have access to on-campus living facilities.
4. University of British Columbia:
One of the top academic business schools around the globe is the University of British Columbia's Sauder School of Business. In Vancouver, Canada's Pacific Gateway, Sauder offers a worldwide business perspective at a bustling intersection of the global economy. Their programs, which are committed to rigorous and relevant instruction, produce business leaders that drive change and transform industries and organizations worldwide. The Financial Times consistently ranks Sauder among the world's top 25 institutions for business research, attesting to the School's worldwide reputation for research excellence.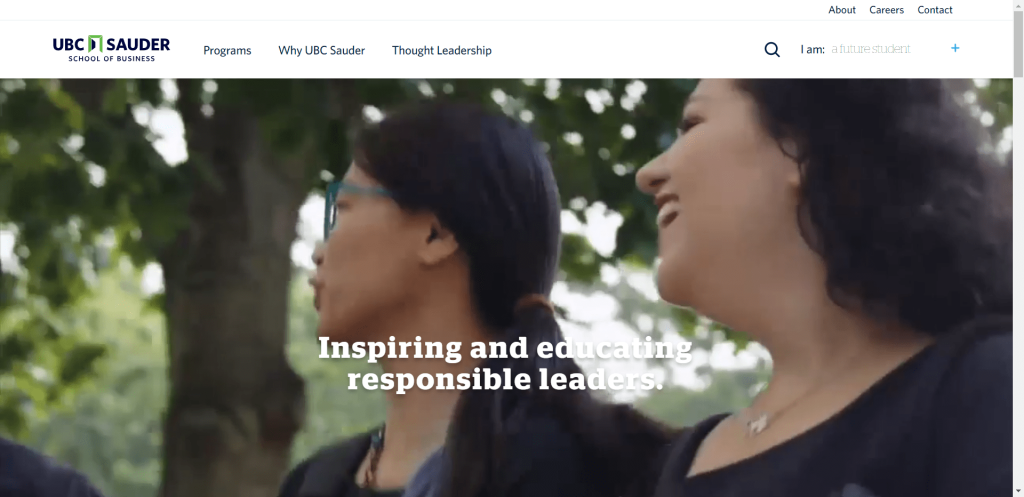 It is rated as the top business school for research in Canada and is home to more than one hundred world-class professors. Their faculty is recognized internationally for its research, teaching, and community service brilliance. They are innovators in the classroom, providing students with cutting-edge insights and the most recent management thinking. Their global teaching and research activities, the variety of their faculty, students, and staff, and their worldwide collaborations all illustrate that Sauder has a distinctively global perspective on business. Through their international initiatives, they intend to expand their students' possibilities to study and work abroad.
5. University of Waterloo:
The University of Waterloo provides over 35,000 students from all over the world with a diverse range of undergraduate degrees. University is near Toronto and is situated in Canada's technological epicenter, which is also among the smartest cities on the planet. The city is home to more than 1,000 technology firms, most of which have partnered with the institution.

Waterloo recognizes that practical education complements classroom instruction and extends beyond it. The institution is also home to Canada's very first co-op educational program, in which more than 6,300 firms collaborate with the academy to provide students with authentic perspectives on as many career options as feasible. Co-op course has assisted in the development of leading enterprises and startups such as BlackBerry, Pebble, and Vidyard.
6. University of Alberta:
University of Alberta has a stature for excellence in the sciences, humanities, engineering, creative arts, commerce, and health sciences, making it one of the top institutions in Canada and one of the world's top public research-intensive universities. The University of Alberta attracts the sharpest minds from around the world due to its world-class amenities, such as the Li Ka Shing Institute of Virology and the National Institute for Nanotechnology. In 18 faculties, 400 undergrads, grads, and professional degrees are available to their students. They hold the largest number of 3M national teaching accords (the top accolade for undergrad teaching quality in Canada).

With more than a century past and more than 250,000 alumni, the University of Alberta is renowned worldwide for preparing students to become the leaders of tomorrow. The University of Alberta is in Edmonton, Alberta, a bustling metropolis with more than a million citizens that serves as the center of Alberta's flourishing energy sector. Main facility is located in the heart of Edmonton and is accessible by bus and metro across the city. With over 39,000 students, which includes over 7,000 foreign students from 152 countries around the world, the University of Alberta encourages a supporting, multicultural, and research-intensive environment.
7. University of Windsor:
Windsor University Canada has grown to be a ray of hope for both domestic and foreign students with its over 16,000 students striving with various degrees to build their jobs and lives. Popular throughout North America and other areas of the world, the university provides a variety of full-time and part-time undergraduate and graduate programs in many fields.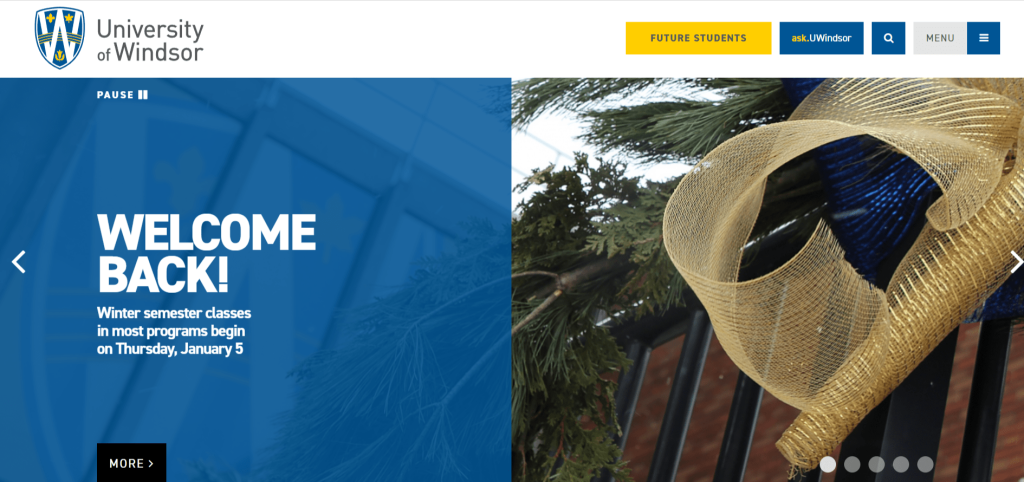 Outstanding student-faculty interactions are made possible by the University of Windsor Canada's award-winning faculty and compassionate staff. The students who come here can learn, teach, do research, and make new discoveries for the rest of their lives because They have created an atmosphere of excellence in all of their faculties. In addition, it offers an infinite number of degree choices, allowing students to customize their degrees to their individual interests. A joint degree or double major permits students to combine multiple academic disciplines. This path is open to both undergraduates and graduates.
8. McMaster University:
The location of McMaster University is Hamilton, Ontario, Canada. It was founded in 1887 and is a medical doctoral research university. There are six academic faculties and seventy research institutes at the institution. McMaster provides over 3000 undergraduate programs and around 150 graduate programs. The University of McMaster provides courses in STEM, Humanities, Business and Management, Health Sciences, and Social Science. In addition, it offers a five-year Biomedical and Health Science program. In addition to this, the university is renowned for its Engineering and IT-related educational facilities.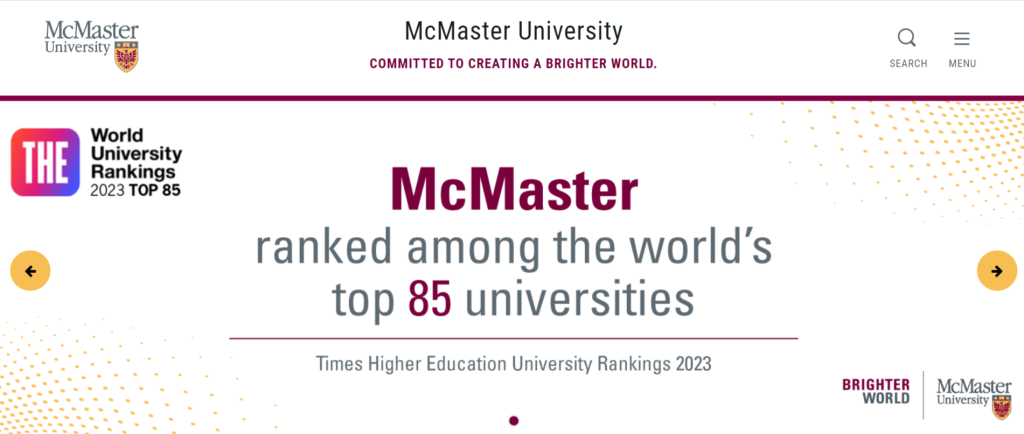 The institution provides on-campus housing for approximately 3,600 students in 12 residence halls. There are Apartment, Suite, and Dormitory buildings available. In addition, with the assistance of the Off-Campus Resource Centre, international students who have completed their first year can secure off-campus housing.
The average cost of attending an undergraduate program at McMaster is $8,548 CAD per year. In addition, the university provides international students with financial aid based on their academic credentials and needs.
9. Dalhousie University:
Canada's Dalhousie University, founded in 1818, is a renowned educational institution that has delivered an excellent education for almost two centuries. It has four campuses spread out around the province of Nova Scotia, with the major campus being in Halifax, which serves as the social and economic center of Atlantic Canada and is also the capital of Nova Scotia.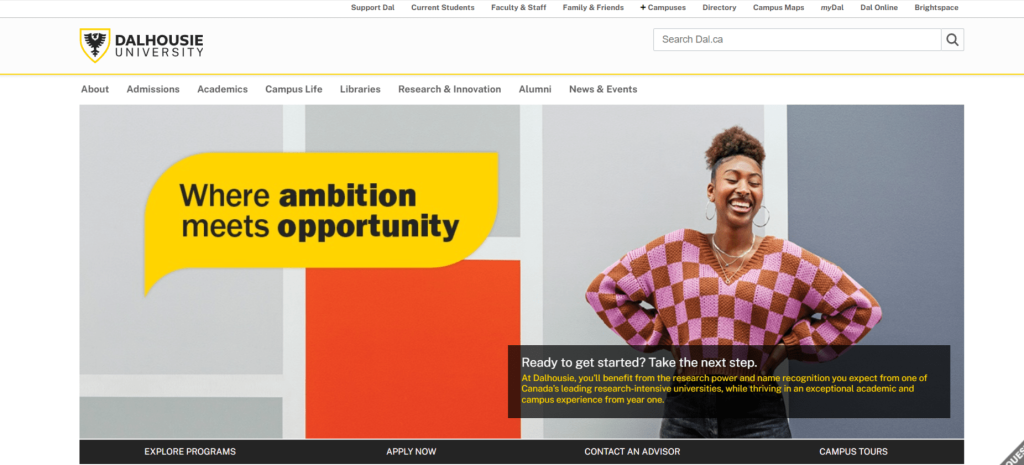 Dalhousie's work-integrated learning approaches and collaborative approach to education make it a popular option among international students. With a student body of over 20,000, Dalhousie University Canada is a popular destination for foreign students, who account for 24% of the student body and hail from over 115 countries.
In addition, the university grants scholarships and bursaries through numerous programs. This is also accessible to overseas students. Scholarships range in value from $380 to $30,400. Additionally, certain bursaries are awarded for a maximum of $456.
10. McGill University:
McGill University is delighted to provide more than 250 specialized and interdisciplinary Master's and Doctoral degree programs, earning it a stellar reputation as one of North America's most prestigious centers of study and research. About 23% of McGill's 36,500 students are graduate students who have the opportunity to collaborate closely with world-renowned faculty members who are pioneers, inventors, designers, and explorers in their respective professions.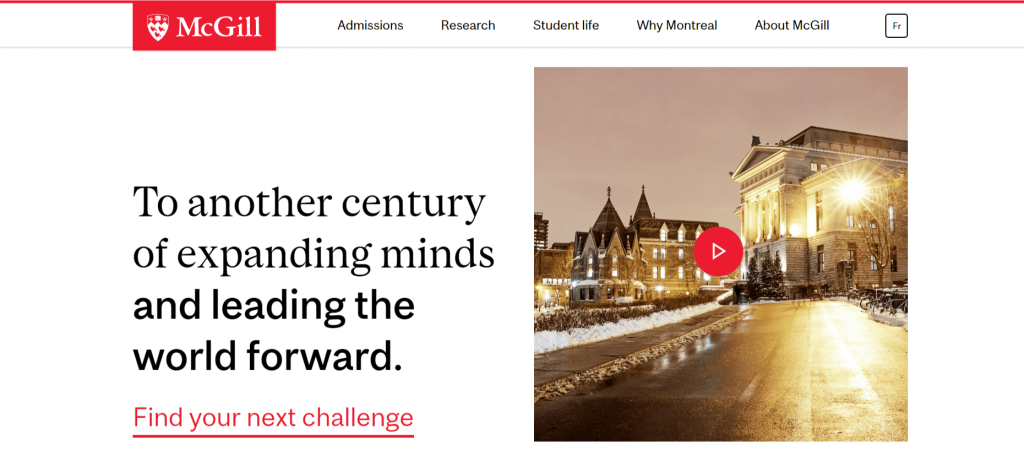 One campus is located in the center of cosmopolitan downtown Montreal, while the other is 40 kilometers (25 miles) to the east on the banks of the magnificent St. Lawrence River. McGill is happy to provide a wide range of award-winning student services and resources geared to promote academic success as part of its commitment to nurturing the total student experience.
11. Centennial College :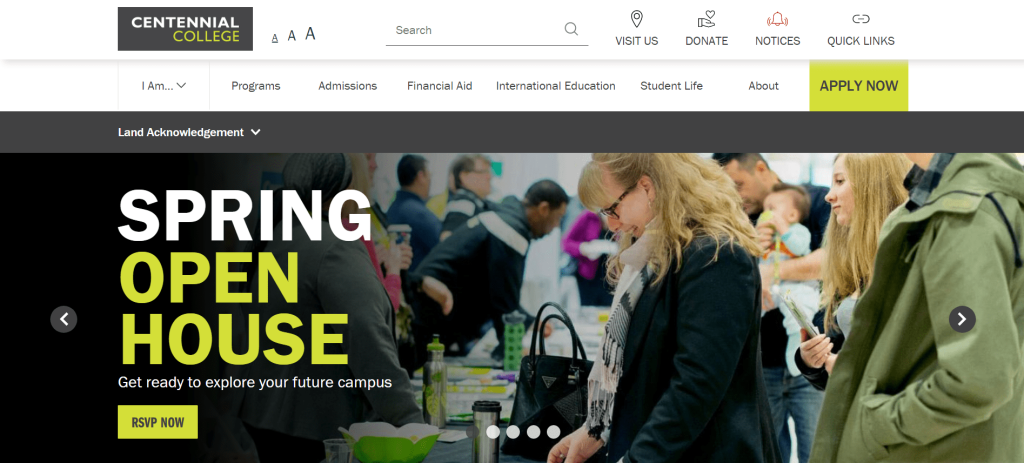 Founded back in 1966, it has indeed come a long way from where it all started. From a local community college to an internationally-recognised institution. Centennial College welcomes all the students across the world. Students can use the world class accommodation provided by the university and if anyone finds it difficult to settle in, there are international advisors who would help you.
Centennial College helps students get ready for the world by the time they are done with graduation. Their teaching method is very innovative and interesting which helps the student learn much better. The Committee made up about 800 people, who are technically very well experienced and insightful to help the students in giving them the right path. Industry partners include companies such as Microsoft, IBM, Air Canada and much more.
Centennial College has been the number one choice for students for 6 years in Canada. 14,000 international students from 126 countries and overall 27, 000 students speaks for itself. Be it a diploma course, a graduate course or a four year degree, you will have the best experience in Centennial College.
12. Western University (London, ON) :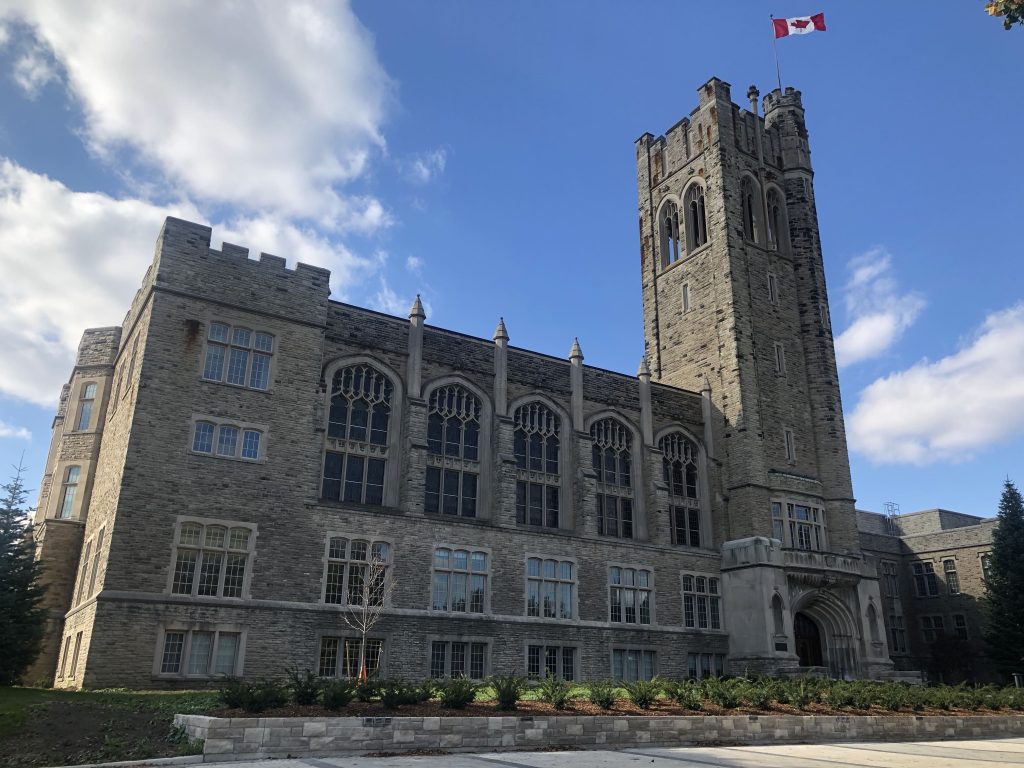 Along the Thames River of Ontario, sits the Western University. Founded in 1878, this school has seen some great leaders in academia and business such as Nobel Laureates, Rhodes Scholars and many more. Historical buildings, museums, libraries, art galleries are all part of the 1,120-acre campus. It hosts around 14 shows every year. Western University is funded half by the Canadian government and the other half by private donors.
Western University has taken giant strides in biomedical science. Brain & Mind Institute is one of the best in cognitive neuroscience. Their research have been published in major academic journals. They have been expanding its research in Science, technology, medicine. Western University has been emerging has the world leader in developing a vaccine for HIV AIDS.
Related Read:
Conclusion: Best Colleges In Canada
When determining whether to apply to universities or colleges in Canada, consider your current level of education, professional objectives, and educational aspirations.
If you already possess a postsecondary certificate from your native country, college programs can assist you in upgrading and aligning your abilities with the requirements of the Canadian labor market. Obtaining a college diploma or certificate can increase your employability in Canada if you plan to work in Canada after completing your education and if you already have academic knowledge in your subject. If you have recently graduated from high school and are enrolling in your first postsecondary program, it may be a good thing to investigate institutions first.