Is the SAT preparation daunting? I got the best SAT prep courses to help you out!
I used and reviewed some of the best SAT prep courses to find out if the best SAT prep courses are worth the hype or not. The results were quite surprising.
In this article, I have listed the best SAT prep courses, considering several factors, including their overview, benefits, pricing, and duration.
Additionally, I have shared an informative guide on finding the best SAT prep course.
List Of The 9+ Best SAT Prep Courses
It is not easy to instantly memorize every chapter of your SAT prep book without any guidance or prior knowledge about the adequate working of a problem. Studies show that even bright students find it hard after a point without an expert's advice.
In such cases, the only place I would recommend going – is the best SAT prep courses. I researched, compared, and reviewed several SAT prep courses and carefully picked some of the best SAT prep courses that will enhance your SAT preparation efficiently.
The motive of SAT prep courses is to brush you up with compelling test-taking strategies, effective study materials, and diagnostic practice tests to get going.
No more talking. Can we look at the list of the best SAT prep courses already?
Kaplan SAT Prep
Princeton Review SAT
Magoosh SAT
PrepExpert
PrepScholar
Khan Academy
Testive
ePrep
Olive Book SAT
1. Kaplan SAT Prep
Module – In-person (online resources are available)
Period – 10 days to 8 weeks
If you want to know more about Kaplan SAT then check my detailed Kaplan SAT review here.
Kaplan SAT Prep is one of the best SAT prep courses that puts quality over quantity and delivers the best content in simplified video-formatted lessons. In Kaplan SAT Prep, you get a unique teaching style to help you grasp topics efficiently. Yet, Kaplan SAT Prep falls short in terms of practice questions which can be upsetting.
In contrast, you are guaranteed a minimum score which means Kaplan SAT Prep will do everything that it takes to groom you to score the highest in your SAT exam.
The resources that you get in Kaplan SAT Prepare sufficiently for effective learning.
Pricing – $899-$1299
---
2. Princeton Review SAT
Module – Online and In-person
Period – 10 days to 9 weeks
Princeton Review SAT is the most common recommendation that you'd get for the best SAT prep courses, and it is true. The instructors in Princeton Review SAT do not pile up lessons to teach them abruptly but ensure if you understand it or not.
Since Princeton Review SAT supports private tutoring, if you find trouble in learning with a range of students, you can easily opt for a one-on-one session.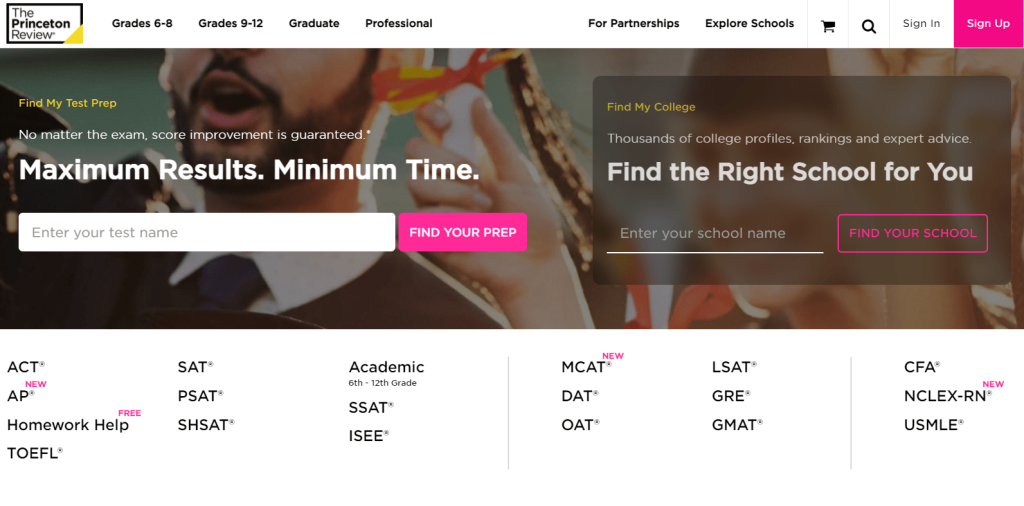 You get resourceful assignments that are personally tailored according to your understanding and a guarantee for the highest SAT score. All the instructors are 99th percentile, so there is no compromise on quality, and you get the best content!
Pricing – $849
---
3. Magoosh SAT
Module – In-person and Online
Period – 10 days to 8 weeks
If there is one SAT prep course that follows a unique approach towards teaching, it is Magoosh SAT. Hear me out. In Magoosh SAT, the instructor gives presents useful slides with adequate subject-related slides and gives a voiceover for each section.
This way, you can learn and practice simultaneously since the instructor will be guiding you through every step, and you can find it resourceful. Magoosh SAT also takes the leap and produces an effective study schedule if you do not have one.
In fact, there is an exclusive review tracker that will note down your performance. Most students prefer Magoosh SAT for its budget-friendly nature and quality.
Pricing – $129-$399
---
4. PrepExpert
Module – Online (Live classes are also available)
Period – 6 weeks to 8 weeks
Like other competitors, only 99th percentile instructors handle the lessons in PrepExpert. Still, you also get insightful assignments outside the module that will help you acquire more about specific SAT sections.
PrepExpert ensures that you at least take one 4-hour long practice exam per week for utmost SAT preparation so that you can revise everything that you've learned.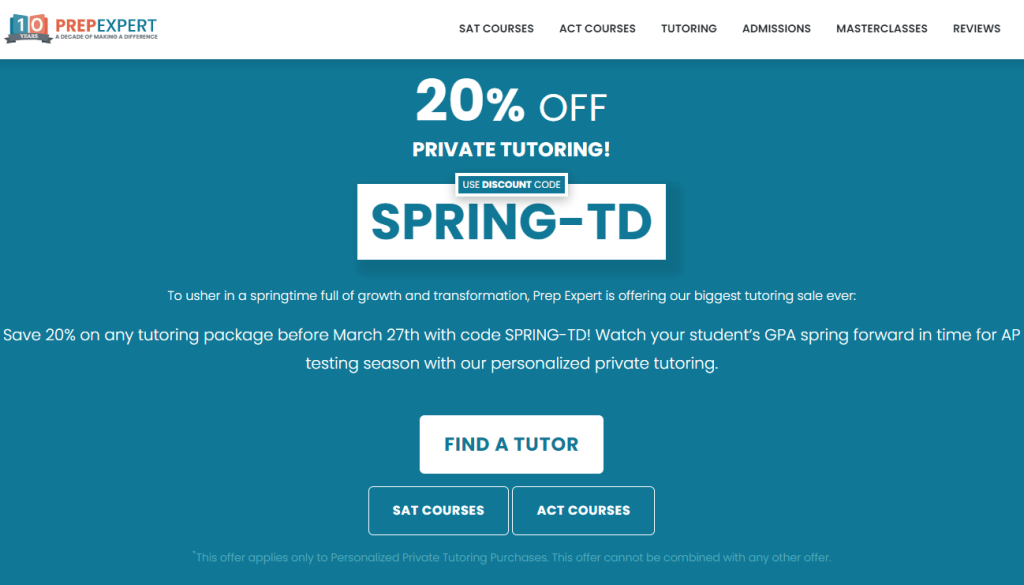 Some instructors in PrepExpert also give compelling advice and ways to write your SAT exam efficiently. This is something not all SAT prep courses offer. Grab it here!
Lastly, you are guaranteed a minimum 200+ points increase in SAT after PrepExpert.
---
5. PrepScholar
Module – Online (Live classes are available)
Period – 2 weeks to 5 weeks
PrepScholar gives the utmost benefit of 7000+ practice questions that can help you get stronger with revision and adequate learning. Along with a detailed explanation, you are in for a treat in PrepScholar. Plus, compelling study strategies are recommended so that you do not get confused on how or where to start.
Although PrepScholar reviews your progress like many other SAT prep courses, they ensure to deliver necessary advice based on your performance for improvement.
The best thing – PrepScholar has a limited class size which means the enrolled students get maximum knowledge consumption directly with no disturbance.
Lastly, PrepScholar also provides you with personalized assignments to get going.
Pricing – $397-$995
---
6. Khan Academy
Module – Online (Self-paced learning only)
Period – No limit on the duration
Have you ever heard of an SAT prep course offering everything literally for free? Well, you are about to hear it now. Yes – Khan Academy offers 100% free resources for SAT prep.
Despite offering free service, Khan Academy also guarantees a 39 points increase. What's more? Khan Academy provides 1000+ practice questions with real-like SAT questions that can help you get the SAT exam writing experience instantly.
Additionally, Khan Academy takes up to 8 practice tests so that you can become strong in your revision and give the best shot in the actual SAT.
Price – FREE
---
7. Testive
Module – In-person, Live Online Classes, and On-Demand Online
Period – 2 to 6 Months
Testive is another great online exam preparation platform that aims to provide the best learning materials, in-person coaching, and online classes to those students who are preparing for the SAT exam. A family member can simply contact the test experts of the company to set personalized goals for the student. To determine in what areas the student needs help, the student needs to take a practice exam first.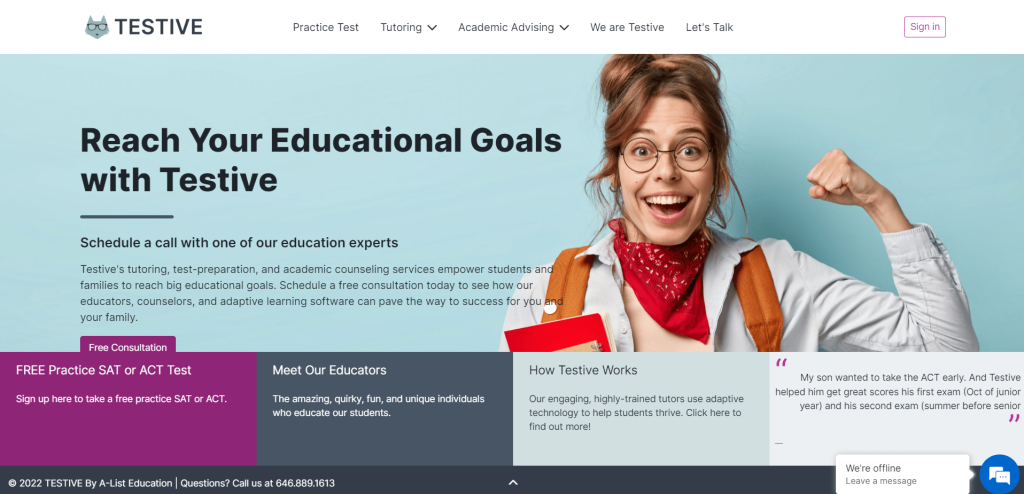 To keep the student motivated and engaged, they offer daily assignments, weekly online classes, and tons of learning materials. You also get the option to register for the SAT Bootcamp of Testive. The consultation is free of charge so you don't have to worry about contacting the Testive team.
Pricing – $99-$499
---
8. ePrep
Module – Online Resources and Self-Paced
Period – 2 to 12 Months
ePrep is an amazing online test preparation company that offers five different options to prepare for SAT: express, standard, premium, standard+, and premium+. These options give you access to resources for SAT for 2,4,6 and 12 months. In the express plan, you get two full-length practice tests, 100 points increase guarantee, 28 practice quizzes, and the suggested time to complete preparation is one to eight weeks.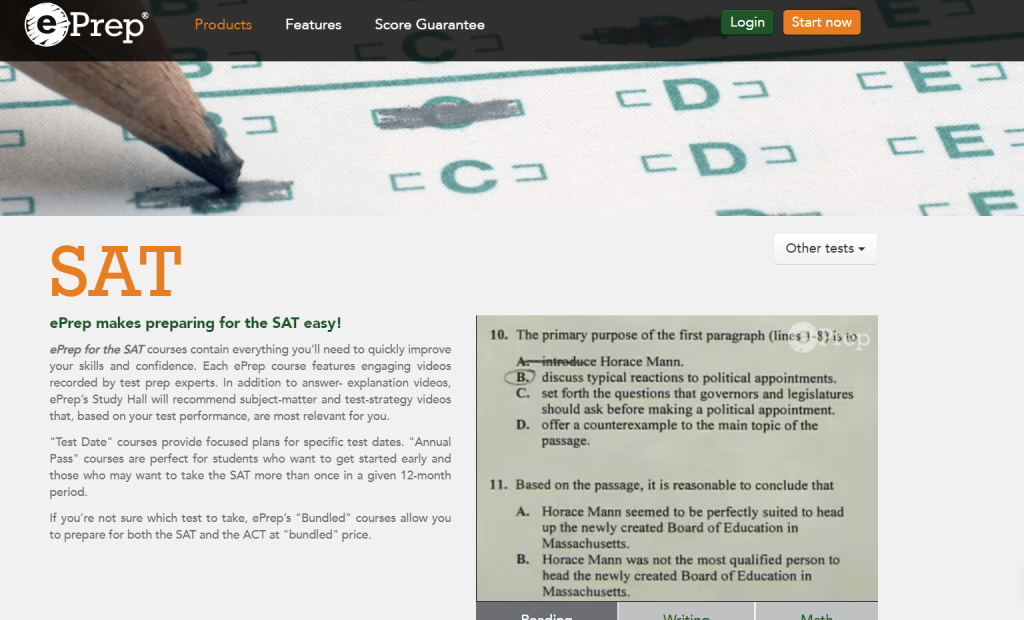 Experts record all the video explanations available on this platform, and they have explained everything in these video lessons. To stay on track, ePrep also has a scheduling feature that will remind you of what lessons you need to take and how far behind you are from your schedule. In their 12 months plan, you get video lessons of up to 112 and video answer explanations of more than 1190.
Pricing – $129-$599
---
9. Olive Book SAT
Module – Online Resources and Self-Paced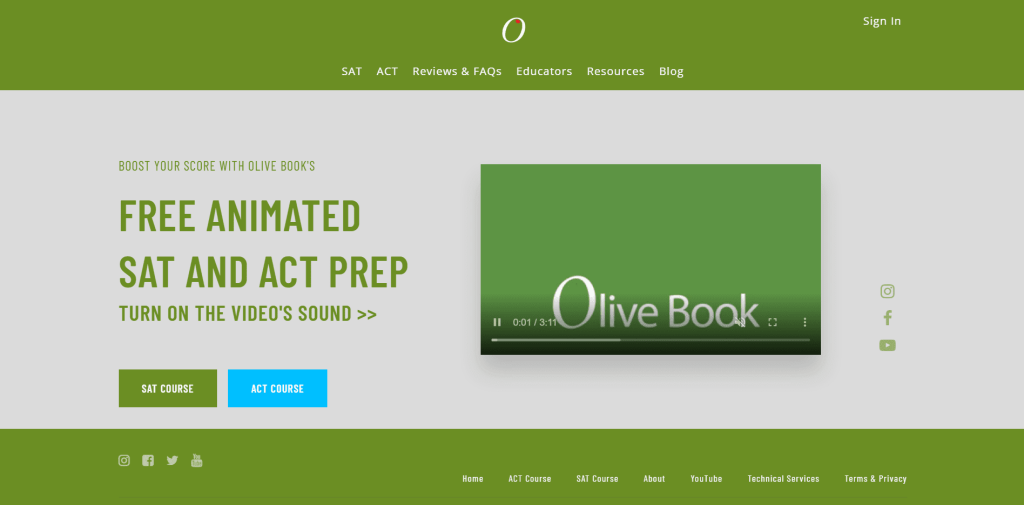 Experts and experienced teachers have written down about hundred of math problem for better practice for students. The Animated videos explanations is highly professional and rich in graphic. With test strategies, tutorials, and tips to solve difficult problems it makes Olive Book SAT more special. It has a full sledge math and reading practice test.
Pricing : $49.99/month
How to Choose the Right SAT prep Course?
Any decision you make regarding education should not be taken without adequate research or proper analysis from experts. At least, google about it once.
After going through multiple sites, you might find it overwhelming to find the best SAT prep courses. In fact, sometimes it can lead to a dead-end, and you can be stuck.
That is why I framed an instructive guide that you can rely on to find the best SAT prep courses without any delay. Does it have too many steps? Not really.
You can spot the best SAT prep course simply by checking for the following aspects:
1. Quality
It might sound cliche, but you should not compromise quality for any other resource. Even if the desired SAT prep course guarantees other benefits, remember this!
Although each SAT prep course produces content of different quality, the standard of the content should not be below. At least, the content delivery must be digestible.
You do not want to settle for a boring hour-long lecture via self-paced learning. Still, the quality aspect must not be constrained to content only. The SAT prep course instructors in which you are enrolling must provide value, help, and strategy.
You can go through the review and testimonial section to instantly find out the SAT prep course's quality. Ensure that the official website is regularly updated.
2. Materials
No matter how many lessons or chapters the best SAT prep course promises, you need to look out for the number of resources you receive.
The desired SAT prep course must not be short of study materials. Still, the basic requirement for resources could be practice questions, tests, and workbooks.
You can expect test-taking strategies and guidance if you go a little deeper. Although such benefits do not come in physical format, it still helps somehow.
3. Class size
You might find it surprising, but the strength in a classroom indeed impacts the learning experience that you gain from a potential instructor.
As the class population increases, the instructor loses control over the students, and so the lesser the students, the more insightful knowledge the instructor can share.
In fact, if the class size is small, the instructor will get time to resolve doubts and questions. In contrast, it becomes impossible to ask doubts if the class size is large.
Henceforth, if you check out the above-listed aspects of your SAT prep course finding hunt, you will end up finding the best SAT prep course in less than 30 minutes for real.
Are SAT prep Courses Mandatory?
Now is the time to answer the most anticipated question.
Well, I would say – Yes because SAT prep courses have a well-structured format of learning and acquiring knowledge to score the highest in the ultimate SAT exam.
Students might find it extremely overwhelming to survive through tons of learning materials without proven guidance. If students opt for the best SAT prep courses, they will find resources that will smoothen and enhance their preparation.
Let me recall that even the bright students have primarily recommended taking SAT prep courses for score improvement, and so you NEED SAT prep courses for SAT prep.
If you disagree, you might find yourself running for SAT prep books and materials because SAT preparation demands learning resources. The fact that you also receive compelling test-taking strategies in the SAT prep courses is unbelievable!
Even if you do not want to settle for classes, choose private tutoring and get trained.
Final Thoughts: Best SAT Prep Courses (2023)
I agree on the fact that SAT preparation is insanely difficult, but using the best SAT prep courses, became quite manageable, and I survived through several sections.
In the majority of the SAT prep courses that I have listed above, you might find resourceful materials and multiple practice test options to get going. Some SAT prep courses also provide in-person class training that you might prefer.
In conclusion, you need to consider the best SAT prep courses. If not, it can be daunting to get that perfect SAT score and settle in the most reputed college!