Online learning has become increasingly popular in recent years, providing individuals with a flexible and cost-effective way to further their education and skills. While Coursera is a well-known platform for online courses, it is not the only option available.
There are numerous alternative platforms that offer their own unique features, benefits, and drawbacks.
In this article, we'll take an in-depth look at some of the best Coursera alternatives and compare them to help you make an informed decision.
Whether you're a working professional looking to upskill, a student seeking to expand your knowledge, or simply someone looking for a new hobby, we've got you covered.
Let's explore learning with the best Coursera alternatives."
Top 11 Coursera Alternatives: In A Nutshell (2023)
Before we dive deep, the following is a quick overview of Coursera Alternatives, which you can refer to.
| | | |
| --- | --- | --- |
| Sr No. | Coursera Alternatives | Best Feature |
| 1. | Pluralsight | Best Overall |
| 2. | MasterClass | Best for in-depth courses |
| 3. | Udacity | Best for Nanodegree programs |
| 4. | LinkedIn Learning | High-quality professional courses |
| 5. | Skillshare | Project-based learning |
| 6. | Codecademy | Best for programming languages |
| 7. | Udemy | Best for interactive quizzes and classes |
| 8. | Datacamp | Best for tech courses |
| 9. | edX | Best university courses |
| 10. | Khan Academy | Best comprehensive courses |
| 11. | Treehouse | Best for technical skills |
1. Pluralsight Overview:
Our top pick, Pluralsight, is an online learning platform that offers a huge selection of tech and creative courses.
It is intended for programmers, IT specialists, data experts, creative professionals, and others who wish to improve their technical skills.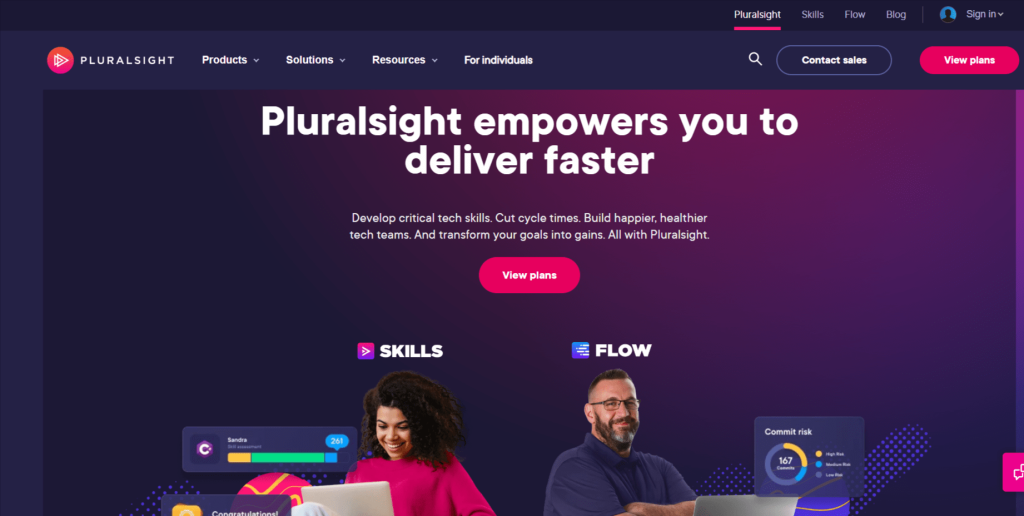 The platform provides a huge selection of courses offered by professionals in the field.
Each course includes video tutorials, practical assignments, interactive activities, tests, and assessments to aid students in gaining in-depth information, useful skills, and practical experience.
With the help of this platform's user-friendly design, students can look up courses, monitor their progress, and view video tutorials at their own leisure.
Additionally, it offers a thorough course description, access to code examples, templates, and other tools, as well as a dashboard for the course that allows students to monitor their own progress.
Pluralsight competes fiercely with Coursera because it heavily emphasizes technical and creative talents.
If you're seeking courses in IT, Cloud computing, machine learning, AI software, and software development, Pluralsight can be a wonderful choice.
| | |
| --- | --- |
| Price | Standard Plan: $29 per month premium Plan: $45 per month starter Plan: $399 per user/ year professional Plan: $578 per user/year enterprise Plan: $779/per user/year |
| Rating | 4.9/5 |
| Best For | Programming and technology courses |
Pros:
Get a concrete range of tech courses.
Courses taught by expert instructors.
Learn with interactive quizzes and assessments.
Self-paced courses.
Courses are divided into three difficulty levels to help users select courses with ease.
Cons:
You may experience varied content quality as per the instructor.
Limited course offerings in some fields.
Certificates are not accredited.
Best Pluralsight Courses:
Python: The Big Picture
Getting Started with AWS
JavaScript: Getting Started
HTML, CSS, and JavaScript: The Big Picture
Ethical Hacking: Understanding Ethical Hacking
Understanding Machine Learning
2. MasterClass Overview:
With expert-led, video-based online courses in a range of subjects like music, food, writing, acting, and more, MasterClass is a well-liked substitute for Coursera.
With access to unique information and practical instruction from well-known experts, it provides a distinctive learning environment.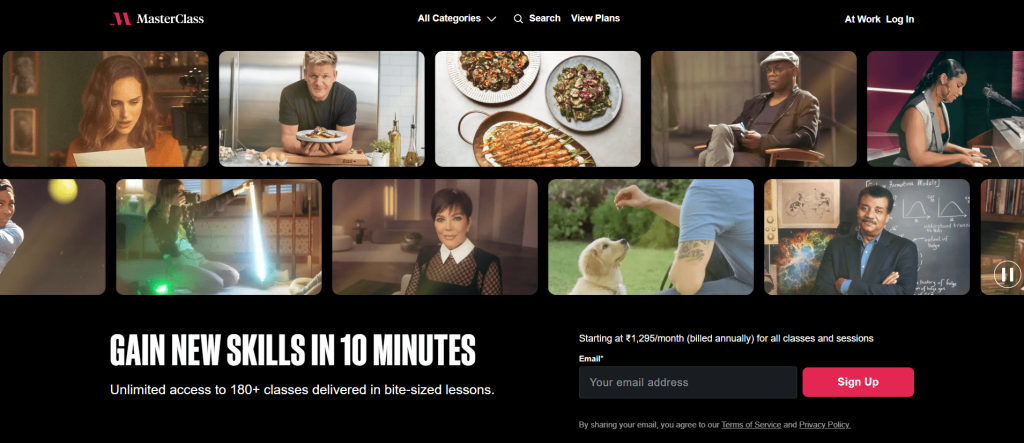 MasterClass offers in-depth classes, each with a collection of video lessons and related materials.
The masterClass is intended to be more like a workshop or personal tuition, with a focus on practical skills and hands-on learning, in contrast to Coursera, which emphasises university-style courses.
In addition, MasterClass provides lifetime access to the course contents, whereas Coursera's access can only be available for a predetermined period of time.
| | |
| --- | --- |
| Price | Individual Annual Plan: $15 Duo Plan: $20Family Plan: $23 |
| Rating | 4.9/5 |
| Best For | In-depth video lessons |
Pros:
Variety of choices from a large library of classes.
Learn with expert teachers in the industry.
Much affordable and multi-user options.
Immersive content that is engaging and interactive.
30-day refund policy.
Live sessions.
Cons:
No free courses available.
No completion certificates are provided.
Best MasterClass Courses:
Mariah Carey Teaches the Voice as an Instrument.
Gordon Ramsay MasterClass: Cooking.
Serena Williams Teaches Tennis.
Chris Voss MasterClass: The Art of Negotiation.
Lewis Hamilton Teaches a Winning Mindset.
Kelly Wearstler MasterClass: Interior Design.
3. Udacity Overview:
Udacity is a well-known online learning platform that offers a wide range of courses and programs in technology, data science, and business.
Udacity stands out as a Coursera alternative due to its emphasis on employable skills and solid relationships with leading IT firms.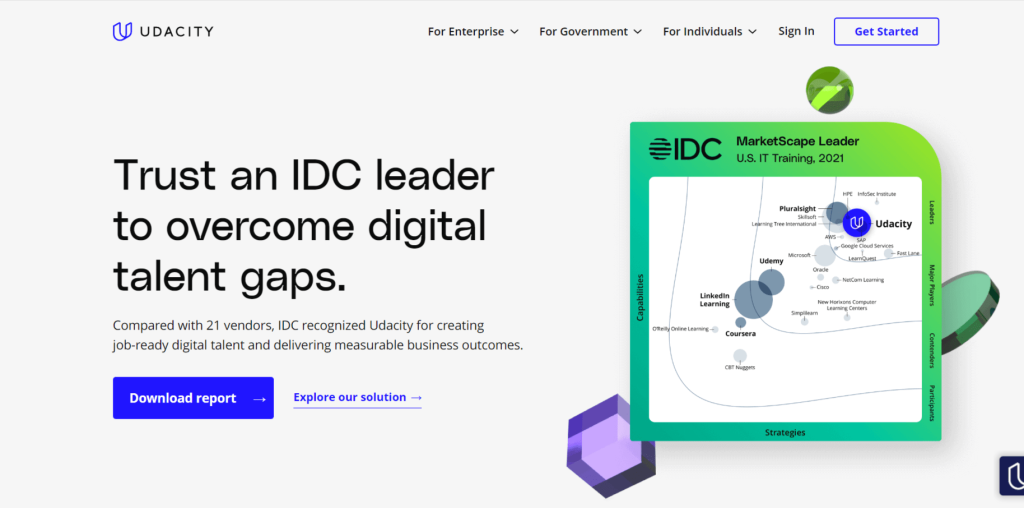 This website provides both free and paid courses, with some programs offering the possibility of acquiring a nano degree certificate.
Most of Udacity's courses include programming, data science, cloud computing, web development, cyber security, and artificial intelligence.
Students at Udacity engage in project-based learning, completing practical assignments and receiving tailored feedback from professionals in the field.
Additionally, it offers assistance services like one-on-one mentoring and job counseling.
In general, Udacity is a wise choice for anyone wishing to boost their IT career and acquire tech-related skills.
| | |
| --- | --- |
| Price | Varies according to course |
| Rating | 4.8/5 |
| Best For | Technology Courses |
Pros:
Learn with a practical approach.
Comprehensive content quality.
Personalized project feedback.
Certification after completion.
Career services to help you develop a professional path.
Nanodegree programs offer job-focused education.
Cons:
Certificates are not accredited by any university.
Little costly.
Best Udacity Courses:
Machine Learning Engineer.
Data Analyst.
Become a UX Designer.
Deep Learning.
AI Product Manager.
Front End Web Developer.
4. LinkedIn Learning Overview:
LinkedIn Learning is a prominent online learning platform that is an excellent substitute for Coursera.
Like Coursera, LinkedIn Learning provides access to a huge library of courses on various subjects, including business, technology, creative skills, and personal development.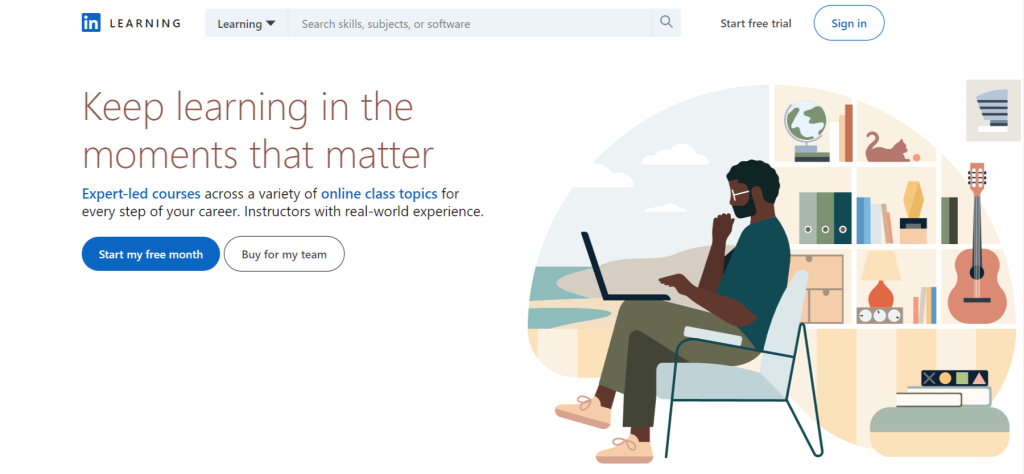 Professionals can enhance their careers and upskill thanks to the courses, which are delivered by subject matter experts.
One significant distinction between LinkedIn Learning and Coursera is that LinkedIn Learning focuses solely on career development, whereas Coursera covers a broader range of courses.
Additionally, connected to LinkedIn's professional networking platform, LinkedIn Learning enables individuals to network and display their expertise.
Another distinction is that LinkedIn Learning primarily focuses on practical, career-related abilities, whereas Coursera offers courses from prestigious universities and institutions.
The lessons are more condensed and concentrated on imparting precise, practical knowledge that may be used right away on the job.
In general, professionals wishing to improve their abilities and develop their careers should consider using LinkedIn Learning.
It offers top-notch, career-focused courses taught by professionals in the field and combines with LinkedIn, the largest professional networking site in the world.
| | |
| --- | --- |
| Price | Monthly plan: $39.99/month annual plan: $323.88 |
| Rating | 4.8/5 |
| Best For | Courses on professional training |
Pros:
Courses are built in a way to improve professional abilities.
Main focus on business, creativity, and technology-related courses.
Users get a one-month free trial.
High-quality and comprehensive content.
Huge library to choose from.
Chance to earn and display a LinkedIn Learning certificate.
Cons:
Limited access to content offerings.
You may lack sufficient support options.
Best LinkedIn Learning Courses:
Interpersonal Communication with Dorie Clark.
Excel Essential Training (Office 365/Microsoft 365) with Dennis Taylor.
Essentials of Team Collaboration with Dana Brownlee.
Learning Python with Joe Marini.
Speaking Confidently and Effectively with Pete Mockaitis.
Strategic Thinking with Dorie Clark.
5. Skillshare Overview:
Competing with Coursera in the online learning space, Skillshare provides various courses on various topics.
With courses in fields like design, photography, and creative writing it varies from Coursera in that it emphasises creative and practical learning.
Additionally, Skillshare has a distinctive price structure that allows users to either subscribe to the site for unlimited access to all courses or buy certain courses.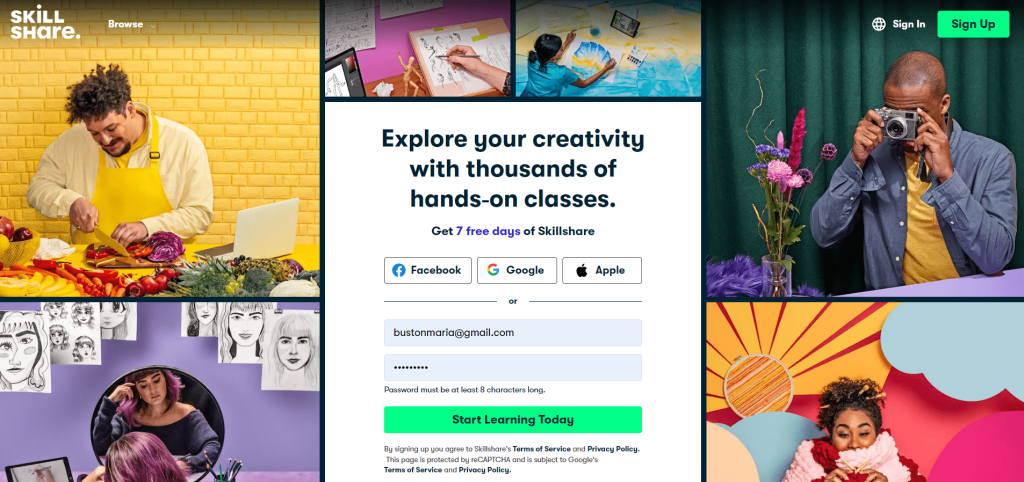 In contrast, Coursera generally collaborates with universities and institutions to provide validated credentials and degrees in a larger range of areas, such as data science, business, and computer science.
Both sites provide a combination of free and paid courses, but Skillshare places a stronger emphasis on user community and cooperation, while Coursera takes a more conventional approach to education.
| | |
| --- | --- |
| Price | Monthly plan: around $15/month annual plan: $96. |
| Rating | 4.6/5 |
| Best For | Practical classes |
Pros:
Get courses and classes that cover every creative industry.
Wide range of creative courses to choose from.
Get training from skilled instructors.
Active community that can help to motivate and engage learners.
Subscriptions get a seven-day free trial.
Cons:
No certification available.
Limited support.
You may lack proper feedback.
Best Skillshare Courses:
Productivity Masterclass- Principles and Tools.
Character Illustration: Drawing Faces, Figures and Clothing.
Interior Design Basics- Steps to your perfect space.
Learn to Draw: Practices to Improve Drawing Skills.
Animation for Illustration: Adding Movement with Procreate and Photoshop.
Modern Money Habits- Steps to build the life you want.
6. Codecademy Overview:
Codecademy is a popular online learning platform that offers interactive coding lessons and projects.
As an alternative to Coursera, Codecademy focuses mainly on coding and web development skills, while Coursera provides a wider range of academic courses from various disciplines, including computer science.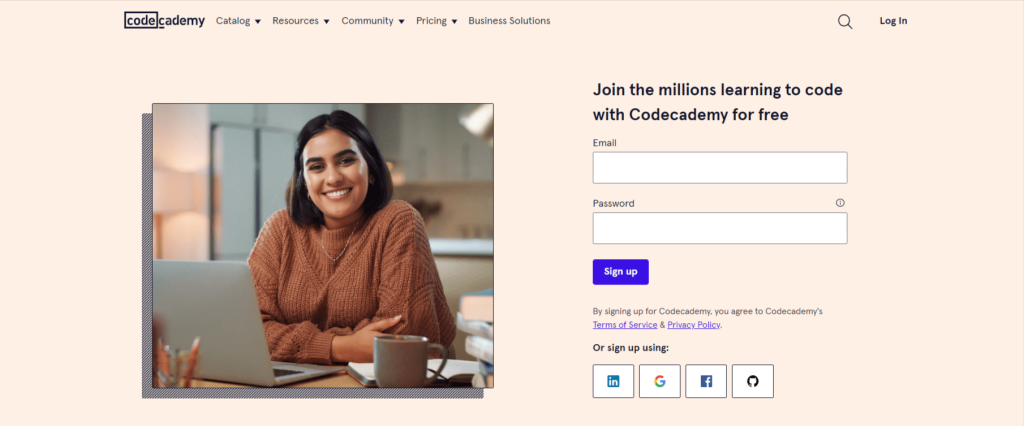 Codecademy is known for its user-friendly interface, gamified learning experience, and affordable pricing.
On the other hand, Coursera offers courses from top universities and institutions and provides certificates for completing courses, which can be useful for job seekers and career advancement.
Ultimately, the choice between Codecademy and Coursera depends on the individual's learning goals and preferences.
| | |
| --- | --- |
| Price | Plus plan: $17.49/month Pro Plan: $24.99/month |
| Rating | 4.7/5 |
| Best For | Different programming language courses |
Pros:
Courses for more than 14 programming languages.
Skill paths are provided to learn a real-world skill.
Free learning resources like cheat sheets, videos, docs and PDFs.
Free plan provides community support with access to free courses.
Offers courses for all skill levels, including beginners.
Cons:
Completion certificates are not accredited.
Focus only on programming courses.
Best Codecademy Courses:
Learn HTML.
Learn Java
Learn C++
Code Foundations.
Learn CSS
Learn Python.
7. Udemy Overview:
Udemy is a popular Coursera alternative and an excellent Coursera compititor. Almost everything can be studied in a program, from business and marketing to personal development and Arts.
Finding the best online course could be your biggest challenge because there is so much information available. The procedure will be aided by using the classification and filtering options.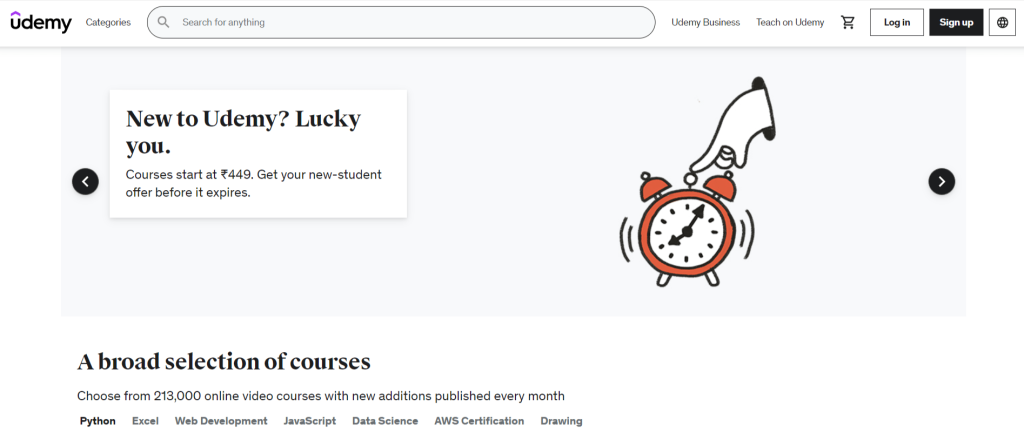 Even if you have a tight budget, you can still benefit from courses because they range in length and price.
Upon finishing a course, you will receive a certification. Additionally, upon your registration, you will receive a customised list of suggested courses based on your unique data.
Each course on Udemy focused on just one skill and was built with a specific concentration in mind. This enables you to recognise specific skills via Udemy.
| | |
| --- | --- |
| Price | Varies |
| Rating | 4.5/5 |
| Best For | Software development courses |
Pros:
Practically every topic area and speciality has courses available.
a wide range of top-notch business courses.
It is possible to access multimedia lectures, which frequently include readings and exams.
You can use high-quality trailers to help you decide whether a certain course is suitable for your needs.
Cons:
There aren't many options available for support.
short trial period
There is no accreditation for Udemy.
Best Udemy Courses:
The Web Developer Bootcamp 2023.
The Complete Digital Marketing Course – 12 Courses in 1
Complete Python Bootcamp: From Zero to Hero in Python
Photography Masterclass: A Complete Guide to Photography
Microsoft Excel – Excel from Beginners to Advanced
Become a SuperLearner 2 – Boost Your Memory
8. Datacamp Overview:
Datacamp is an online platform that offers courses and tutorials in data science, coding, and statistics.
It is considered an alternative to Coursera as it specialises in providing hands-on learning experiences through interactive coding challenges and projects.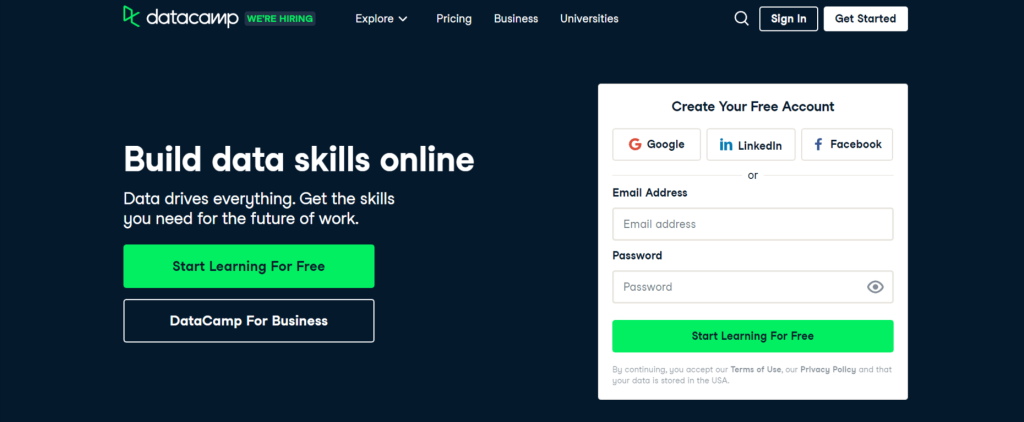 Datacamp offers a large library of courses covering a wide range of topics, and its interactive approach makes it easier for users to apply their learning to real-world problems.
However, Coursera has a larger course selection and partnerships with top universities and companies, offering more opportunities for users to earn certifications and advance their careers.
Both platforms have a subscription-based model, with Coursera offering a mix of free and paid courses, while Datacamp is fully subscription-based.
| | |
| --- | --- |
| Price | Basic: FreePremium plan: $12.42/month Teams plan: $12.42/user/month |
| Rating | 4.7/5 |
| Best For | Interactive coding classes |
Pros:
Interactive learning environment.
Wide range of topics covered.
Hands-on exercises.
Access to a community of learners.
Affordable pricing.
Cons:
Limited practice opportunities outside of the platform.
No academic credit.
Dependence on platform for coding exercises.
Best Datacamp Courses:
Introduction to Python.
Data Science for Everyone.
Introduction to SQL.
Data Science for Business.
Data Analysis in Excel.
Data Visualisation with Python.
9. edX Overview:
EdX is a non-profit online learning platform that offers a variety of courses and programs, including those in computer science, engineering, data science, and humanities.
Like Coursera, edX partners with top universities and organisations to offer high-quality educational content to its users.

EdX provides a wide range of courses, some of which are free to take, while others come with a fee and may offer a certificate upon completion.
Unlike Coursera, edX focuses more on a traditional classroom-style learning experience, where users can earn credit towards a degree or certificate program.
However, Coursera has a larger course selection and more flexible pricing options, with a mix of free and paid courses and the ability to audit courses for free.
Additionally, there are other language programs available, including ones that help you get ready for tests like the IELTS and TOEFL.
| | |
| --- | --- |
| Price | Varies |
| Rating | 4.7/5 |
| Best For | Computer science and Management courses |
Pros:
Large number of courses from top universities.
Wide range of subjects.
Access to course materials for free.
Option to earn a verified certificate.
Collaborative learning opportunities through discussion forums.
Cons:
Payment is required for certification and certain features.
No hands-on learning experience.
Difficult to complete courses without prior knowledge.
Best edX Courses:
Project Management
CS50's Introduction to Computer Science
Data Science
Blockchain Fundamentals
The science of Happiness
Artificial Intelligence
10. Khan Academy Overview:
Khan Academy is a non-profit online learning platform that offers free courses and lessons in a wide range of subjects, including math, science, history, and economics.
Unlike Coursera, Khan Academy focuses on providing a comprehensive, self-paced education for individuals of all ages.

Khan Academy provides video lessons, practice exercises, and assessments, allowing users to learn at their own pace.
However, Khan Academy does not offer certificates or credit for the completion of its courses, making it more suited for personal enrichment rather than career advancement.
In comparison, Coursera offers a wider range of courses and programs and the option to earn certificates and credits from its partners.
Both Khan Academy and Coursera are great resources for individuals looking to enhance their knowledge and skills.
Khan Academy is better suited for self-paced learning and personal enrichment, while Coursera provides a more structured learning experience and opportunities for career advancement.
| | |
| --- | --- |
| Price | Free |
| Rating | 4.4/5 |
| Best For | Comprehensive courses |
Pros:
Free access to all resources.
Wide range of subjects.
Emphasis on interactive learning.
Suitable for self-paced learning.
Resources aligned with K-12 education standards.
Cons:
Limited depth of coverage for some subjects.
No hands-on coding exercises.
No direct interaction with instructors or classmates.
Best Khan Academy Courses
Macroeconomics.
Computer Programming.
Computers and the Internet.
Statistics and Probability.
Microeconomics.
Finance and Capital Markets.
11. Treehouse Overview:
Treehouse is an online learning platform that focuses on technology and design courses, including web development, mobile development, game development, and design.
It provides interactive video lessons, coding challenges, and projects, allowing users to learn by doing.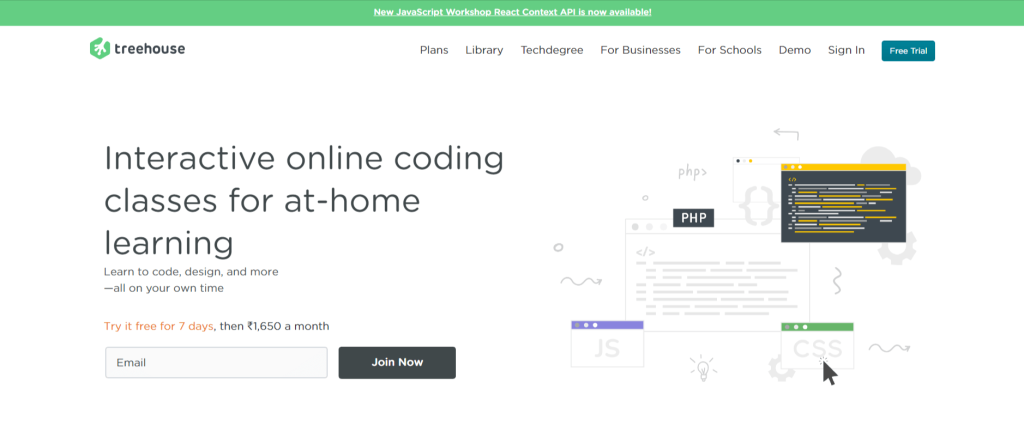 Treehouse is considered a great alternative to Coursera as it offers a more hands-on approach to learning, with a focus on specific technology skills.
Both platforms have a subscription-based model, with Coursera offering a mix of free and paid courses, while Treehouse is fully subscription-based.
The choice between the two ultimately depends on the user's learning goals and interests, with Treehouse being a better fit for individuals looking to learn technical skills.
| | |
| --- | --- |
| Price | Basic: $25Plus: $49Techdegree: $199/month |
| Rating | 4.4/5 |
| Best For | Technical skills |
Pros:
Interactive learning environment
Emphasis on hands-on coding exercises
Wide range of tech-related topics
Access to a supportive community
Affordable pricing options
Cons:
Limited focus on non-tech subjects.
Limited personalisation options.
Best Treehouse Courses:
Introduction to HTML and CSS.
How the Internet Works.
Build a Simple iPhone App with Swift v5.
Java Basics.
Introduction to Application Security.
C# Basics.
Related Read:
Final Verdict: Best Coursera Alternatives (2023)
In conclusion, Coursera is a well-established platform for online learning, but it's not the only option available.
The rise of the digital age has given birth to a range of alternatives that offer a variety of benefits, features, and drawbacks.
From platforms like Udemy and edX, which focus on a broad range of subjects, to platforms like Skillshare and Pluralsight, which focus on specific skill areas, there is something for everyone in the world of online learning.
When choosing the right platform for your online learning needs, it's important to consider factors such as course offerings, certification options, affordability, and personalized learning tools.
You can find the platform that best fits your goals and learning style by comparing the different alternatives.
In the end, the most important thing is to take advantage of the many opportunities available for online learning.
If you're still not sure, here are some suggestions I think would work well as Coursera alternatives:
So why wait? Start your journey to a better and brighter future today with one of the many Coursera alternatives available!
Let us know in the comment section which Coursera alternative you are opting for.