While preparing for MCAT, finding the prep books that cover all the topics and questions may be difficult. Plus, there are plenty of books available in the market that claims to cover all the topics, and I was pretty confused about which one I should go with.
After researching and reviewing all the books, I found the top books to prepare for the test.
In this article, I have listed handpicked best MCAT prep books to help you ace your exam with the right approach!
So without further ado, let us get into details!
Best MCAT Prep Books: In A Nutshell (2023)
Before diving into the article, let's look over each of these prep books and their pricing in the table here.
| | | |
| --- | --- | --- |
| Sr. No. | MCAT Prep Books | Price |
| 1. | Kaplan Complete 7 Book Review | $225.05 |
| 2. | Kaplan MCAT 528 | $52.24 |
| 3. | Princeton Review | $177.67 |
| 4. | Mometrix Test Preparation | $55.99 |
| 5. | Test Prep Books | $54.99 |
| 6. | Barron's Test Prep | $12.50 |
| 7. | Examkrackers MCAT Complete Study Packages | $274.94 |
| 8. | AAMC The Official Guide To MCAT Exam | $30 |
| 9. | Sterling MCAT Test Prep | $54.95 |
Now that you have seen the best prep books for MCAT with their pricing, let me quickly take you through the details of each book to figure out the one that suits you the best.
1. Kaplan MCAT Complete 7 Book Subject Review
The Kaplan Complete 7 book set is the most comprehensive resource for your MCAT preparation.
With Kaplan, you can focus on the important sections for MCAT preparation and solve practice papers provided in the books to keep your preparation in check.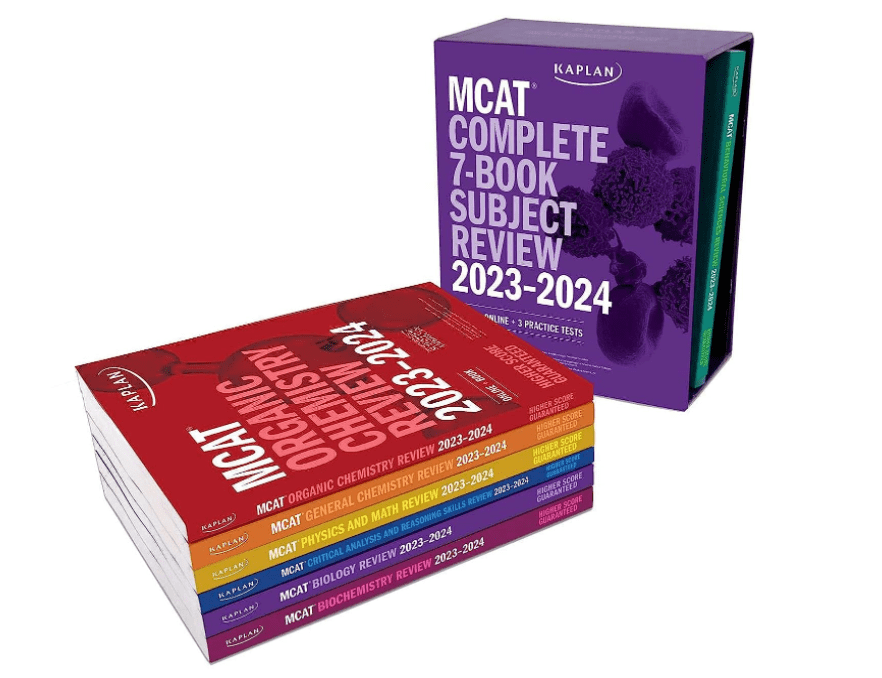 Additionally, you get three full-length online practice exams (similar to real MCAT exams) and detailed explanations of chapters with high accuracy.
Additionally, the book set is trusted by many doctors and advanced science degree holders for their preparation.
Each concept in Kaplan is broken into an easy-to-understand manner. You can find 3D illustrations, charts, graphs, concept checks, etc.
Moreover, if you invest your time in studying all these seven books, you don't have to take any other resources to prepare for MCAT.
| | |
| --- | --- |
| Author | Kaplan Test Prep |
| Price | $225.05 |
| Ratings | 4.7/5 |
Key Features:
All-in-one book for MCAT preparation.
Focuses on important points.
Provides access to online study material.
Summaries of chapters at the end.
Over 350 practice questions.
Great visuals.
2. Kaplan MCAT 528
If you have already started MCAT preparation and want a supplement, then Kaplan MCAT 528 is a book we will highly suggest to you.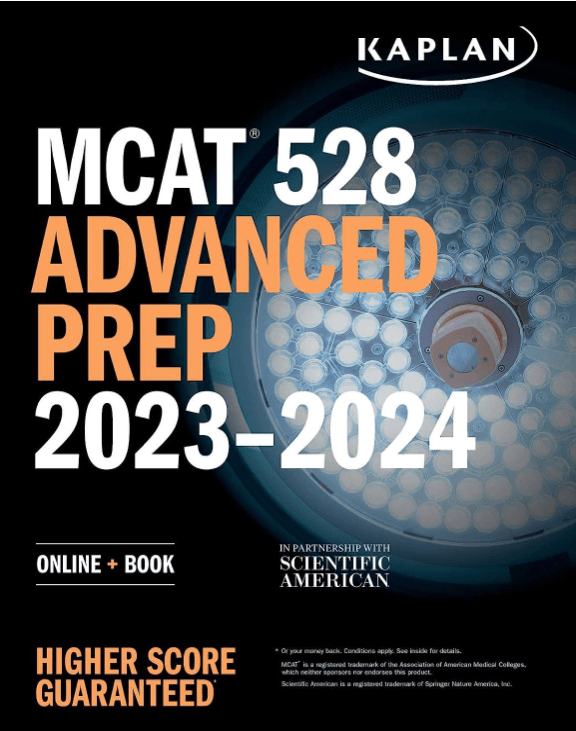 Kaplan MCAT 528 covers the most critical concepts of MCAT with a bunch of questions. You are also provided online access to more practice questions to strengthen your concepts.
Additionally, you get a detailed explanation of practice Q/As. You can supplement it with detailed MCAT preparation books and see what concepts are given star ratings to focus your learning on important topics.
| | |
| --- | --- |
| Author | Kaplan Test Prep |
| Price | $52.24 |
| Ratings | 4.6/5 |
Key Features:
500 practice questions.
Extra practice questions online.
Best supplementary book for MCAT.
Targets important concepts.
Online practice questions replicate real MCAT question papers.
3. Princeton Review
The Princeton Review complete box set is a set of seven books filled with detailed MCAT preparation topics and tools.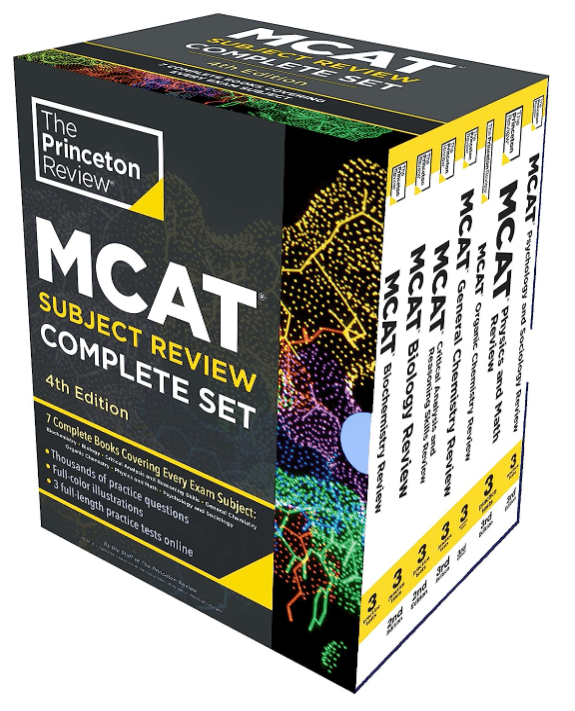 This set of Princeton books is designed for people looking for in-depth learning rather than quick revisions.
The Princeton Review books are written in a casual tone to make learning a fun experience, while its other features, including visuals, detailed concepts understanding, online tools, etc, are similar to Kaplan.
However, the Princeton Review complete book set is affordable considering the other books with the same content in the market.
With Princeton Review, you can solve thousands of practice questions while learning concepts and jump to three full practice tests to check the overall preparation.
| | |
| --- | --- |
| Author | The Princeton Review |
| Price | $177.67 |
| Ratings | 4.7/5 |
Key learning:
Colorful illustrations for better learning.
Each topic is covered deeply.
An extensive glossary is provided for reference.
Practice questions at the end of the chapters.
Chapter summary for quick revisions.
4. Mometrix Test Preparation
Mometrix test preparation mcat prep books instantly grab the attention of those who understand topics through visual techniques.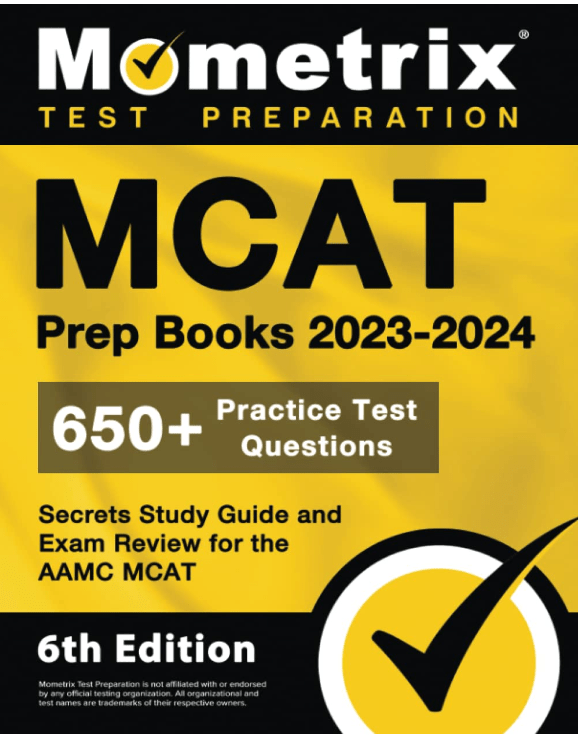 Mometrix provides step-by-step video lectures to understand complex concepts with ease. Additionally, it provides practice test questions with detailed explanations of answers.
The Mometrix test prep also provides knowledge of critical information, vocabulary, principles, etc., needed before you sit to write the MCAT exam.
It's the best book to grasp the content in a logistical format that smoothly moves from one topic to another.
| | |
| --- | --- |
| Author | Matthew Bowling, Mometrix |
| Price | $55.99 |
| Ratings | 4.4/5 |
Key learnings:
Great visuals to digest complex topics.
Instructors help you understand difficult concepts.
Tricks and strategies to crack MCAT.
A full-length practice sheet with a detailed explanation.
5. Test Prep Books
Test prep books are valued for money when searching for a supplement book to add to your comprehensive MCAT prep books.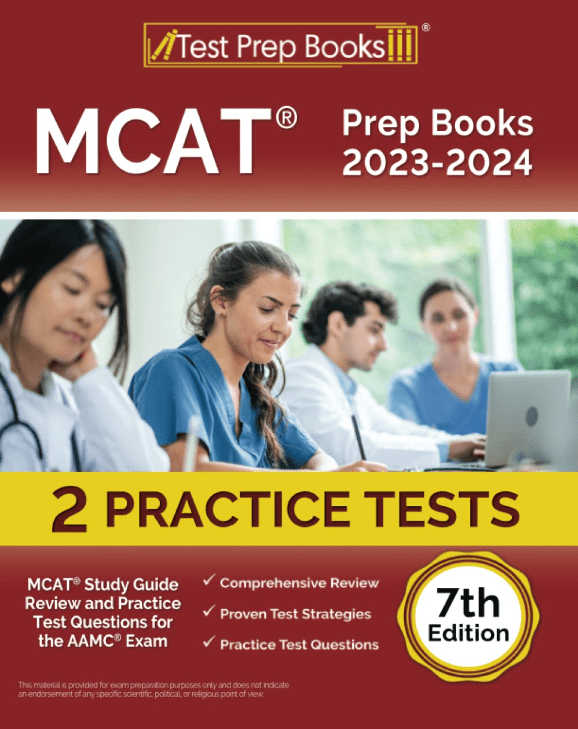 Test prep books come with great practice tests and explanations. The information keeps updating timely to provide an up-to-date experience.
However, it is not advised to depend solely on this book for MCAT preparation, but it is an affordable companion to detailed guides.
Additionally, it provides a quick overview of concepts with test strategies to stay ahead of competitors.
| | |
| --- | --- |
| Author | Joshua Rueda |
| Price | $54.99 |
| Ratings | 4.9/5 |
Key learnings:
Affordable supplement to comprehensive MCAT prep books.
Concise and well-organized information.
Practice questions similar to actual MCAT exams.
Printed practice tests in case you don't have a pc.
6. Barron's Test Prep
If you are looking for an affordable MCAT prep book with a detailed explanation of concepts, then Barron's test prep is the way to go.
Barron's test prep has quality content to ace the MCAT exam with critical strategies to confidentiality deal with every question.
Additionally, it provides 39 online passages with four practice tests and two bonus online tests.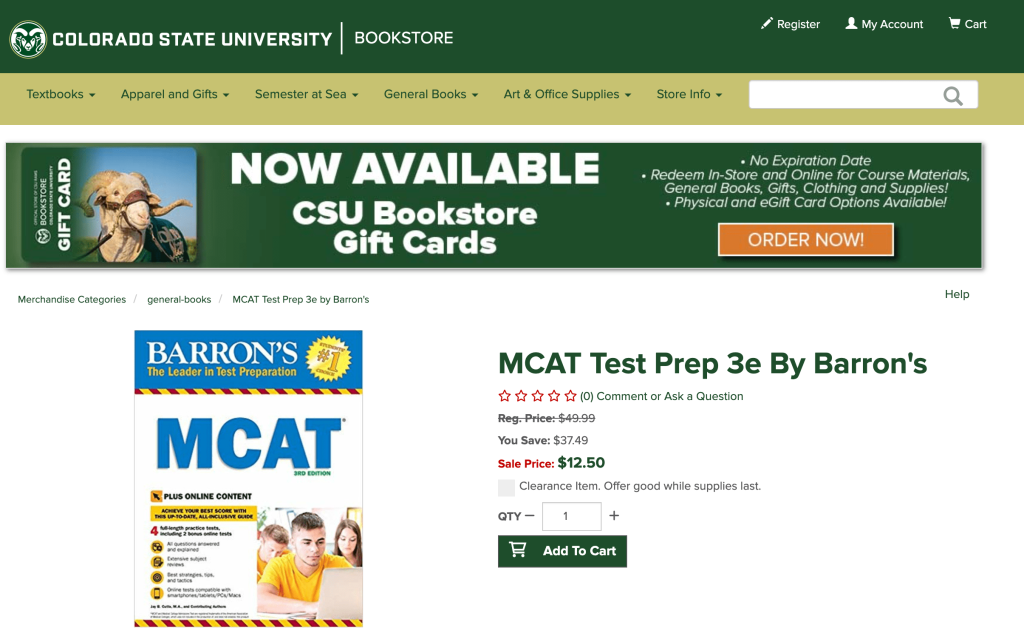 Once you finish the learning part, you can effectively give online tests on a Mac, smartphone, laptop, or pc.
| | |
| --- | --- |
| Author | Jay B. Cutts M.A. |
| Price | $12.50 |
| Ratings | 4.8/5 |
Key learnings:
Affordable, comprehensive guide for MCAT preparation.
Up-to-date concepts with online passages.
Add Barron's flashcards to brush up on essential questions.
7. Examkrackers MCAT Complete Study Package
Examkrackers MCAT complete study package is a set of six MCAT books especially made for MCAT aspirants who are not looking for a book with formal language.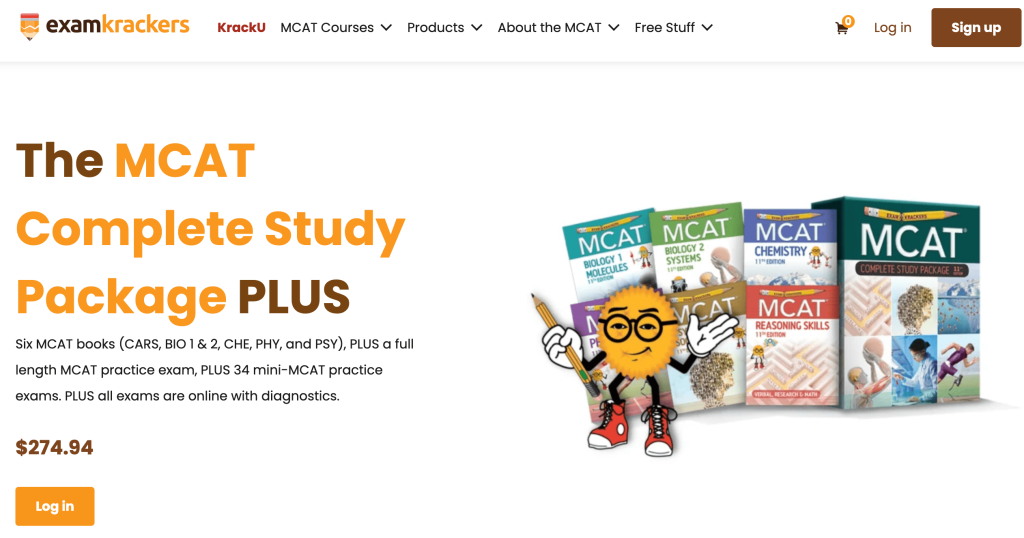 The Examkrackers use fun language with great graphics to easily explain complex topics. You will find short, clear sentences and action-driven 34 mini MCAT practice exams.
| | |
| --- | --- |
| Author | Johnathan Orsay |
| Price | $274.94 |
| Ratings | 4.4/5 |
Key learnings:
Precise wording for explaining complex concepts.
The online interface mimics the official MCAT exam.
Plus 34 mini mcat exams online with diagnostics
Use AAMC practice exams to reinforce preparation.
8. AAMC The Official Guide To MCAT Exam
AAMC, the official guide to the MCAT exam, is the must-have guide for all MCAT aspirants regardless of which other complimentary book you have.
AAMC is made by the official authority of the MCAT, responsible for the actual MCAT exam. Hence you will most likely find the questions and topics that appear in the exam.

It is said to be a comprehensive guide, but we recommend using it with the Kaplan package for the best preparation. Moreover, it has 120 practice questions, solutions, and exam tips and tricks.
| | |
| --- | --- |
| Author | AAMC Staff |
| Price | $30 |
| Ratings | 4.7/5 |
Key learnings:
Complimentary book for MCAT aspirants.
Covers topics that are most likely to appear in a real exam.
Additional details on holistic admissions.
Details on how the exams are scored.
30 practice questions in each section.
9. Sterling MCAT Test Prep
Sterling MCAT test prep is specially made for aspirants who have completed their MCAT preparation and want to re-learn all the concepts by giving tests. With Sterling's MCAT test prep, you get high-yield MCAT questions.
These questions are formatted in passages, and you get a detailed explanation for every question. The best part about Sterling is its customer care service that mimics personal tutors.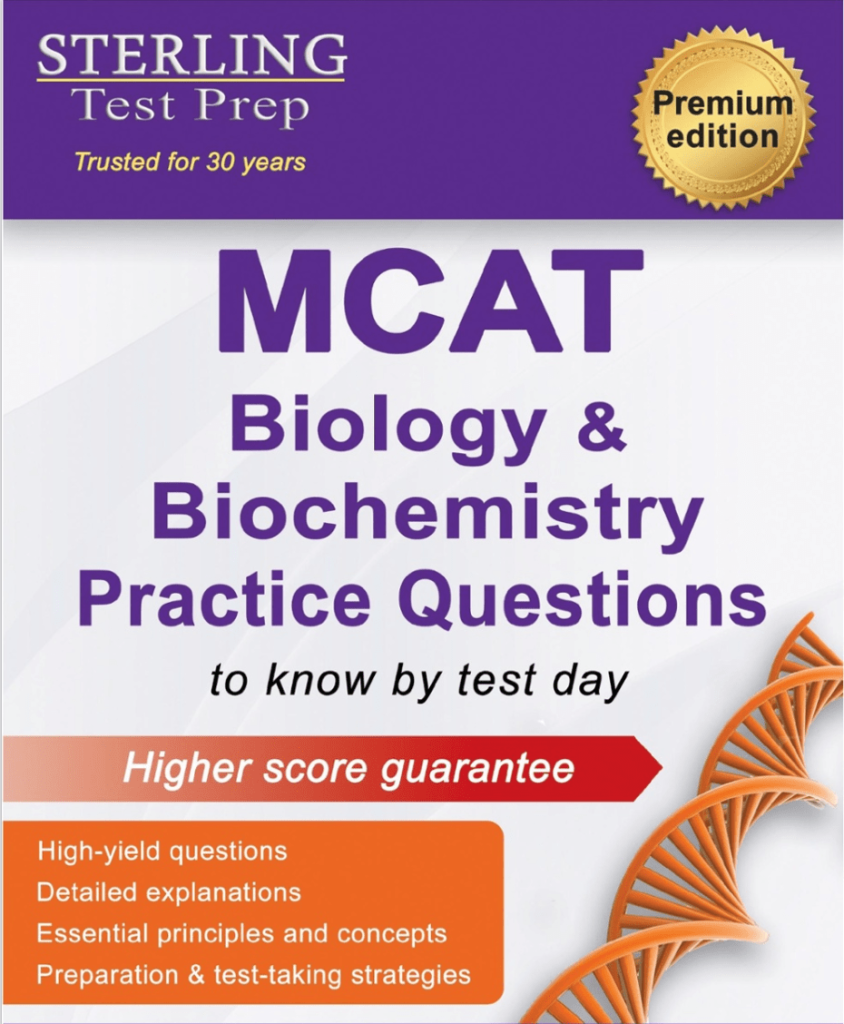 You can call them for queries or immediate explanations of concepts. You can also make an MCAT book package through the sterling MCAT range available online for comprehensive guides and test preps.
Furthermore, sterling MCAT test prep best provides tests with over 1200 MCAT questions on each subject. You can supplement sterling test prep with other comprehensive guides to target your weak areas.
| | |
| --- | --- |
| Author | Sterling Test Prep |
| Price | $54.95 |
| Ratings | 4.3/5 |
Key learnings:
Best book for tests and revision.
Four biological & biochemical tests.
Four chemical & physical foundation tests.
You get an online stimulation format.
Best supplement with Kaplan package or Princeton Review.
Related Read:
Wrapping Up! Best MCAT Prep Books (2023)
That's all about MCAT Prep Books.
I hope the above article has helped you pick a book that best suits your need. However, if you are still confused about which one to go with, here are our top picks:
The Kaplan MCAT 7 book review: All-in-one comprehensive guide for MCAT.
Princeton Review: Best for a detailed explanation of topics.
AAMC, the official guide to the MCAT exam: Covers topics that will appear in MCAT.
All these three books will help you prepare for your exams with the right approach!
FAQs
Which one to choose: Kaplan or Princeton Review for MCAT?
Both Kaplan and Princeton reviews are the best in the market for MCAT. However, we suggest Kaplan if you want one complete package for the whole MCAT preparation.
Are Kaplan books enough for MCAT?
Kaplan's complete 7 books review set is the best choice for students. These books provide a detailed explanation of all the topics and help you to score even in your weak areas. 
How many hours of study are needed for MCAT?
A study found that around 300 hours were considered ideal for cracking the MCAT exam. You can dedicate 10 to 15 hours per week to study for the test if you have more than 6 months for the test.
Is Kaplan harder than the real MCAT?
Many students claimed that Kaplan's content is harder than the real MCAT. They are created to help students ace their MCAT tests. Hence, keeping the level of questions higher than the actual tests makes the student well-prepared for any difficult question that may be asked.